mercredi 22 juin 2022
C'est le moment pour craquer sur les belles laines !!
Les soldes c'est du juin au 19 juillet 2022 sur tous les produits de la boutique !!!
Les aiguilles de Camille . com
Et à très bientôt pour les nouveaux patrons sur le blog !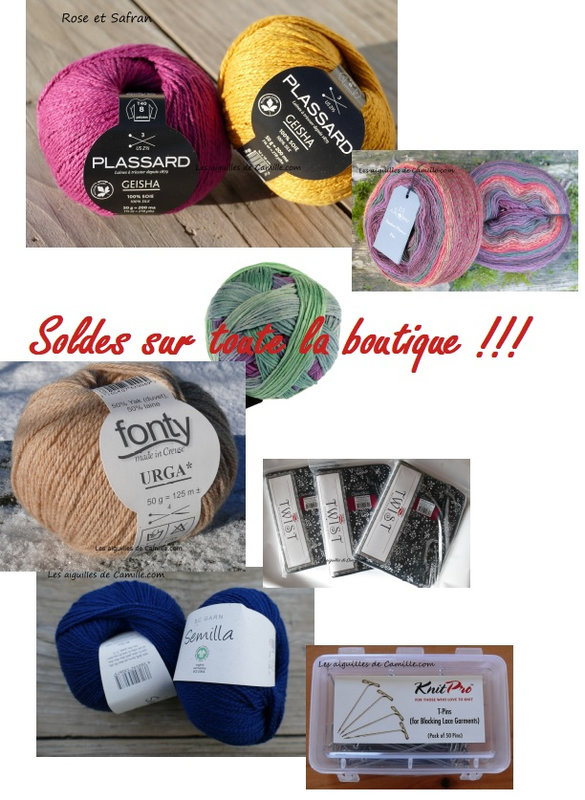 dimanche 20 février 2022
Après avoir utiliser les torsades bicolores dans le bonnet Fleur d'hiver , j'ai eu envie de les utiliser dans un ouvrage qui ait plus d'ampleur. Après quelques modifications, les voilà dans ce châle Fleur .
After using the two-tone cables in the Fleur d'hiver hat, I wanted to use them in a larger piece. After a few modifications, here they are in this Fleur shawl.
Techniquement , c'est un châle assez simple, avec une première partie qui échappe à la monotonie du jersey endroit grâce à un jeu de mailles glissées , la seconde partie est faite en jacquard avec torsades bicolores et la bordure finale en points ajourés , très simple, avec le retour de la diminution centrale utilisée dans le châle Plaisir.
Technically, it's a fairly simple shawl, with a first part that escapes the monotony of stockinette stitch thanks to a set of slipped stitches, the second part is made in jacquard with two-tone cables and the final edge in lace stitches, very simple , with the return of the central decrease used in the Plaisir shawl.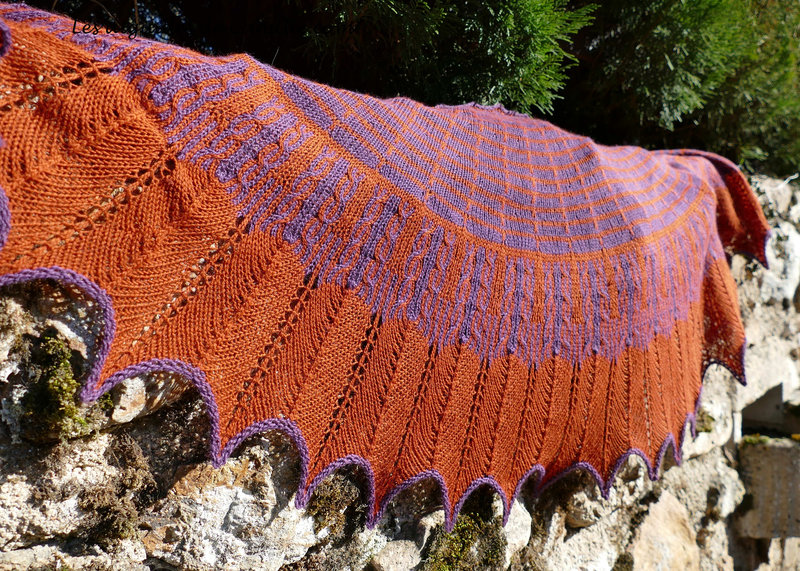 Il est tricoté en Semilla GOTS GC Garn , avec 2 teintes : j'ai utilisé 2 pelotes de violet et 3 du coloris Orange Brulée. Côté aiguilles: 3.5mm pour la première partie et 4mm pour la suite . Si vous avez tendance à beaucoup serrer vos mailles, n'hésitez pas à prendre des tailles supplémentaires , le jacquard associé aux torsades apprécie un tricot souple.
It is knitted in Semilla GOTS GC Garn with 2 shades: I used 2 balls of purple and 3 of the Orange Brulée color. Needle side: 3.5mm for the first part and 4mm for the rest. If you tend to tighten your stitches a lot, do not hesitate to take additional sizes, the jacquard associated with the cables appreciates a flexible knit.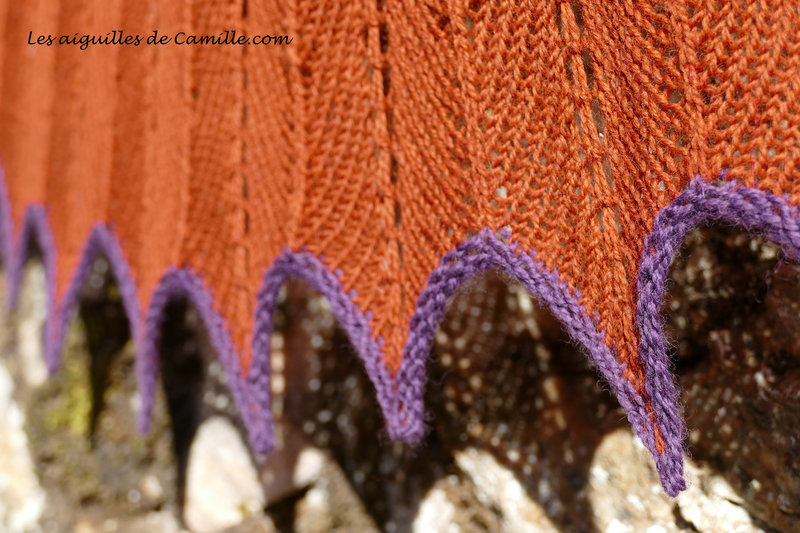 Je vais lancer un KAL sur le groupe FB "Tricote pas tout", qui démarrera le 5 mars 2022 , alors si vous avez de le tricoter avec d'autres mordus de châles , soyez les bienvenus !!!
I'm going to launch a KAL on the FB group "Tricote pas tout", which will start on March 5, 2022, so if you have to knit it with other shawl enthusiasts, welcome!!!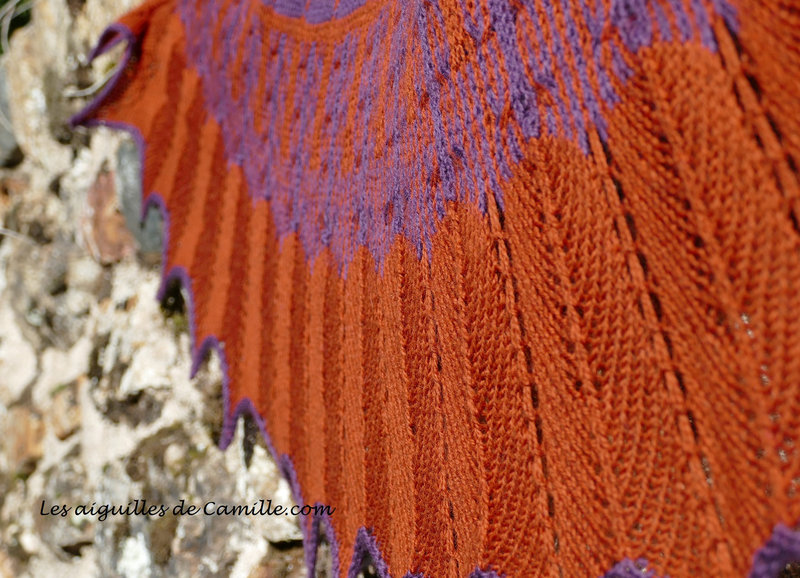 Pour le téléchargement du patron , c'est là!
En Français : Chale_Fleur_VF
Download the pattern!
In English : Fleur_Shawl_English_Pattern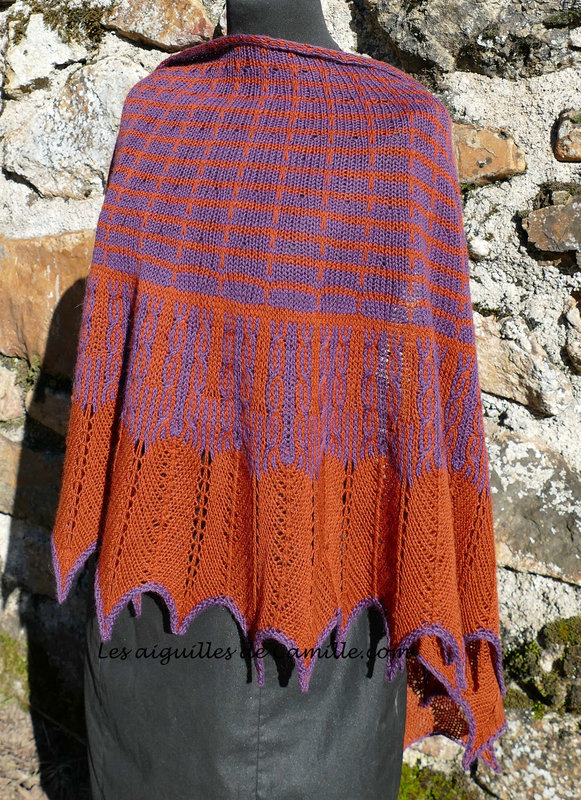 samedi 29 janvier 2022
Retrouver la voie de la beauté , pour apaiser les tempêtes de l'esprit , se défaire des bruits de bottes et des horreurs du monde , voilà l'essentiel.
Garder l'emerveillement devant une fleur d'hiver , même si, toute gelée, elle ne verra pas le printemps .
To find the path of beauty, to calm the storms of the spirit, to get rid of the noises of boots and the horrors of the world, that is the essential.
Keep the wonder in front of a winter flower, even if, all frozen, it will not see the spring.
C'est en voyant le haut de ce bonnet qu'elle m'est venue, cette fleur d'hiver colorée au milieu du brouillard.
It was when I saw the top of this beanie that it came to me, this colorful winter flower in the middle of the fog.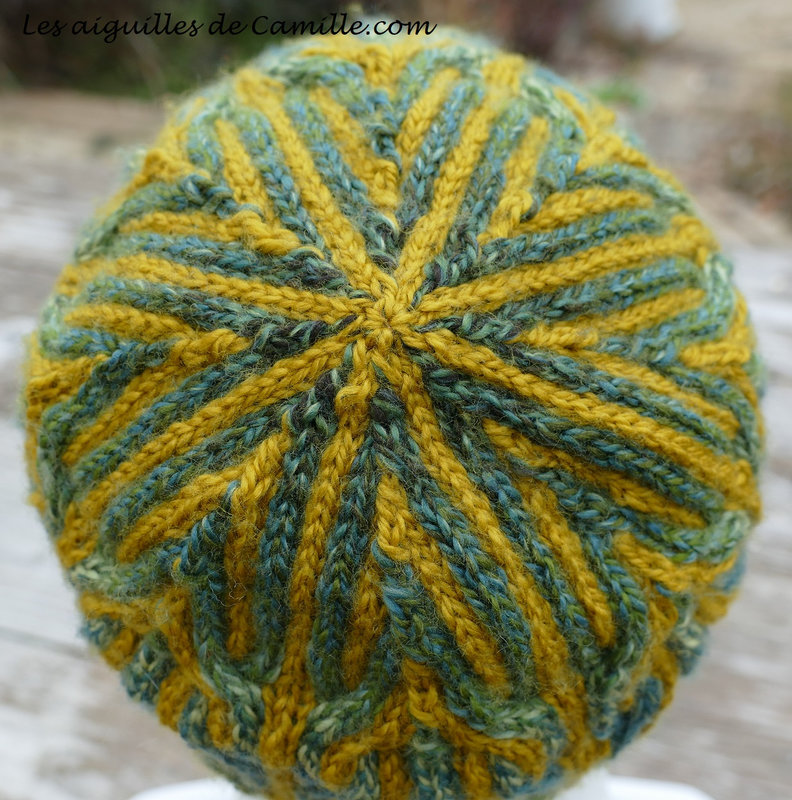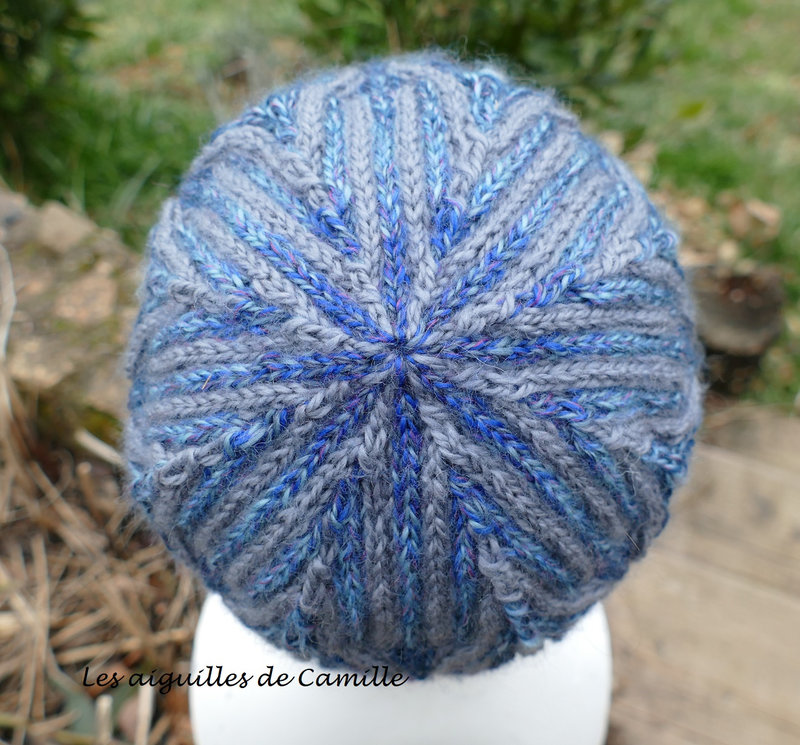 Depuis le Lune de Miel, j'ai un gout immodéré pour les torsades bicolores , alors c'est une récidive !!
Le choix des couleurs : pour le modèle moutarde et à variantes de vert , c'est la laine unie qui a commencé le bonnet , alors que pour l'ouvrage gris et violet/bleu, j'ai fait l'inverse , le résultat est très différent , et chaque personne y mettra sa préférence en le faisant .
Since the Honeymoon, I have an immoderate taste for two-tone cables, so it's a recurrence!!
The choice of colors: for the mustard model with variations of green, it was the solid yarn that started the hat, while for the gray and purple/blue work, I did the opposite, the result is very different, and each person will put their preference in doing so.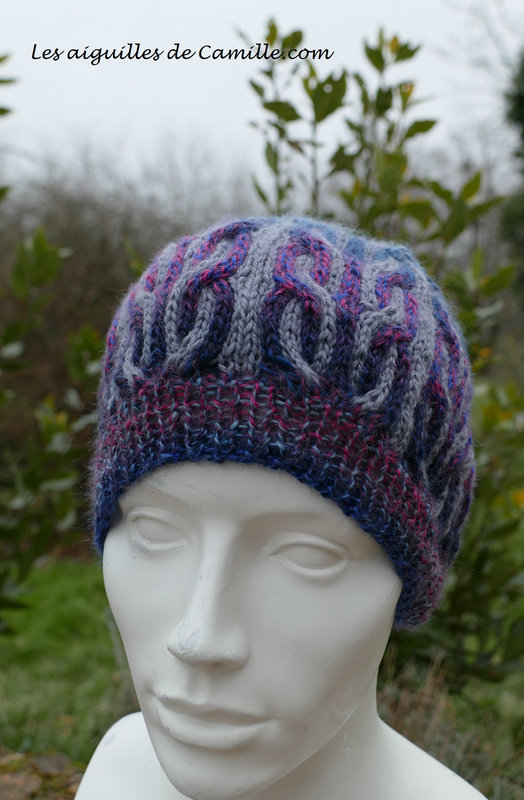 Je vous propose ce modèle en Kit tricot avec différents coloris disponibles, à retrouver sur cette page de la boutique :
https://lesaiguillesdecamille.com/Kit-Bonnet-Fleur-d-Hiver-p-1364-c-96_143.html
I offer this model in a knitting kit with different colors available, to be found on this page of the shop:
https://lesaiguillesdecamille.com/Kit-Bonnet-Fleur-d-Hiver-p-1364-c-96_143.html
Il contient la laine et le patron plastifié, pour le faire et le refaire !!
It contains yarn and the plasticized pattern, to do it and redo it!!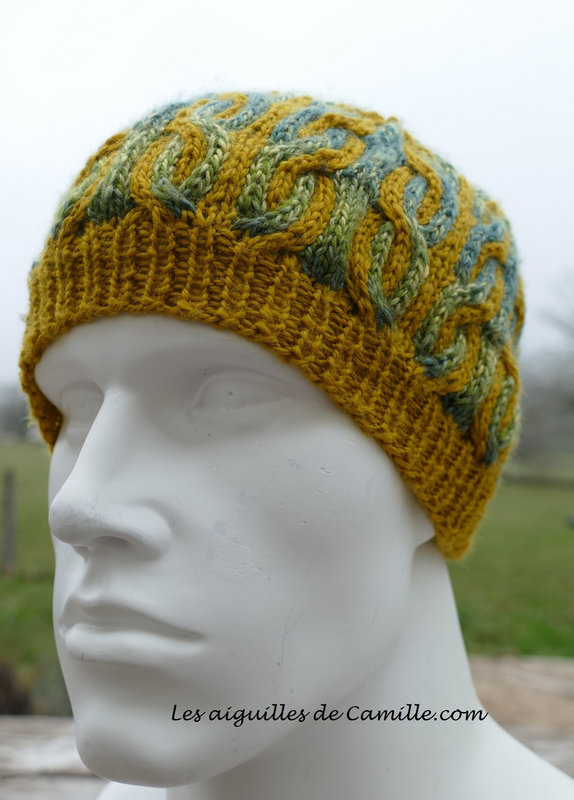 Bien sûr vous pouvez télécharger le patron !!
En français: Bonnet_Fleur_d_Hiver_In_the_mood_Kremke_VF
Of course you can download the pattern!!
In English : Bonnet_Fleur_d_Hiver_In_the_mood_English_pattern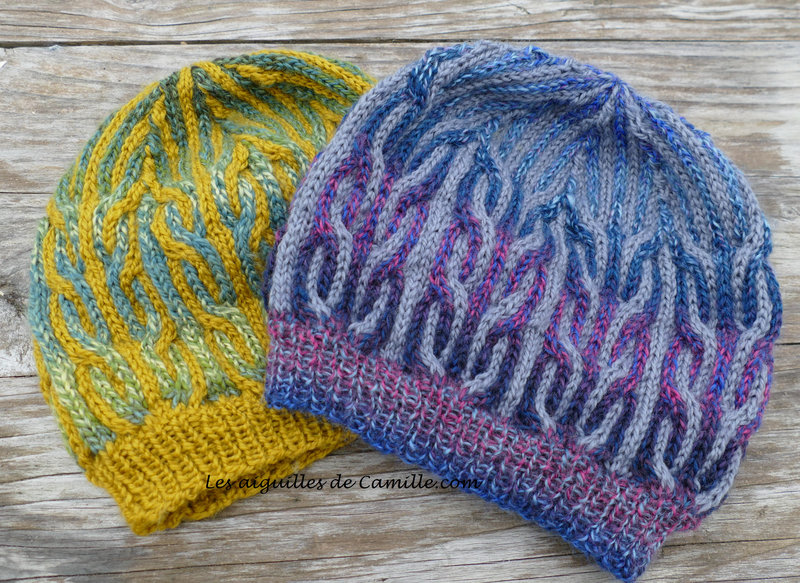 jeudi 18 novembre 2021
C'est un défi de taille ...(et de tailles!!) que de faire un pull!
It's a big challenge for me to make a sweater!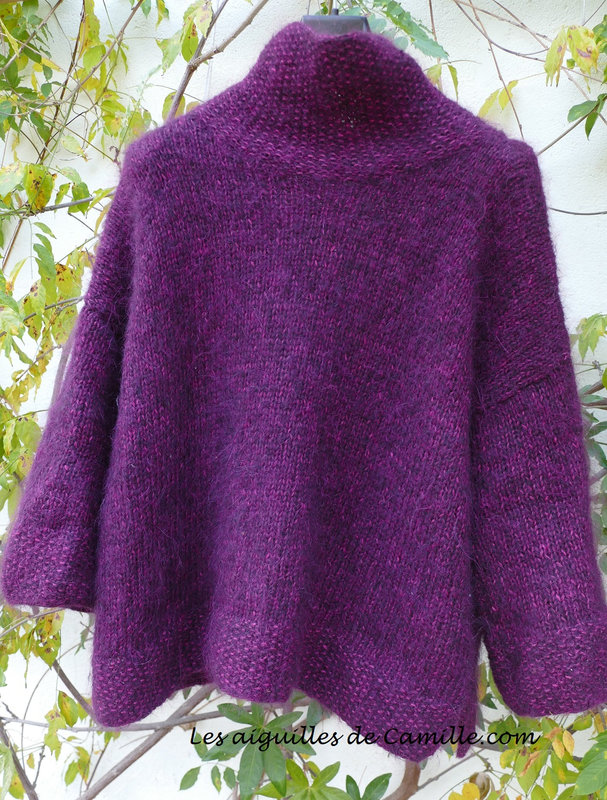 Je l'ai pensé comme celui que j'aime porté: tout simple, chaud , doux et coloré .
I thought of it as the one I like worn: very simple, warm, soft and colorful.
Retour d'un de mes "tocs tricot": le point de riz ! pour faire les bordures de manches , le bas du corps et le col , j'adore ce point à la tenue impeccable , avec son petit effet relief.
Return of one of my "knitting OCD": the seed stitch! to make the edges of the sleeves, the lower part of the body and the collar, I love this point with its impeccable hold, with its small relief effect.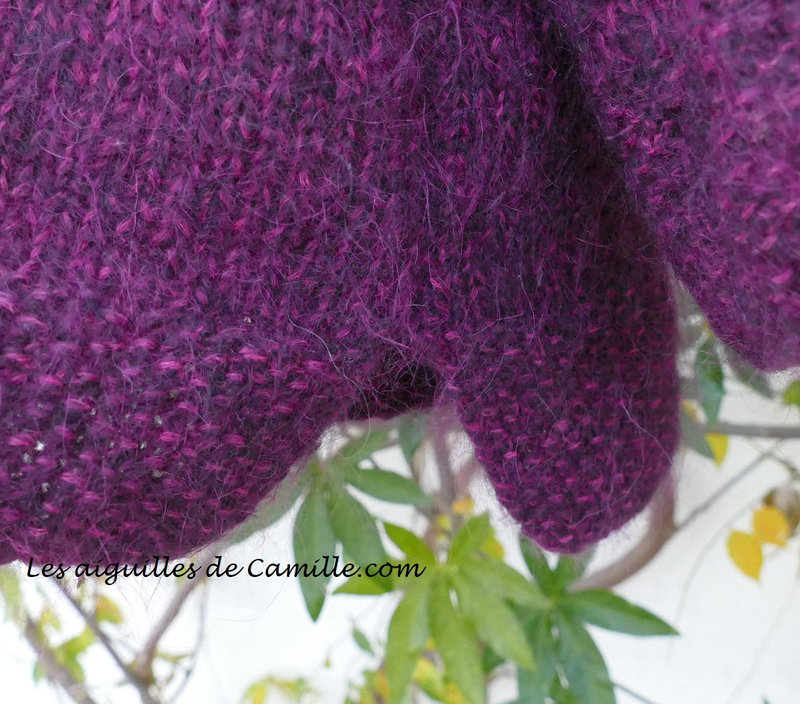 Une forme hyper sobre : vous ne ferez ni augmentations, ni diminutions... si vous savez faire des mailles endroit et envers : ce pull est pour vous !
A super sober shape: you will neither increase nor decrease ... if you know how to knit and purl: this sweater is for you!
Un col montant bien sûr pour des cervicales entourées de douceur et de chaleur , et des manches 3/4, mes préférées!
A high collar of course for necks surrounded by softness and warmth, and 3/4 sleeves, my favorites!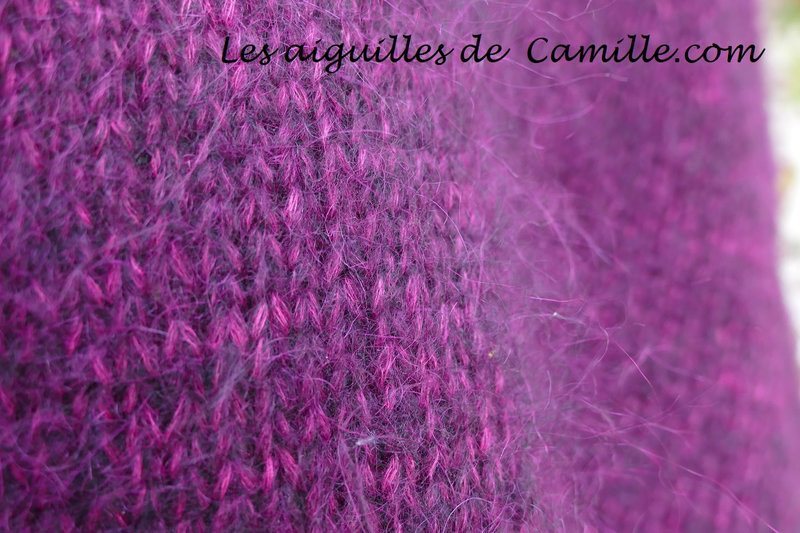 Le bas du pull reste ouvert , les coutures se font sur la partie jersey , la base demeurant libre... pas de risque de resserage sur vos hanches ou vos fesses!!
The bottom of the sweater remains open, the seams are done on the stockinette stitch part, the base remaining free ... no risk of tightening on your hips or your buttocks !!
Plusieurs tailles sont à disposition du 34 au 50 , en sachant que vous pourrez tout adapter à vos mesures , allonger les manches , le corps . Raccourcir ou allonger le col à votre guise ... bref un modulable !
Several sizes are available from 34 to 50, knowing that you can adapt everything to your measurements, lengthen the sleeves, the body. Shorten or lengthen the collar as you wish ... in short, a modular one!
Pensez simplement à la quantité de laine supplémentaire nécessaire .
Just think about how much extra yarn is needed.
La laine parlons en !
Let's talk about the yarn !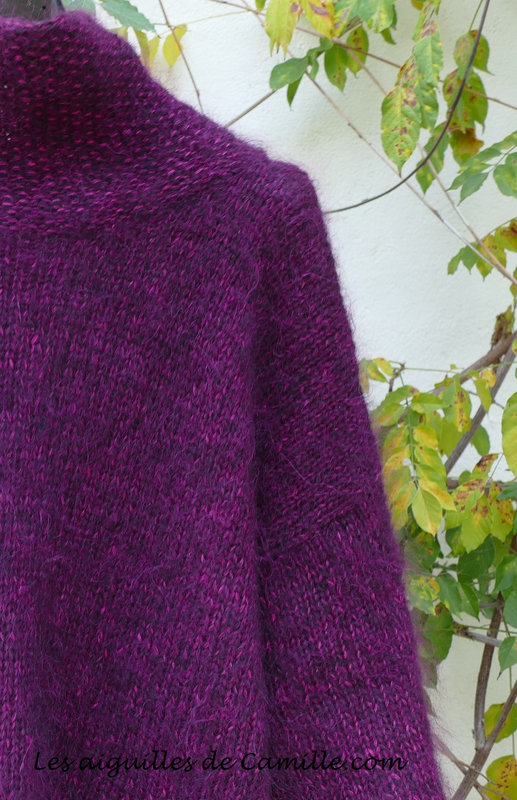 C'est la Neptune de Plassard . Au départ une base coton ça m'a interpellé... comment faire du chaud avec du coton ?? Pari plus que réussi avec de l'alpaga et du mohair en plus , ça donne un résultat aérien , douillet à souhait ... je suis amoureuse !!!
It is Plassard's Neptune. At first, a cotton base appealed to me ... how to make warm with cotton? Bet more than successful with alpaca and mohair in addition, it gives an aerial result, cozy as you wish ... I'm in love !!!
Le pull se tricote avec des aiguilles 6mm , autant dire que ça grimpe à toute allure !!
The sweater is knitted with 6mm needles, which means that it climbs at full speed !!
J'ai glissé quelques conseils dans le modèle, prenez le temps de tout lire avant de vous y mettre , une petite vérification de vos mesures ... et c'est parti!!
I slipped some tips into the pattern, take the time to read everything before you start, a little check of your measurements ... and let's go !!
Alors bon tricot et excellent hiver bien au chaud !!
So enjoy knitting and have an excellent and warm winter !!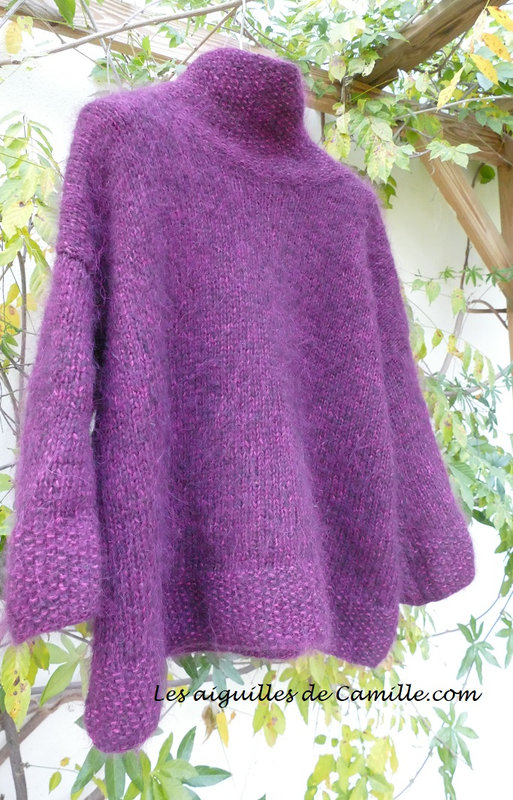 En français: pull_simple_VF
In English : Simple_sweater_English_version

vendredi 30 avril 2021
Prenez le ! Pour vous , vos moments seules, en tête à tête avec votre laine et vos aiguilles .
Prenez le en le tricotant pour vous , pour votre plaisir.
Prenez plaisir à le porter , ou à l'offrir ...
Take it ! For you, your moments alone, face to face with your yarn and your needles.
Take it by knitting it for yourself, for your pleasure.
Take pleasure in wearing it, or in offering it ...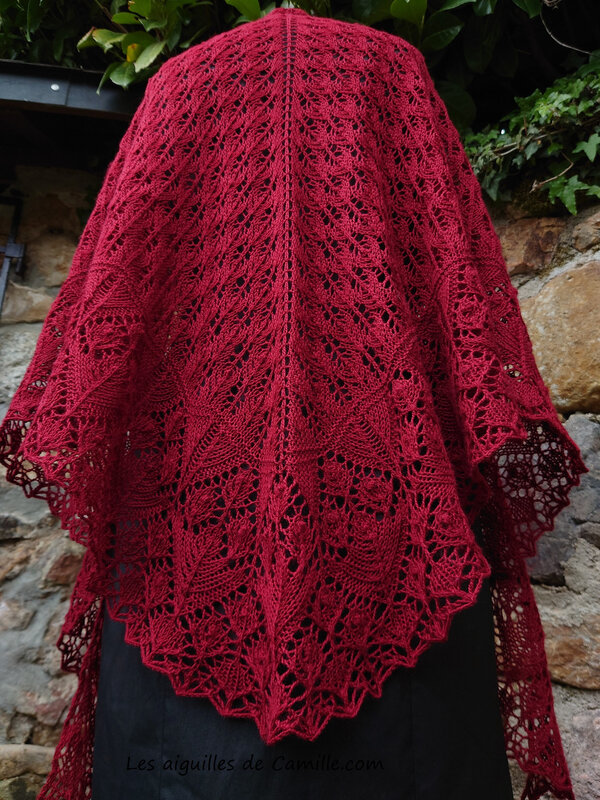 En faisant ce châle , c'est le mot qui m'est venu : plaisir . J'ai fermé les yeux , apprécié la matière , regardé les mailles s'enchainer, les motifs se dessiner , avec à l'esprit leur rendu une fois le tricot terminé . Et je les ai vu bloqués , étendus , épanouis.
Plaisir à l'état pur que je vous propose , en souhaitant qu'il vous en donne autant qu'à moi !
While making this shawl, that's the word that came to me: pleasure. I closed my eyes, appreciated the material, watched the stitches follow one another, the patterns take shape, with their rendering in mind once the knitting was finished. And I saw them blocked, stretched out, blooming.
Pleasure in its purest form that I offer you, wishing that it gives you as much as it does to me!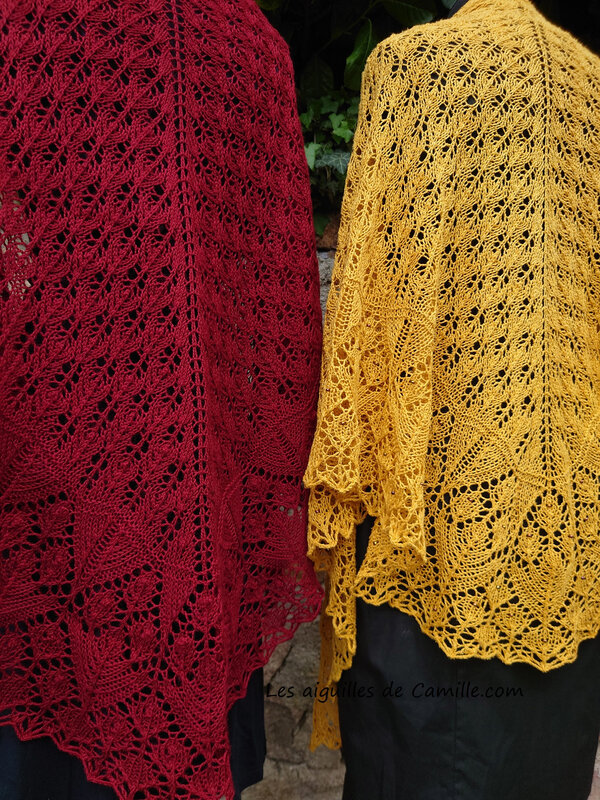 J'ai même poussé le plaisir jusqu'à en tricoter 2 ...
I even took the pleasure of knitting 2 ...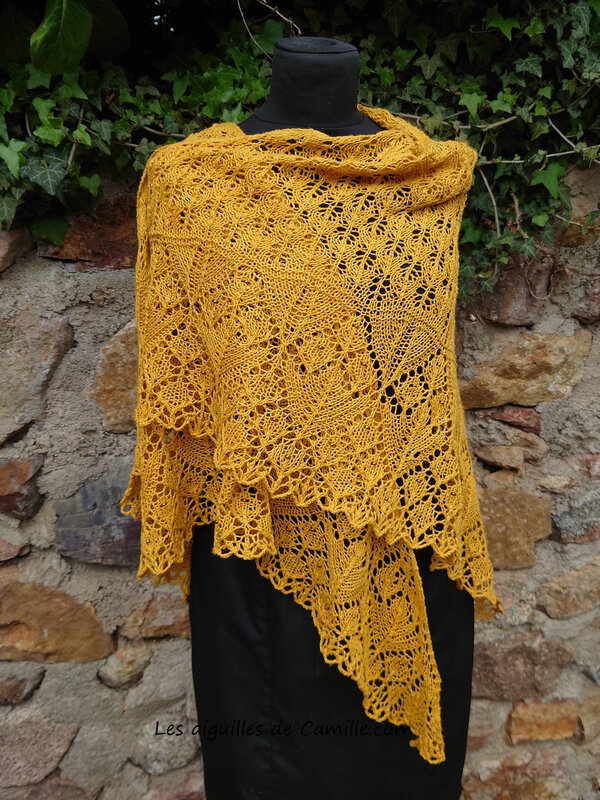 Celui ci est en bourette de soie , la Geisha de Plassard , à tricoter en 4mm et avec 4 pelotes ( par ici !!)
This one is in silk bourette, the Geisha of Plassard, to knit in 4mm and with 4 balls (here !!)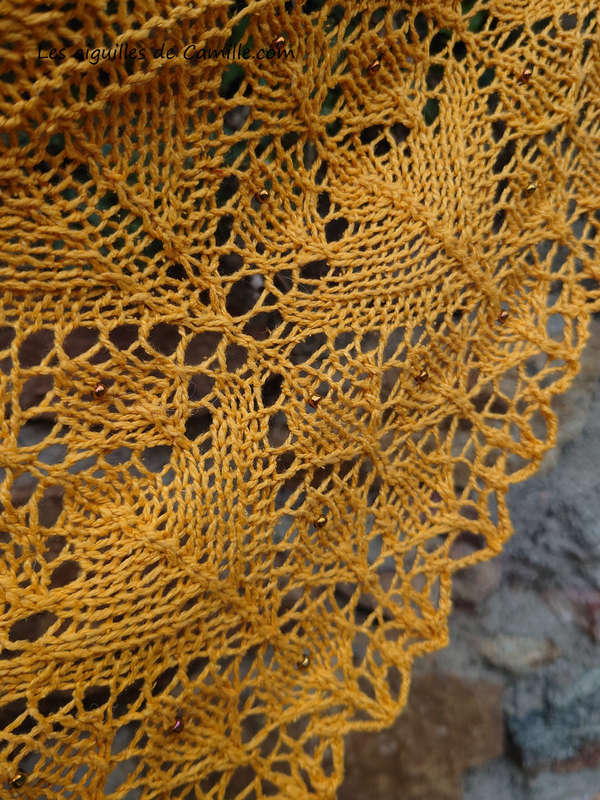 J'ai ajouté quelques perles dans les motifs de la bordure dentelle .
I added some beads in the patterns of the lace edge.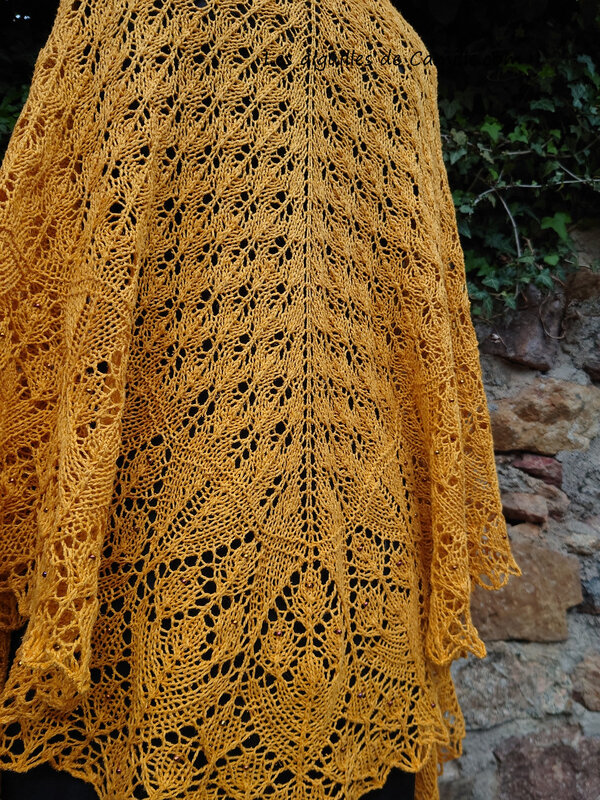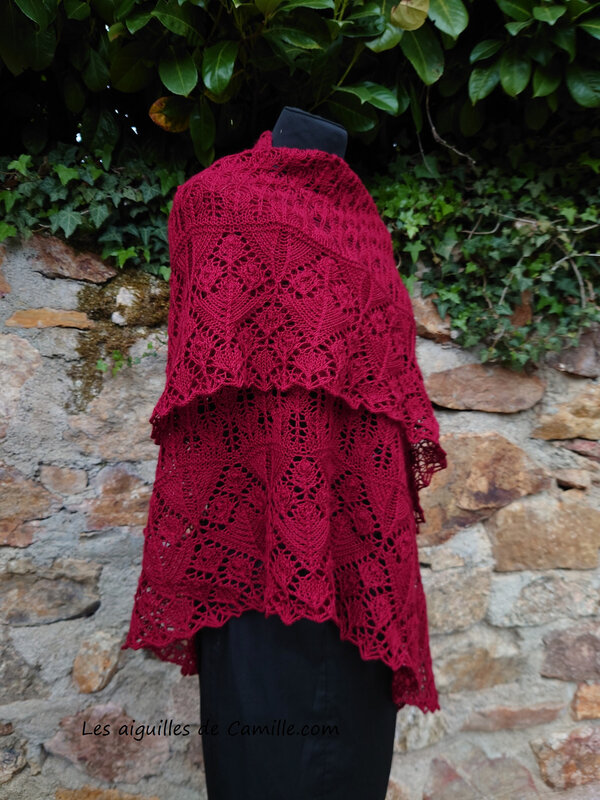 Ce joli rouge est en Semilla GOTS de BC Garn , 5 pelotes , aiguilles 4mm ( vous trouverez les différents coloris ici!!)
This pretty red is in Semilla GOTS by BC Garn, 5 balls, 4mm needles (you will find the different colors here !!)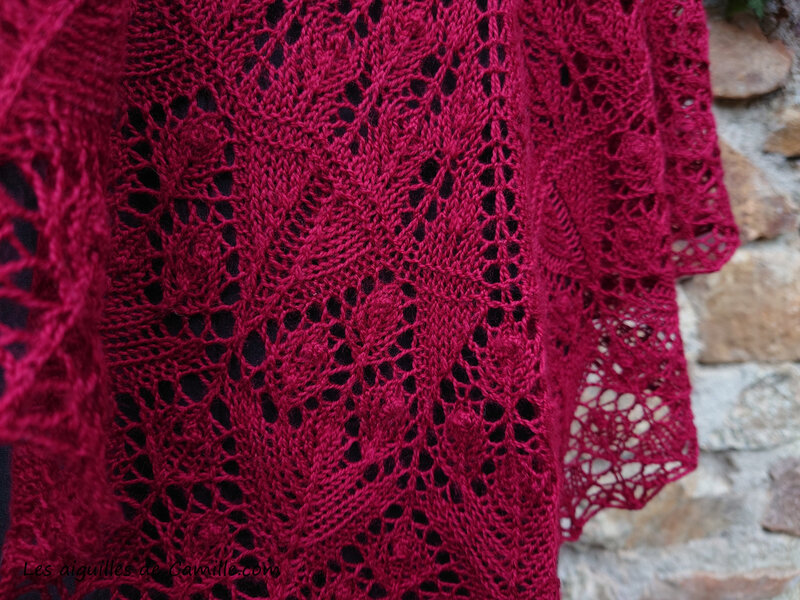 Sur la bordure , j'ai mis quelques noppes pour cette version . Les deux possibilités sont incluses dans le patron à télécharger en bas du post .
On the edge, I put some noppes for this version. Both possibilities are included in the pattern to download at the bottom of the post.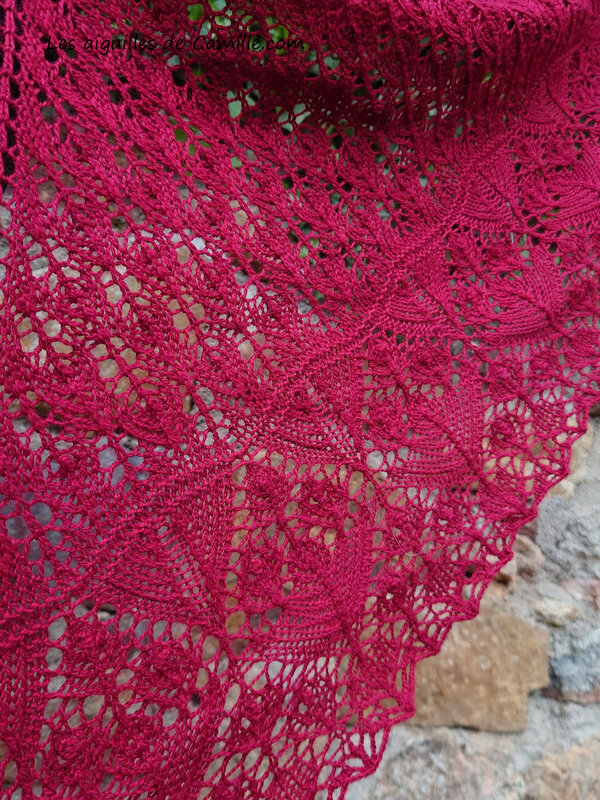 Bon tricot , faites vous plaisir !!
Enjoy !!
En français : Châle_Plaisir_VF

In English: shawl_Plaisir_English_pattern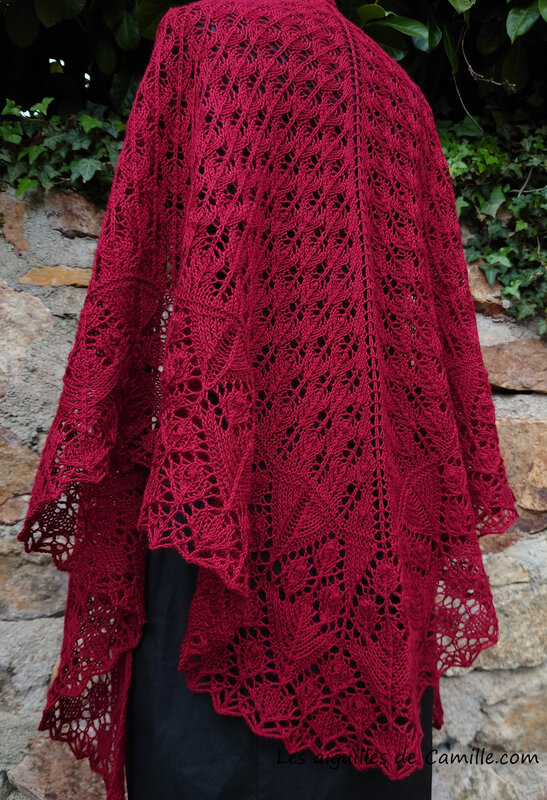 vendredi 19 mars 2021
Un remède à la mélancolie , voilà qui me parait approprié !
A cure for spleen, that seems appropriate to me!
In English, I chose "hang in there!" , I love this expression that encourages you to move forward, I hope this poncho, like the other knits I offer, will give you a good time, away from the worries of everyday life
L'idée m'est venue à l'écoute d'une émission de radio du même nom , pour les curieuses (et curieux bien sûr), ce lien vous y conduira!
The idea came to me thanks to a French radio show, where a guest tells about what makes him feel good: activities, books, music ... I'm so sorry that you can't enjoy it if you are not French speaking, but I hope that you have your own "things" to look after your mood!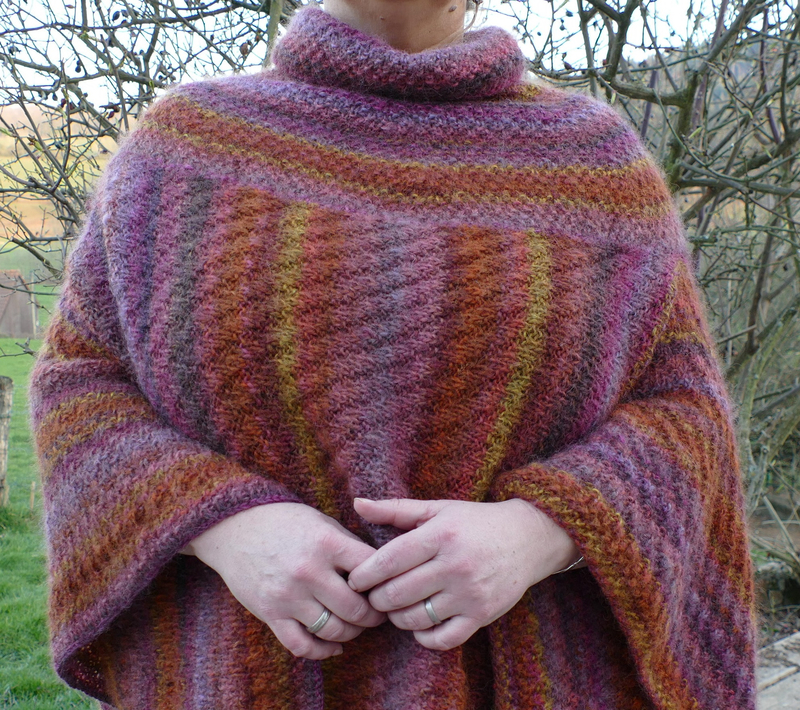 L'occasion de me questionner sur ce qui me fait du bien .... et le tricot est en tête de liste !
The opportunity to question myself about what makes me feel good .... and knitting is at the top of the list!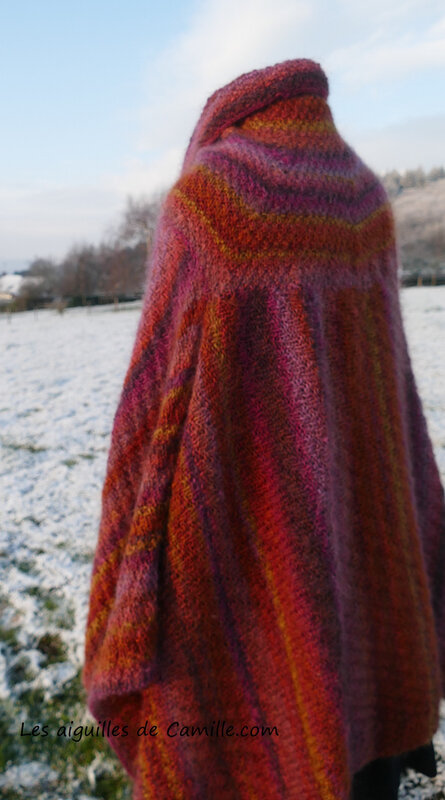 Les ouvrages douillets particulièrement , celui-ci en est un très bon exemple , pas de prise de tête ( des mailles envers et endroit uniquement ) , une bonne taille pour être au chaud, et plein de couleurs pour contrer la grisaille de la météo autant que celle de cette période !
Cozy works in particular, this one is a very good example, no fuss (purl and knit stitches only), a good size to be warm, and full of colors to counter the greyness of the weather as much as that of these times!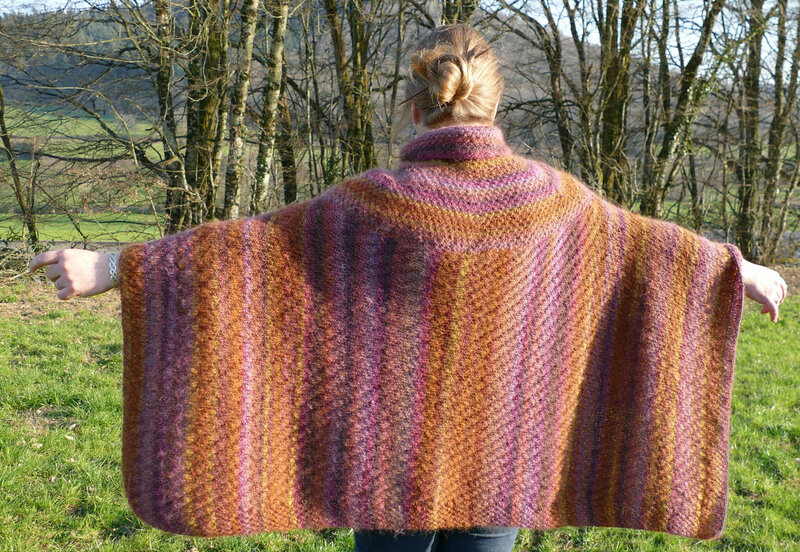 Ce poncho est tricoté en une seule pièce ,d'un côté à l'autre dans un point qui donne un aspect bien texturé , ce qui convient particulièrement bien à cette jolie Alpalaine Plassard ( mélange laine et alpaga ).
This poncho is knitted in one piece, from side to side in a stitch that gives a well-textured appearance, which is particularly suitable for this pretty Alpalaine Plassard (wool and alpaca).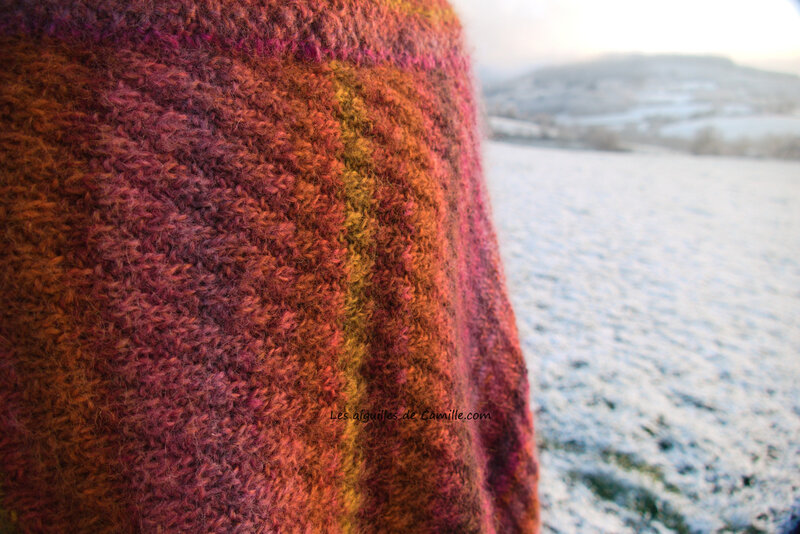 Avec une grande partie de tricot droit, le col étant repris pour le tricoter en circulaire , donc zéro couture !!
With a large part of straight knitting, the collar being taken back to knit it in circular , so zero seams !!
Pour les dimension , c'est une taille unique , avec 140cm d'un bout de la "manche " à l'autre , le devant fait 45cm et le dos 55, donc vous serez bien au chaud , avec une agréable liberté de mouvements vu que le devant est plus court.
For the dimensions, it is a unique size, with 140cm from one end of the "sleeve" to the other, the front is 45cm and the back 55, so you will be warm, with a pleasant freedom of movement because the front is shorter.
Il est présenté avec un col roulé de 20cm au total, vous pouvez le rallonger ou le raccourcir à votre guise .
It is presented with a turtleneck of 20cm in total, you can lengthen or shorten it as you like.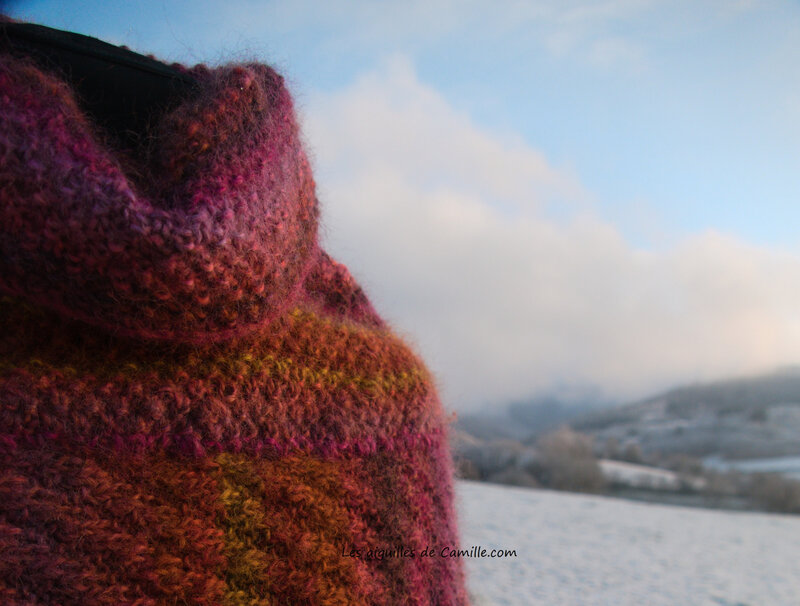 Vous pourrez trouver votre laine, dans différents coloris sur cette page de la boutique , les aiguilles et le câble seront offerts pour les 3 premières commandes des 15 pelotes nécessaires !
You can find your yarn in different colors on this page of the shop, the needles and the cable will be free for the first 3 orders of the 15 balls required!
Et pour ce qui est de soigner ma mélancolie passagère , j'écoute souvent ça : https://youtu.be/WOKfK8y4_MQ que je partage bien volontiers avec vous !
And when it comes to healing my fleeting melancholy, I often listen to this:https://youtu.be/WOKfK8y4_MQ which I gladly share with you!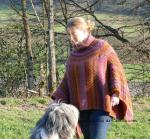 Bon tricot !!

Patron en Français:Poncho_Remède_à la_mélancolie_VF
Pattern in English : Poncho_Hang_in_there_English_pattern