samedi 21 décembre 2019
Soie belle et .... tricote!( Bien sûr!!!)
C'est un gros craquage pour un gros coup de coeur .... oui je tombe raide amoureuse de pelotes de laine .... je vous laisse en penser très exactement ce que vous voulez!!!
Soie Belle and .... knits! (Of course !!!), The joke works in French, less in English, I'm sorry for that!!
It is a big crack for a big crush ... yes I am in love with balls of yarn .... I let you think very exactly what you want !!!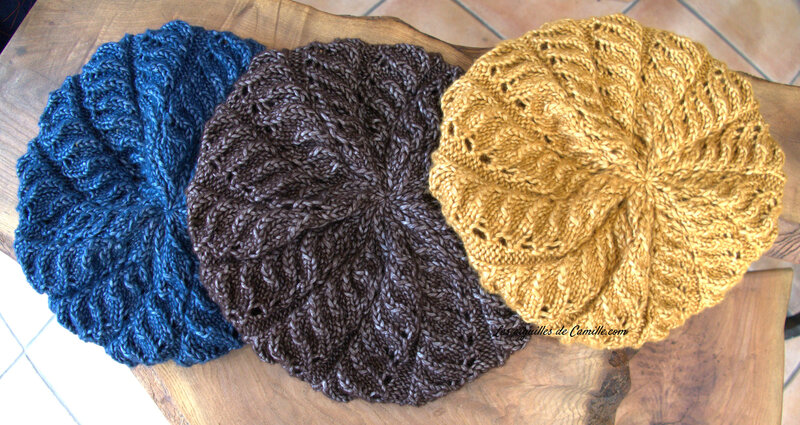 C'est un modèle automne hiver , mais la qualité de cette laine permet de faire de la dentelle, sans que le confort de l'heureuse propriétaire du béret n'a à en pâtir.
It is an autumn winter model, but the quality of this yarn makes it possible to work lace, without the comfort of the happy owner of the beret having to suffer.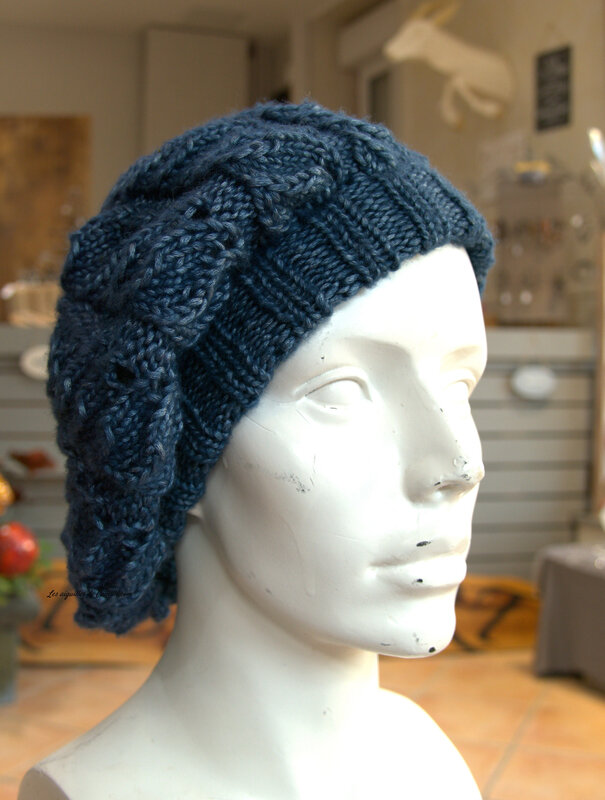 J'ai utilisé un motif qui ne se tricote qu'en rond.
I used a pattern that is worked only in the round.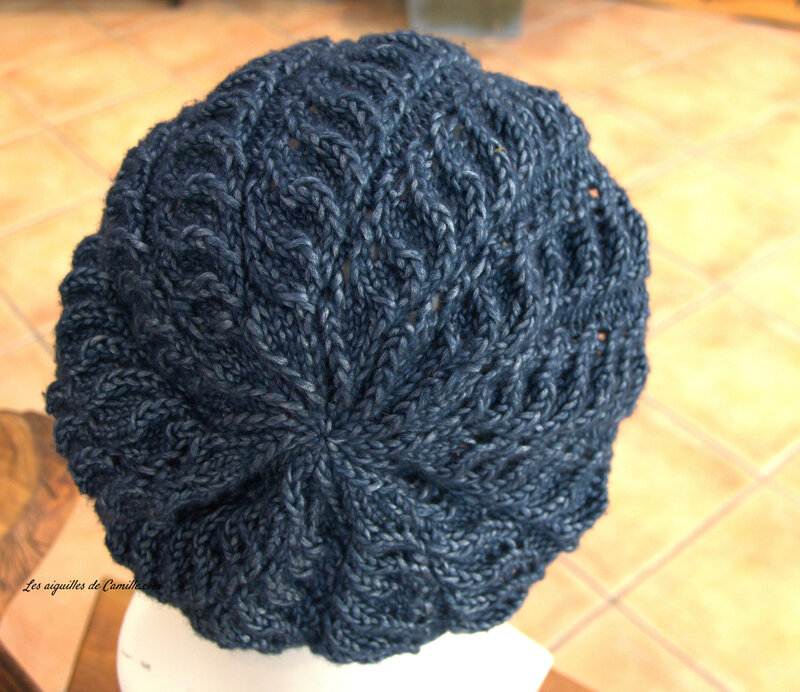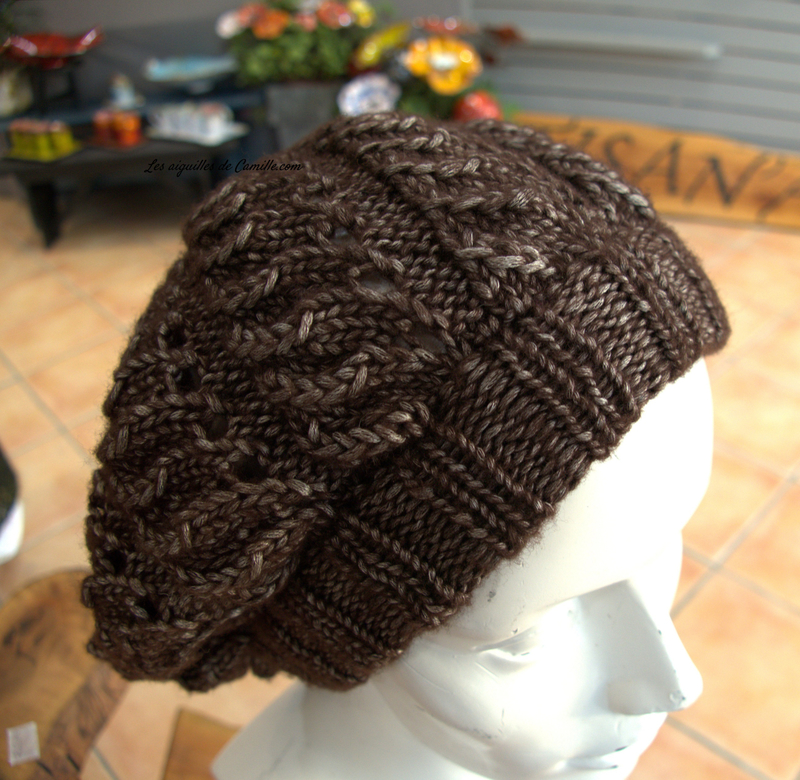 Et qui donne un mouvement de spirale que j'apprécie.
And which gives a spiral movement which I appreciate.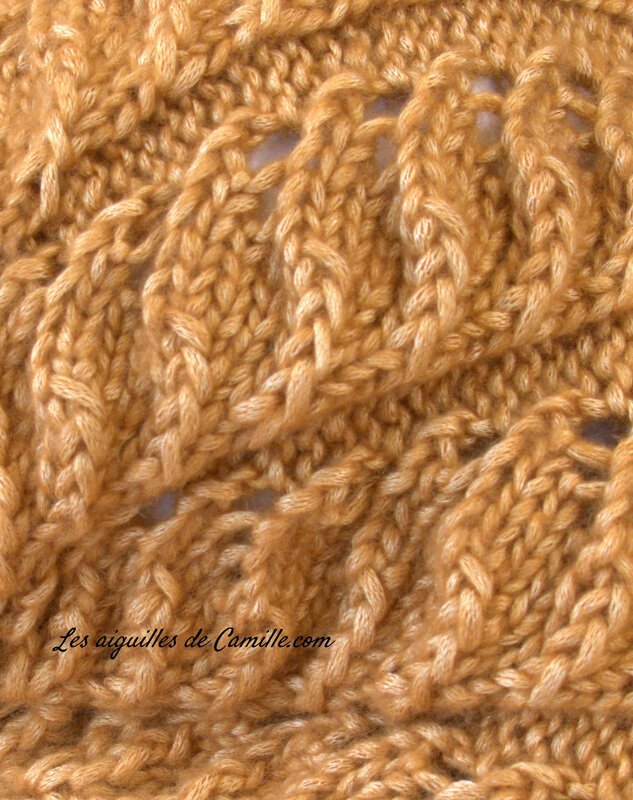 Ce ruban, Breeze de Kremke, est composé de 61% de soie, et toutes les couleurs captent merveilleusement la lumière!
This ribbon, Kremke Breeze, is made of 61% silk, and all the colors capture the light wonderfully!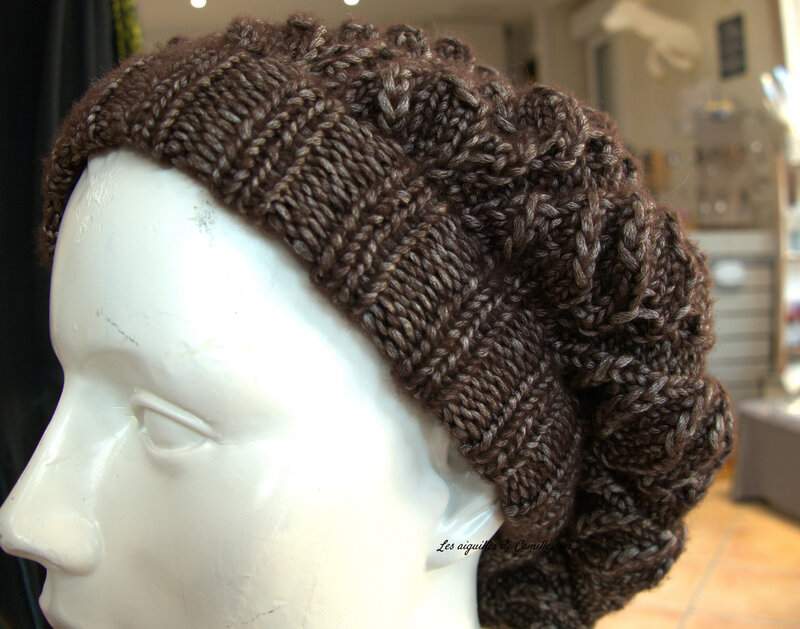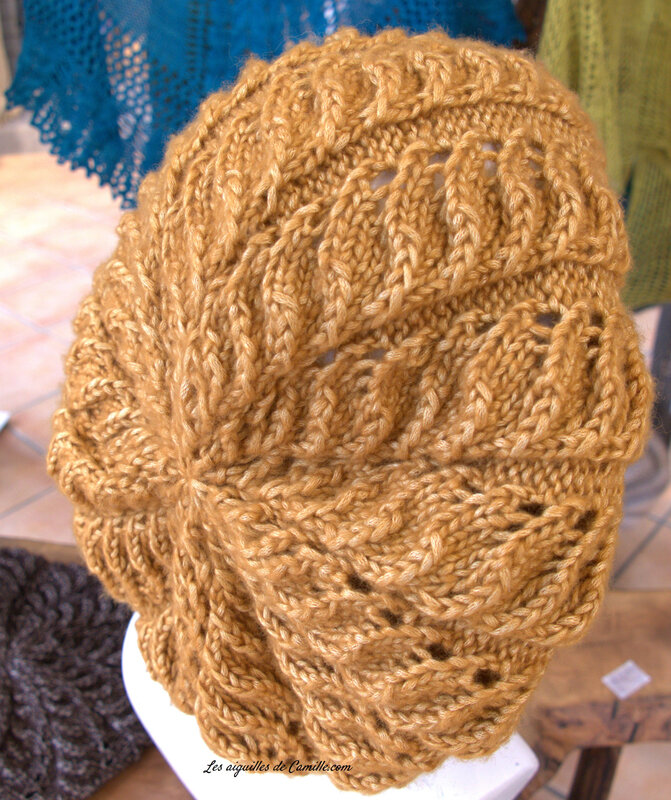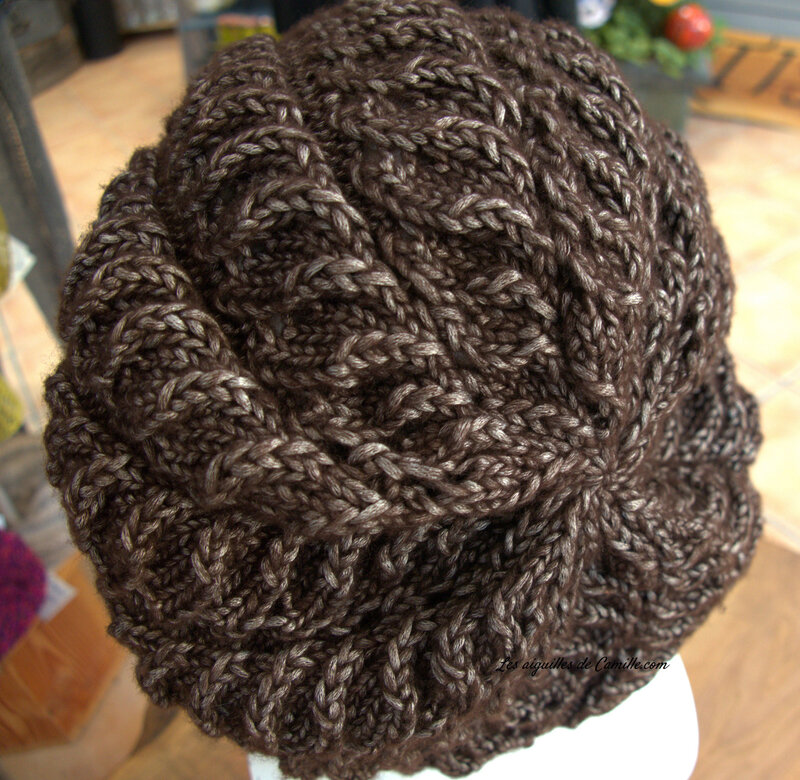 Pour le modèle, il vous suffit, comme toujours de télécharger le PDF dans le lien ci dessous!!
For the model, all you need to do is download the PDF in the link below !!
En français: Béret_Soie_Belle_VF
In English: Béret_Soie_Belle_English_pattern
vendredi 29 novembre 2019
Quand je ferme les yeux , il m'arrive deux ou trois petites choses .
L'odeur des pivoines...
Le chant des tourterelles...
Le gout des cerises Montmorency , acidulé à souhait , leur chair encore tiède , juste cueillies...
Et vient se glisser dans tout ça un bonnet... ne cherchez pas de logique là dedans, y'en a pas ! C'est ce qui est magique avec les souvenirs , parfois ça arrive en vrac , libre à nous de faire le tri ... ou pas!
Proust avait sa madeleine, moi j'ai mon bonnet !!
Ça c'est l'original:
When I close my eyes, two or three little things come to me.
The smell of peonies ...
The song of turtles ...
The taste of Montmorency cherries, acidulated at will, their flesh still warm, just picked ...
And just slip into all that a hat ... do not look for logic in there, there is none! That's what's magical with the memories, sometimes it happens in bulk, free for us to sort ... or not!
Proust had his madeleine, I have my hat !!
That's the original: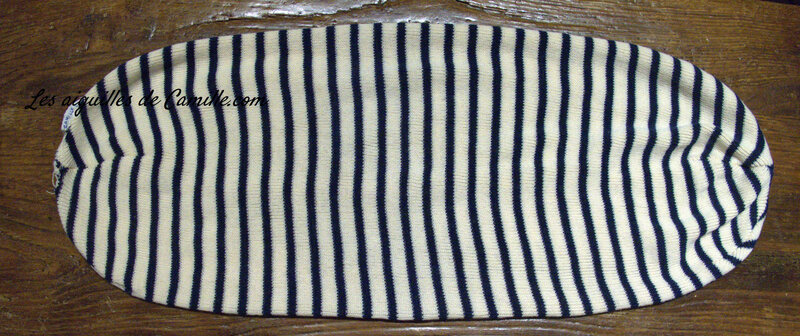 oui... une chaussette sans trou, de prime abord étrange .. quand vous le mettez en forme : hop! un bonnet !
yes ... a sock without a hole, at first sight strange .. when you put it in shape: hop! a beanie!
et le truc totalement marteau, c'est que je l'ai eu petite et qu'il me va toujours .... ( bon j'ai pas beaucoup grandi , mais quand même!!)
Et depuis un grand moment , quand je le croise , je me dis "il faut que tu le fasses , c'est trop top ce truc", ben oui, c'est doux c'est chaud , c'est moelleux ( quand je vous dis qu'il y a un lien avec les madeleines!!!)... et à force d'y penser , j'ai fini par le sortir de mes aiguilles, avec ma touche perso : de la couleur, assez automnale j'en conviens!
and the thing totally crazy is that I had it small and it still suits to me .... (well I have not grown much, but still!)
And for a long time, when I see it, I say to myself "you have to do it, it's too top that thing", well yes it's soft it's hot, it's comfortable (when I tell you that there is a link with madeleines !!!) ... and by dint of thinking about it, I ended up taking it out of my hands, with my personal touch: the color, quite autumnal I agree!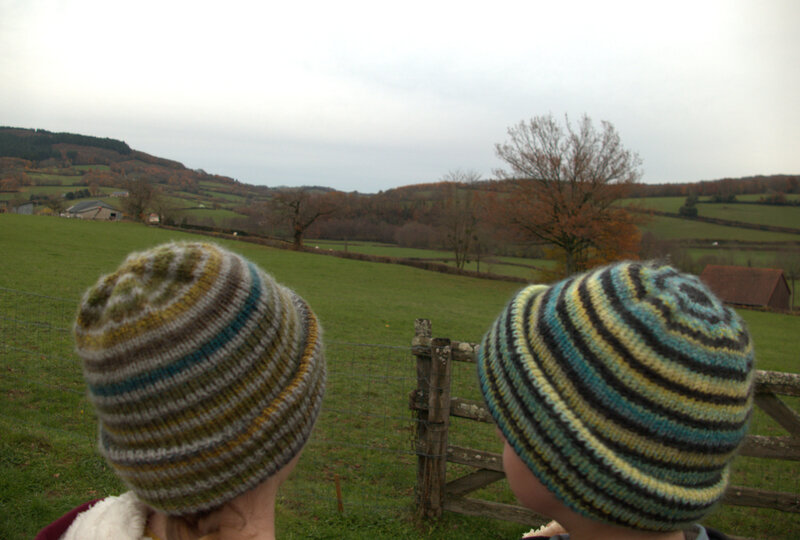 Pas que je n'affectionne pas le côté sobre et bord de mer de l'original, mais il fallait bien que je mette mon grain de sel!!
Not that I do not like the sober and seaside side of the original, but it had to look a little more like me !!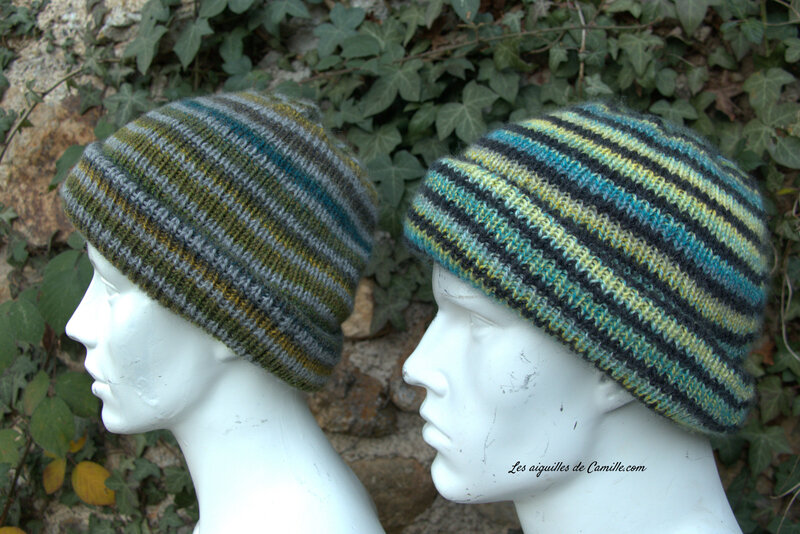 Mais pourquoi Marcel ???
Pour Proust ??? non , on ne se connaissait pas personnellement , j'aime bien bien les madeleines, mais faut pas pousser!
But why Marcel ???
For Proust ??? no, we did not know each other personally, I like madeleines, but not that much!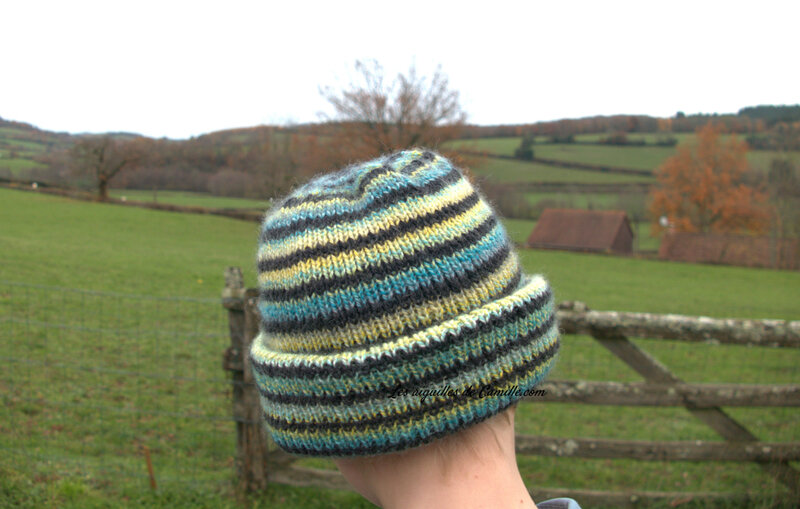 Pour une célèbre marque de machins rayés ??? euh non ... définitivement pas !
For a famous brand of striped stuff ??? uh no ... definitely not!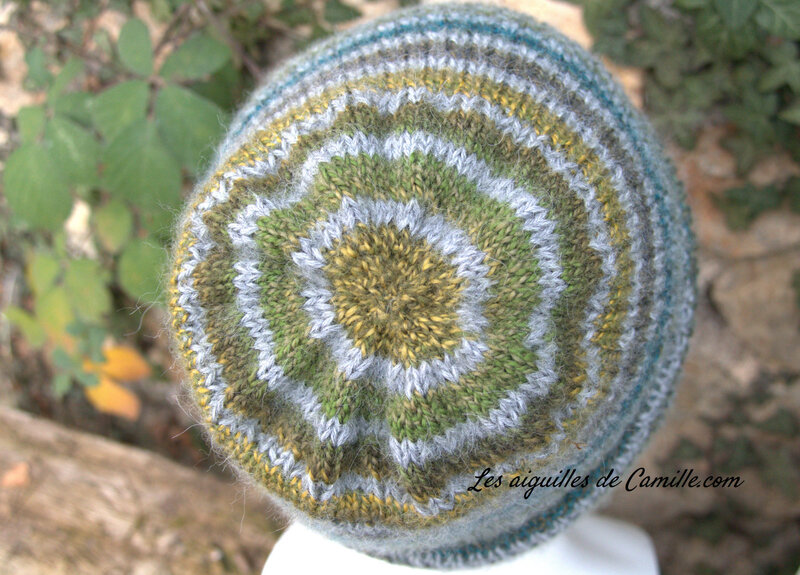 Pour ça (attention clic surprise!!)???? j'aurai pu !! mais non....
For this (take care this is a special surprise perfectly untranslatable!!)???? I could have , but no....
Pour les pivoines, les tourterelles, le gout des cerises , le petit dej préparé avec amour sur la table en formica , et parce que dans ce bonnet , tous mes souvenirs me ramène vers lui: Marcel , mon grand père.
For the peonies, the turtledoves, the taste of the cherries, the breakfast prepared with love on the formica table, and because in this beanie, all my memories bring me back to him: Marcel, my grandfather.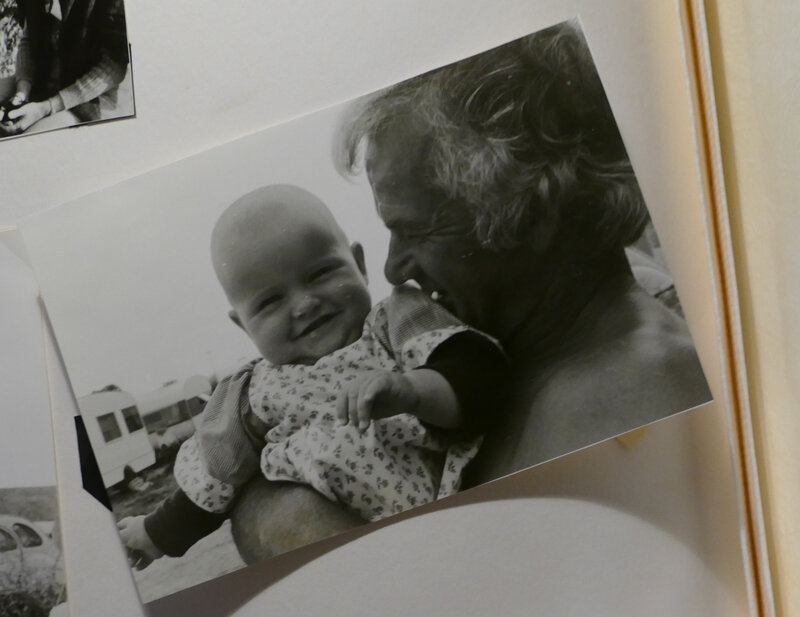 ( et maintenat vous savez pourquoi j'avais besoin d'un bonnet!!)
(Now you know why I needed to wear a beanie!!)
Pour les contingences techniques, ce bonnet double super chaud et bien adapté à l'hiver qui se profile, il se tricote en rond , aiguilles 3.5mm.
For technical contingencies, this double beanie super hot and well adapted to the winter that comes, it knits in the round, needles 3.5mm.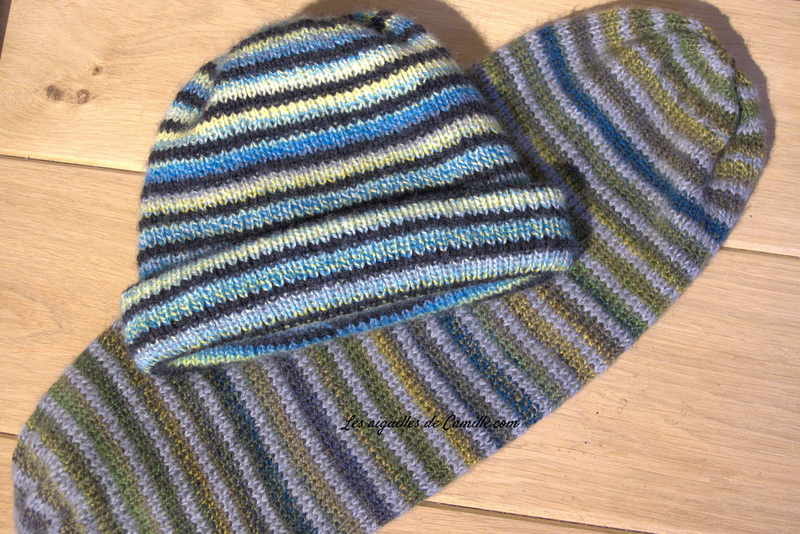 Pour le choix de laine: du mérinos extra fin de chez Schoppel Wolle et le baby alpaga de Kemke, autant dire que c'est douillet!
For the choice yarn: extra fine merino from Schoppel Wolle and baby alpaca from Kemke, so cozy!
Le kit pour le bonnet est sur cette page de la boutique ( clic!)... et si vous voulez un assortiment de couleurs perso, n'hésitez pas à m'envoyer un mail: contact@lesaiguillesdecamille.com, je vous ferai ça aux petits oignons!
The kit for the beanie is on this page of the shop (click!) ... and if you want an assortment of personal colors, do not hesitate to send me an email: contact@lesaiguillesdecamille.com, I will make you a personal kit with pleasure.
Pour le modèle, il est à télécharger ci-dessous:
Please, download the pattern:
En Français:Marcel_VF
In English: Marcel_English_Version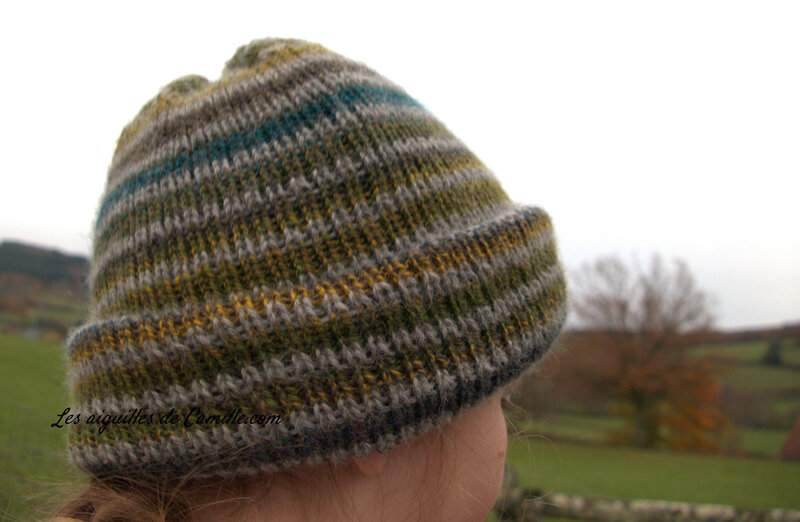 vendredi 18 octobre 2019
Bonjour tout le monde!
Ce weekend, je vais à Saint Jean de Losne , pour 2 jours de salon !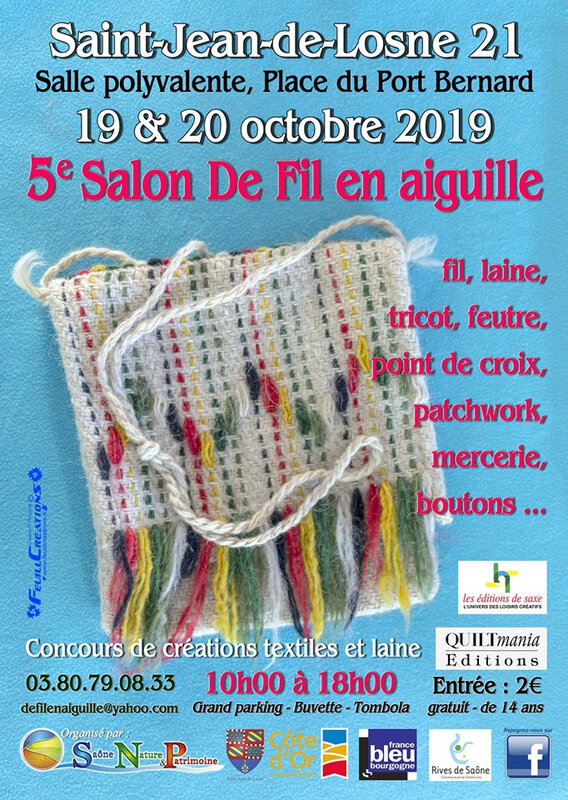 Et je vous y verrai avec plaisir!!!
A demain!!
Camille
samedi 5 octobre 2019
Après toutes les torsades de mes derniers châles , il me fallait un projet simple, sobre , pour laisser mes mains au travail et ma tête au repos... mais dans la douceur et la couleur!!
After all the twists of my last shawls, I needed a simple project, sober, to leave my hands at work and my head at rest ... but in softness and color!
Alors me voilà partie sur du jaune un brin acide , dégradé jusqu'au noir et la douceur d'un petit mélange alpaga et soie, qui donne le côté mousseux, douillet tout en restant franchement aérien...
So here I am on a yellow acid strand, degraded to black and the sweetness of a mix alpaca and silk, which gives the foamy side, cozy while staying frankly aerial ...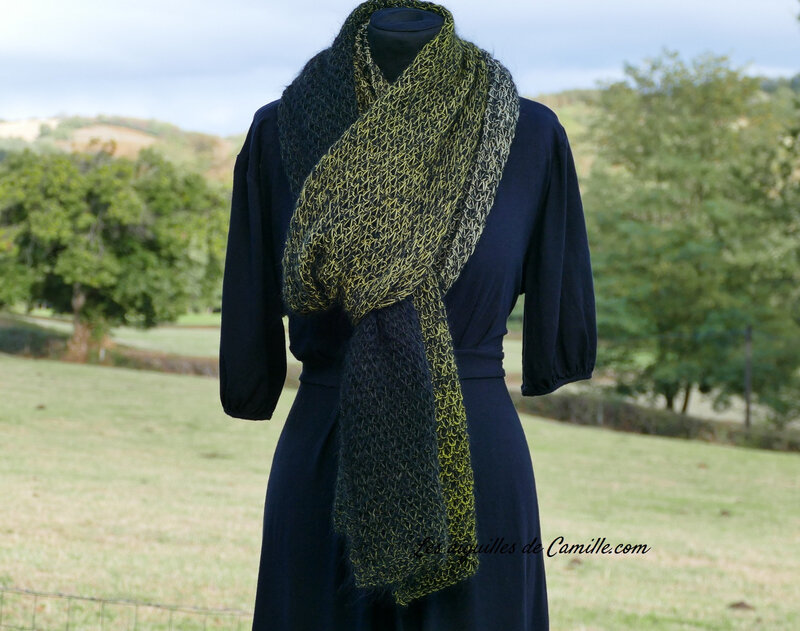 Ah, et j'oubliai ... des aiguilles 8mm pour que ça aille vite et bien , en laissant les points respirer aux aussi!
Ah, and I forgot ... 8mm needles for it to go quickly and well, letting the points breathe too!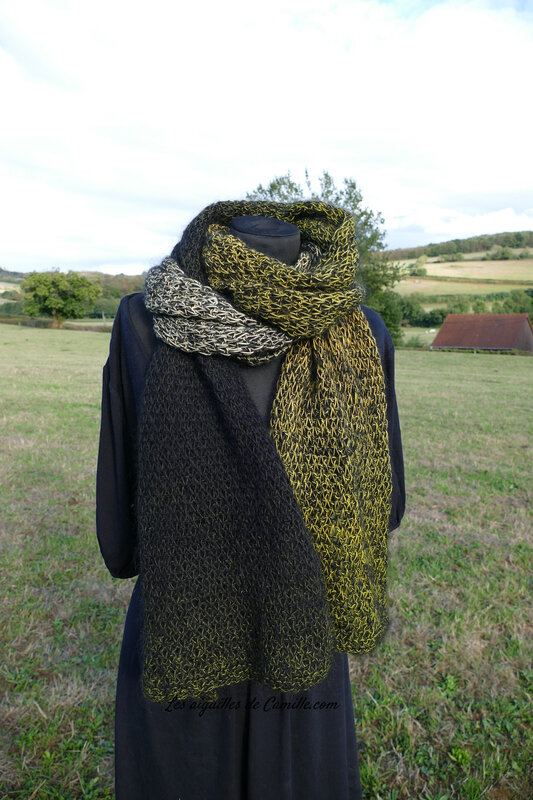 Ça donne un modèle accessible à tous niveaux de tricot , sans ennui, et à décliner dans les couleurs que l'on préfère !
it gives a model accessible to all levels of knitting, without boredom, and to decline in the colors that we prefer!
A tricoter avec un cake Zauber Flower Schoppel Wolle, et 3 pelotes d'Algasoie Plassard , les fils se travaillent en double.
To knit with a cake Zauber Flower Schoppel Wolle, and 3 balls of Algasoie Plassard, the threads are worked in double.
Modèle en français:Etole_Etamines_VF
Pattern in English: Scarf_Etamines_English_version
samedi 21 septembre 2019
Avant de vous présenter mon châle ( et oui, pour une fois j'ai tricoté pour moi!! ), j'aimerai remercier toutes les personnes qui m'ont envoyé un message , de France ou d'ailleurs . Vos mots m'ont touché, ému, rassuré aussi! Nous sommes un sacré paquet à ne pas avoir baisser les bras pour faire avancer nos sociétés vers l'égalité et la tolérance : youpi!!!
Before presenting my shawl (yes, for once I knitted for me !!), I would like to thank all the people who sent me a message, from France or elsewhere. Your words touched me, moved, reassured too! We are a hell of a pack not to have to give up to advance our societies towards equality and tolerance: yes !!!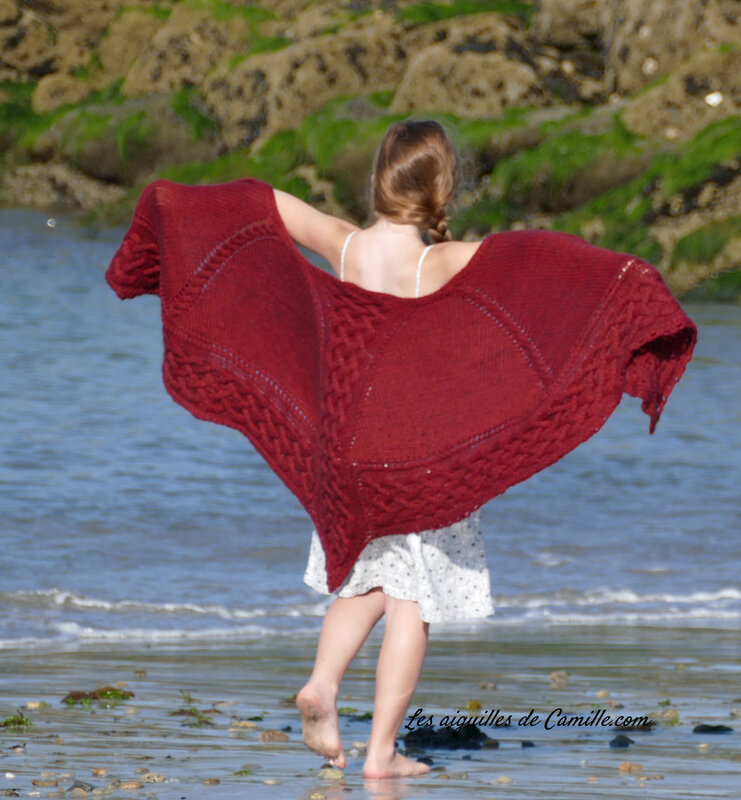 Voici donc le modèle initial du Choix: un très grand ouvrage , doux, chaud , un vrai calin à lui tout seul!
Here is the initial model of choice: a very large book, soft, warm, a real hug all by itself!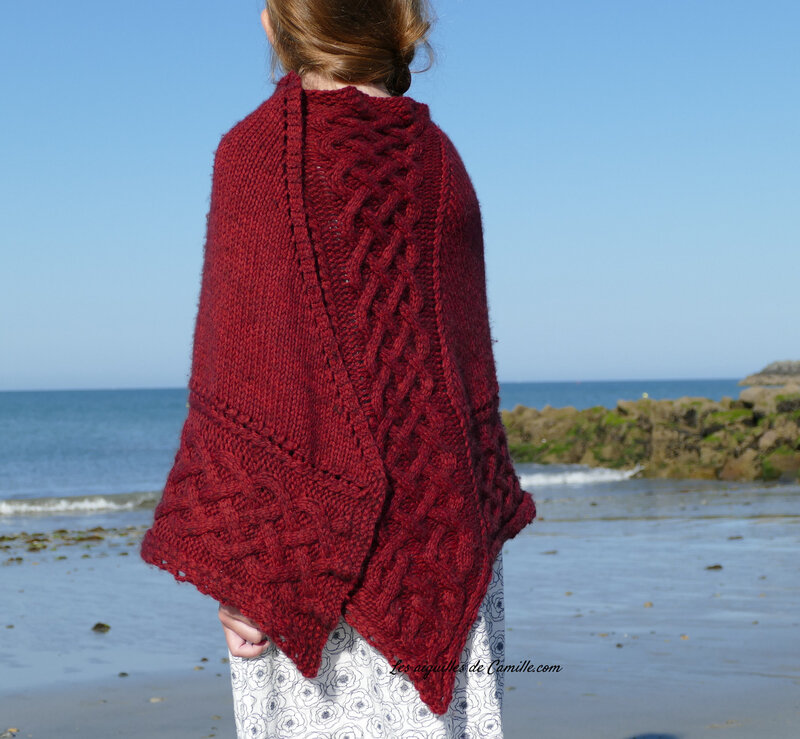 Il est rouge colère ( enfin Tea-Time en fait!!), et cette couleur me convient à merveille en ce moment !!
It is red anger (finally Tea-Time actually !!), and this color suits me perfectly at this time!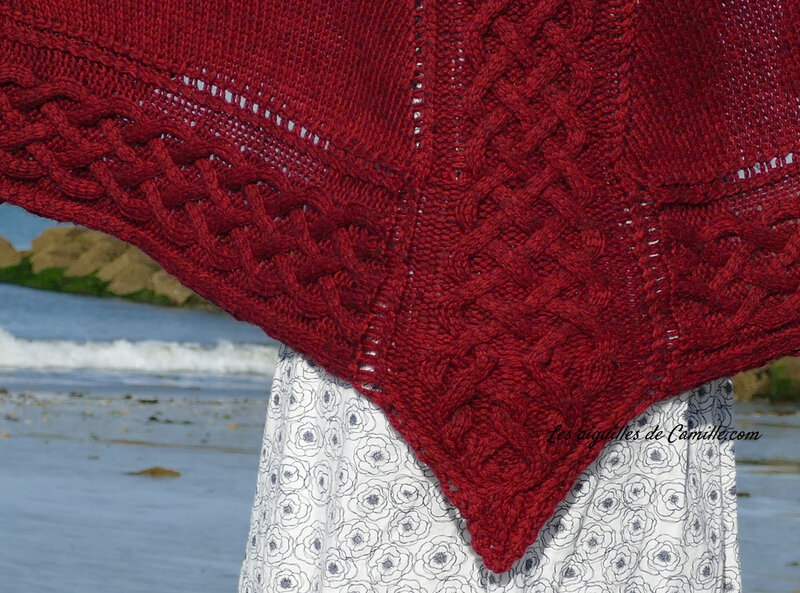 J'ai modifié la torsade sur le patron par rapport à ce que je vous présente en images ici. Je trouve la pointes finale plus aboutie sur le modèle en Silk Blend Fino ( sur cette page , en cas de besoin ), alors c'est celle que j'ai préféré vous transmettre .
I modified the twist on the pattern compared to what I present you in pictures here. I find the final points more successful on the model in Silk Blend Fino (on this page, if necessary), so this is the one I preferred to send you.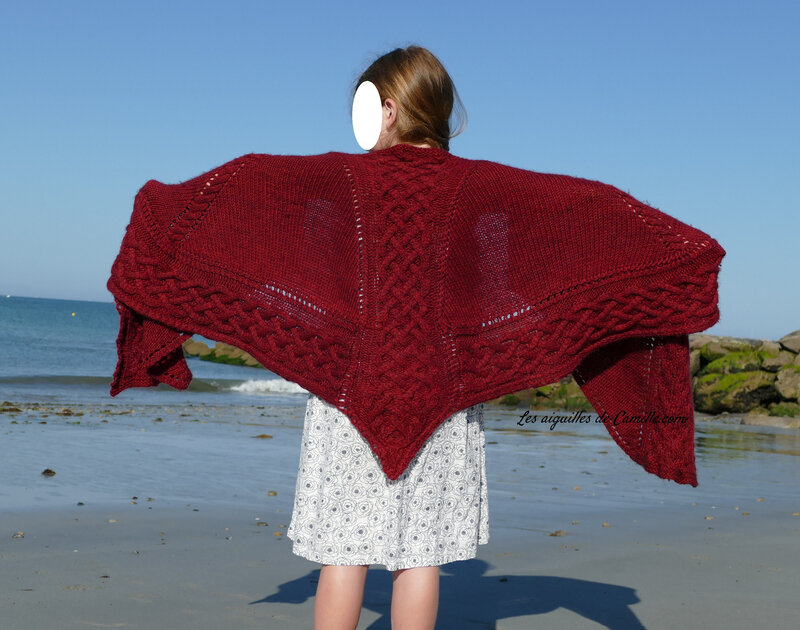 Pour la laine, c'est Nunki d'Anny Blatt , je vous propose des kits sur cette page de la boutique, il y a en a peu ( et pas de réassort !!!!!!!), la manufacture qui fabricait cette sublime laine ayant malheureusement fermé ses portes en début d'été ...
For yarn, it's Nunki d'Anny Blatt, I propose kits on this page of the shop, there are few (and no restocking !!!!!!!), the factory that manufactured this sublime wool having unfortunately closed its doors at the beginning of summer ...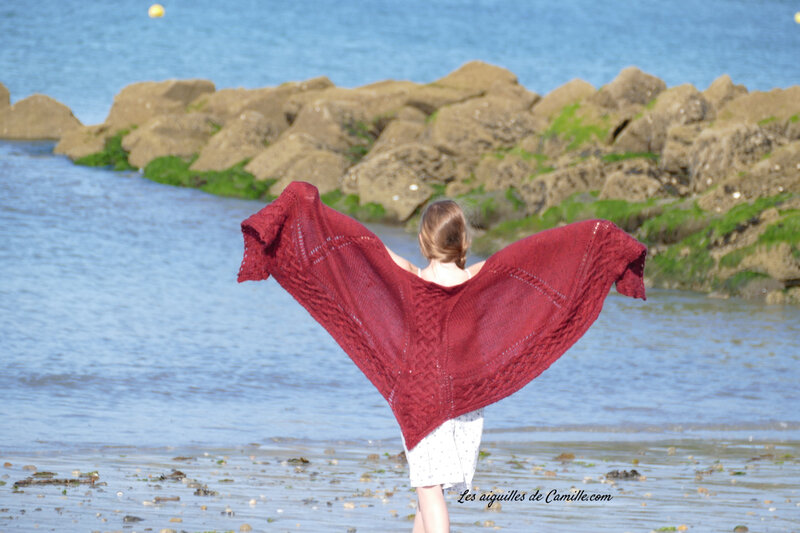 Voici le patron, j'espère que vous en trouverez l'usage et qu'il vous plaira !!
Here is the pattern, I hope that you will find the use and that you will like it !!
En français:Le_choix_version_douillette_VF
In English: The_Choice Cosy_way_English_version_
vendredi 13 septembre 2019
J'aurai pu décider de l'appeler Pologne, Malte , Paraguay, Ohio, Nicaragua, Mississippi, Birmanie, Oklahoma, Salvador, Louisiane, Alabama, Afganistan, Géorgie, Madagascar, Kentuky ou République Dominicaine ... et la liste n'est pas exhaustive malheureusement !
I could have decided to call it Poland, Malta, Paraguay, Ohio, Nicaragua, Mississippi, Burma, Oklahoma, El Salvador, Louisiana, Alabama, Afganistan, Georgia, Madagascar, Kentuky or Dominican Republic ... and the list is not not exhaustive unfortunately!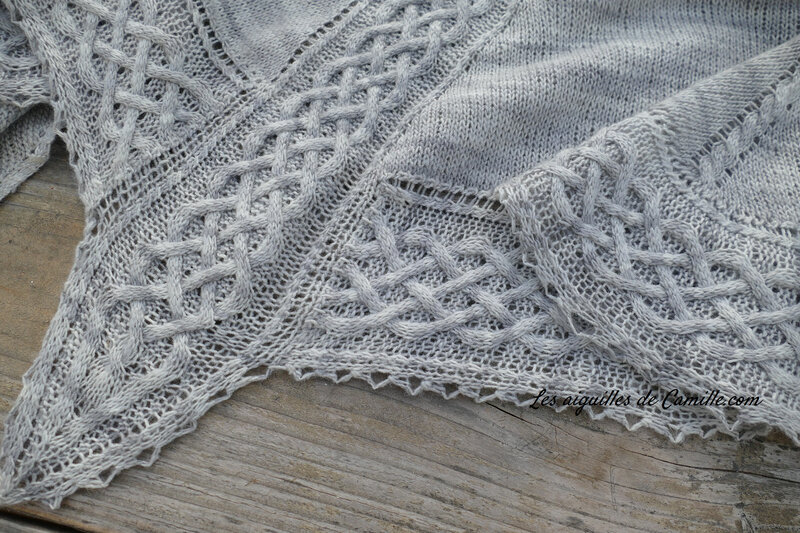 J'aurai pu l'appeler Qasim Amin, Gertrud Adelborg, Rachel Foster Avery, Carrie Chapman Catt, Louise Michel, Jyotirao Phule, Shirin Ebadi, Simone Veil ou Denis Mukwege ... et la liste est heureusement non exhaustive!!!!

I could have called it Qasim Amin, Gertrud Adelborg, Rachel Foster Avery, Carrie Chapman Catt, Louise Michel, Phule Jyotirao, Shirin Ebadi, Simone Veil or Denis Mukwege ... and the list is fortunately not exhaustive!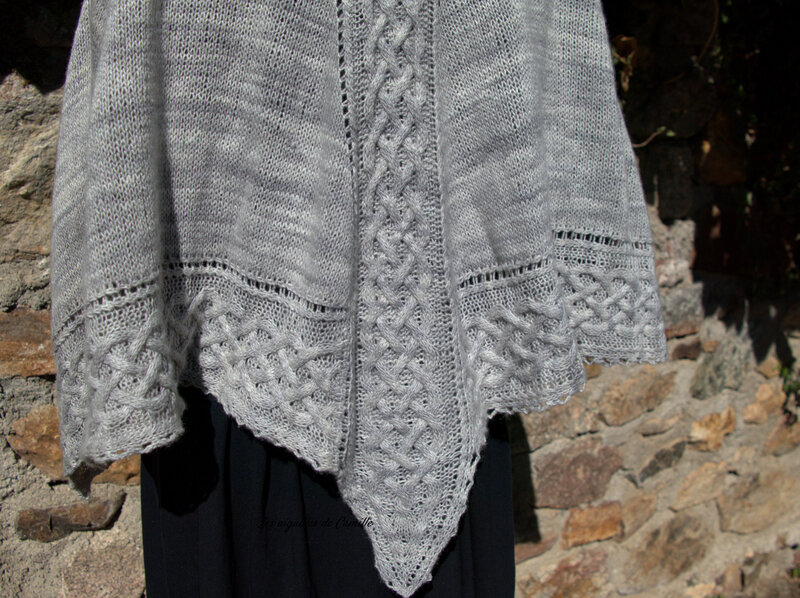 "Le Choix" a eu ma préférence. Dans cette époque sombre , où certains humains s'arrogent le privilège de statuer sur le droit d'autres humains à disposer d'eux -mêmes, ce modèle est le résultat d'une intense colère , d'un dégoût profond pour l'étroitesse d'esprit de beaucoup, et pour leur volonté de réduire cet espace de liberté si vital à tous: notre propre corps!
"The Choice" had my preference. In this dark time, when some humans arrogate to themselves the privilege of ruling on the right of other humans to self-determination, this model is the result of intense anger, a deep disgust for narrowness spirit of many, and for their willingness to reduce this space of freedom so vital to all: our own body!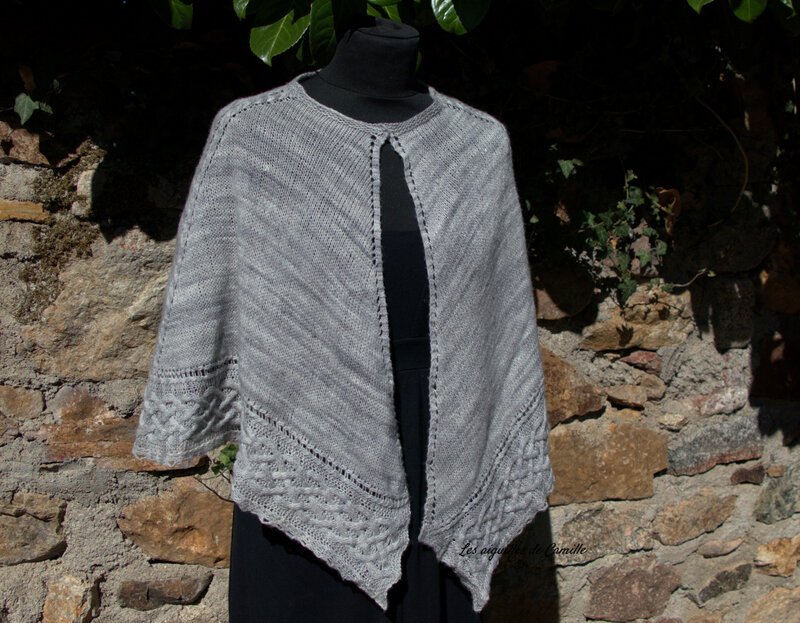 Quand je regarde ma fille courir sur cette plage, je veux qu'elle ait le choix de son avenir, sans devoir mettre sa vie en danger selon ses choix , sans être réduite à la condition de victime ou de mineure à vie.
When I look at my daughter running on this beach, I want her to have the choice of her future, without having to put her life in danger according to her choices, without being reduced to the condition of victim or minor for life.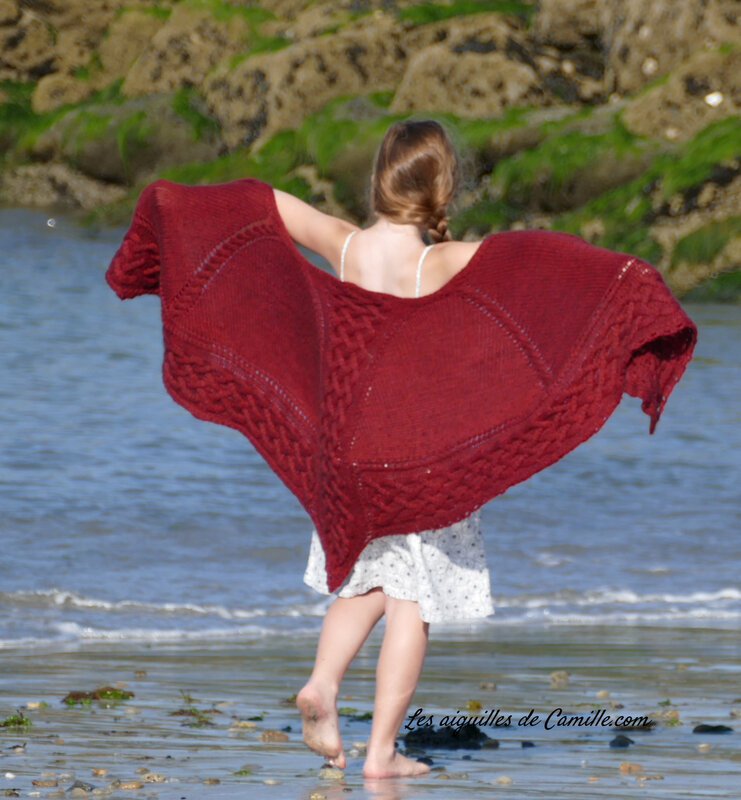 Et quand je regarde son frère , je refuse qu'il soit contraint d'être le bourreau de sa compagne , sa soeur ou sa fille en subissant des lois liberticides , mais qu'il ait une vie digne, dans le respect de sa profonde humanité.
And when I look at his brother, I refuse that he is forced to be the executioner of his companion, his sister or his daughter undergoing liberticidal laws, but that he has a dignified life, in the respect of his deep humanity .
Il peut sembler étrange de mettre tout ça dans un tricot.... Certains peignent , d'autres écrivent , manifestent , chantent ... dans chaque maille, j'ai mis un peu de colère , un peu de tristesse , un peu de douleur , mais surtout beaucoup d'espoir!
It may seem strange to put all this in a knit .... Some paint, others write, manifest, sing ... in each stitch, I put a little anger, a little sadness, a little bit of pain, but above all, a lot of hope!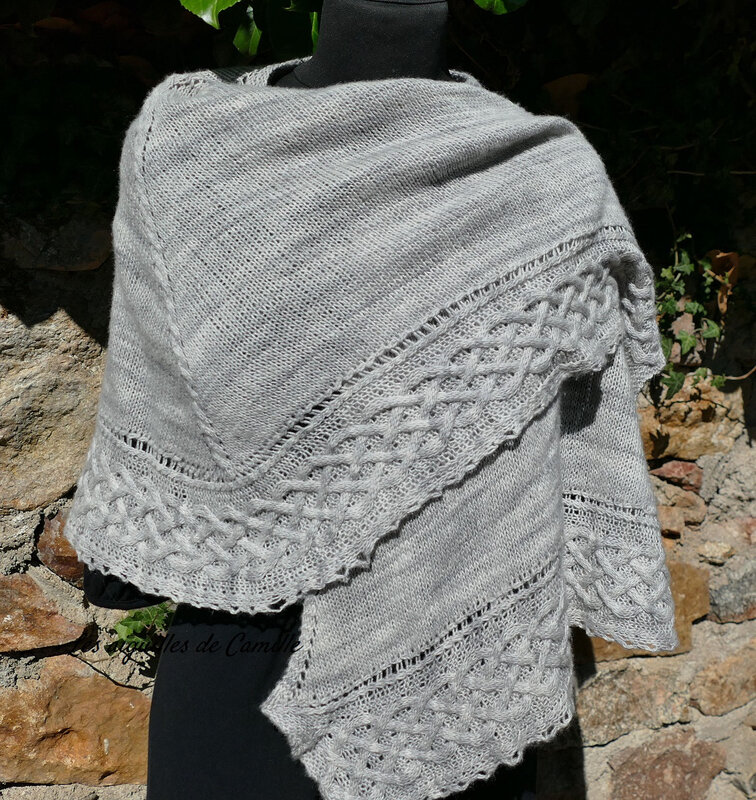 Ce châle est pour moi un réconfort, un rempart aux agressions du monde , une réponse douce et pacifique à la violence...
This shawl is for me a comfort, a bulwark to the aggressions of the world, a soft and peaceful answer to the violence ...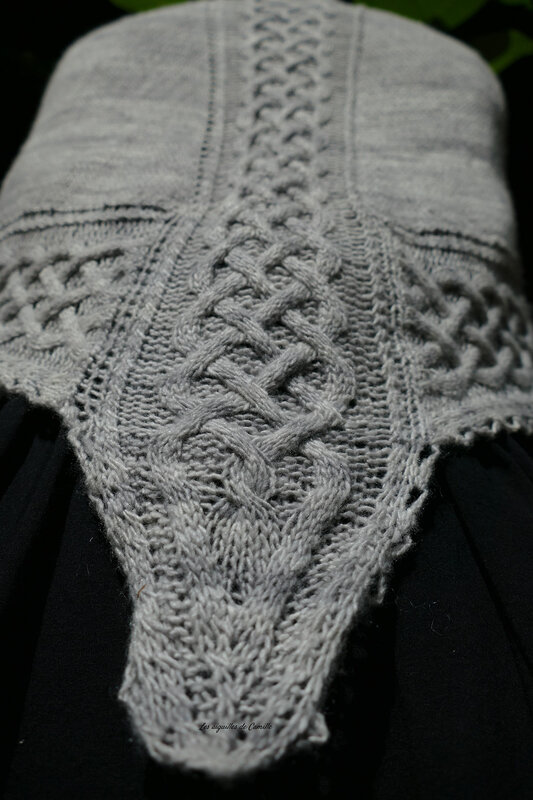 Alors s'il vous inspire , les explications sont dessous, à télécharger gratuitement , à partager , à diffuser sans aucune modération !!
So if it inspires you, the pattern is below, to download for free, to share, to broadcast without moderation!
Pour la laine, la version aérienne est en Silk Blend Fino Manos del Uruguay, pour la version plus douillette ( en rouge) , explications et infos arriveront dans un prochain post .
For the yarn, the light version is Silk Blend Fino Manos del Uruguay , for the more cozy version ( red one), explanations and information will arrive in a future post.
Modèle en Français:Châle_Le_Choix_version_aerienne_VF
Pattern in English: The_Choice__Light_version__English_version