mercredi 15 février 2017
Ils sont cinq... et je pense qu'on doit pouvoir les décliner encore bien des fois au gré des envies et des couleurs ...
Là vous trouverez Lune de Miel dans la clairière ... sur fond noir ( adaptable à tout ce noir!)...
There you will find Honeymoon in the clearing ... on black background (adaptable to all this black!) ...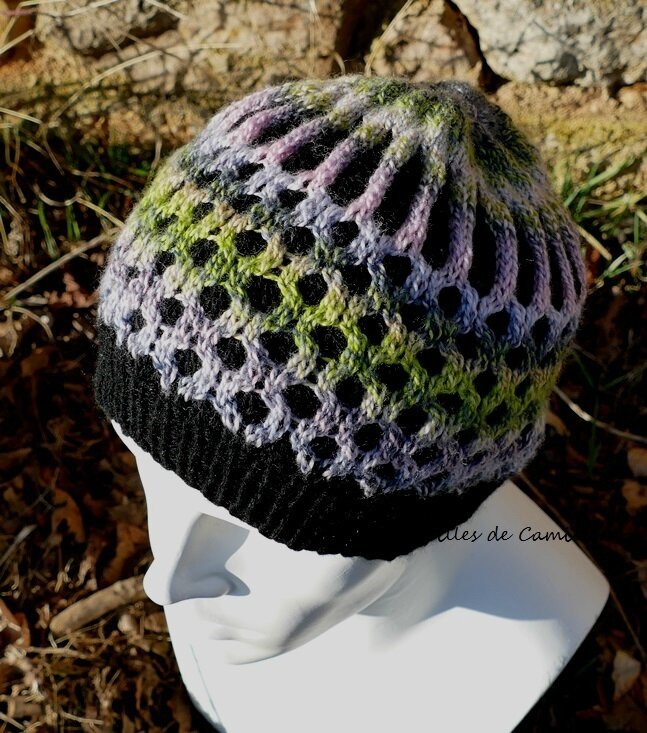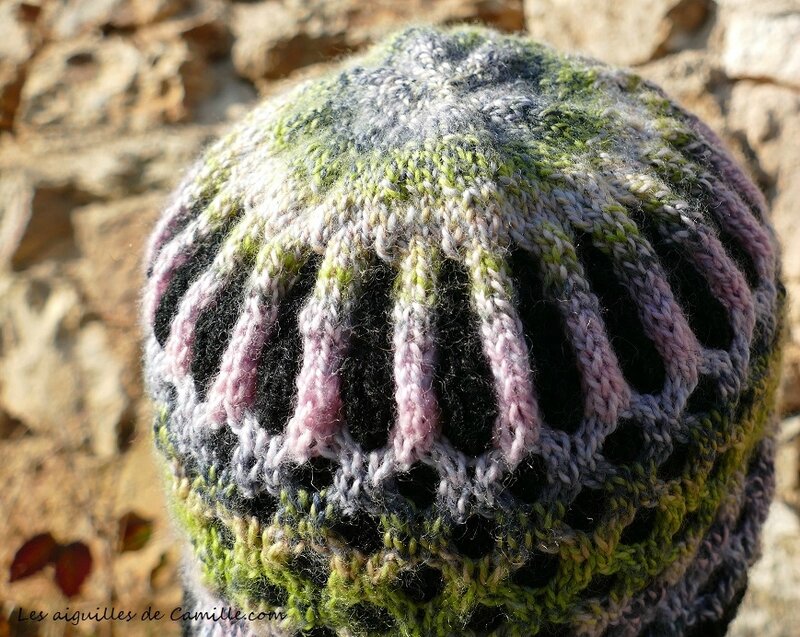 Et ici, Lune de Miel sous le chêne, avec de belles nuances de vert sur un fond clair ... de quoi vous donner l'idée de ce que ça peut faire !
And here, Honeymoon under the oak, with beautiful shades of green on a light background ... what give you the idea of what it can do!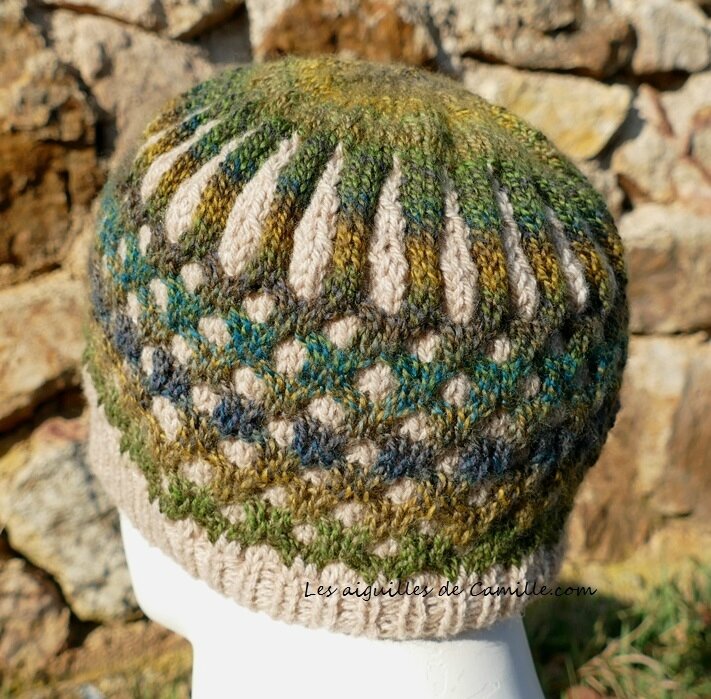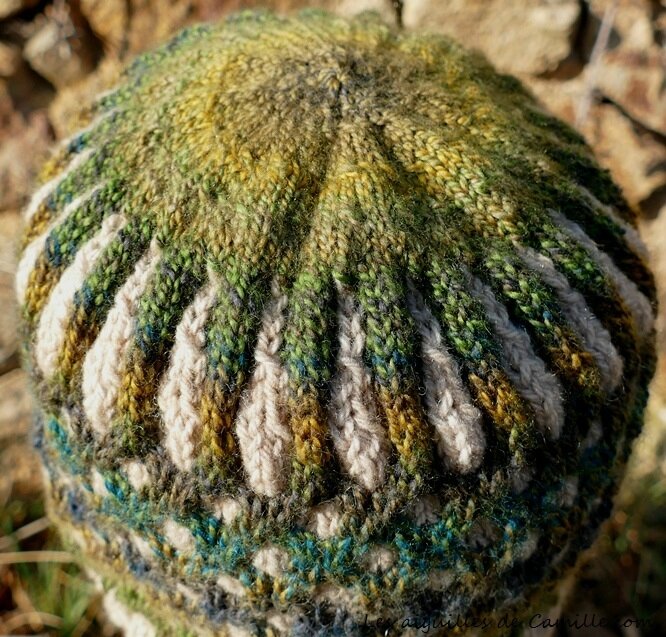 Voilà donc la petite famille réunie au complet ( enfin pour moi , au bout de 6 bonnets d'affilé je mets autre chose sur mes aiguilles!!)
Here is the small family gathered together (finally for me, after 6 beanies I need to knit something else !!)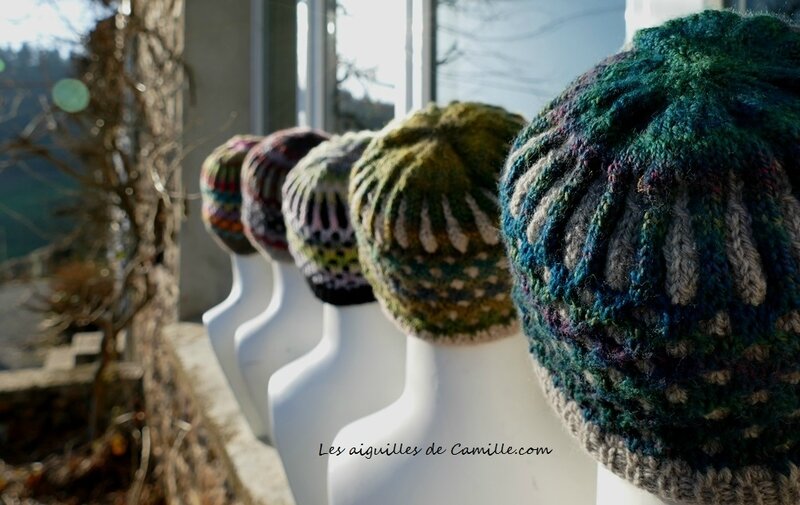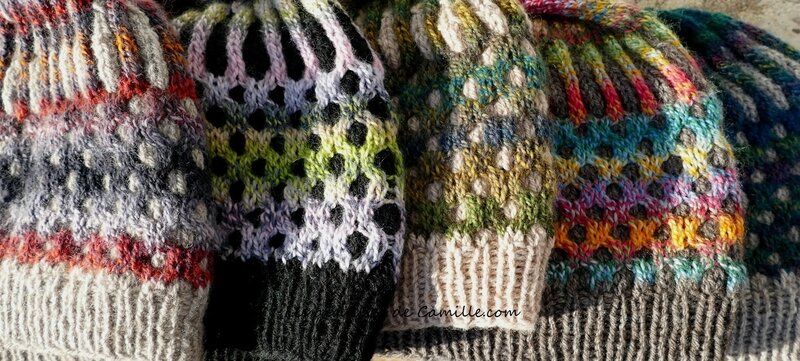 Les "kit tricot" sont ici, je peux les personnaliser si vous souhaitez un mariage particulier!
Bon tricot et à bientôt!!
The "knitting kit" are here, I can customize them if you want a particular wedding!
Good knitting and see you soon !!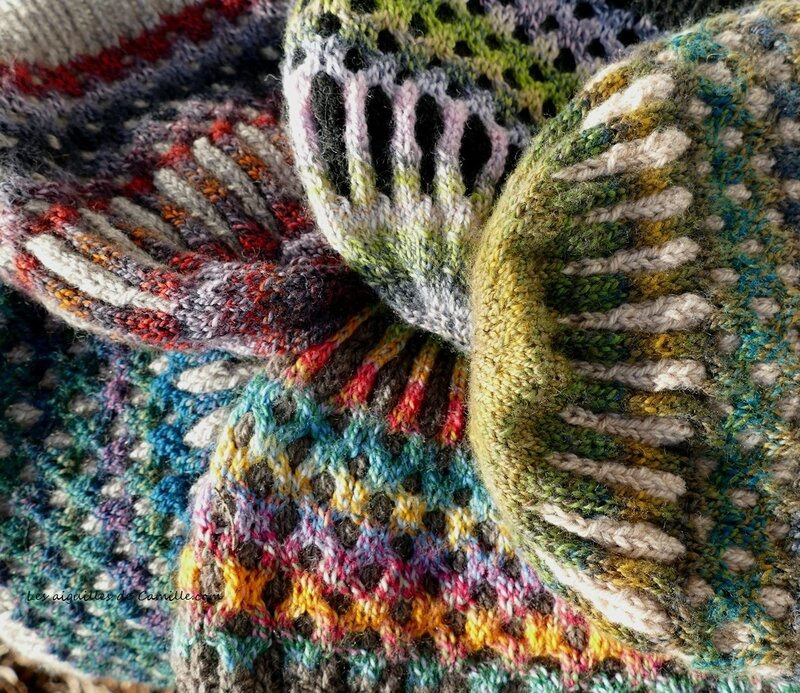 dimanche 5 février 2017
Autant vous le dire tout de suite , j'adore ce modèle!! la preuve... j'en suis à mon 4ème et c'est pas fini!!
As much to say to you right away, I love this model !! The proof ... I'm at my 4th and it's not finished !!
J'ai commencé par du très sobre ... mon prototype, avec de la Urga en beige clair et beige foncé
I started with the very sober ... my prototype, with Urga in light beige and dark beige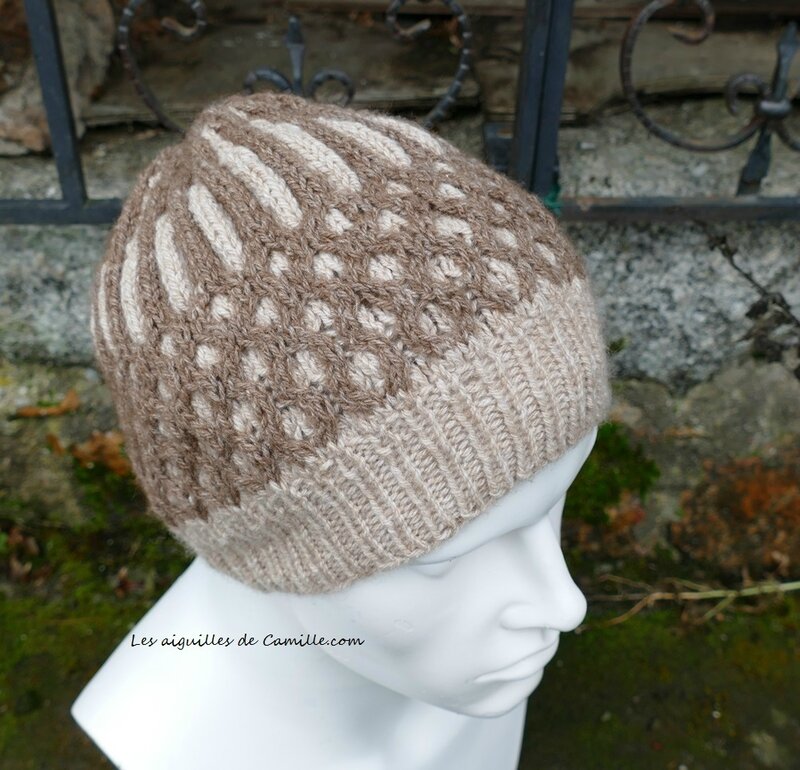 Bien tout ça, mais il lui manquait quelquechose, un petit brin d'originalité et de folie... et j'ai alors trouvé à quoi allait servir cette pelote au coloris bien barré que je testait depuis un petit moment sans lui trouver LA destination qui va bien !!
Well all that, but he missed something, a little bit of originality and madness ... and I then found out what was going to serve this ball in the crazy color I had been testing for a little while without finding it THE destination which is fine !!
ça a donné ça:
It gave this: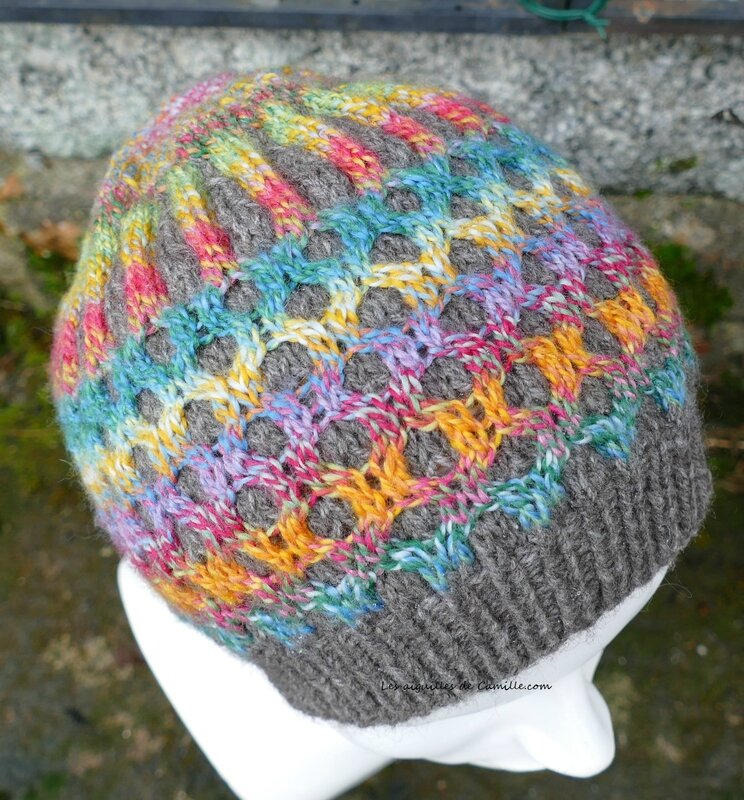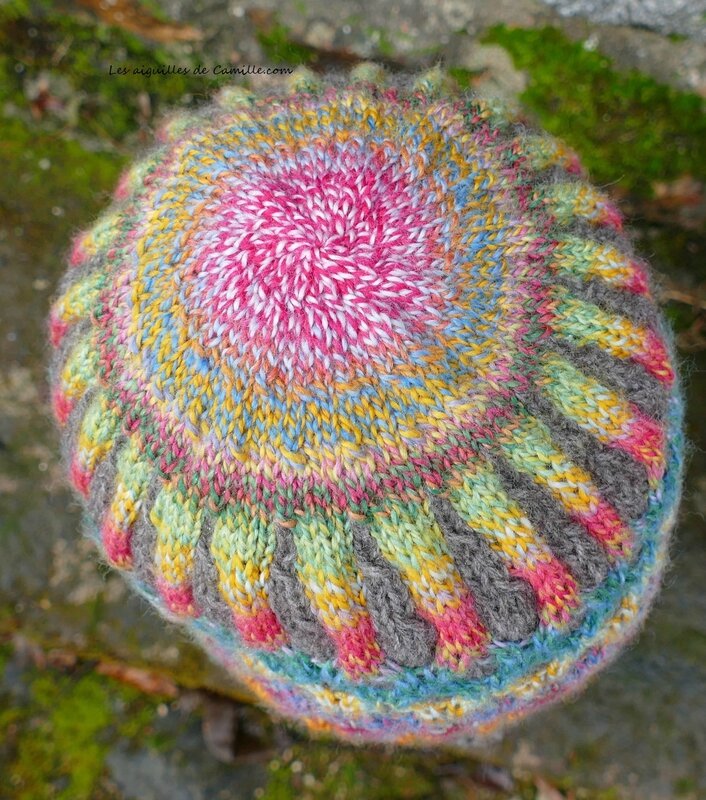 Puis vu que la pelote a des petites soeurs dans d'autres teintes ça a donné celui-ci:
Then as the ball has small sisters in other shades it gave this one: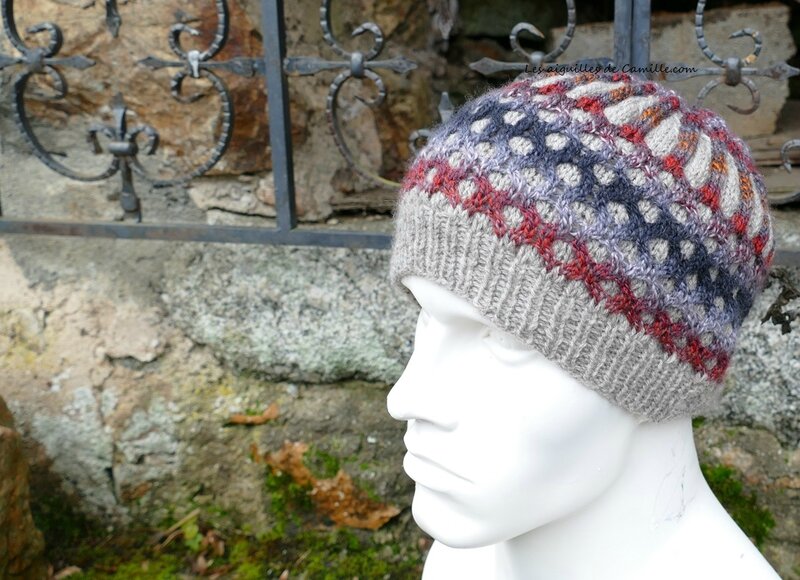 Puis celui-là:
Then this one:
... et il y en a deux de plus que je vous montrerai la semaine prochaine!
... and there are two more that I will show you next week!

Pour résumer: c'est un bonnet en intarsia ( ou jacquard, ça marche aussi), avec des torsades en rayonnage de miel ... d'où son petit nom!
To summarize: it is a beanie in intarsia (or jacquard, it also works), with twists in shelves of honey ... hence its little name!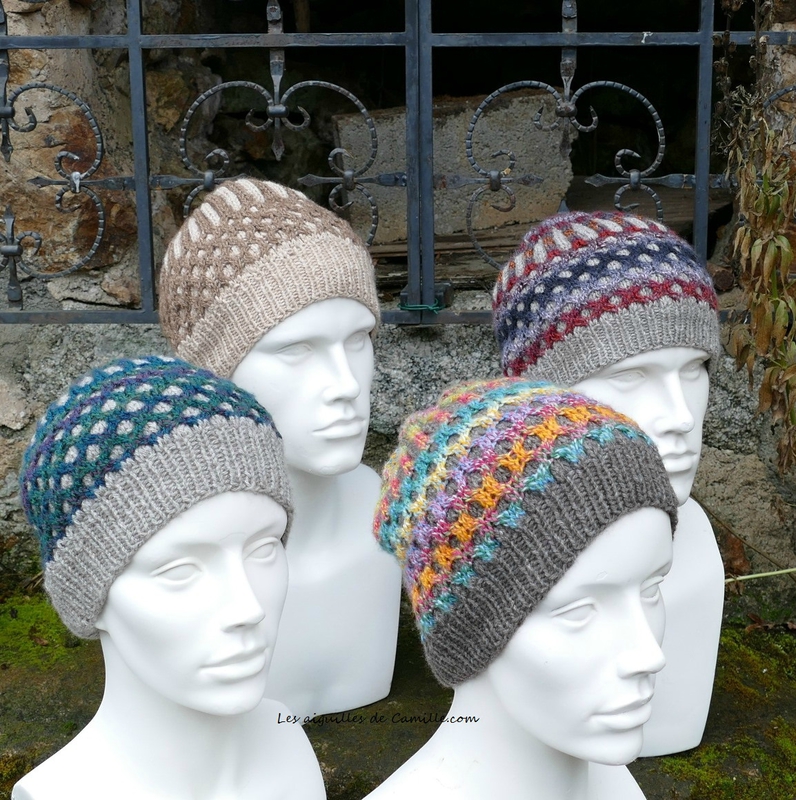 Pour le faire : la nouvelle Edition 3.0 de Schoppel Wolle , associée à Urga de Fonty ... le tout est diponible en Kit Tricot ( à prix préférentiel), soit la laine, ou le kit complet laine + aiguilles ... c'est à vous de jouer!!
To do this: the new Edition 3.0 of Schoppel Wolle, associated with Urga de Fonty ... the whole is available in Kit Tricot (at preferential price), either the yarn, or the complete kit yarn+ needles ... So it's up to you to play !!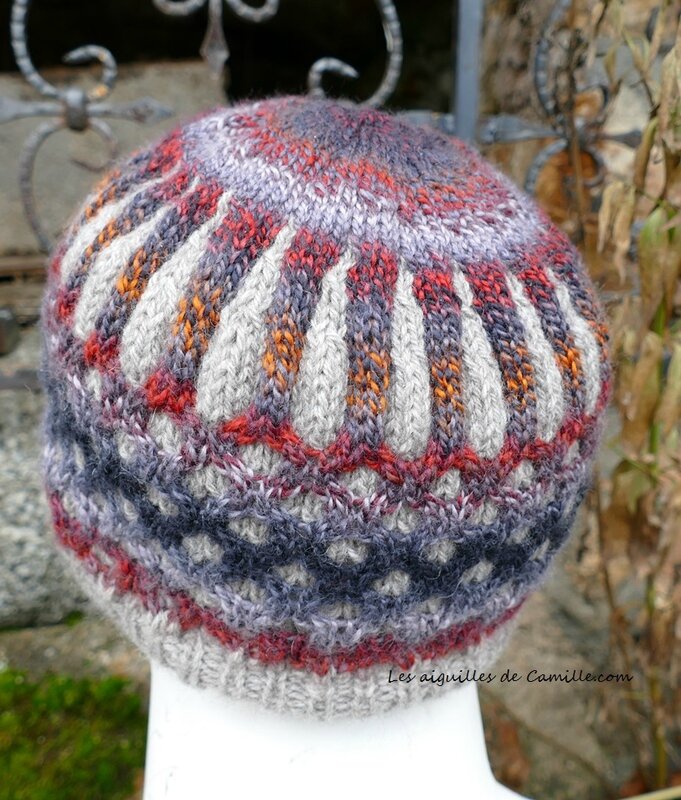 Et toujours le modèle à télécharger librement!
And always the model to download freely!
En Français:Bonnet_Lune_de_Miel_vf
In English:Honeymoon_Beanie_English_Pattern
Find this pattern and many others on All Free Knitting, follow this link!
samedi 28 janvier 2017
Mes petites aiguilles moulinent ...
my needles are working...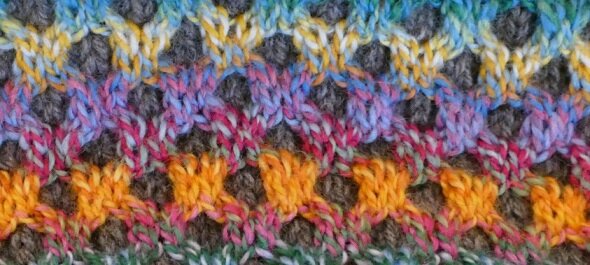 mais c'est pas fini, alors ce weekend, je vous propose de faire un petit tour ( enfin plus ou moins petit!) sur la toile.
but it's not ready, so I propose you to make a small tour (finally more or less small!) on the net.
Sur Ravelry ( là prévoyez du temps ... votre weekend en fait!!), ce site américain demande une inscription, que vous pouvez faire facilement, en sachant que vous ne recevrez ni sollicitation, ni spam, ni truc pénible en fait! et c'est un catalogue de modèles pour le moins hallucinant , les premières fois on a un peu le tournis, après ça va mieux!!
On Ravelry (you plan on time ... your weekend in fact !!), this American site asks for a registration, which you can do easily, knowing that you will not receive any solicitation, spam, or trick in fact! And it is a catalog of models hallucinating, the first times we have a little turn, after that goes better !!
J'y mets mes modèles sur cette page:
I put my models on this page: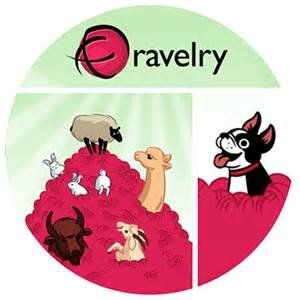 Notez que Ravelry s'utilise aussi en français , aller au bas de la page et cliquez sur: "Français", facile non ?
Note that Ravelry can also be used in French, go to the bottom of the page and click on: "Français", easy no?
Sur Pinterest... ah les photos ... du beau, du beau et encore du beau... là aussi , vous pouvez créer et paramétrer votre compte , et après c'est youpi!!! , vous retrouverez mes coups de coeurs , mes inspirations là dessus:
On Pinterest ... the pictures are so ... beautiful, beautiful and still beautiful ... there too, you can create and set your account, and after it is youpi !!! , You will find my favorites, my inspirations there:
Et pour que vous puissiez mettre vos réalisations, vos jolis tricots et belles photos, j'ai créé un groupe sur Facebook ( ok, j'ai mis le temps!) vous y entrez , c'est un groupe ouvert, vous approuvez la publication épinglée en tête de groupe, et hop, c'est parti!!
Bon weekend et surtout, bon tricot!!!
And so that you can put your achievements, your nice knits and beautiful photos, I created a group on Facebook (ok, I put the time!) You enter, it is an open group, you approve the publication Pinned at the top of the group, and hop, it's gone !!
Good weekend and especially, good knitting !!!
samedi 21 janvier 2017
Refaire un Croeso, c'est un peu comme reprendre une petite part de souvenirs et repartir aux Pays de Galles, alors c'est toujours un plaisir.
Knitting a Croeso is a bit like taking a small part of memories and going back to Wales, so it's always a pleasure.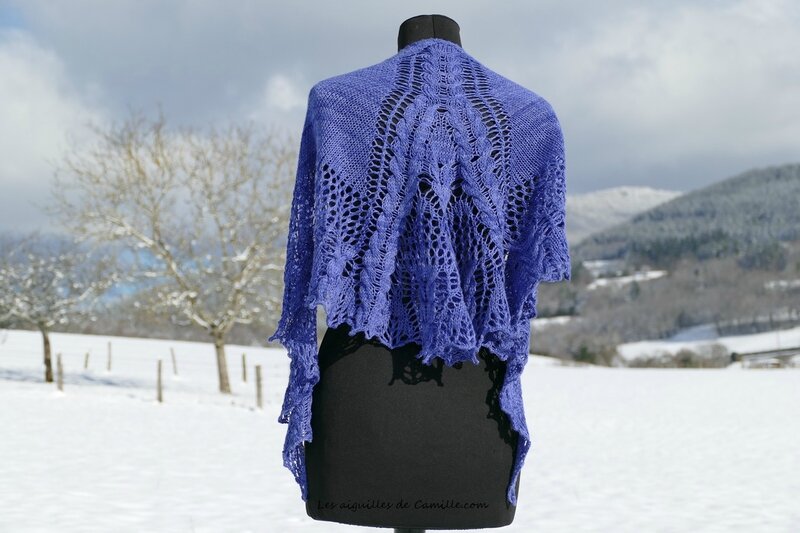 Tricoté aux aiguilles 5mm, avec 2 écheveaux de 6 Karat Shadow bleu, coloris 2285
Knit with needles 5mm, and 2 skeins of 6 Karat Shadow, color 2285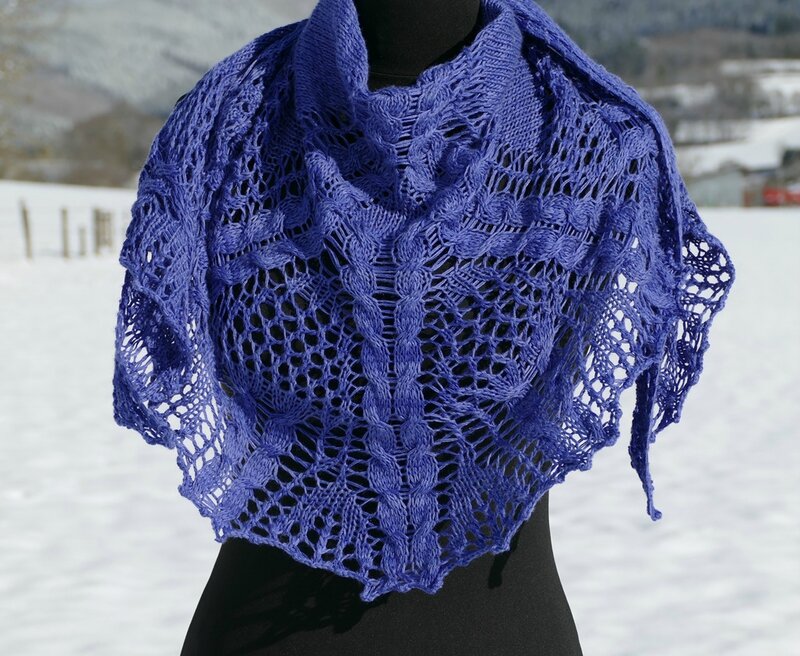 Il existe sur le blog une version Rouge Dragon sur cette page.
A Red Dragon version exist on this page of the blog.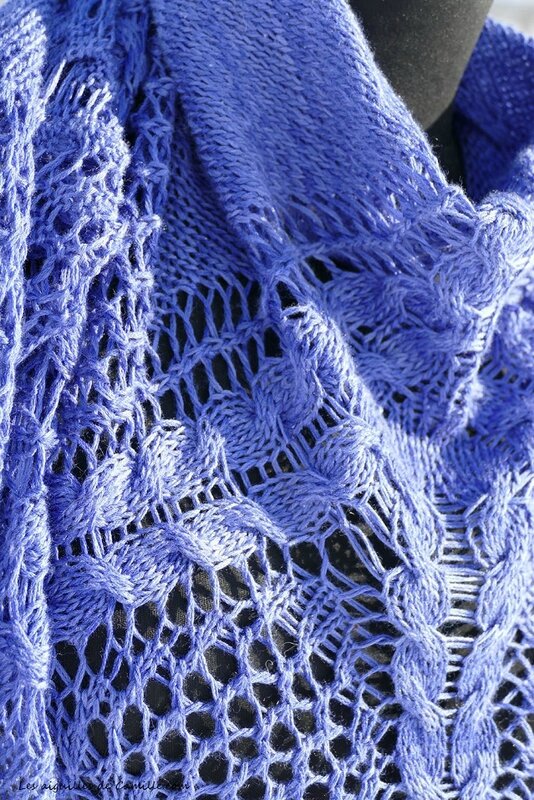 Il y en a aussi des exemples très sympas sur cette page de Ravelry ( si vous n'avez pas de compte sur ce site , créez en un, c'est gratuit, pas de pub, pas de spam et c'est une forme de paradis des tricoteuses et crocheteuses, avec en bas de page, de quoi mettre le site en français: le bonheur!!).
You will also find differents croeso shawlettes on this Ravelry's page.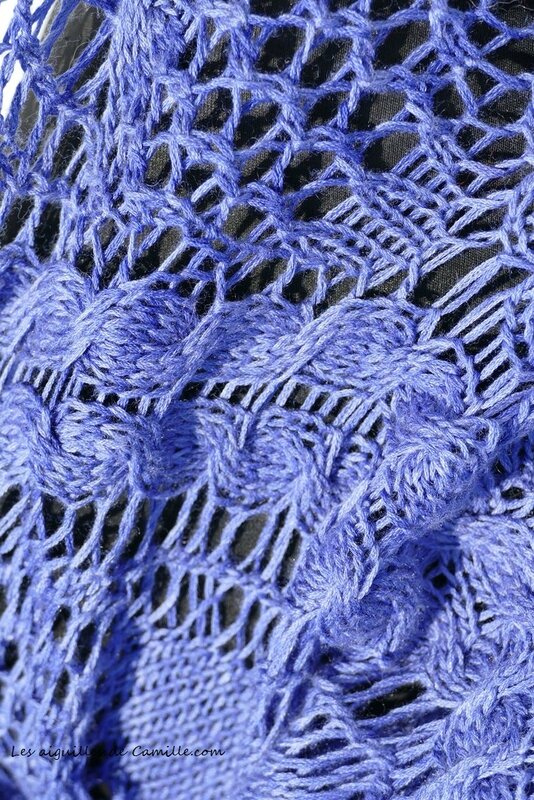 Et si vous voulez faire le vôtre , le PDF est à télecharger par là.
And if you want to make yours, download the PDF on this page.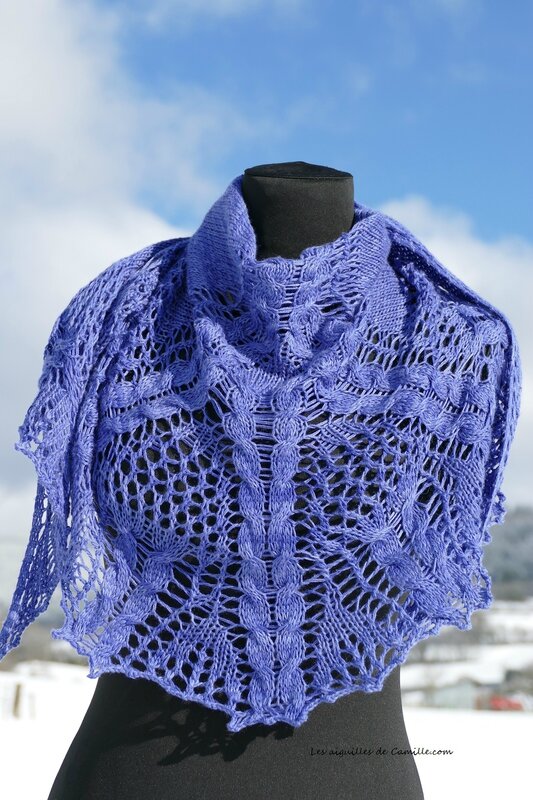 lundi 16 janvier 2017
Toute politesse bien ordonnée commençant par soi même... voilà ce que j'ai mis sur mes aiguilles pour commencer cette nouvelle année:
All well-ordered politeness starting with oneself ... that's what I put on my needles to start this new year:
Tricoté en demi cercle ( modèle dans ma tête ... ), en gros un montage classique de 3 mailles et six rangs de mousse , puis on tourne pour obtenir 9 mailles ... puis des rangs où je n'ai fait des augmentations qu'en début et fin de rang et d'autres où j'ai fait une augmentation toutes les 2 ou 3 mailles pour obtenir la forme d'un demi cercle.
Knitted in half circle (model in my head ...), basically a classic cast on of 3 stitches and six rows of garter stitch, then we turn to have 9 stitches ... then rows where I have made increases only at the beginning and end of row and others where I made an increase every 2 or 3 stitches to get the shape of a half circle.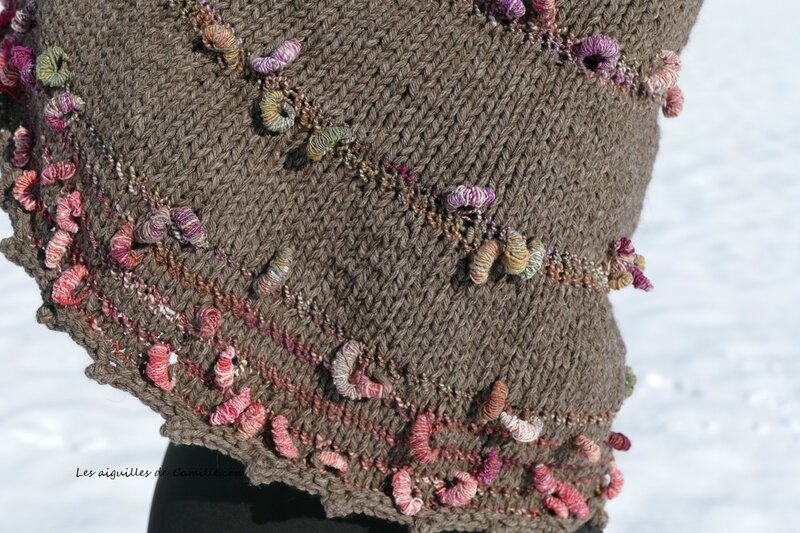 Pour les alternances de laine, j'ai tricoté la majeure partie de l'ouvrage en jersey endroit avec la laine brune , et mis 2 rang de fil distinct de temps en temps, et finition avec un point de picot.
For yarn alternations, I knit most of the work in stockinette j with brown yarn , and put 2 rows of thread separately from time to time, and finish with a pin stitch.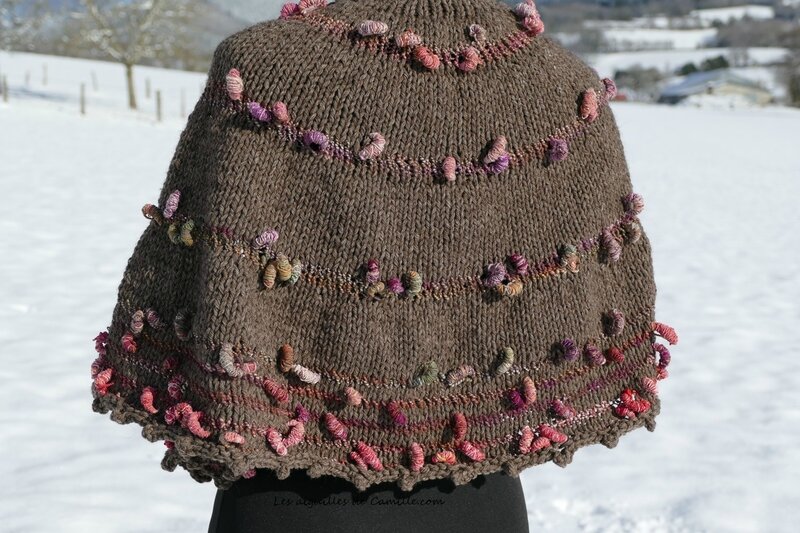 Venons en au choix de laine: la laine unie ( enfin légèrement chinée en fait!), c'est un mélange mérinos et yack assez dodu ( tricoté en 7mm!) que j'ai trouvé sur un marché de Noël ( oui j'achète encore de laine ... incurable!!), et pour la laine avec les tortillons, c'est un cadeau de Séverine ( pour qui j'ai tricoté ça) et Fred ( à qui j'avais fait ça). C'est un mélange mérinos et yack filé main par Christine Devost, un morceau de paradis .... Je les remercie encore de ce merveilleux cadeau!
Let's come to the choice of yarn: the plain one (finally slightly chiné in fact!), It is a mixture merino and yack fairly plump (knitted in 7mm!) That I found on a Christmas market (I still buy yarns ... incurable !!), and for the wool with the twists, it is a gift from Séverine (for whom I knitted that) and Fred (to whom I had done that). It is a merino blend and yack spun hand by Christine Devost, a piece of paradise .... I thank them one more time, for this wonderfull gift!
Me voilà bien au chaud!
I am delighted to be warm now!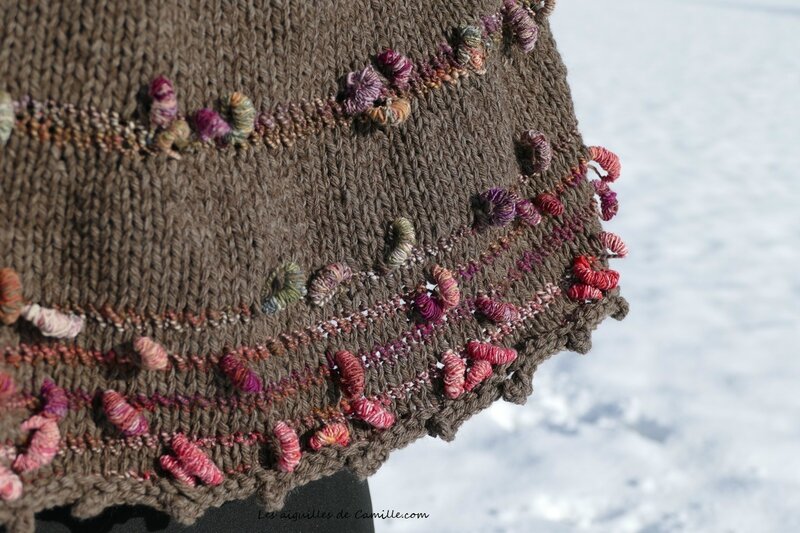 Parce que tout a une fin ... il fallait bien que j'arrive au bout de celui là, histoire de clore 2016 et de partir sur du neuf, mais j'aurai trouvé dommage de ne pas vous le montrer!
Because everything has an end ... it was necessary that I arrive at the end of that there, closing 2016 and start on new, but I found it shame not to show it to you!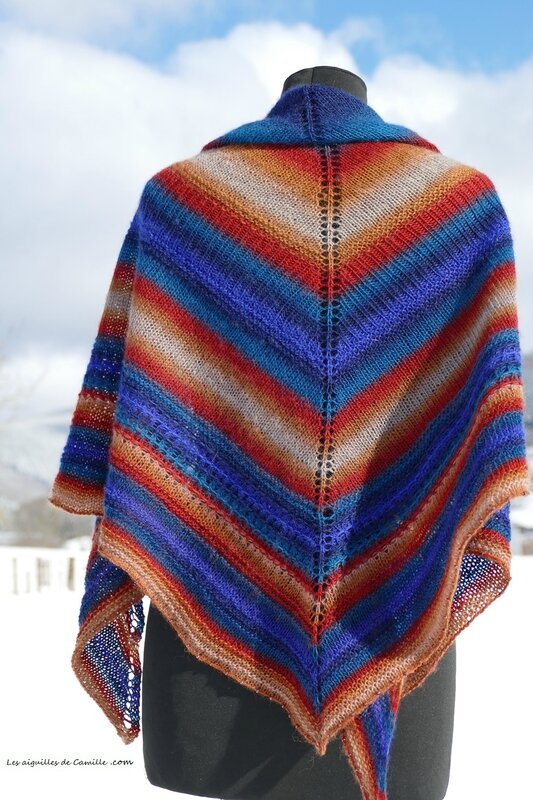 Pour ce petit dernier, aiguilles 4mm, 2 pelotes de Kunstgarn coloris 28 ( un des dernier né chez les Danois)...
For this last shawl "Facile", needles 4mm and 2 balls of Kunstgarn , color 28 ( on of the 4 last colors from this danish house)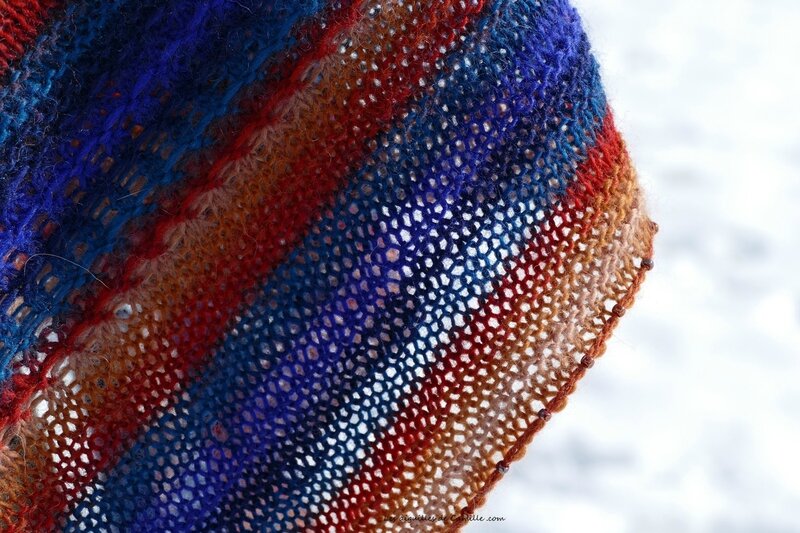 Bon, vu que je ne suis pas une inconditionnelle des séries, chaque châle facile a sa petite touche de finition perso.... celui ci a des perles cuivre sur une bordure de rabattage tout à fait classique.
So, I am not an unconditional of the series, each shawl has its small touch of finishing personal .... this one has copper beads on a border of very classical bind off.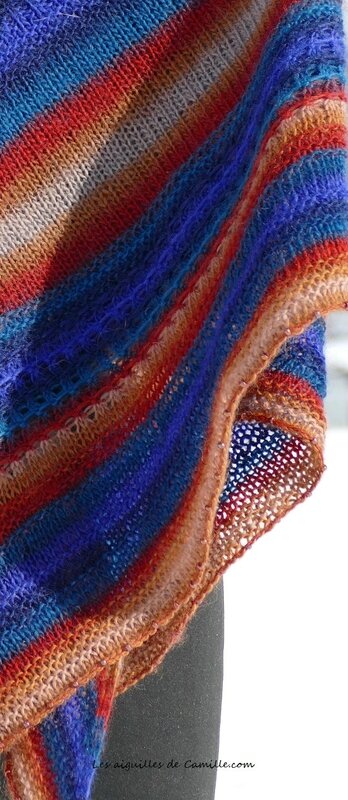 Mais à la place de la partie 4 en jersey endroit, un petit point de Gondron pour changer un peu.
But instead of the stocking stitch of the fourth part , I made a "Gondron " stitch ( sorry , I don't know how to translate that , maybe someone could help me: it's few rows of stocking stitch and few rows of garter stitch, and you change the stitch as long as you need).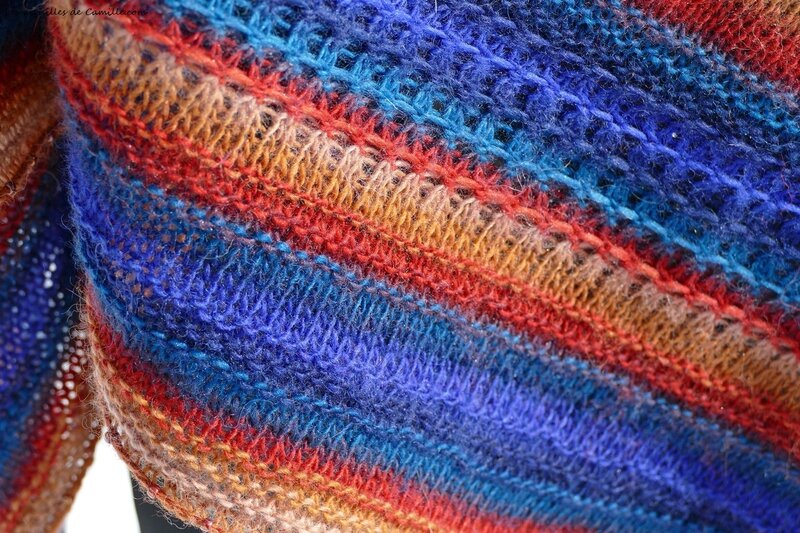 Il faut dire que j'ai agrandi toutes les sections , ne me demandez pas de combien, je n'en ai aucune idée, alors les derniers rangs étaient un peu longuets!!
I must say that I have enlarged all the sections, do not ask me how many, I have no idea, so the last rows were a little long !!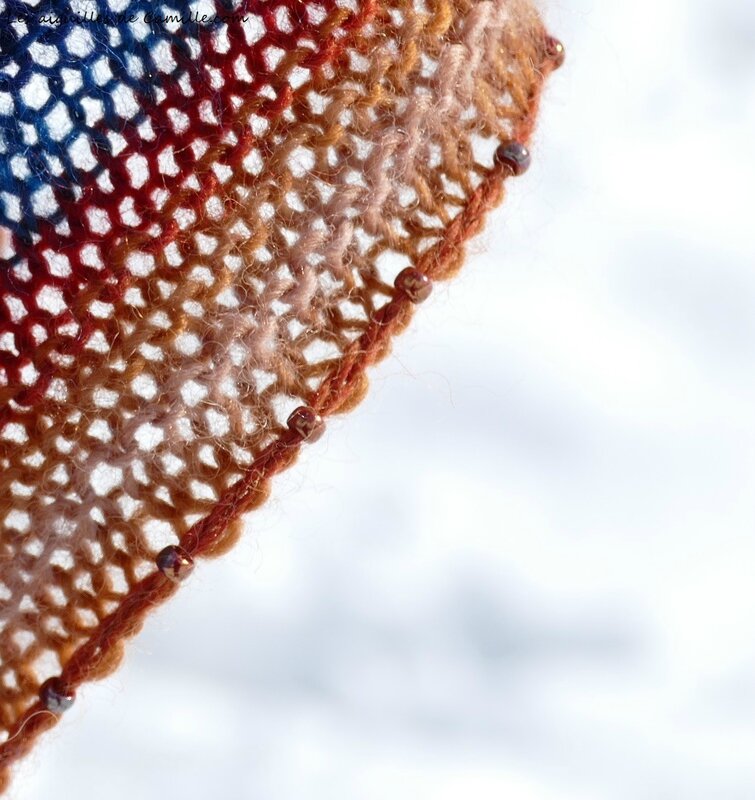 J'aime bien cette version, même si je trouve que la laine se suffit tellement à elle même qu'un point unique sur tout un tricot lui suffit... ce que j'avais fait sur ce modèle ( clic ici!)
I like this version, although I find that the yarn is so sufficient to itself that a single point on a whole knit is enough for it ... what I had done on this model (click here!)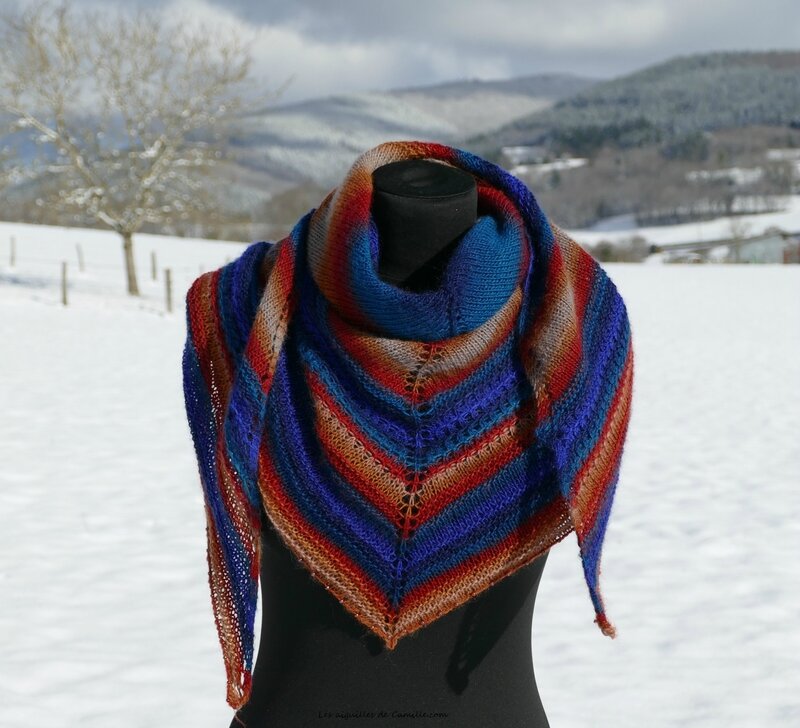 Si vous souhaitez retrouver le modèle "Châle Facile", suivez ce lien.
If you want to knit this shawl "Facile", follow this link to download the PDF pattern.