Il vous rappellera peut-être quelque chose...
je vous le propose dans une version agrandie,
I propose to you in an enlarged version,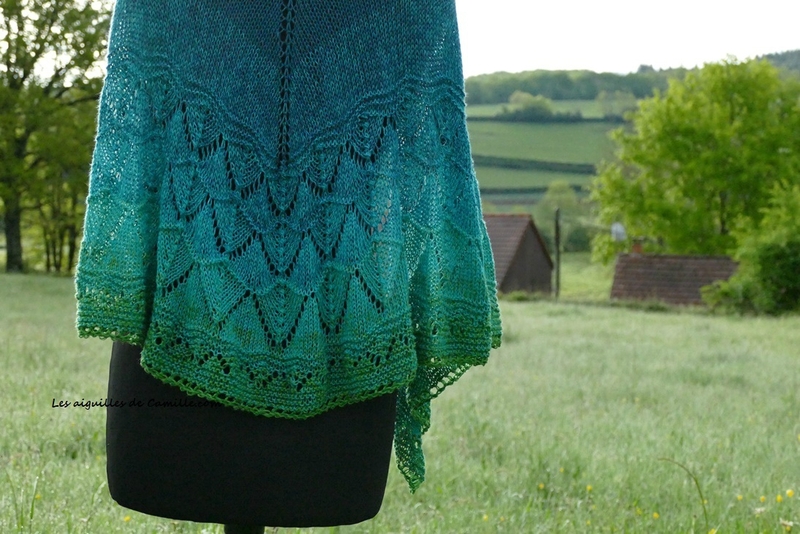 la bordure dentelle est bien plus conséquente.
the lace edge is much wider.
Dans une version modifiée, la bordure de fin est aussi ornée du motif ,
In a modified version, the end edge is also decorated with the same motive,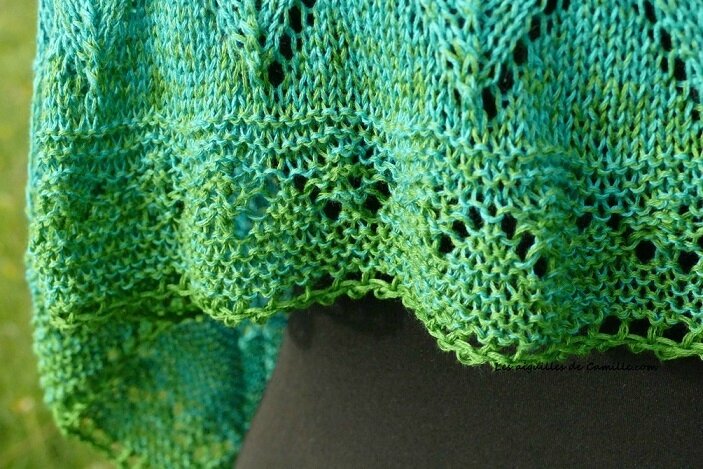 mais sur du point mousse.
but in garter stitch.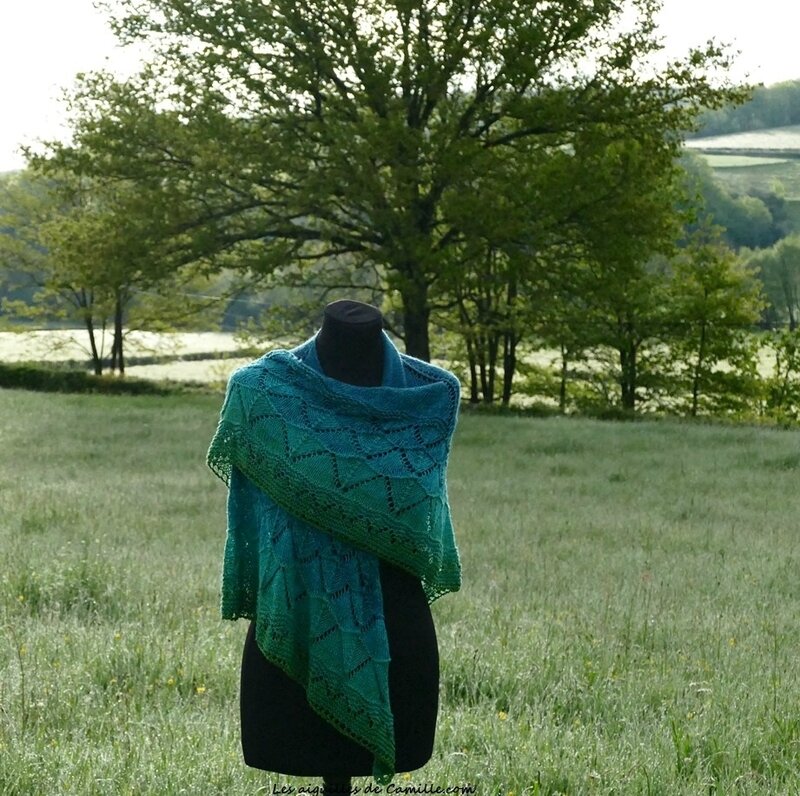 J'ai conservé sa forme, bien couvrante sur les épaules,
I retained its shape, well covered over the shoulders,
et une laine en dégradé...
and a gradient yarn...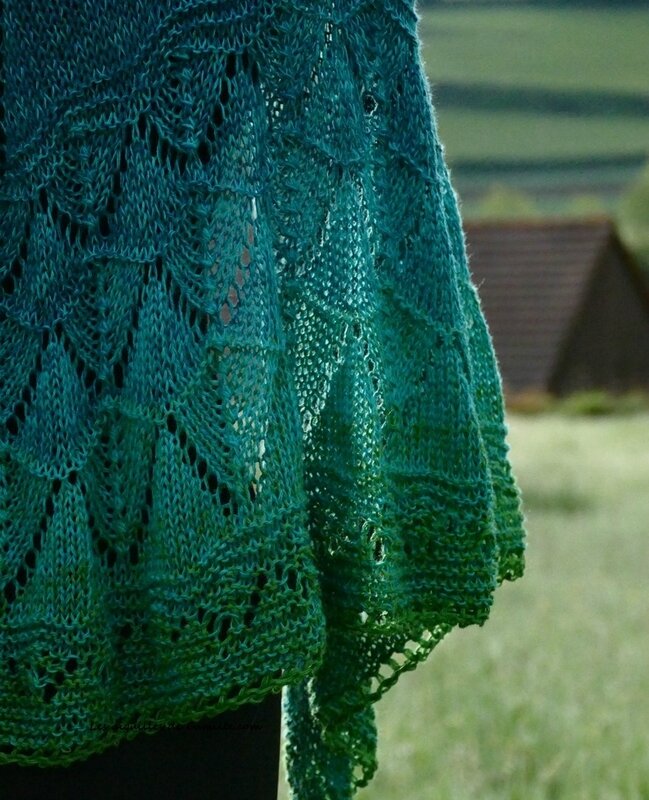 que dis-je une laine ...
what do I say a yarn ...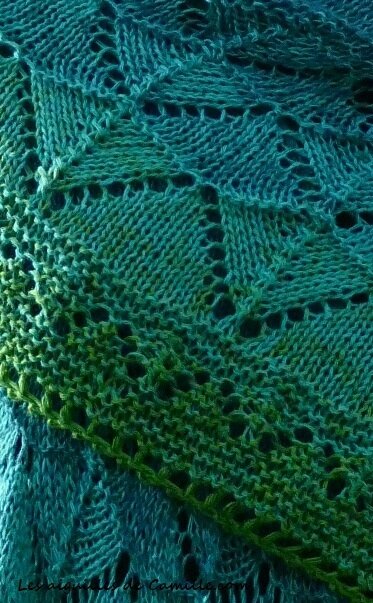 un coton mélangé...
a cotton blend ...
sinon adieu la "Summer Edition" , dans un coloris tout frais, aussi dopé à la chlorophyle que la nature !

Ce châle Sweety est tricoté en aiguilles 5mm
This Sweet shawl is knitted in 5mm needles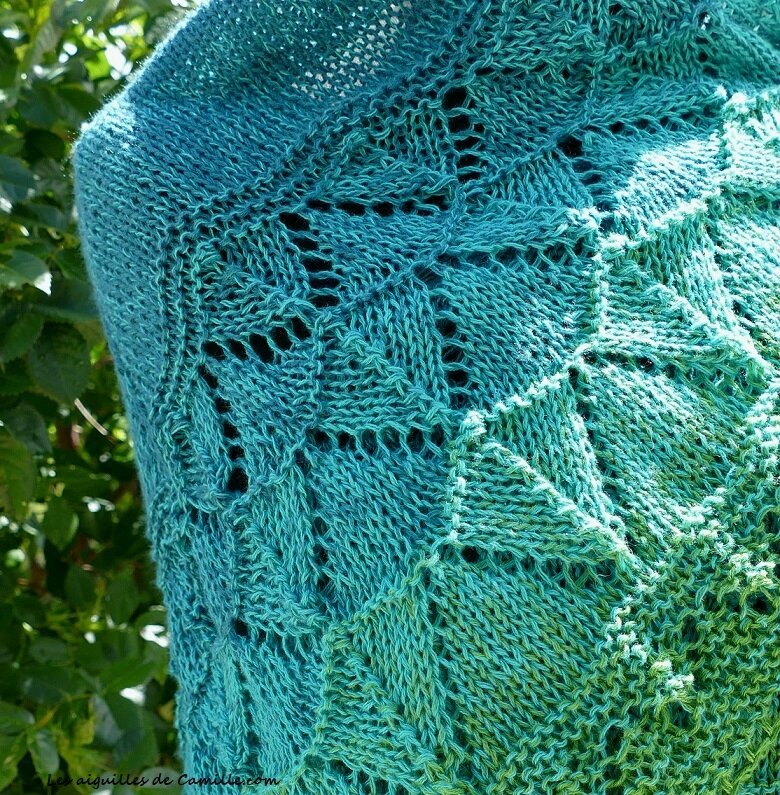 avec 1 seule pelote de Ravinala ( oui , elle est sans fin !!) de Plassard qui fait son entrée en boutique cet été.
with only 1 cake of Ravinala (yes, it is endless !!) of Plassard which makes its entry in shop this summer.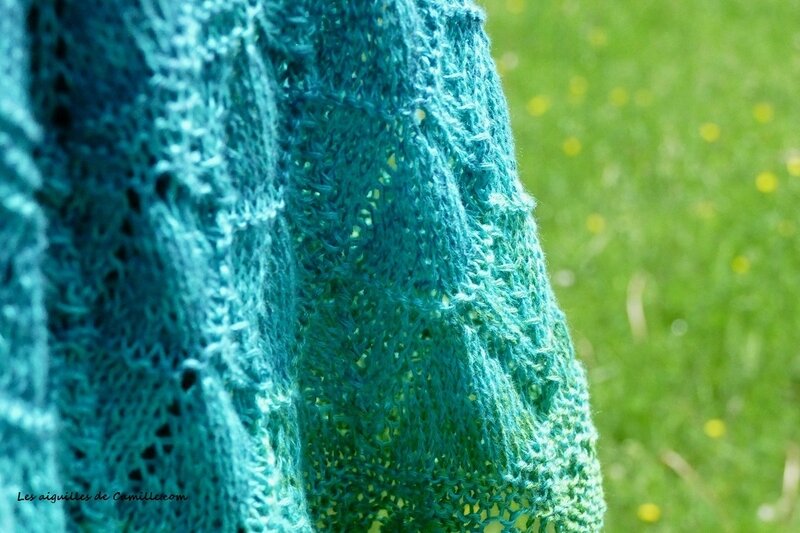 Et si vous ne l'avez pas reconnu , je vous invite à aller à la rencontre du modèle "Hiver" sur cette page!
And if you did not recognize it, I invite you to go to meet the model "Winter" on this page!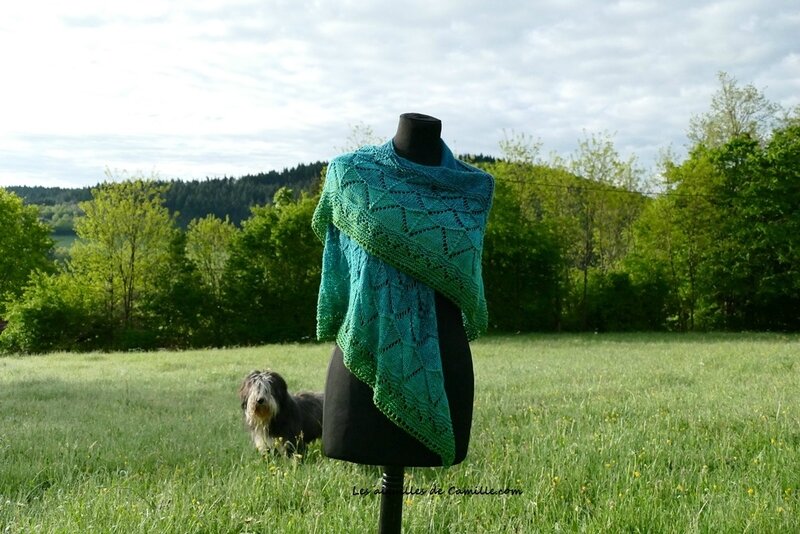 Et pour tricoter ce modèle, téléchargez le PDF ci dessous!
And to knit this model, download the PDF below!
En Français:Châle_Sweety_Summer_Edition_VF
In English: Sweet_Shawl_Summer_Edition_English_pattern
Bon tricot!!
samedi 24 juin 2017
Bonjour !!! Non je n'ai pas disparu... mais cette fin d'année est fort bien remplie et je me fais plus rare sur la toile ( mais ça ne va pas durer!!)
Pour celles qui veulent , peuvent , je suis ce weekend au marché organisé durant le festival de Jazz de Larochemillay, dans le village, place de l'Eglise .
Pour les abonné(e)s du blog , une petite surprise à venir via la newsletter de mercredi prochain!
Alors peut-être à très vite et quoi qu'il en soit, passez un bon weekend de tricotesque!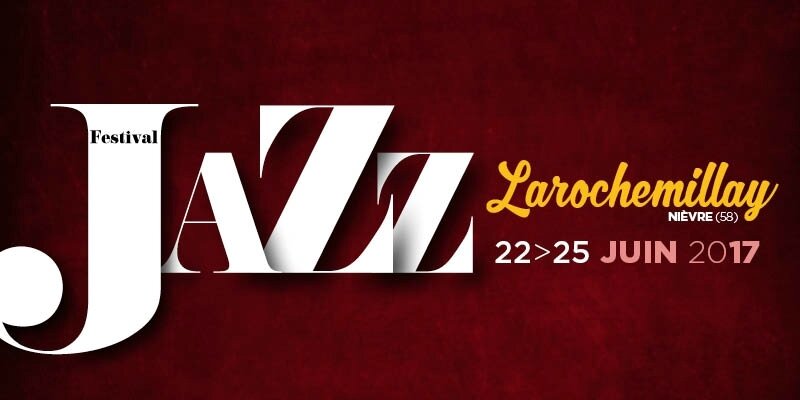 mercredi 5 avril 2017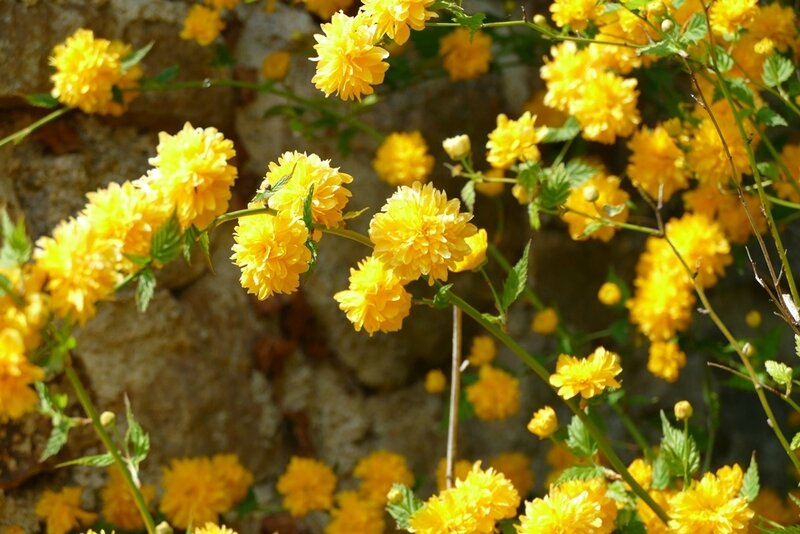 Un joli cadeau aujourd'hui, la traduction en Portugais du châle "Soleil d'hiver" , sur cette page, qui peut aussi être un "Soleil de Printemps"... sur celle-ci!
samedi 25 mars 2017
Cette fois on y est: soleil, jonquilles, jacinthes, pensées... c'est le printemps!!
This time it is: sun, daffodils, hyacinth, thoughts ... it's spring !!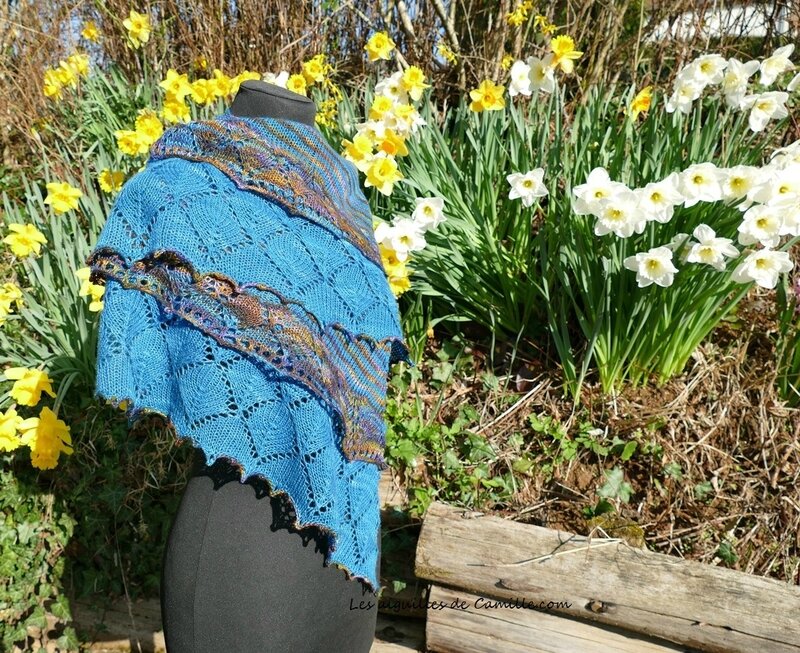 Alors hop, je dégaine l'appareil photo et c'est parti...
Then , I pull the camera and go ...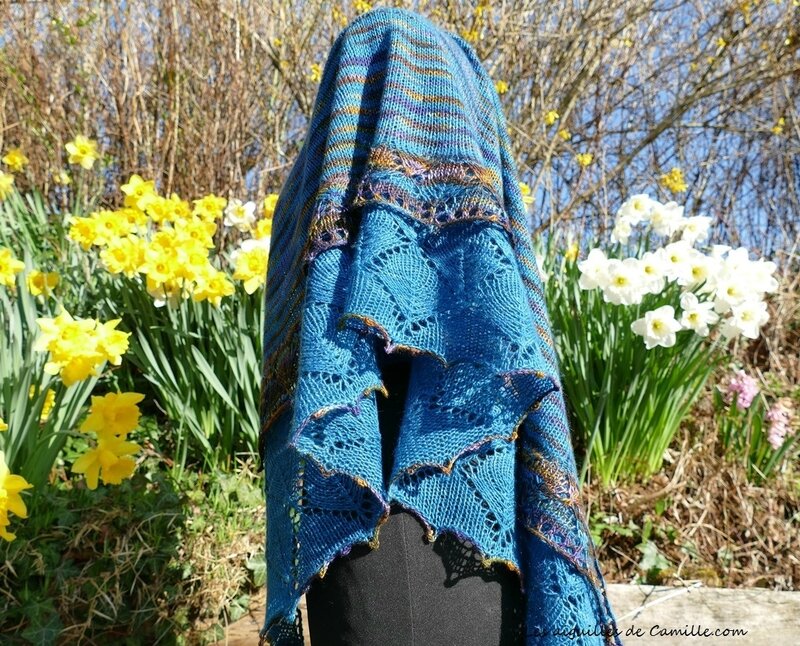 Le Frou Frou ,
The Frou Frou,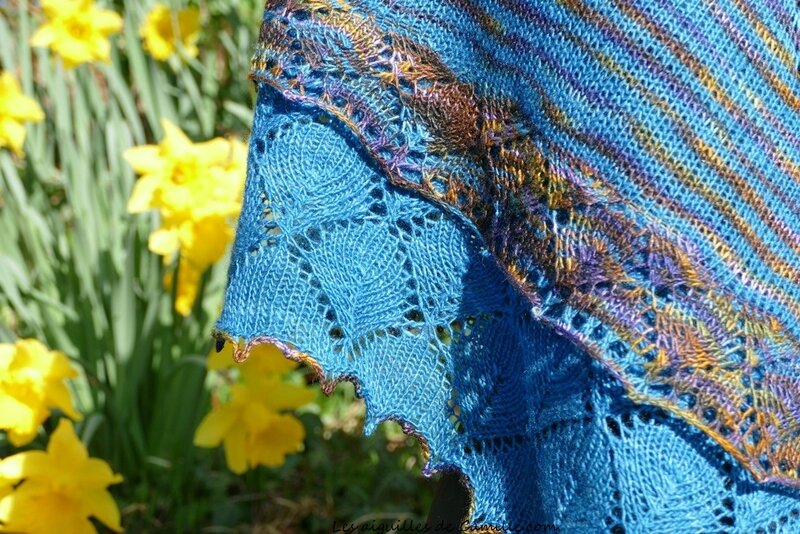 un peu moins sage que son grand frère à dentelle blanche
A little less wise than his big brother with a white lace edge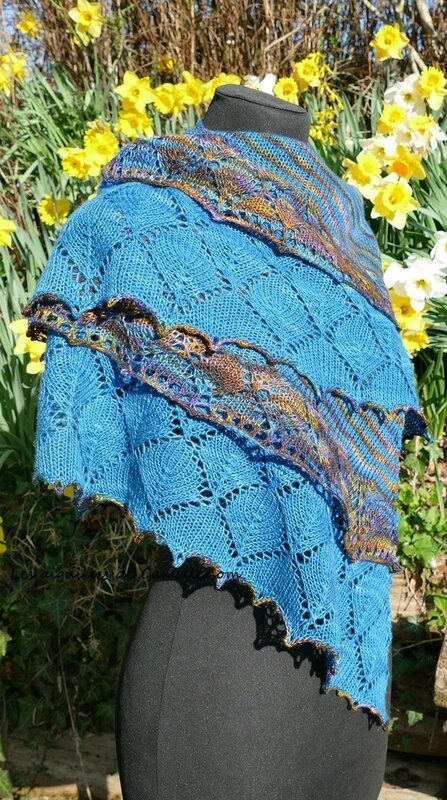 Celui ci a le fil uni sur le premier volant
This one has the solid yarn on the first ruffle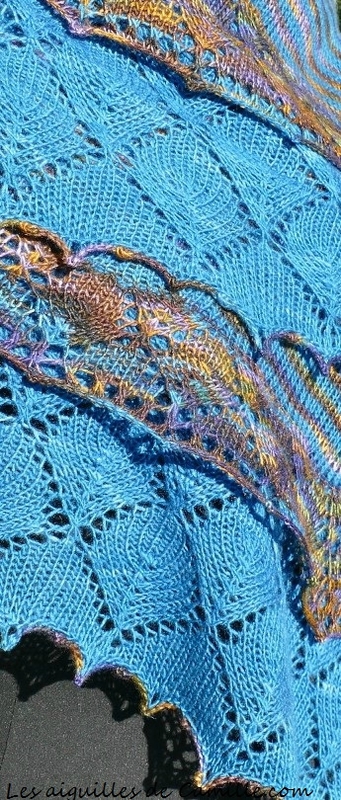 Il est tout habillé de laine et de soie ,
It is all dressed in wool and silk,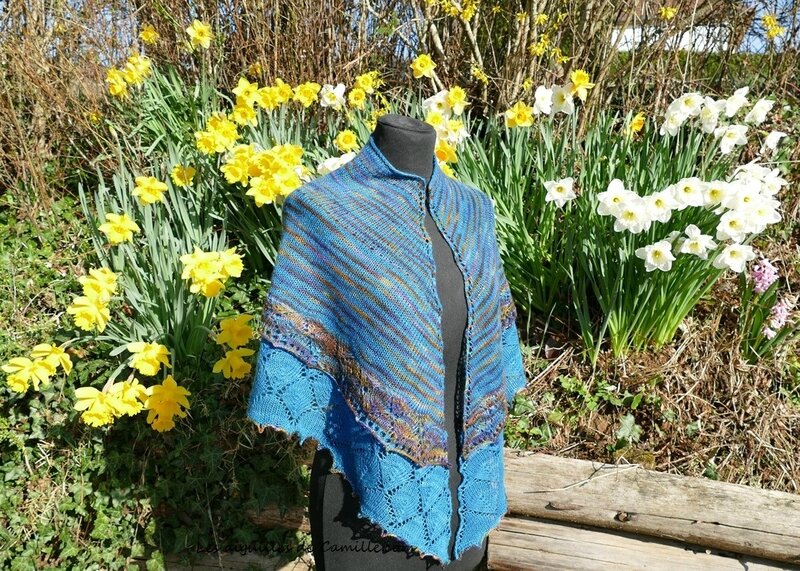 Avec 3 écheveaux de Silk Blend Fino
With 3 hanks of Silk Blend Fino

Toujours en aiguilles 4mm
Always in 4mm needles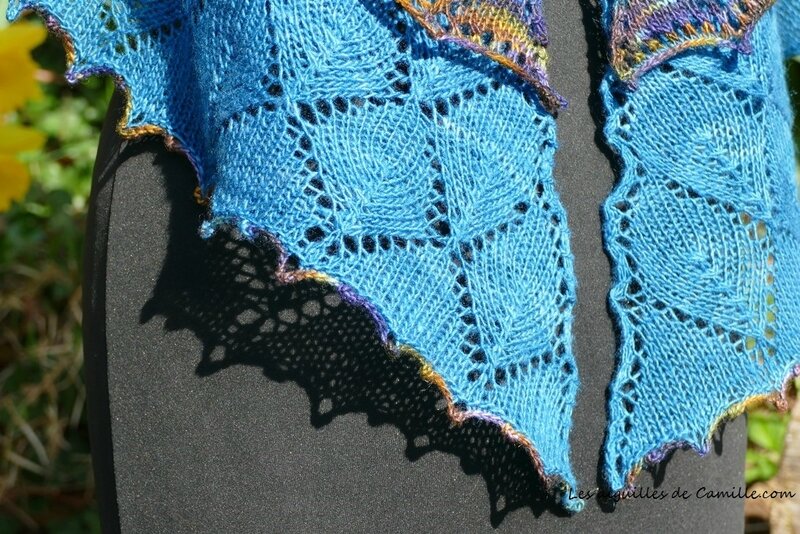 J'ai légèrement modifié le patron pour la fin du grand volant ,
I slightly modified the pattern for the end of the main ruffle,
Avec le dernier rang et le rang de rabattage en coloris contrasté seulement,
With the last row and the row of binding off contrasting color only,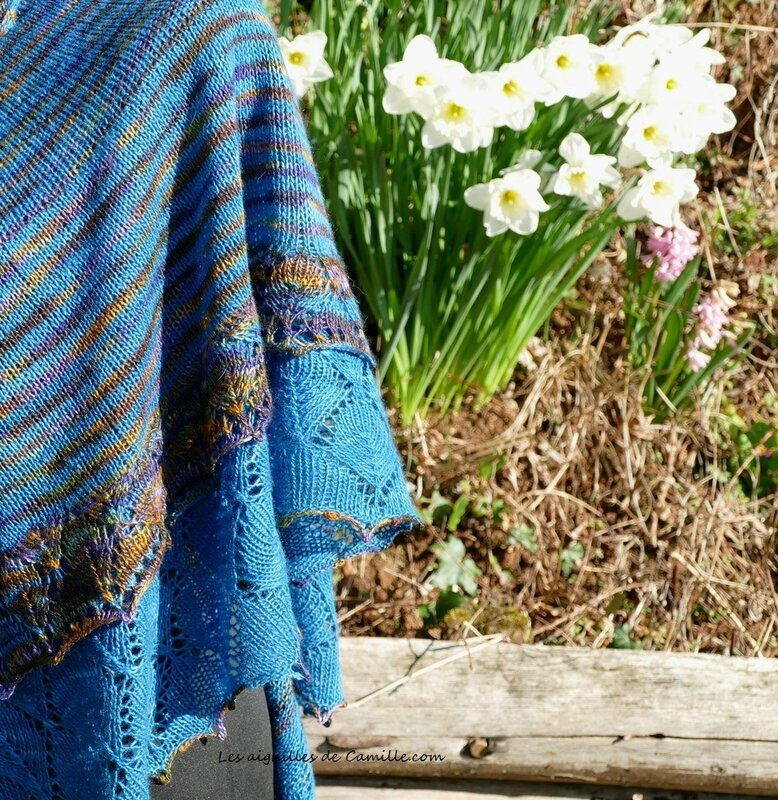 Et un peu plus de picots
And a few more picots.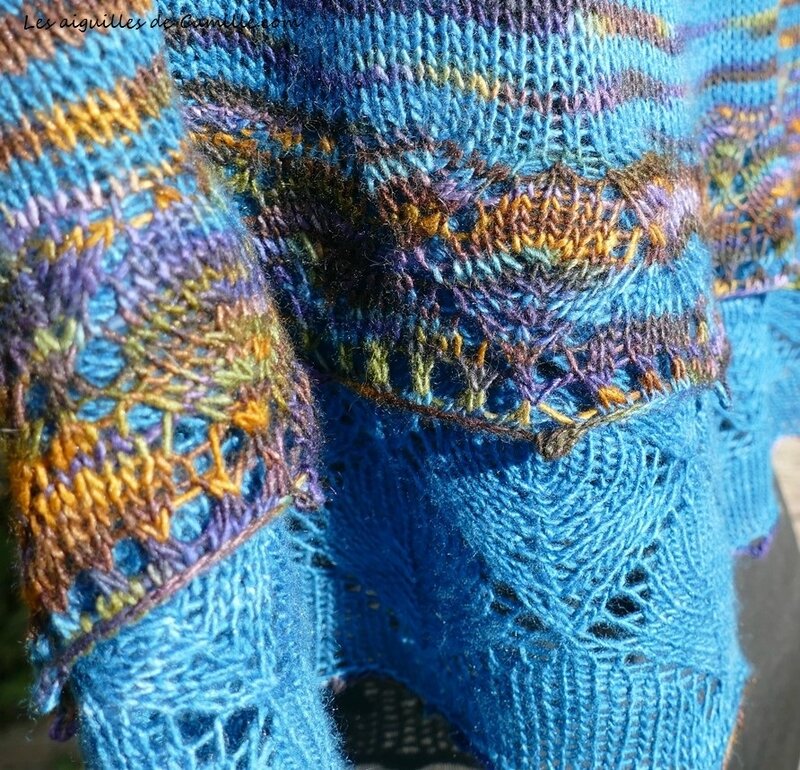 Il existe en kit ici si ça vous dit ....
Et pour le modèle , c'est sur cette page!
And for the model, it's on this page!
Bon tricot et à bientôt!!
lundi 20 mars 2017
C'est aussi le mois des jonquilles, de la fête du saint patron des Gallois, et du Croeso ( bon ça c'est moi qui le dit!), voilà le petit dernier!!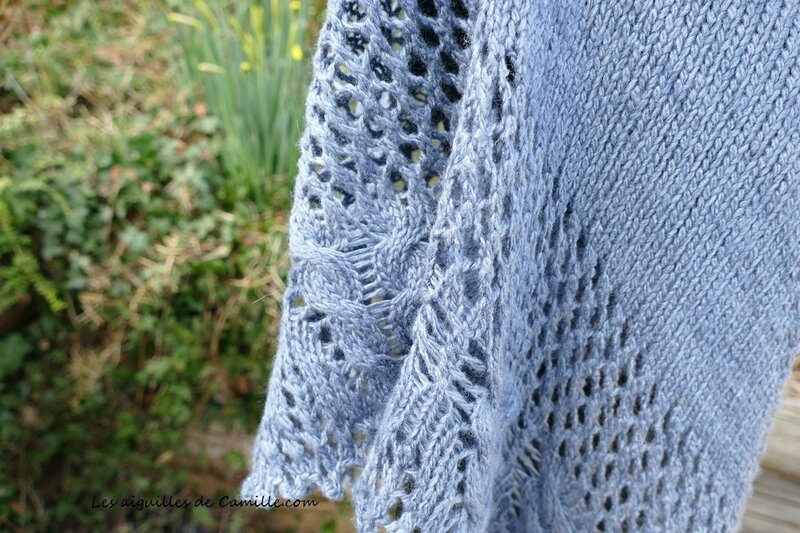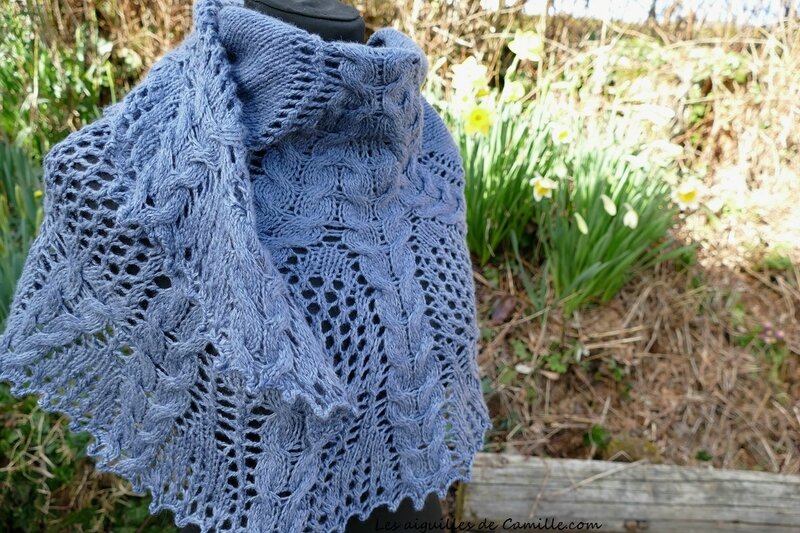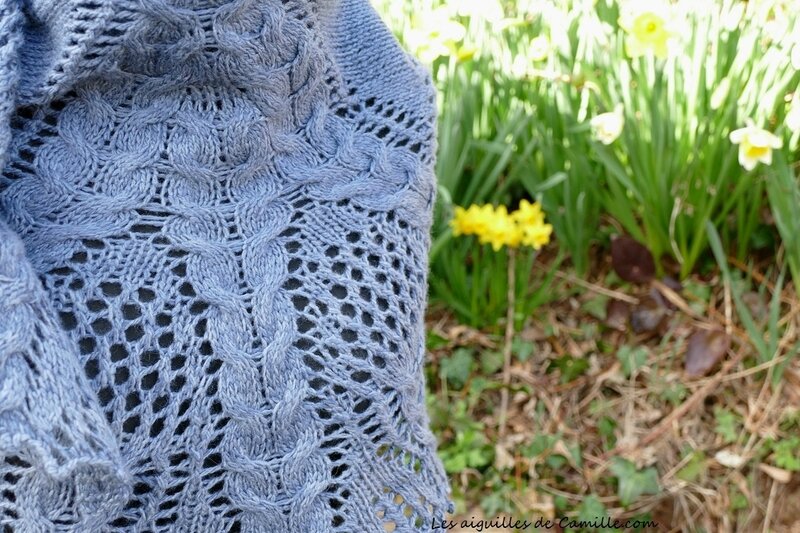 J'avoue, je me suis un peu lâchée sur les photos... mais le soleil, les fleurs tout ça fait un bien fou!
J'ai reçu une invitation à participer aux journées européennes des Métiers d'Art ( autant vous dire que je n'était pas peu fière!!) , et donc j'y serai: au Prieuré de la Charité sur Loire les 1er et 2 avril. J'espère que vous y serez aussi!! Là , ou ailleurs , des artisans vous attendent près de chez vous!
A très vite!!
Camille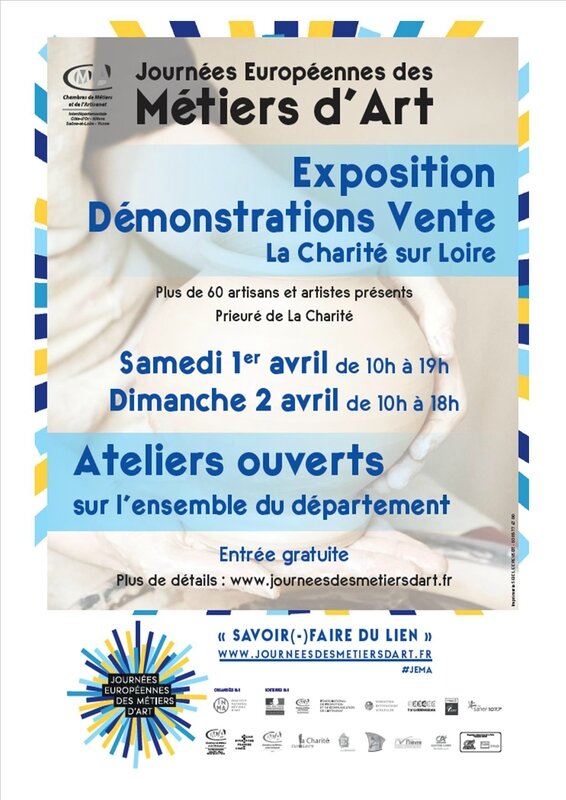 Attention: lors de cette exposition vente, je n'emmène que des articles tricotés , si vous voulez des laines, des kits , de la mercerie, merci de me contacter très vite pour que je puisse vous amener directement vos commandes!
email: contact@lesaiguillesdecamille.com