J'ai reçu une invitation à participer aux journées européennes des Métiers d'Art ( autant vous dire que je n'était pas peu fière!!) , et donc j'y serai: au Prieuré de la Charité sur Loire les 1er et 2 avril. J'espère que vous y serez aussi!! Là , ou ailleurs , des artisans vous attendent près de chez vous!
A très vite!!
Camille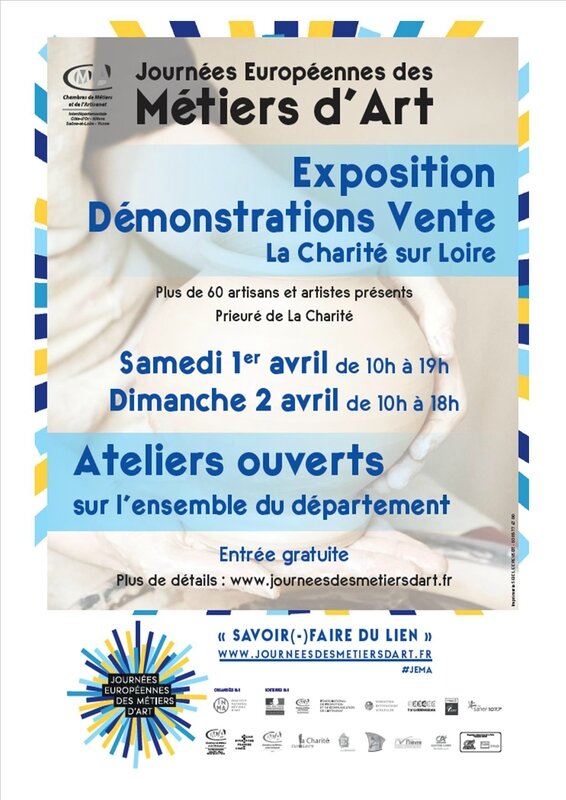 Attention: lors de cette exposition vente, je n'emmène que des articles tricotés , si vous voulez des laines, des kits , de la mercerie, merci de me contacter très vite pour que je puisse vous amener directement vos commandes!
email: contact@lesaiguillesdecamille.com
samedi 25 mars 2017
Cette fois on y est: soleil, jonquilles, jacinthes, pensées... c'est le printemps!!
This time it is: sun, daffodils, hyacinth, thoughts ... it's spring !!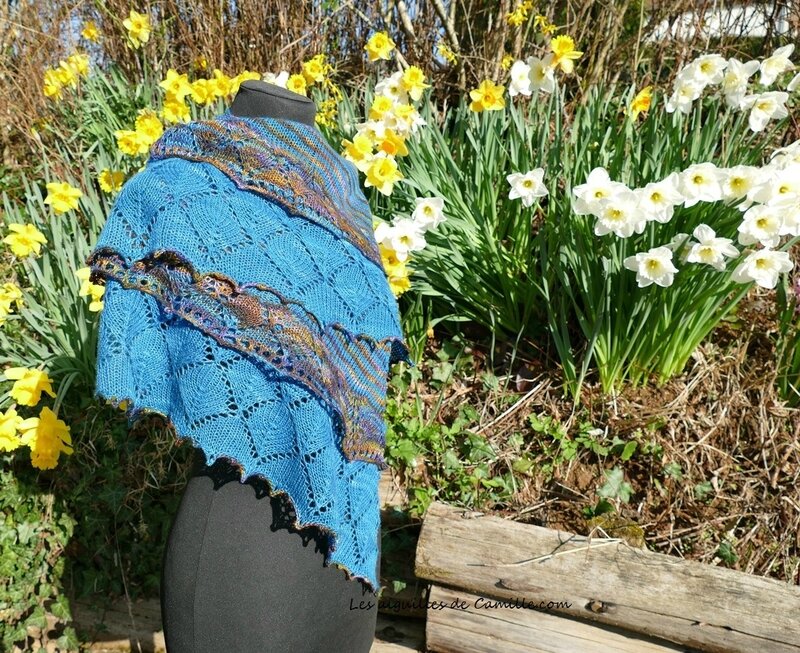 Alors hop, je dégaine l'appareil photo et c'est parti...
Then , I pull the camera and go ...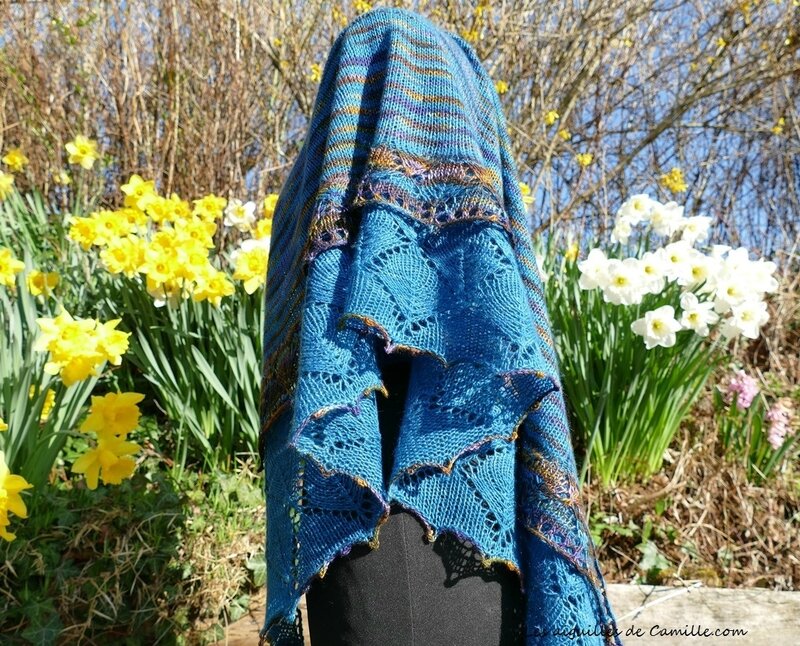 Le Frou Frou ,
The Frou Frou,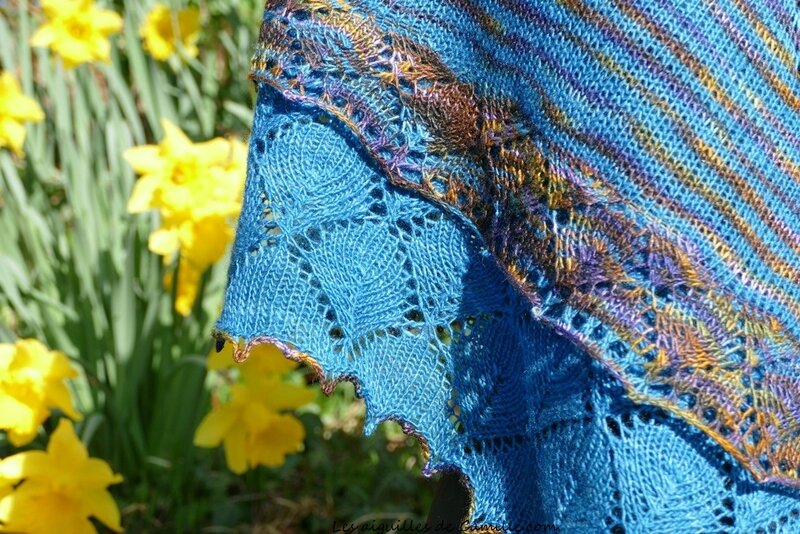 un peu moins sage que son grand frère à dentelle blanche
A little less wise than his big brother with a white lace edge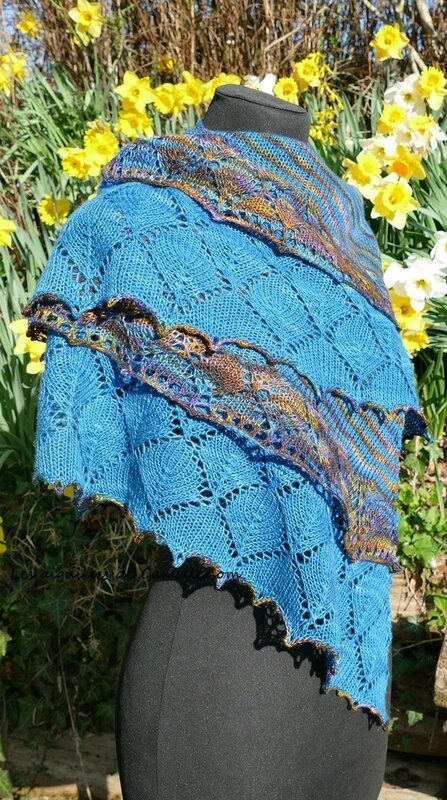 Celui ci a le fil uni sur le premier volant
This one has the solid yarn on the first ruffle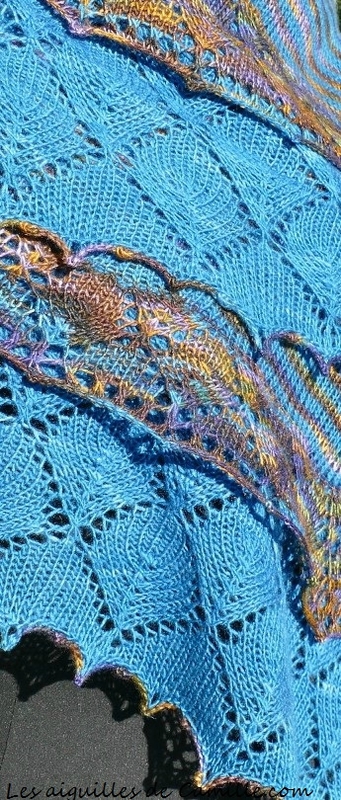 Il est tout habillé de laine et de soie ,
It is all dressed in wool and silk,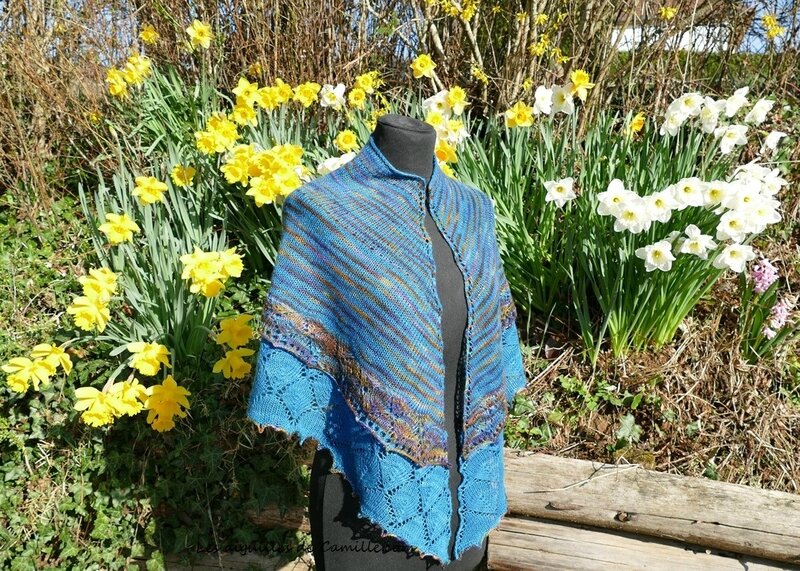 Avec 3 écheveaux de Silk Blend Fino
With 3 hanks of Silk Blend Fino

Toujours en aiguilles 4mm
Always in 4mm needles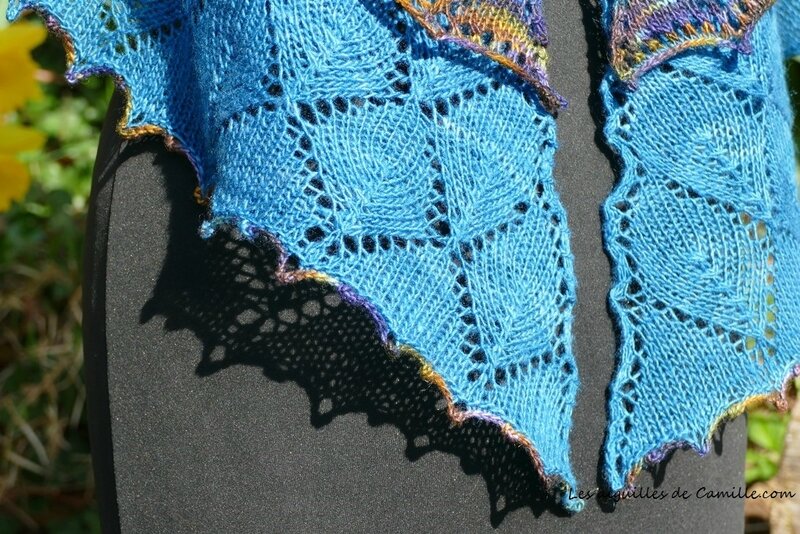 J'ai légèrement modifié le patron pour la fin du grand volant ,
I slightly modified the pattern for the end of the main ruffle,
Avec le dernier rang et le rang de rabattage en coloris contrasté seulement,
With the last row and the row of binding off contrasting color only,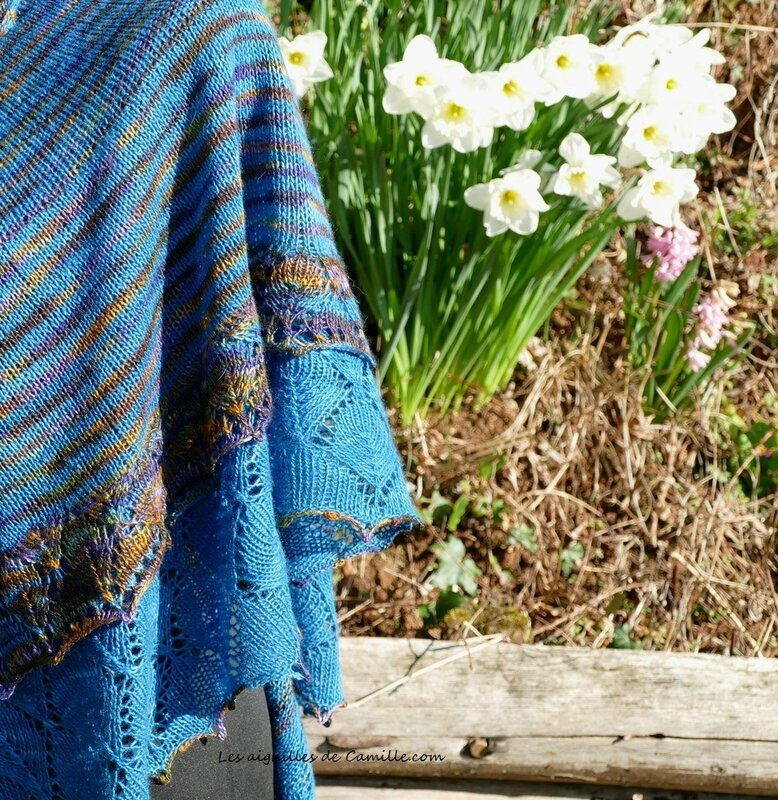 Et un peu plus de picots
And a few more picots.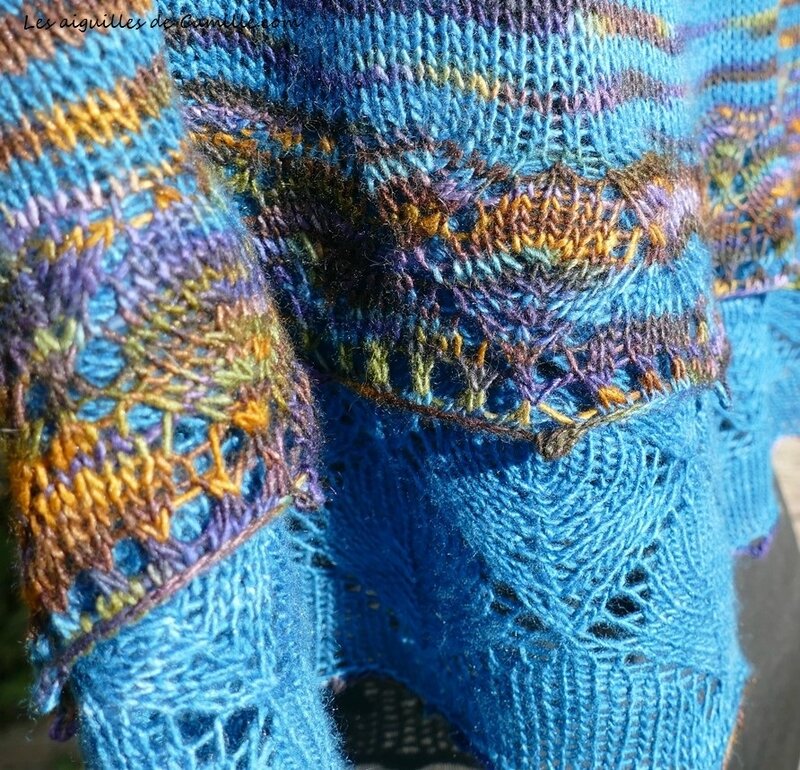 Il existe en kit ici si ça vous dit ....
Et pour le modèle , c'est sur cette page!
And for the model, it's on this page!
Bon tricot et à bientôt!!
lundi 20 mars 2017
C'est aussi le mois des jonquilles, de la fête du saint patron des Gallois, et du Croeso ( bon ça c'est moi qui le dit!), voilà le petit dernier!!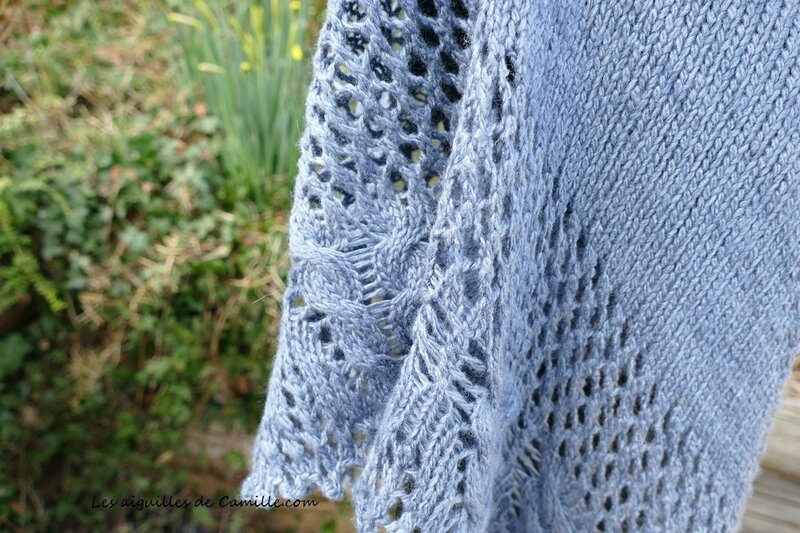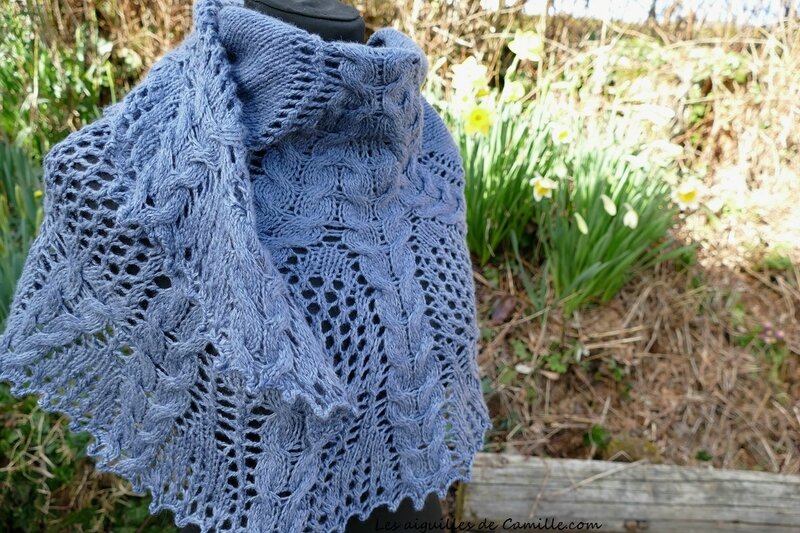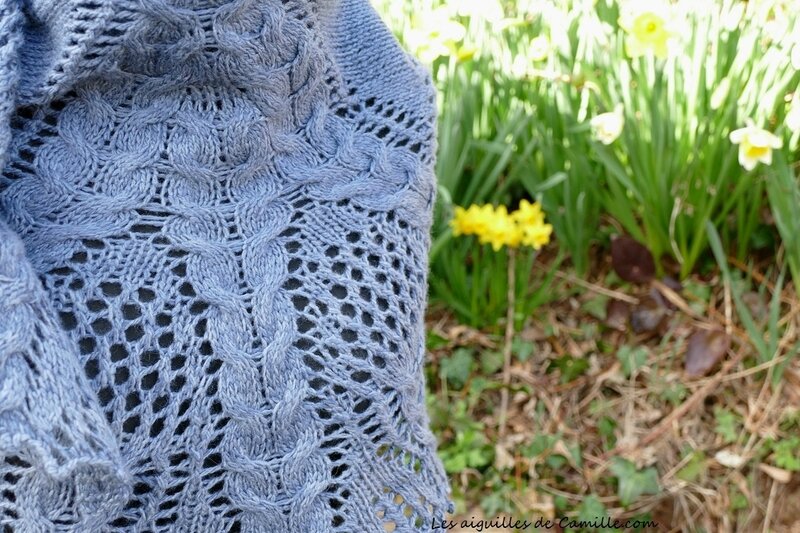 J'avoue, je me suis un peu lâchée sur les photos... mais le soleil, les fleurs tout ça fait un bien fou!
vendredi 3 mars 2017
Peut-être est-ce dû à la pesanteur des temps, j'ai eu envie d'un petit bout de légèreté et d'insouciance.
Ainsi est né ce Frou Frou,
Perhaps it is due to the heaviness of the times, I wanted a little bit of lightness and carelessness.
Thus Frou Frou was born,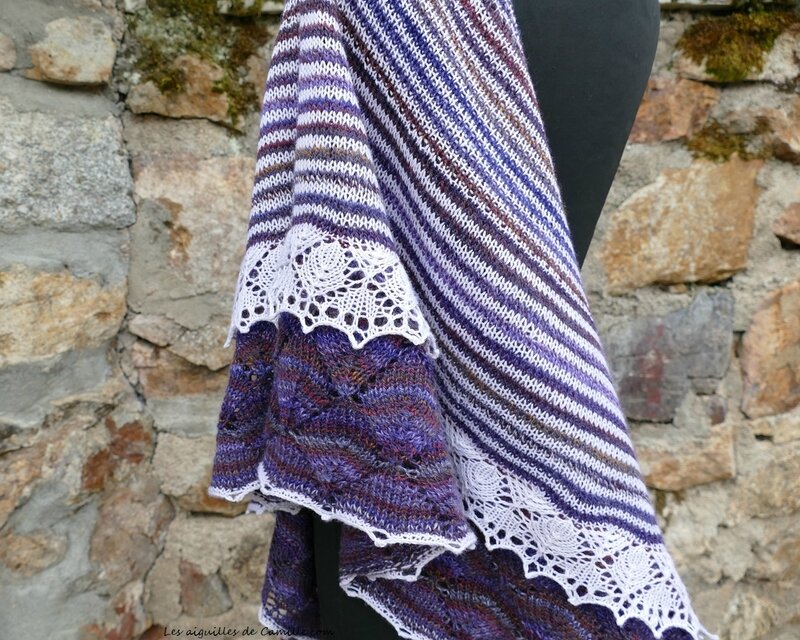 féminin,
féminine,
aérien,
aerial,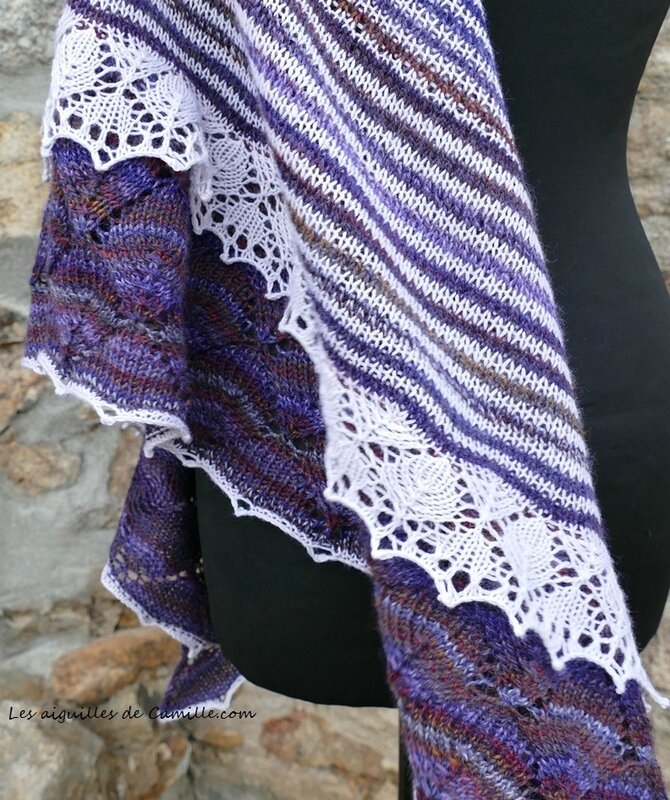 La double bordure de dentelle ne devait absolument par ressembler à ça, mais mes aiguilles s'en sont mêlées et voilà:
The double lace edge absolutely did not resemble that, but my needles mingled and there it is: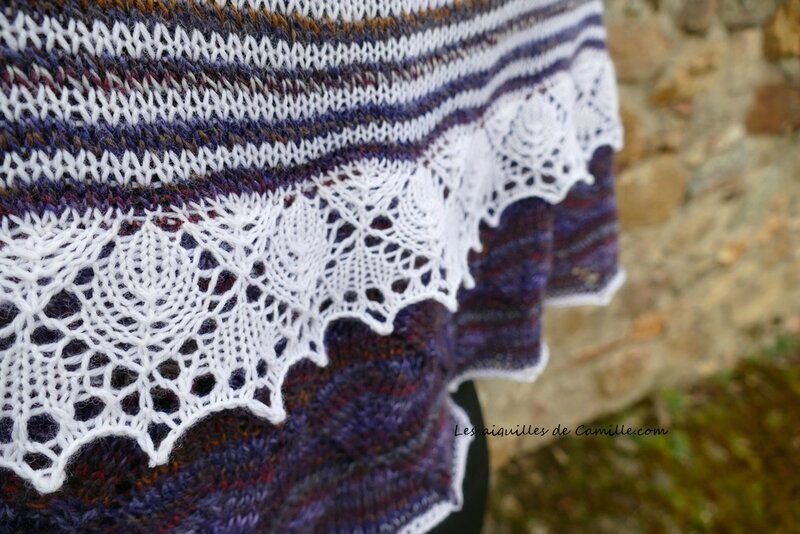 Ce châle , au niveau accessible avec sa grande partie jersey et sa dentelle simple , fait appel à une petite astuce expliquée sur cette page en images.
This shawl, accessible level with its large part in stocking stitch and its simple lace, uses a little trick explained on this page in pictures.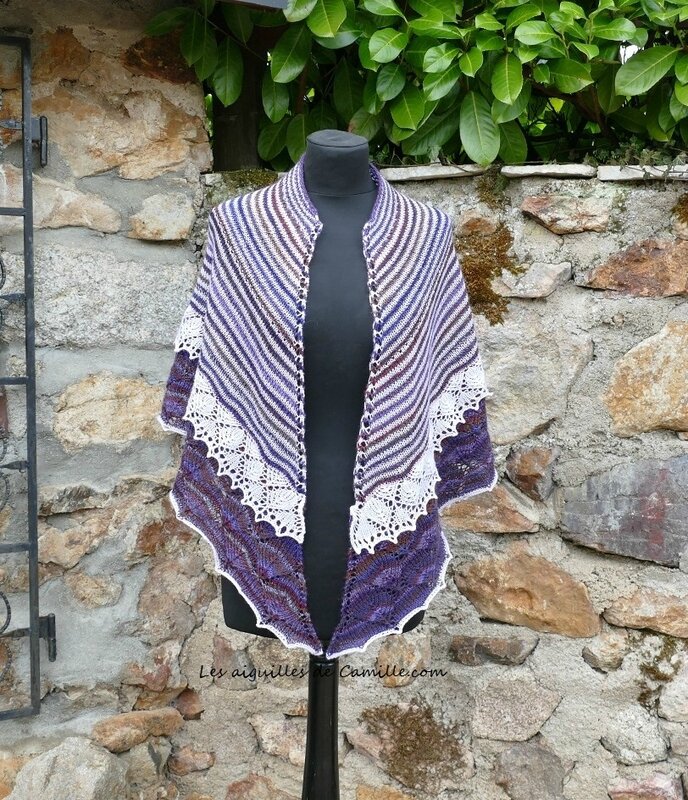 Tricoté en 4mm, avec 1 pelote de Zauberball Stärke 6 Route 66 de Schoppel Wolle pour la partie colorée et 2 pelotes de Mérino Baby Wool Blanc de Cheval Blanc, ce châle est proposé en kit tricot avec ou sans sa mercerie.
Knitted in 4mm, with 1 ball of Zauberball Stärke 6 Route 66 of Schoppel Wolle for the colorful part and 2 balls of Merino Baby Wool blanc of Cheval Blanc, this shawl is offered in kit knitting with or without its haberdashery.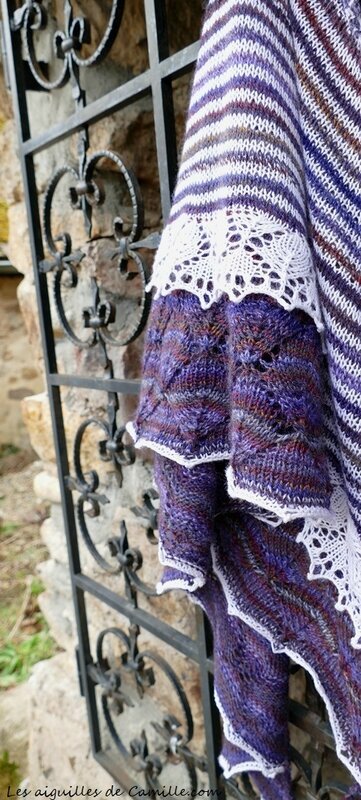 Et pour le tuto, vous pouvez le télécharger ci-dessous:
En Français: Châle_Frou_Frou
Bon tricot !!!
And for the tutorial, you can download it below:
In English:Shawl_Frou_Frou_English_version
Enjoy this knitting time!!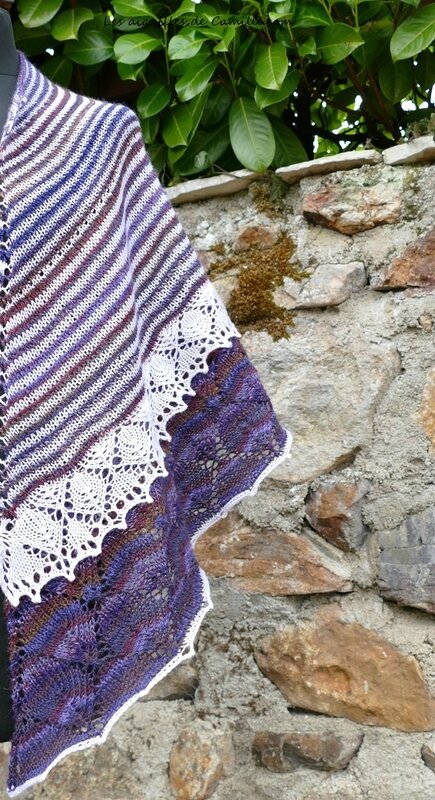 Pour faire le châle Frou Frou ( tuto et post le concernant sur cette page) et sa double bordure dentelle, j'ai utilisé une astuce pour la feignante que je suis afin de ne pas avoir à relever les mailles !
To make the shawl Frou Frou (tutorial and post concerning it on this page) and its double edge lace, I used a trick for the pretending that I am in order not to have to raise the stitches!
La voici en images:
Quand vous arrivez aux bordures , le châle a cet aspect, et vous mettez un bouchon au bout de votre câble:
Here it is in pictures:
When you reach the borders, the shawl has this look, and you put a plug on the end of your cable: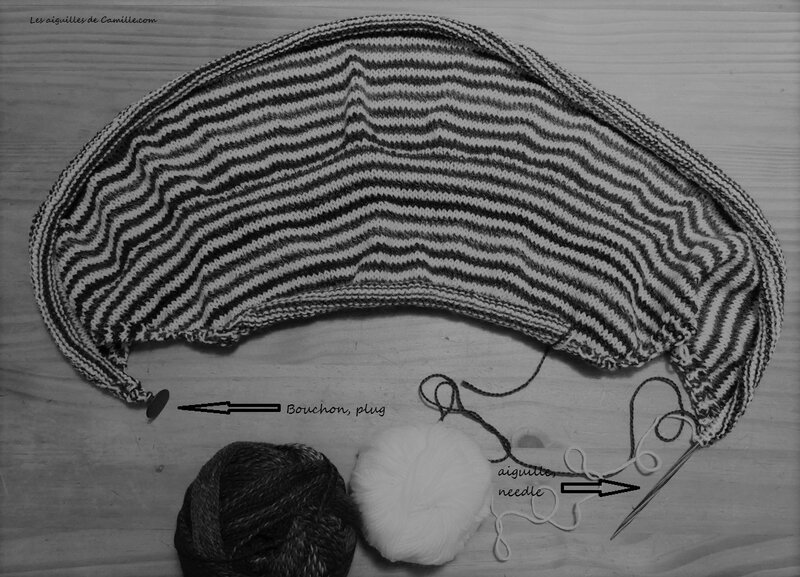 Ensuite vous préparez votre second câble avec un bouchon d'un côté et votre aiguille 4mm de l'autre.
Then you prepare your second cable with a cap on one side and your needle 4mm on the other.
Vous allez passer le second câble dans le sens de la flèche dans toutes les mailles:
You will pass the second cable in the direction of the arrow in all stitches: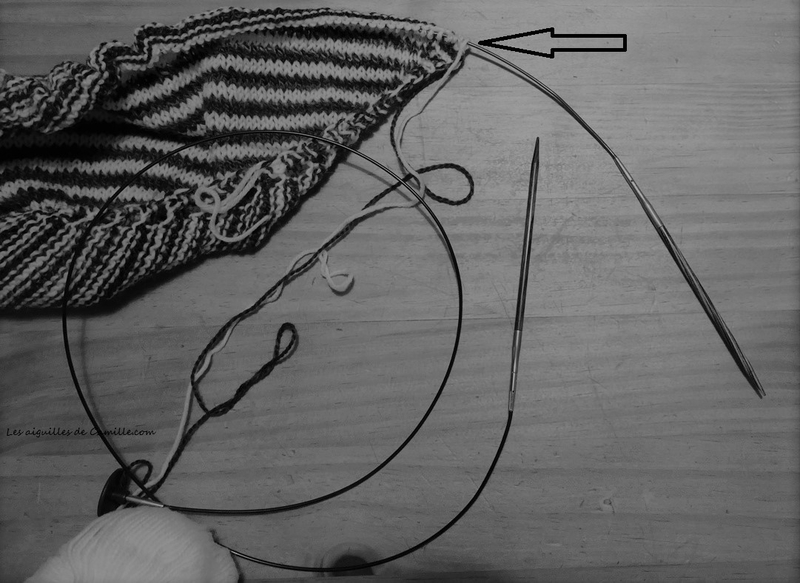 Voici ce que ça donne au début:
It looks like this at the beginning: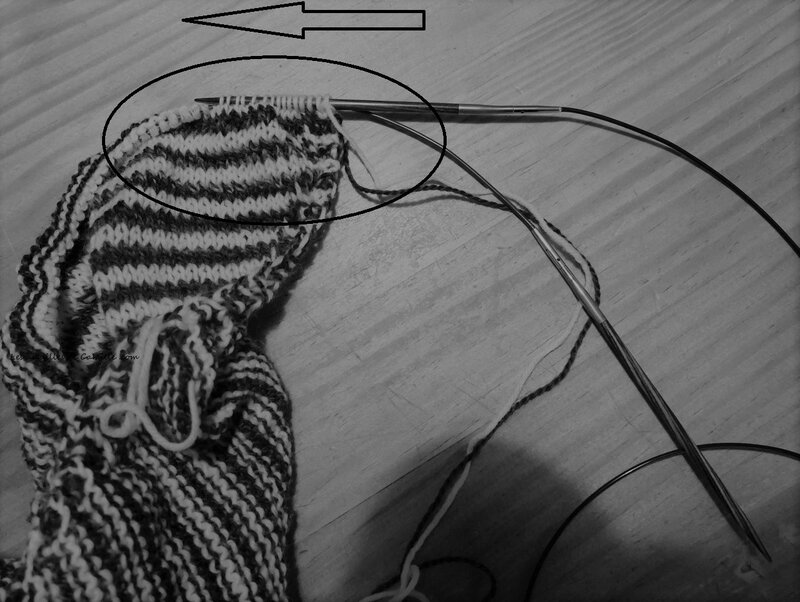 Puis au milieu du travail:
In the middle of the work: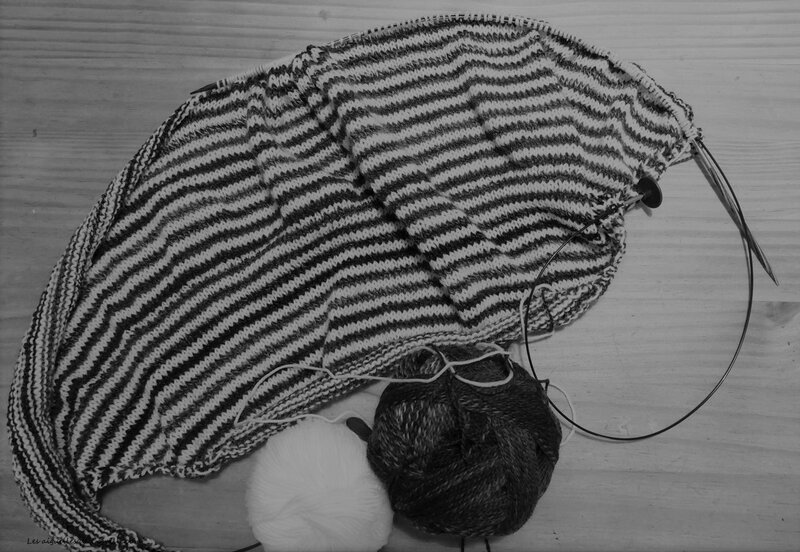 L'aspect fini du passage. Normalement , vous avez deux câbles dans les mêmes mailles.
The finished appearance of the passage. Normally, you have two cables in the same stitches.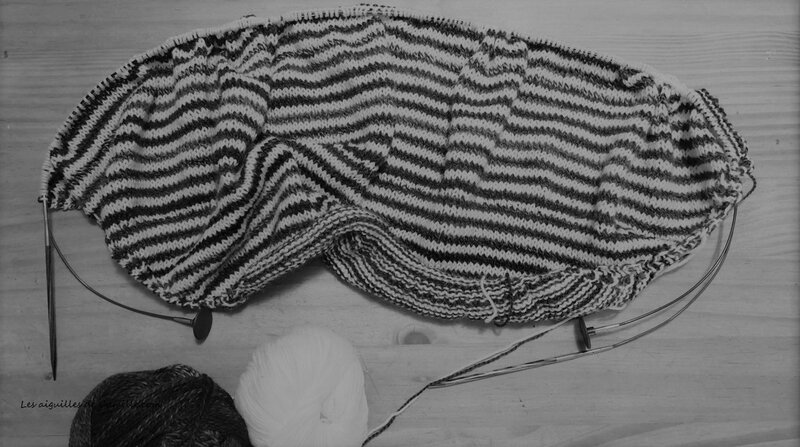 Préparez ensuite le tricot du volant 1: pour ce faire vous mettez les aiguilles sur 1 câble ( peu importe lequel) et les bouchons sur l'autre câble qui garde les mailles en attente pour le tricot du volant 2:
Then prepare the knitting of the ruffle 1: to do this you put the hands on 1 cable (no matter which one) and the plugs on the other cable that keeps the stitches waiting for the knitting of the ruffle 2: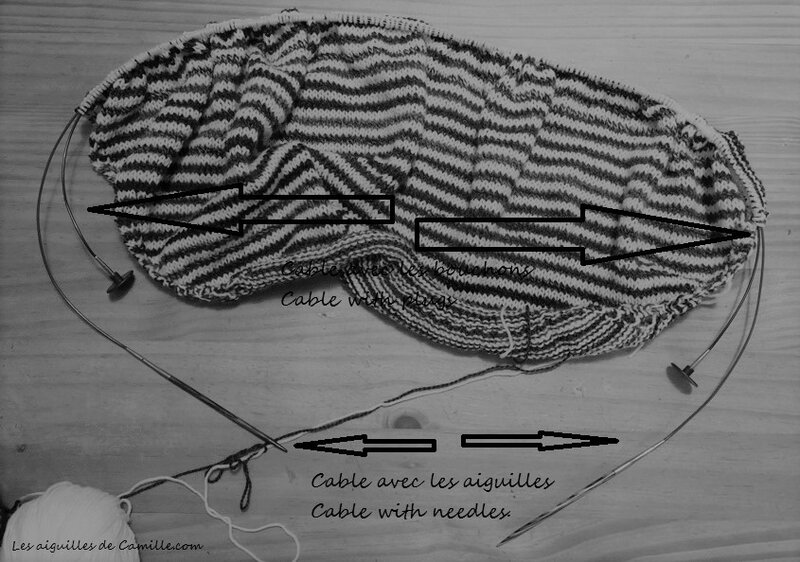 Début du tricot du volant 1: les mailles sont tricotées à l'endroit, pendant que le second câble reste bien en place.
Beginning of the knitting of the ruffle 1: the stitches are knitted , while the second cable remains in place.
Aspect du travail après le tricot du 1er rang du volant 1:
Aspect of work after knitting 1st row of ruffle 1:
Ici, le volant 1 est fini, ôter les bouchons du câble " en attente" et mettre les aiguilles à la place , commencer à tricoter le volant 2.
Here, the ruffle 1 is finished, remove the cable plugs "on standby" and put the needles in place, begin knitting the ruffle 2.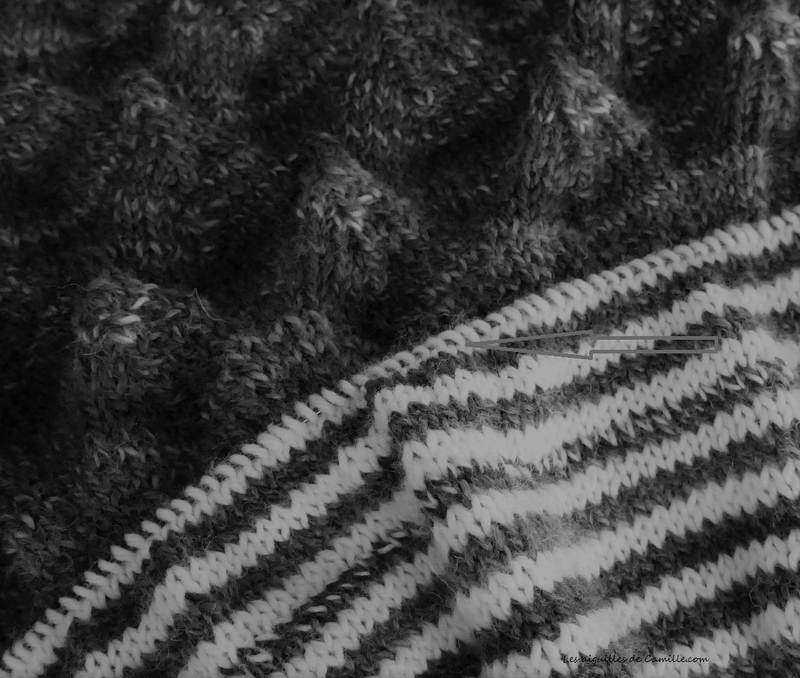 Pour résumer: ce jeu de deux câbles ( ou de deux aiguilles circulaires 4mm si vous n'avez pas d'aiguilles amovibles), permet de ne pas avoir à relever les mailles. Les mailles où sont passées les deux câbles seront tricotées une première fois avec le volant 1 et une seconde fois avec le volant 2.
Si vous ne souhaitez pas opter pour ce petit tour de passe passe, optez pour l'option 2 sur le patron.
To sum up: this set of two cables (or two circular needles 4mm if you do not have removable needles), makes it possible not to have to raise the stitches. The stitches where the two cables are passed will be knitted a first time with the ruffle 1 and a second time with the ruffle 2.
If you do not want to opt for this little turn pass, go for option 2 on the pattern.
mardi 28 février 2017
Un après midi bien gris et bien pluvieux , je reçois ça:
"Ce serait bien que la personne qui a mis en ligne ce tricot, qui est splendide soit dit en passant, fasse des précisions à l'endroit où tous les gens se posent les mêmes questions."
Pertinent, ma petite personne a donc revu la vieille, très vieille copie, (puisque de toute façon je ne peux pas aller bêcher le potager , fait trop moche, autant en profiter!).
Et hop nouvelle mouture pour le Clair Obscur , un de mes premiers tuto ( ceci explique probablement cela!!)
Avec, grande nouveauté (pour moi!! ) : le diagramme de la bordure ... il faudra me dire si c'est lisible ou pas !
Voilà donc le tuto à télécharger :Clair_Obscur_edition_2017
Au fait: parfois vous n'arrivez pas à ouvrir les fichiers, il se peut:
- que le lien soit cassé , n'hésitez pas à me le signaler
- que canalblog débloque ... revenez plus tard, ça finit toujours par s'arranger!
- que votre lecteur de PDF n'ait pas été mis à jour depuis un bout de temps... vous voyez où je veux en venir!
- si malgré tout ça y'a pas moyen d'ouvrir ce fichu PDF , je vous l'enverrai par mail avec grand plaisir!!
Pour le message d'origine, c'est sur cette page , et pour la laine, c'est fait avec une seule pelote de la sublime Kunstgarn!

A very gray and rainy afternoon, I get this:

"It would be nice if the person who put this knit on the line, which is splendid by the way, makes it clear where all the people are asking the same questions."

My little person saw the old, very old copy, (since I can not go to dig the kitchen garden, the weather is too ugly, so much to enjoy!).
And hop new grind for the Clair Obscur, one of my first tuto (this probably explains that !!)

With, great novelty (for me !!): the diagram of the border ... it will tell me if it is readable or not!

Here is the tuto to download: Clair_Obscur_english_version_2017

By the way: sometimes you can not open the files, it can be:
- that the link is broken, do not hesitate to let me know
- that canalblog unblocks ... come back later, it always ends up arranging!
- that your PDF reader has not been updated for some time ... you see where I'm coming from!
- if despite all that there is no way to open this damn PDF, I will send it by mail with great pleasure !!
To read the first post concerning this shawl on this page , and find the wonderfool Kunstgarn there!