jeudi 31 mai 2018
Un petit air de printemps a fini par souffler .... il était grand temps !
It's a real spring , at last!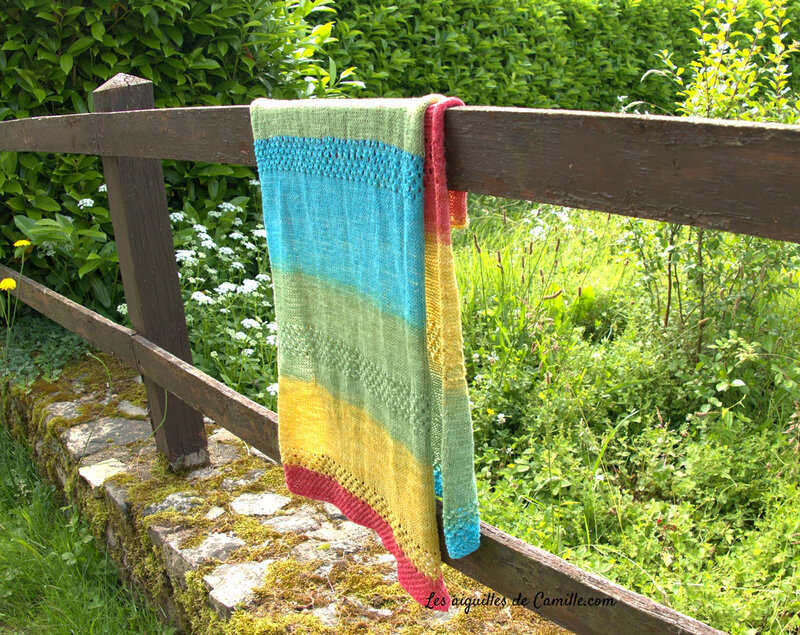 Le temps venu pour moi de vous suggérer un Foulard, léger , coloré, pour les gentils courants d'airs ou parfaire une tenue de saison.
The time has come for me to suggest a Foulard, light, colorful, for the nice currents of air or perfect for your spring outfit.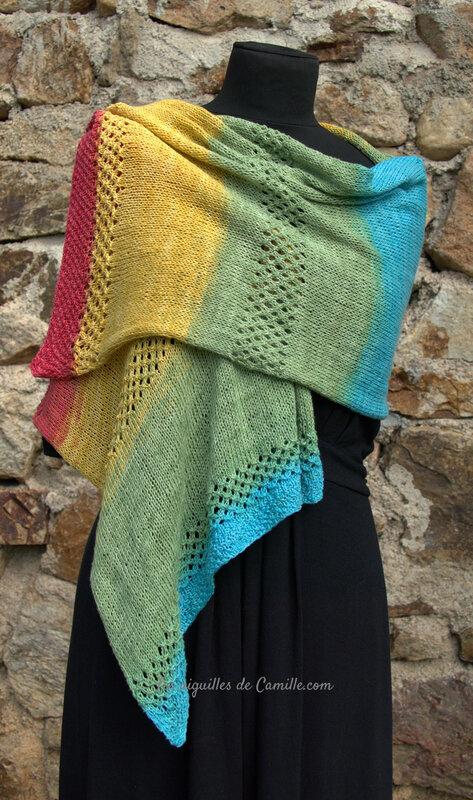 Pour le côté coloré , j'ai choisi Schoppel et ses Zauberball ( et bio!) un peu follettes , toujours surprenantes dans les associations de nuances!
For the colorful side, I chose Schoppel and its Zauberball (and bio!): a little crazy, always surprising in the associations of nuances!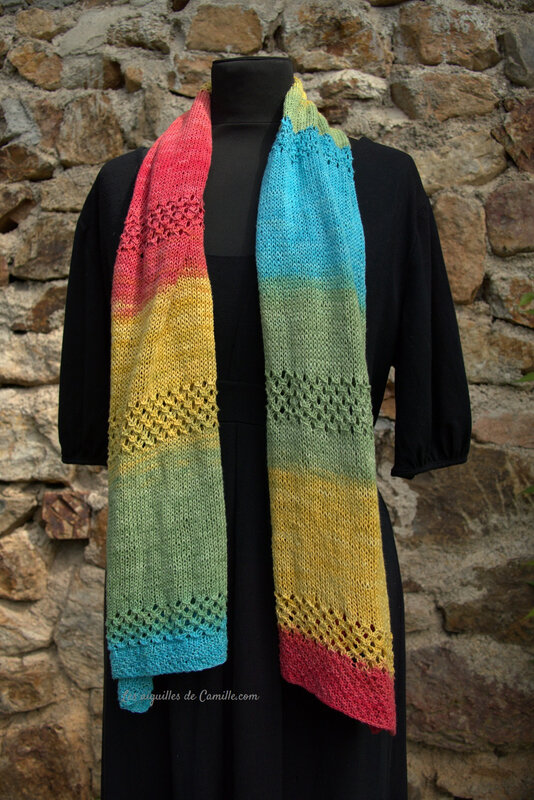 Ici c'est un modèle arc-en-ciel:
Here is a rainbow model: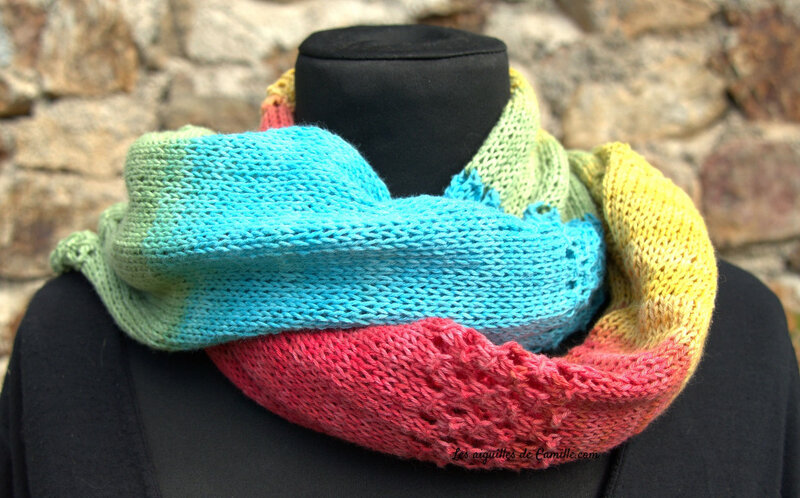 Pour la construction de cet ouvrage , le patron vous donne quartier libre et permet de laisser votre inspiration s'exprimer: vous mettrez le point fantaisie , point de diable , où vous voulez: en début et en fin, par bandes alternées avec du jersey comme je l'ai tricotée, mais vous pouvez aussi ne faire que ça tout au long du foulard, ce qui donnera un joli résultat très ajouré.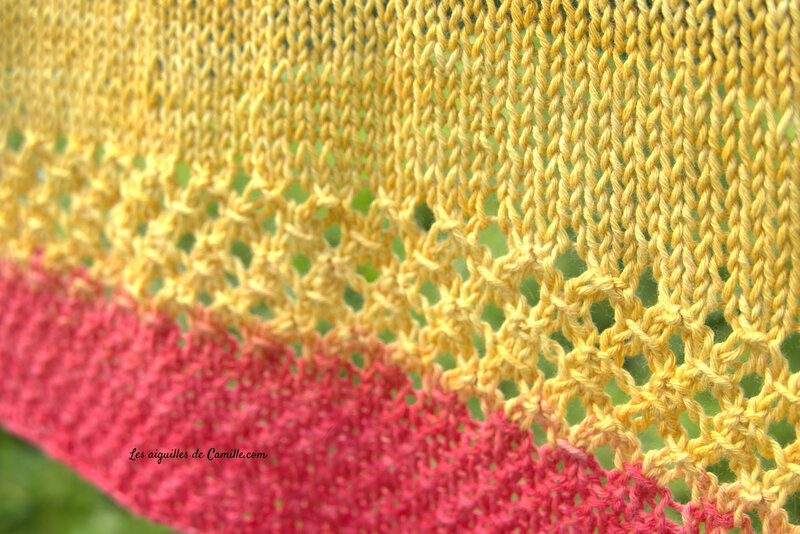 For the construction of this work, the pattern let you free and allows your inspiration express itself: you will put the fantasy stitch, point de diable, where you want: at the beginning and end, in alternating strips with stocking stitch like I knitted it, but you can also do that all along the scarf, which will give a nice result very lacy.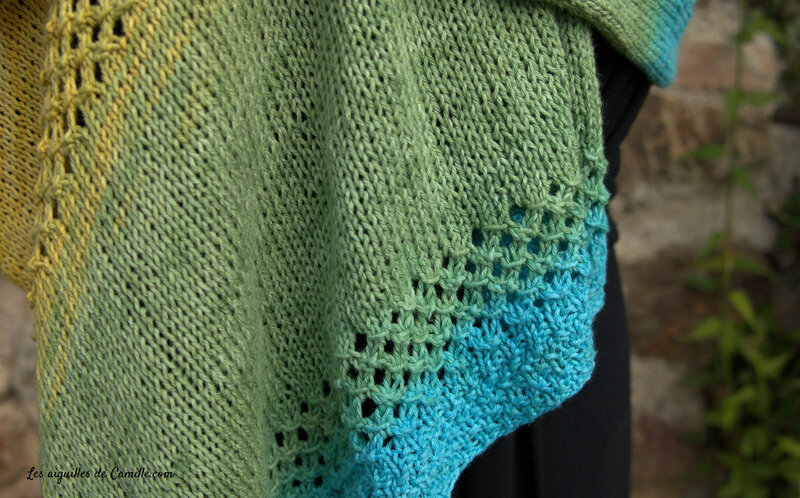 De quoi mettre de la gaieté dans ce printemps, alors bon tricot!
What acheerfulness in this spring! Enjoy knitting!
Le patron à télécharger en Français: Foulard_VF
The pattern you can download in English: Foulard_English_Pattern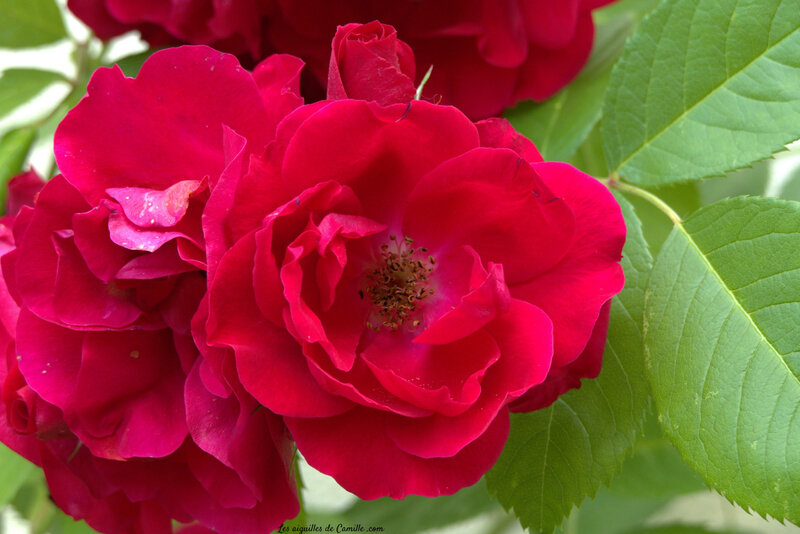 mercredi 21 mars 2018
Comme vous le savez probablement les modèles à télécharger sur le blog sont tous accessibles gratuitement.
Ils nécessitent du temps et du travail, mais je tiens absolument à ce qu'ils le restent , car je suis intimement persuadée que la transmission des savoirs doit être gratuite et inconditionnelle.
Le bouton "Faire un don" ( via paypal), sur la gauche du blog, vous permet de soutenir cette manière de créer et transmettre le savoir , à la mesure de votre envie et de vos moyens ! Merci et à bientôt pour de nouveaux modèles!


As you probably know the patterns to download on the blog are all accessible for free.

They require time and work, but I really want them to stay free, because I firmly believe that the transmission of knowledge must be free and unconditional.
The button "Faire un don" (via paypal), on the left of the blog, allows you to support this mode of creating and transmitting knowledge, as you want and within your means! Thank you and see you sonn for new patterns!!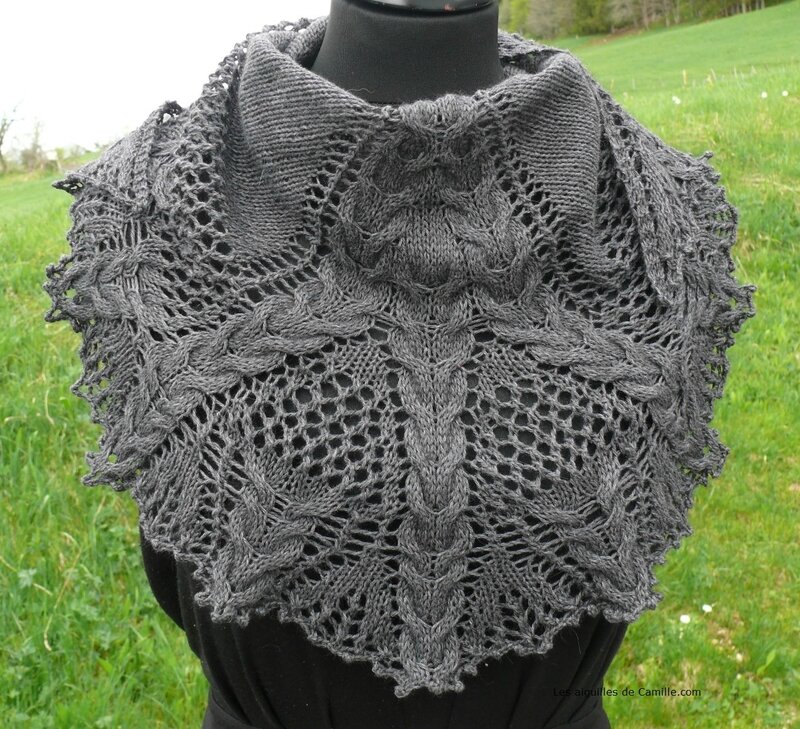 mardi 13 mars 2018
Bonjour!!
Vendredi 16, samedi 17 et dimanche 18 mars 2018 aura lieu la seconde fête de la laine à Malakoff... et j'y serai avec une partie de ma petite boutique sous le bras.
Pour l'adresse c'est là: Maison de la Vie Associative , 26 rue Victor Hugo 92 Malakoff.
Alors si par un très heureux hasard et une grosse envie de vous plongez dans l'univers de la laine sous toute ses formes, vous passez par là, je serai ravie de vous voir , de vous rencontrer en chair et en os!!
Vous pourrez y rencontrer des professionnel(le)s de la laine, du crochet, de la teinture , du filage, du feutrage, du tissage et du tricot bien sûr!! De nombreux ateliers sont proposés, n'hésitez pas à réserver il reste encore quelques places.
Au cas où vous auriez certaines envies concernant des laines en boutique, vous pouvez soit les réserver , soit les acquérir via la boutique ( en choisissant le retrait direct), ou m'envoyer un petit mail à contact@lesaiguillesdecamille.com ( avant jeudi soir 21h!) et je mettrai vos emplettes ou vos envies dans mon carrosse pour les amener jusqu'à la capitale!
Toutes les infos sur cet évènement: https://www.fetedelalaine.net/
A très vite!
Camille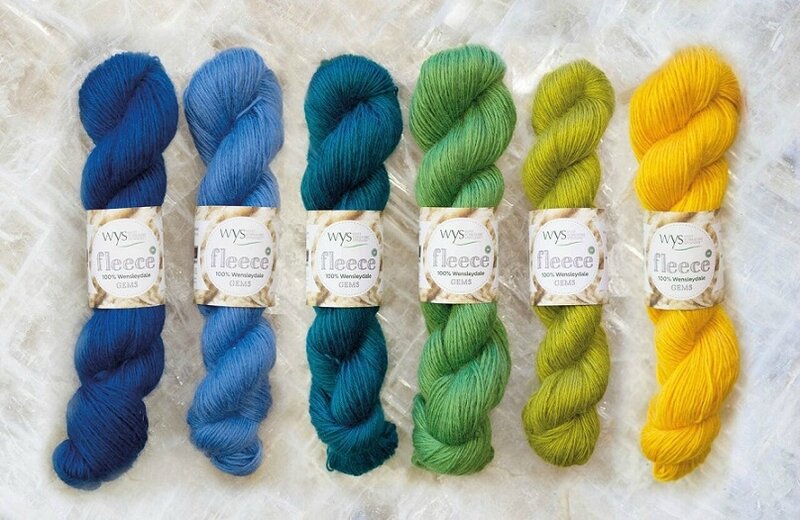 samedi 10 mars 2018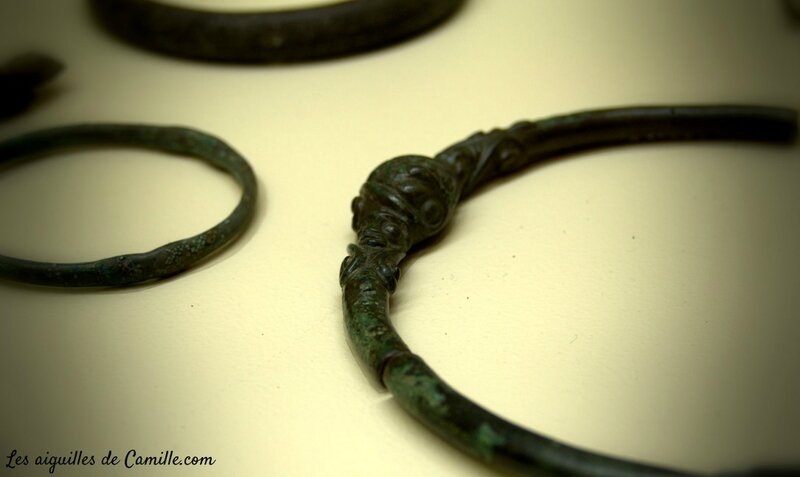 Bibracte c'est déjà pour moi un lieu magique avec une forêt magnifique et inspirante ( si vous voulez une preuve, rendez vous là!!). Un endroit où j'aime prendre le temps de déambuler , qui présente des expos permanentes et temporaires remarquables ... au printemps dernier , j'ai eu un choc, une émotion énorme devant des torques celtes...
Bibracte is already for me a magical place with a beautiful and inspiring forest (if you want a proof, go there!). A place where I like to take the time to wander, which presents remarkable permanent and temporary exhibitions ... last spring, I had a shock, a huge emotion in front of Celtic torques ...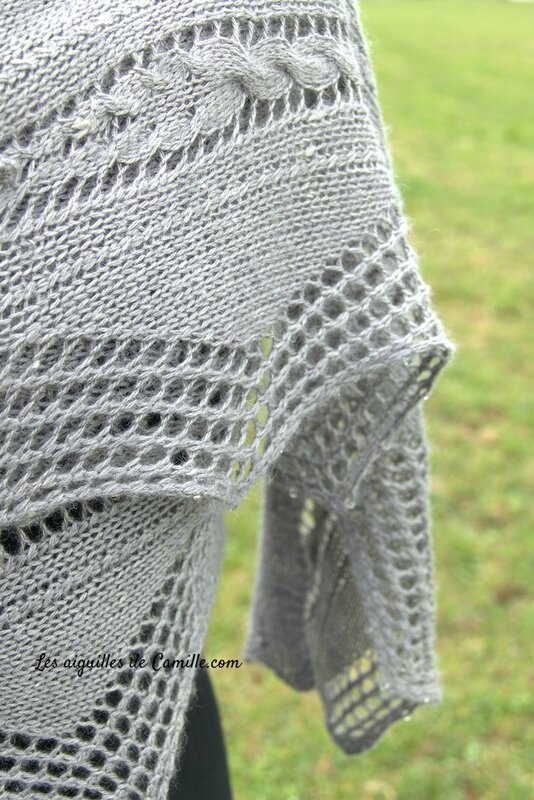 De si beaux objets ,de si anciens bijoux, quand je les ai vu la première fois, après un grand moment d'émerveillement, je me suis trouvée toute chamboullée à la pensée des hommes ayant fabriqué ces merveilles, eu le savoir faire pour chaque infime détail, chaque courbure, chaque motif, chaque petit visage .
Such beautiful objects, such ancient jewels, when I first saw them, after a great moment of wonderment, I found myself all messy at the thought of the men who made these wonders, had the know-how for every tiny detail, each curvature, each pattern, each small face

Cette collection provient du musée d'Epernay ( Marne), et vous pourrez aussi la voir à partir de 2019 date de réouverture du musée tout rénové.
Vous l'aurez compris, cette exposition sur les torques celtes qui a eu lieu au Musée de Bibracte l'an dernier m'a touchée bien au delà de ce qu'une expo produit sur moi en temps normal.
This collection comes from the museum of Epernay (Marne), and you can also see it from 2019 date of reopening of the renovated museum.
As you can see, this exhibition on Celtic torques that took place at the museum of Bibracte last year touched me far beyond what an exhibition produces on me in normal time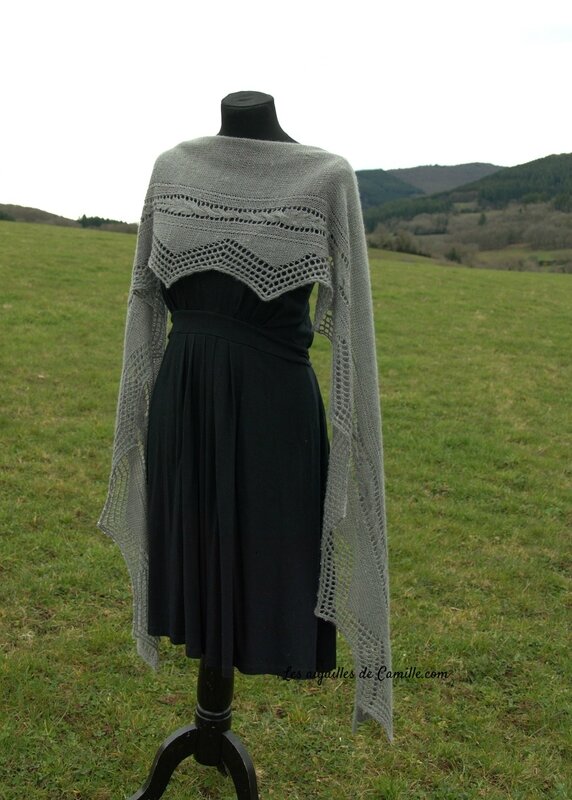 Dès ma première visite , j'ai pensé à transcrire cette impression, cette emotion par le tricot. Et ce ne fut pas chose facile, j'en ai fait des croquis, des bidouillages en tous genres , des tests de torsades... 6 mois de panne sèche, de contrariété et d'une frustration certaine avec ce modèle qui ne voulait pas sortir! Et efin, il y a un petit mois, il a émergé ... ouff ça tournait à l'obsession ...( ou je sais, faut que je consulte!!)
From my first visit, I thought to transcribe this impression, this emotion by the knitting. And it was not easy, I made sketches, hacks of all kinds, cable tests ... 6 months of annoyance and frustration with this pattern who did not want get out of my mind! And finally, a month ago, it emerged ... it turned to obsession ... (or I know, I have to consult)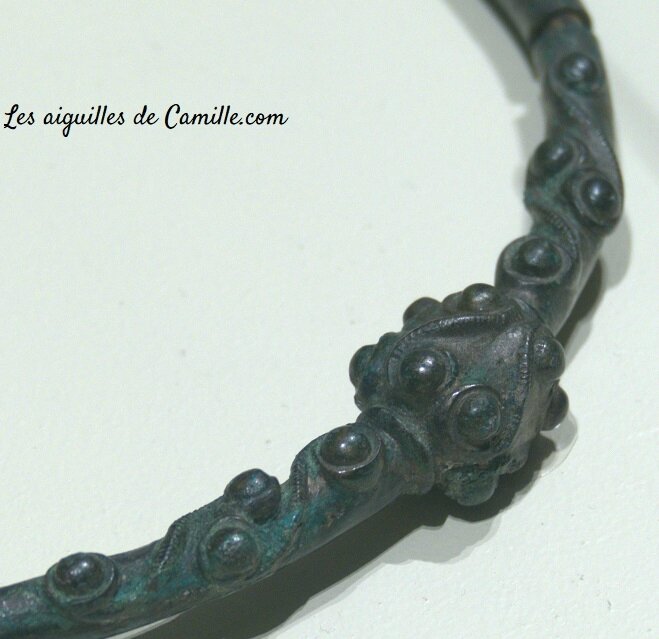 Le torque, dans mon esprit est un objet très masculin, alors il m'a fallu l'adapter, le modeler pour en faire quelque chose de léger , aérien, féminin, j'ai donc emprunté la bordure dentelle aux motifs traditionnels des Shetland, que j'ai élargie.
The torque, in my mind is a very masculine object, so I had to adapt it, to model it to make it something light, airy, feminine, so I borrowed the lace edge with traditional Shetland motifs, that I expanded.
J'ai voulu la torsade très longue , fine , délicate , comme un collier que l'on pourrait s'enrouler autour du cou tout en douceur.
I wanted the twist very long, fine, delicate, like a necklace that could be wrapped around the neck gently.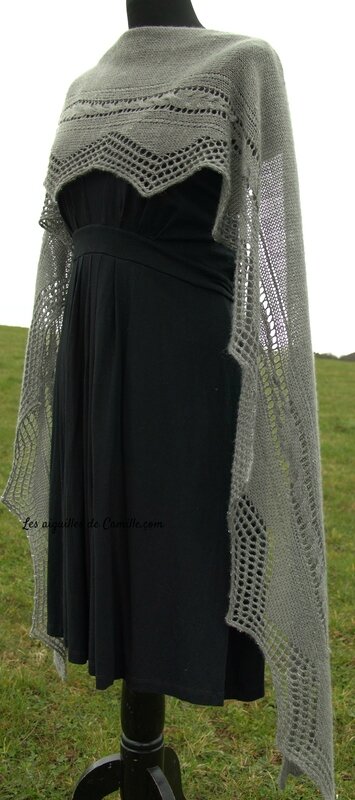 C'est un grand format, après blocage il fait un peu plus de 220 cm ... une belle ampleur.
It is a large size, after blocking it is a little more than 220 cm ... a large scale.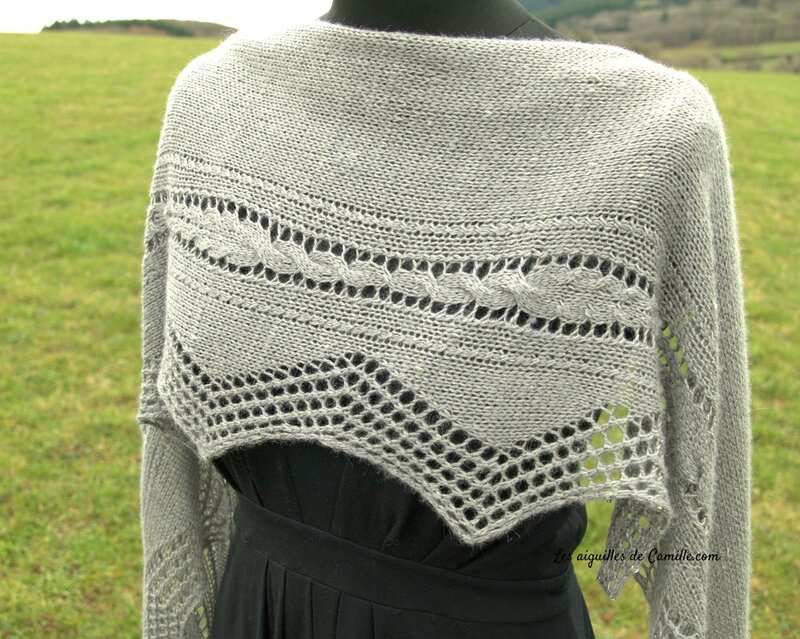 D'un point de vue technique : avec des bases de dentelle, de torsade, n'hésitez pas à vous lancer.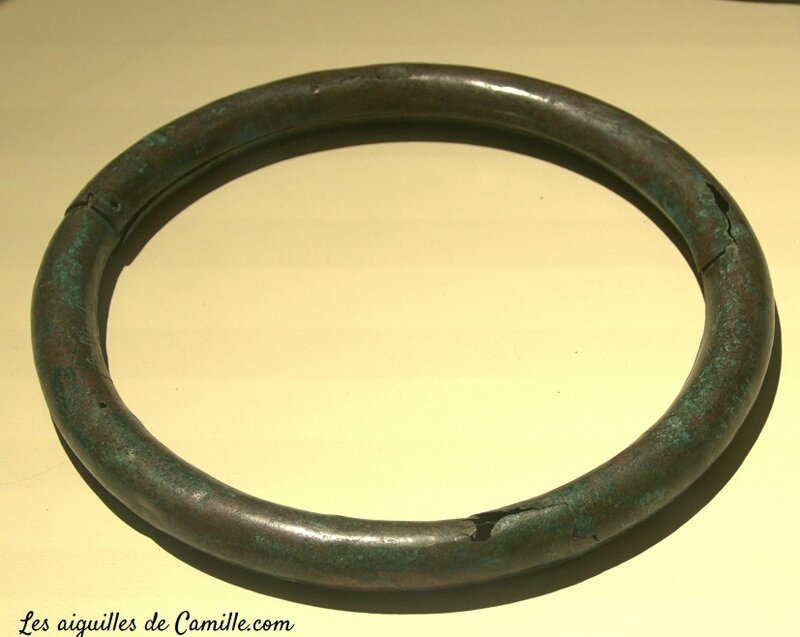 Le patron peut se suivre ligne par ligne ou par diagramme.
You can knit this shawl row by row or follow diagrams.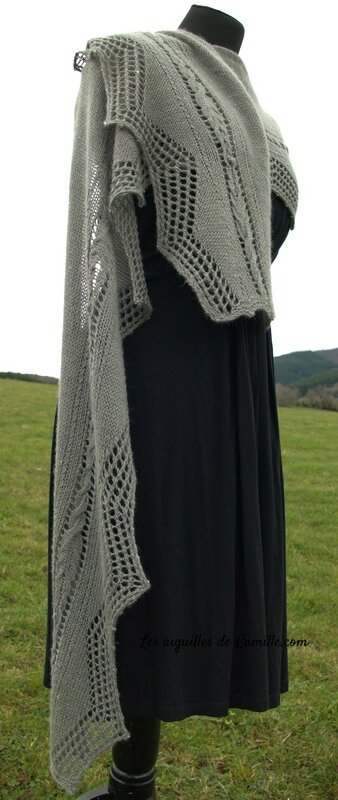 Je l'ai beaucoup travaillé et relu, mais si vous relevez des coquilles ou pensez à des améliorations dans sa rédaction, n'hésitez pas à me le dire, toute remarque constructive est bienvenue.
I have worked a lot and read it again, but if you find errors or think improvements in its drafting, do not hesitate to tell me, any constructive remark is welcome.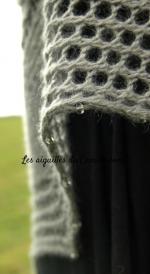 Coté fournitures : il est tricoté dans un fil peu ordinaire : un mélange 50/50 de soie et de poil de chameau, ce qui allie finesse, brillance et chaleur.
J'ai fini la bordure avec des perles incolores et translucides , pour accentuer la brillance tout en donnant un tombé impeccable.
Supplies side: it is knitted in an unusual thread: a 50/50 blend of silk and camel hair, which combines finesse, shine and warmth.
I finished the edge with clear and translucent pearls, to accentuate the shine while giving a flawless fall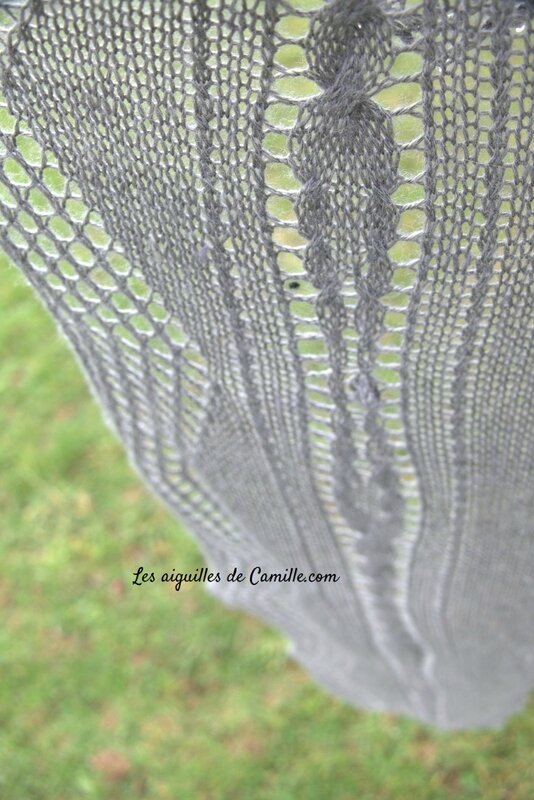 Il se tricote de côté avec une simple paire d'aiguilles droites .(3.5mm)
Je vous ai concocté un kit complet pour le réaliser: le modèle, la laine, le crochet fin et les perles à un prix tout doux.... attention c'est une série limitée.... quand y'en a plus, y'en a plus ... du tout!
It's a sideway shawl , knit it with a simple pair of straight needles.(3.5mm)
I have concocted a complete kit to make it: the model, the yarn, the fine hook and the beads at a very sweet price .... attention is a limited series .... when there is no more, there's no more ... at all!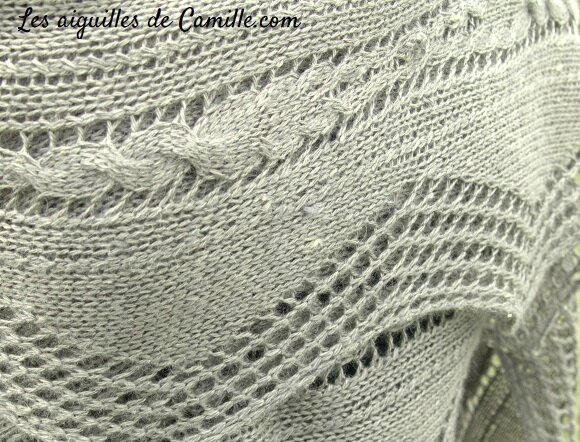 Et si vous voulez vous lancer, le téléchargement c'est en dessous:
En français: Châle_Torque_modèle_en_français
And if you want to get started, the download is below:
In English: Torque_Shawl_English_pattern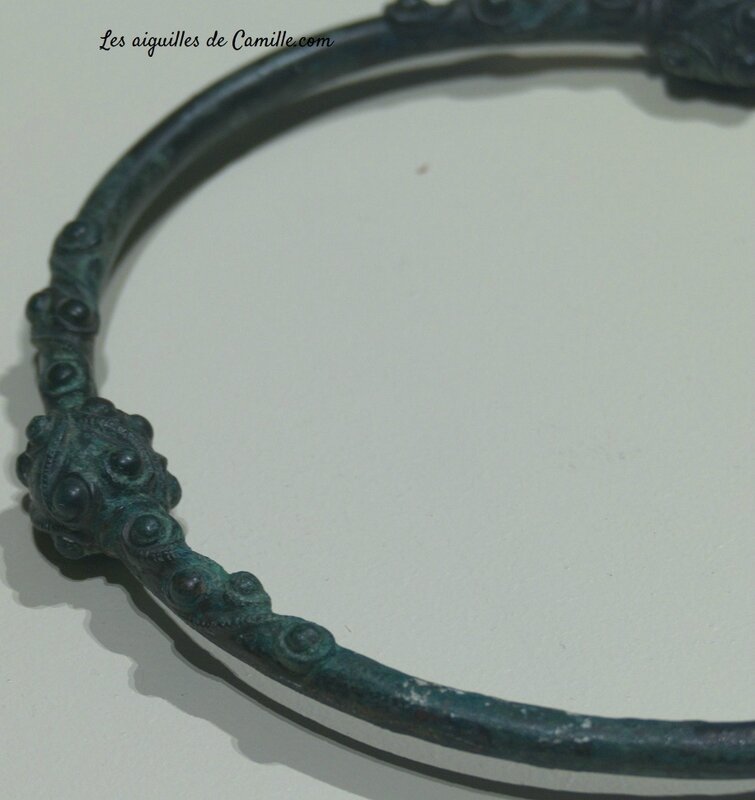 La prochaine expo du musée de Bibracte sera consacrée à la monnaie... si vous passez dans le Morvan , faites vous du bien : allez y!
The next exhibition of the museum Bibracte will be devoted to the ancient currency ... if you go in the Morvan, do yourself good: go there!
dimanche 25 février 2018
Edit du 04.03.2018: le PDF est maintenant disponible au téléchargement en bas de la page!!
Edit of the 4th of march 2018: PDF is now downloadable , scroll down the page!!
Enfin pour moi , ça marche !!
Quand mon cerveau fait n'importe quoi, quand les pensées s'enchainent un peu trop: trop vite en étant trop ingérables, j'ai inventé mon bouton stop: un truc pas trop compliqué , mais assez prenant pour absorber mon esprit dessus et ça a donné ça:
For me, it works!
When my brain does anything, when thoughts hang out a little too much: too quickly being too unmanageable, I invented my stop button: a trick not too complicated, but enough to absorb my mind on it and it gave this: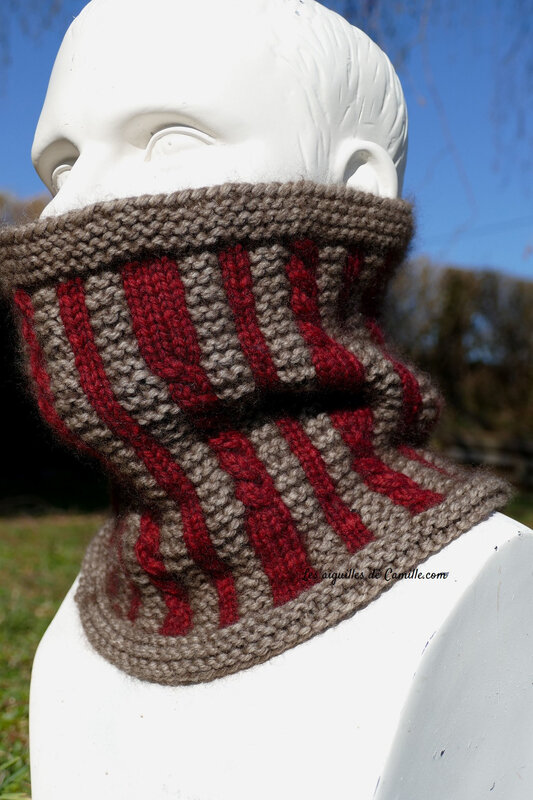 et en plus , il est particulièrement raccord avec la météo franchement fraîche de cette jolie semaine qui s'annonce!
and in addition, it is particularly fitting with the frankly fresh weather of this beautiful week that is coming!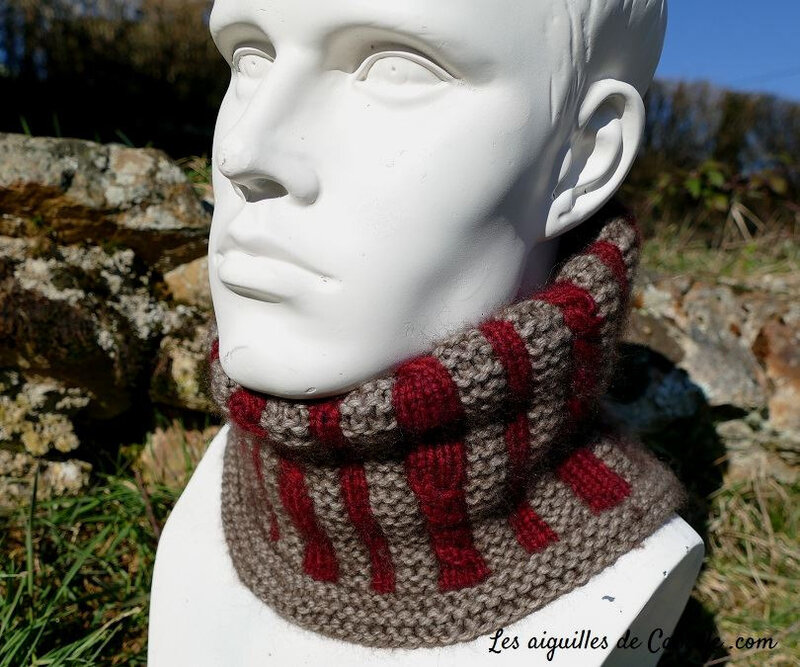 Là je le présente sur un mannequin homme, mais il est parfaitement unisexe.
Here you see it on a man, but it's a unisexe collar.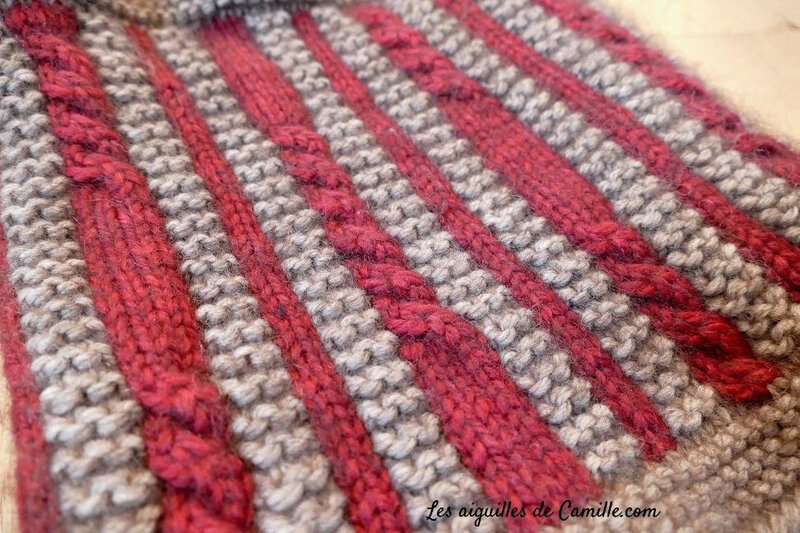 Il semble même plaire à un de mes poilus!!
It's seems to look nice even to one of my cats!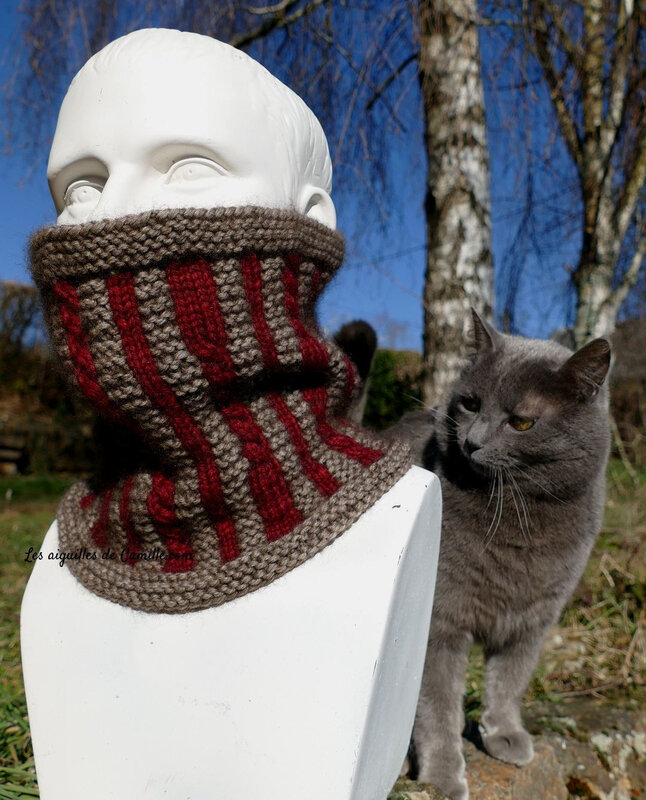 Pour le côté technique : si vous savez faire des mailles endroit, des mailles envers et une torsade simple, ça roule pour vous!
( au cas où la torsade vous échappe, il y a un petit post de rattrapage sur cette page!)
For the technical part : if you know how to knit, purl, and make a cable over 4 stitches , it will be ok!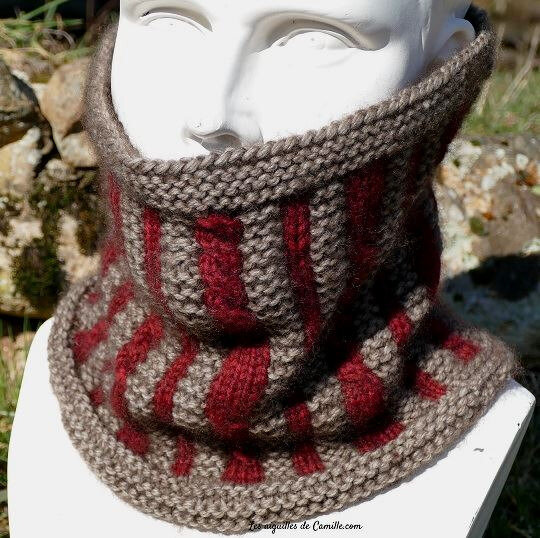 Pour le matériel: 3 pelotes de Nunki , Anny Blatt, avec un petit kit tricot disponible en boutique ici, et pour les aiguilles , du 5.5mm, un modèle prenant mais vite fait bien fait.
You will need 3 balls of Nunki from Anny Blatt , a knitting kit is available there ( and for shippment, I have special prices to US, UK, Australia, New Zealand, Hong Kong ... ask for futher informations, I will be happy to answer you!) . And you will need circular needles 5.5mm.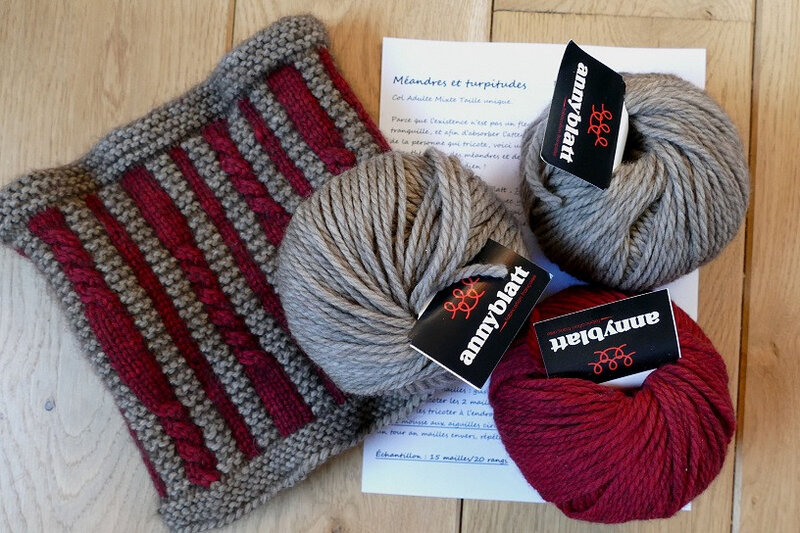 A télécharger en français:Col_meandres_et_turpitudes

Download it in English: Méandres_et_turpitudes_English_Version
dimanche 4 février 2018
Après quelques péripéties informatiques et internet en ce début d'année, me revoilà!
After a few computer mishaps and an internet break at the beginning of the year,I'm back!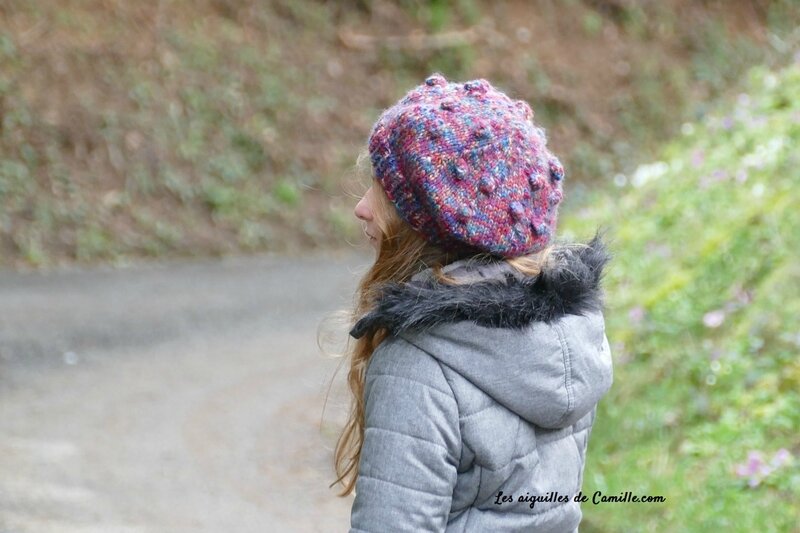 Pour un modèle rigolo avec ses petites boules ( bubbles, noppes, comme vous préférerez les appeler!),
For a funny model with its little balls (bubbles, noppes, as you prefer to call them!),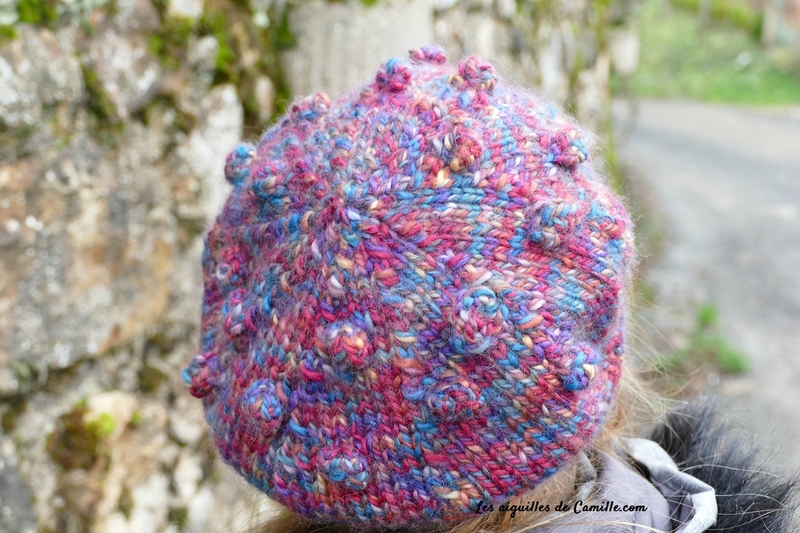 rapide avec des aiguilles circulaires 6mm.
fastly done with circular needles 6mm.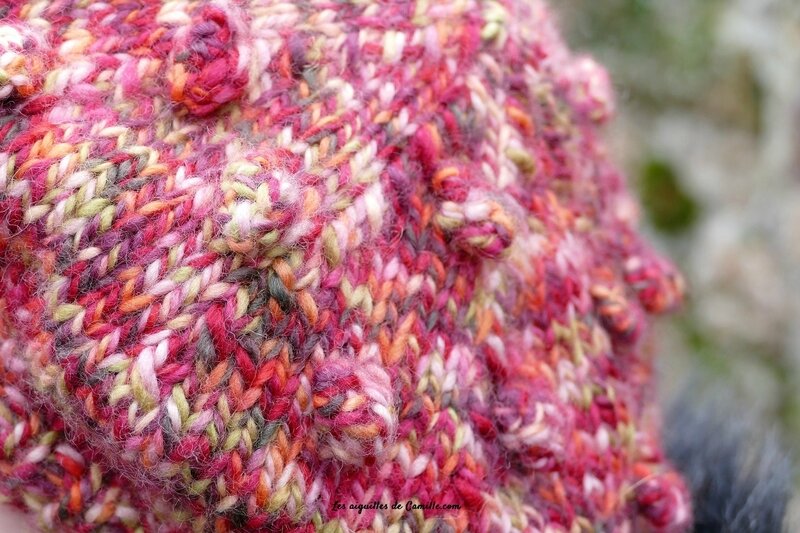 et facile, comme se le doit le tuto facile du dimanche!
and easy, as is the easy Sunday tutorial!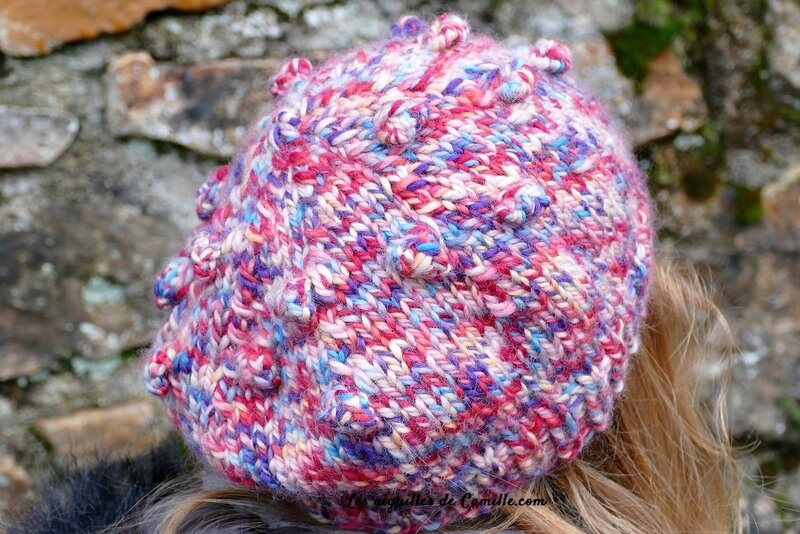 Pour les coloris, des choses très pétantes et joyeuses,
For colors, very bright and happy things,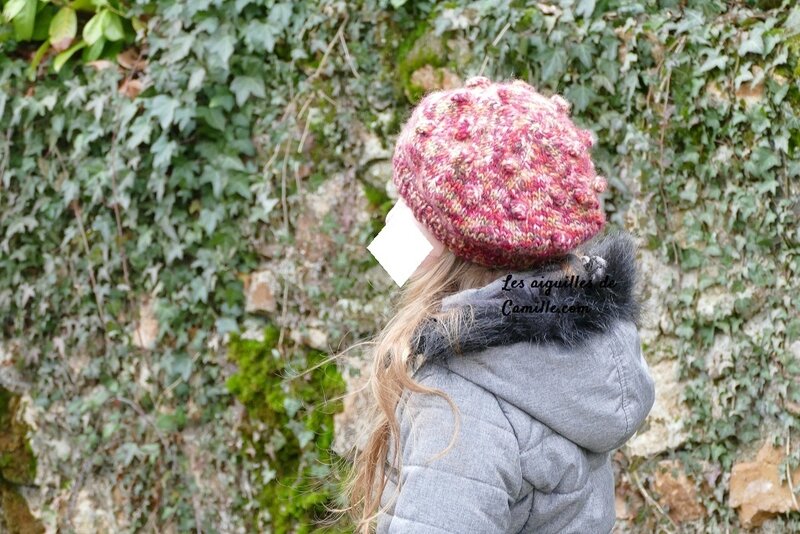 et ça ne nous fera pas de mal à cette période : Clafoutis, Papillotte, Arlequin... le modèle en Toupie est encore sur les aiguilles!
and it will very good for us at this time, with such an awfull weather: Clafoutis, Papillotte, Arlequin ... the tam in Toupie is still on my needles!
le tout est fait avec une seule pelote de Lollipops de Bouton d'Or, dernièrement arrivée en boutique!
everything is done with a single ball of Lollipops of Bouton d'Or, lately arrived in shop!
Ce béret, de petite taille, idéal sur les ados peut être fait sans les bubbles si elles déplaisent à la future destinataire .
This tam, small, ideal for teens can be done without the bubbles if they displease the future owner.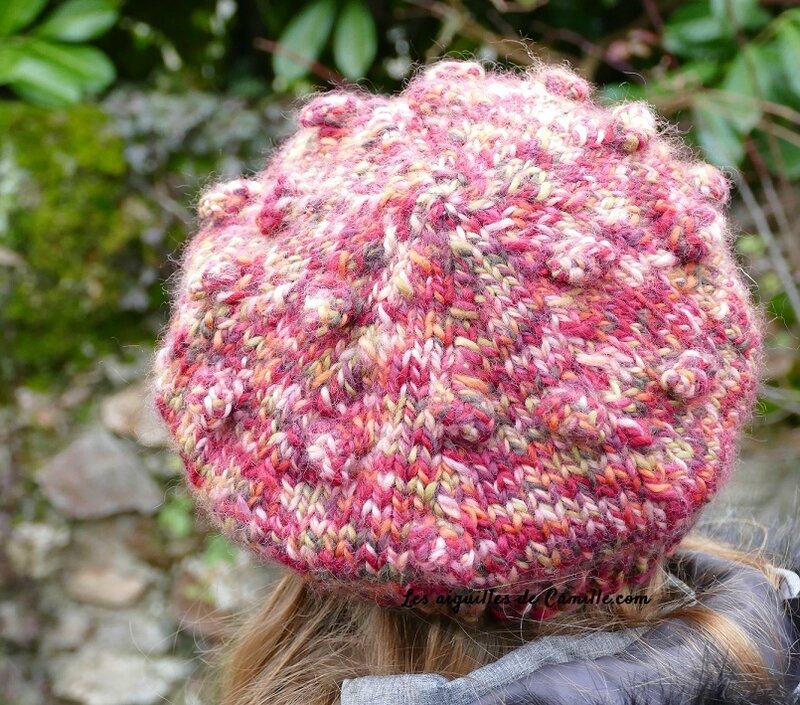 Pour le tuto à télécharger c'est par là:
En français: Béret_Bubble_en_Français

Please download your pattern:
In English: Bubble_Tam_English_pattern