jeudi 23 mai 2019
Ce matin petit message de mon amie Nath , qui potasse le châle Wivre en vue d'un KAL .... dans les rangs de la première partie il y a une erreur , trop de torsades visiblement !!
alors voilà qui est résolu, je vous laisse télécharger de nouveau le modèle correct cette fois ci!!
En français: Châle_La_Wivre_version_2
Et la bonne nouvelle , c'est que la même Nathalie organise un KAL sur le groupe Facebook de Tricote pas Tout! ça démarre le 1er juin , rendez vous ici: https://www.facebook.com/events/817849158615362/
Et pour moi ce sera avec ce coloris gris lumineux que la Wivre sera de nouveau sur mes aiguilles: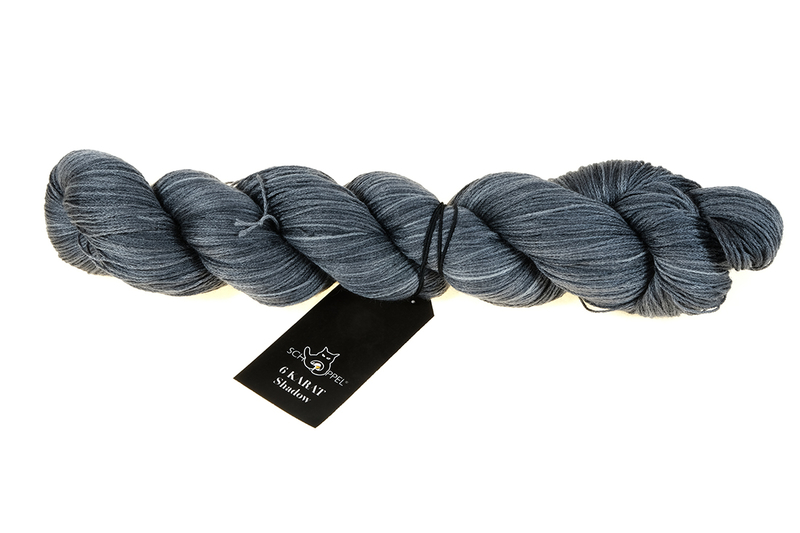 A très vite !!
Camille
This morning little message from my friend Nath, who knits the Wivre shawl for a KAL .... in the ranks of the first part there is an error, too many twists visibly !!
so that is resolved, I let you download the correct model again this time !!
In English : Shawl_La_Wivre_English_version_2_
And the good news is that the same Nathalie organizes a KAL on the Facebook group "Tricote pas Tout!" It starts June the first , on this page :https://www.facebook.com/events/817849158615362/
For me, it will be a light grey one this time , I hope you will join us!!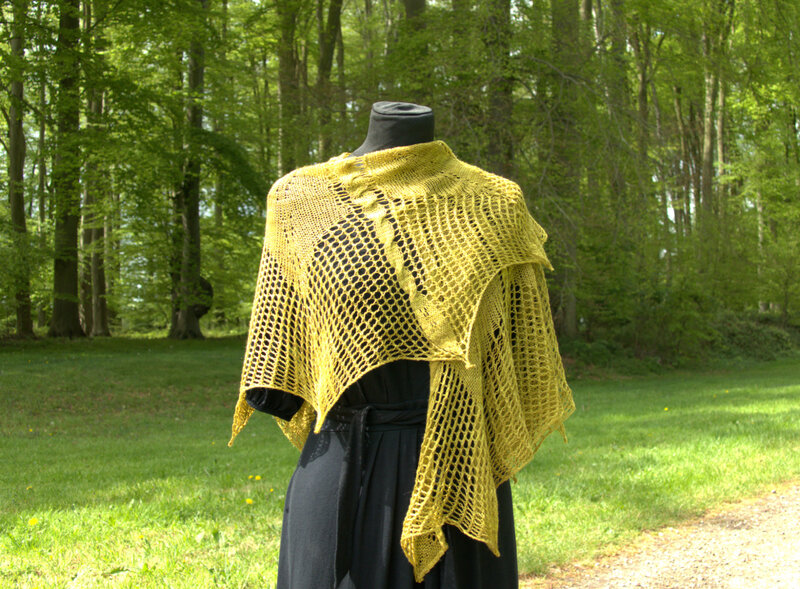 lundi 6 mai 2019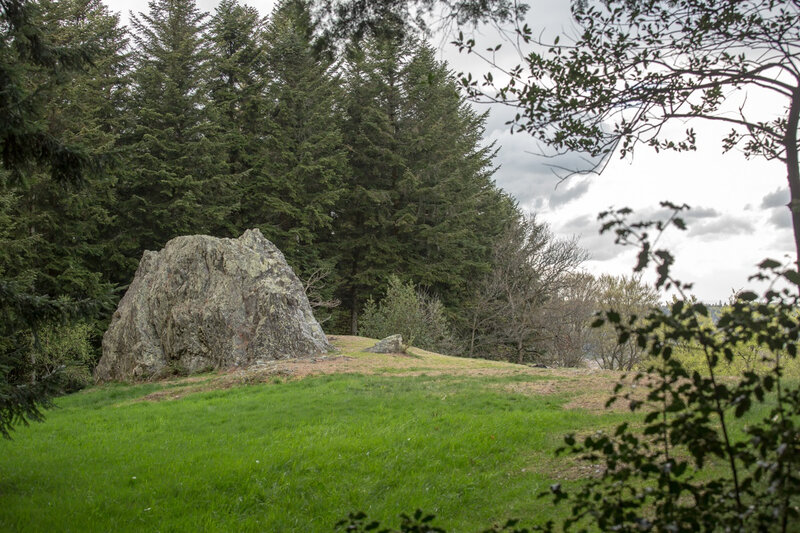 Image Toine, photographe du Morvan à découvrir!
Dans le Morvan, autour du Mont Beuvray existe une pierre depuis laquelle Vercingétorix arranga ses troupes pour s'opposer aux légions romaines venues conquérir Bibracte ... mais c'est surtout pour la légende qui dit que sous cette pierre est caché un trésor jalousement gardé par une wivre , un serpent volant,que ce rocher a attiré mon attention .
In the Morvan, around Mont Beuvray there is a stone from which Vercingetorix arranged his troops to oppose the Roman legions who came to conquer Bibracte ... but it is especially for the legend that says that under this stone is hidden a jealously guarded treasure by a wivre, a flying serpent, that this rock has caught my attention.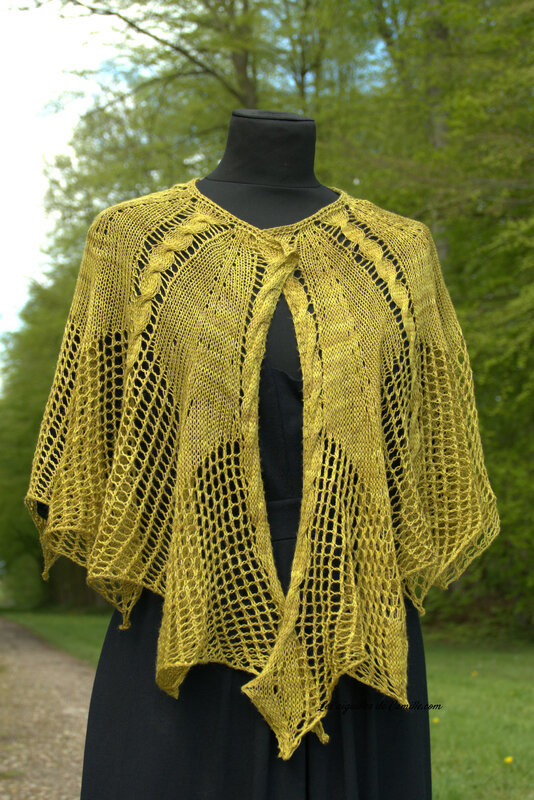 C'est cet animal mythique qui m'a inspiré ... de longues torsades qui s'achèvent par la tête du serpent.
It is this mythical animal that inspired me ... long twists that end with the head of the snake.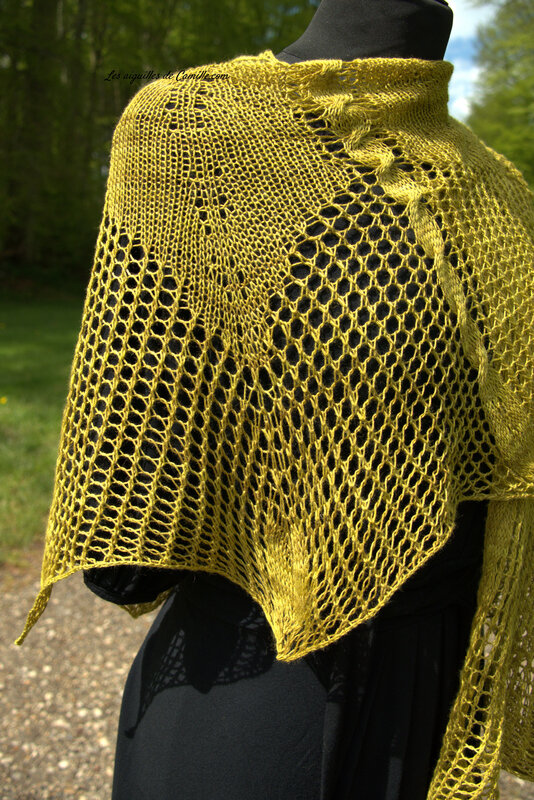 Le châle est très léger et pourtant très enveloppant , à porter sans modération tout au long de l'année .
The shawl is very light and yet very enveloping, to wear without moderation throughout the year.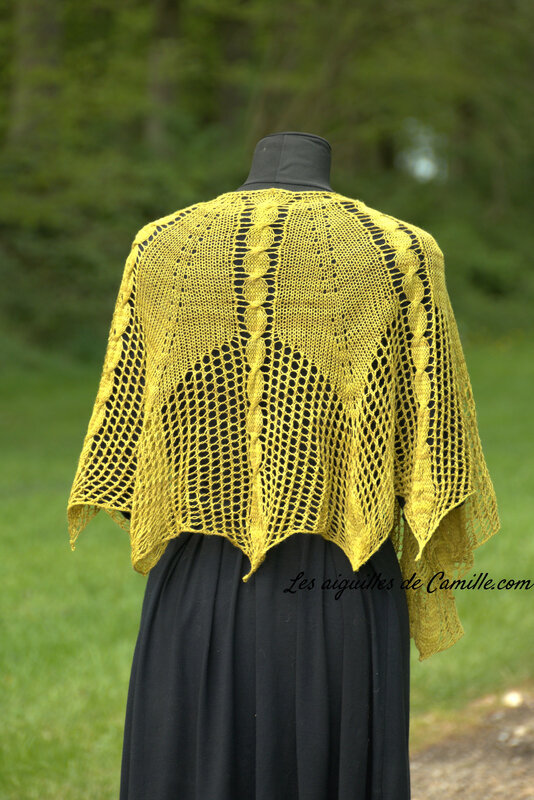 Pour le fil, j'ai choisi la 6 karat, un fil déja tricoté , très souple et lisse , mélange de laine mérinos extra fine et de soie, ce qui rend cet accessoire pourtant très aéré douillet et chaud .
For yarn, I chose 6 karat, a yarn already knitted, very supple and smooth, a mixture of extra fine merino wool and silk, which makes this accessory very airy cozy and warm.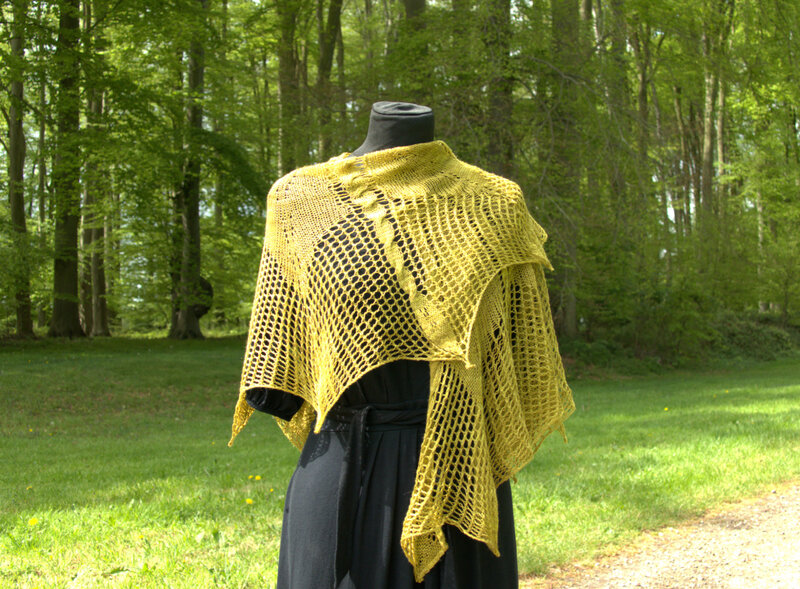 Notez qu'un seul écheveau de 600 mètres suffit et que ses 100 grammes en font une plume lovée sur les épaules.
Note that a single skein of 600 meters is enough and that its 100 grams make a feather coiled on the shoulders.
Vous trouverez les différents coloris de 6 karat sur cette page , et le châle en kit sur celle ci.
You will find the different colors of 6 karat on this page, and the shawl kit on this one.
Pour le modèle, vous pouvez le télécharger librement ci-dessous, il contient les explications écrites et les diagrammes.
For the full pattern , you can download it freely below, you will find written instructions and diagrams.
PDF en français: Châle_La_Wivre_version_2

PDF in English:Shawl_La_Wivre_English_version_2_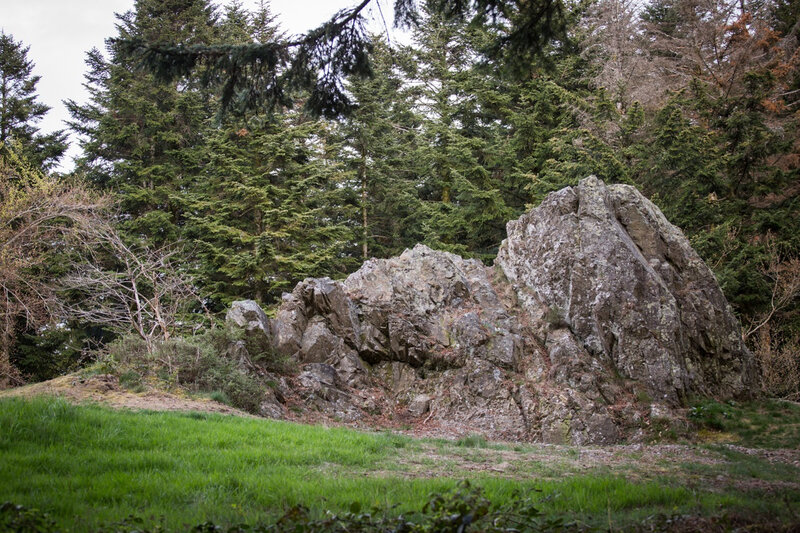 Image Toine, photographe du Morvan
jeudi 25 avril 2019
Ces Samedi 27 et Dimanche 28, je serai au château de Miromesnil, (76- Tourville sur Arques), pour un très beau salon: Le fil de la Manche ...
où je présenterai en exclusivité mon nouveau modèle !!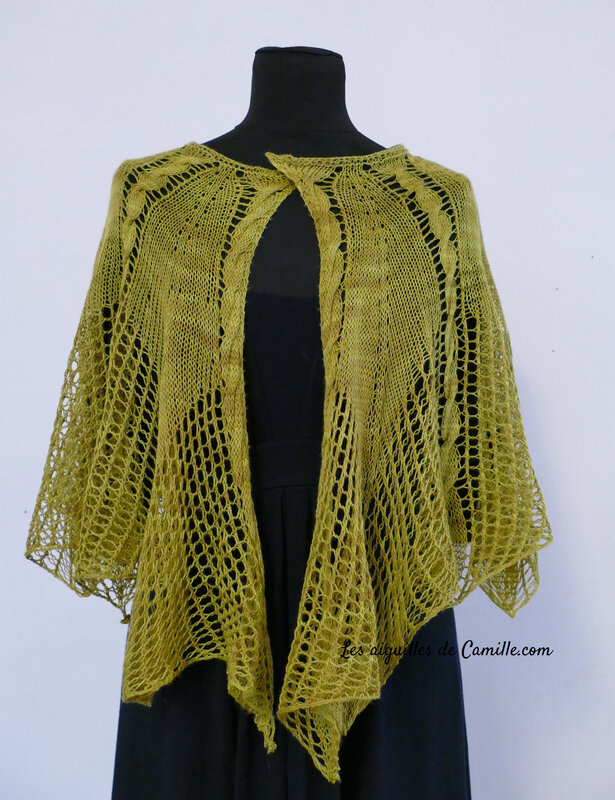 En voilà un petit aperçu, le patron sera en ligne la semaine prochaine , d'ici là j'espère pouvoir vous le présenter en personne!!
à très vite et bon tricot ,
Camille.
samedi 16 février 2019
Oh que j'aime cette expression "Sky is the limit", dont je ne trouve pas la réplique en français... cet adage qui dit que nos buts ne sont fixés que par nous même invite à se dépasser , à apprendre encore et toujours sans se contenter de dormir sur nos acquis !
Oh that I like this expression "Sky is the limit", which I do not find the equivalence in French, (maybe we miss ambition)! This saying that our goals are set by ourselves invites us to go beyond our limits, to learn again and again!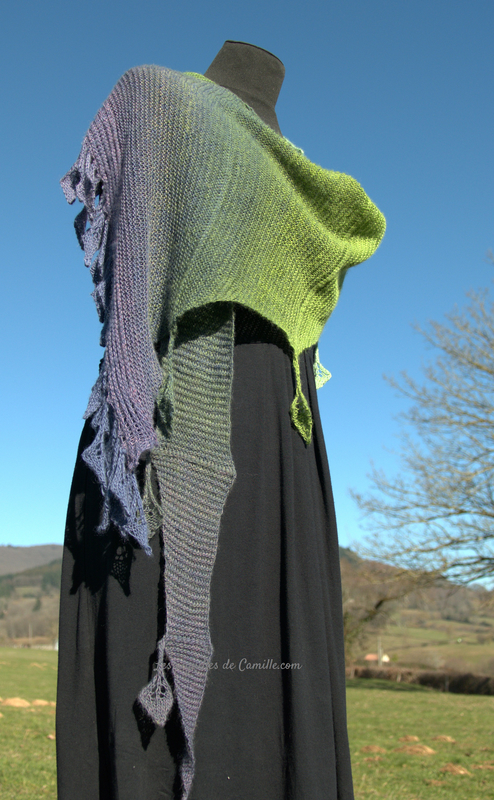 Quand j'ai conçu ce nouveau châle , c'était mon état d'esprit: sortir de ma zone de confort avec un châle d'une forme qui au premier abord ne m'est pas familière , tricoter en point mousse, chose que je ne fait qu'assez rarement .Et surtout: transmettre quelque chose qui soit nouveau pour certaines et certains et donner des clés pour apprendre quelques bases de tricot dentelle , tout en gradant justement ce socle très accessible avec le point mousse.
When I designed this new shawl, it was my state of mind: get out of my comfort zone with a shawl of a shape that at first I am not familiar with, knit in garter stitch, thing that I only rarely. And above all: to transmit something that is new to some and some and to give keys to learn a few basics of lace knitwear, while precisely grading this base very accessible with the garter stitch.
Après un premier essai qui manquait de feuilles ... (coloris Kunterbunt)
After a first try that lacked leaves ... (color Kunterbunt)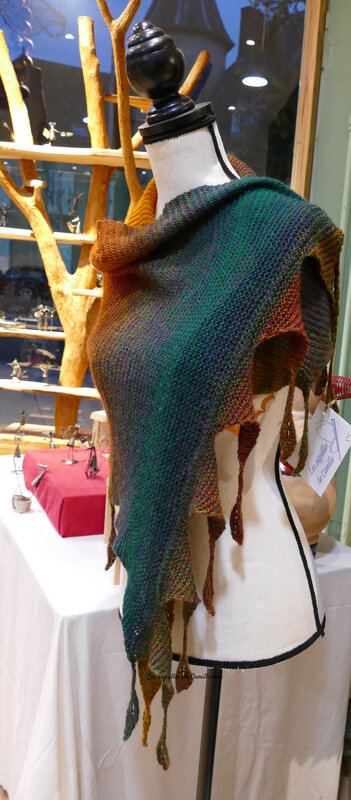 J'en ai rajouté pas mal pour cette version entre vert printemps et violets ( coloris Blasser Schimmer)
I added a lot for this version between spring green and purple (color Blasser Schimmer)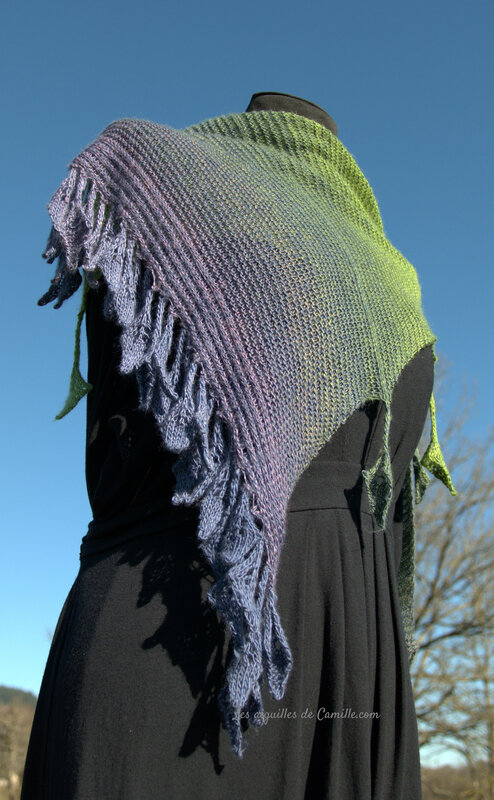 Sky is the limit se tricote sur des aiguilles droites , avec un maximum de 105 mailles. Ce long triangle a trouvé son rythme avec des intermèdes de tresse latérale où pousse sur une i-cord une petite feuille printanière ...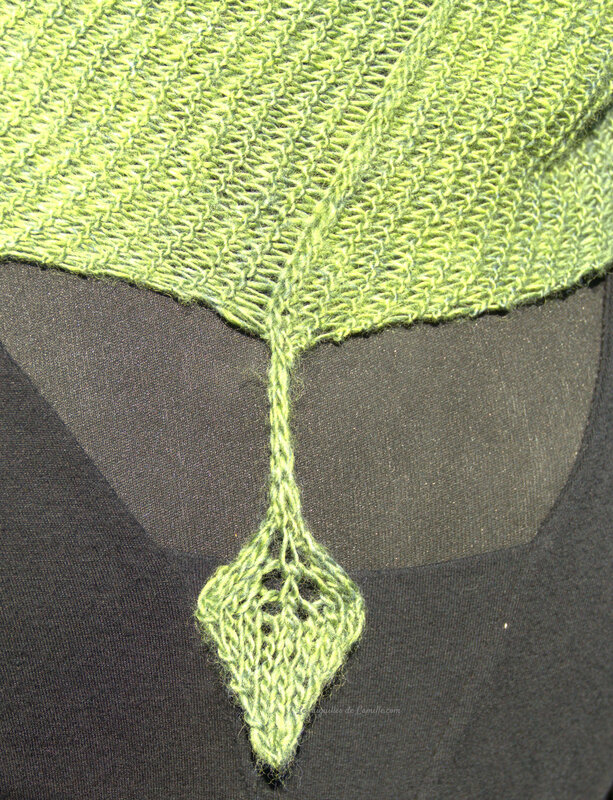 Pour réaliser ces différentes techniques, en plus du modèle en PDF à télécharger dessous , j'ai fait quelques vidéos :
To realize these different techniques, in addition to the model in PDF to download below, I made some videos:
commencer le châle et faire les augmentations:

Start your shawl and increase:
faire une tresse latérale :
do a side braid:
faire une i-cord:
knit an i-cord:
faire une feuille en tricot dentelle:
make a lace leaf:
Ce qui permettra même aux novices de se lancer dans la bonne humeur , en repoussant ses propres limites , pour passer ensuite à des ouvrages dentelle en se disant "même pas peur, même pas mal !".
This will even allow novices to get into the good mood, pushing their own limits, then move on to lace patterns saying "not even scared, not hurt!" (I do not know the equivalence of this expression in English, so if someone can translate it, I thank him in advance!)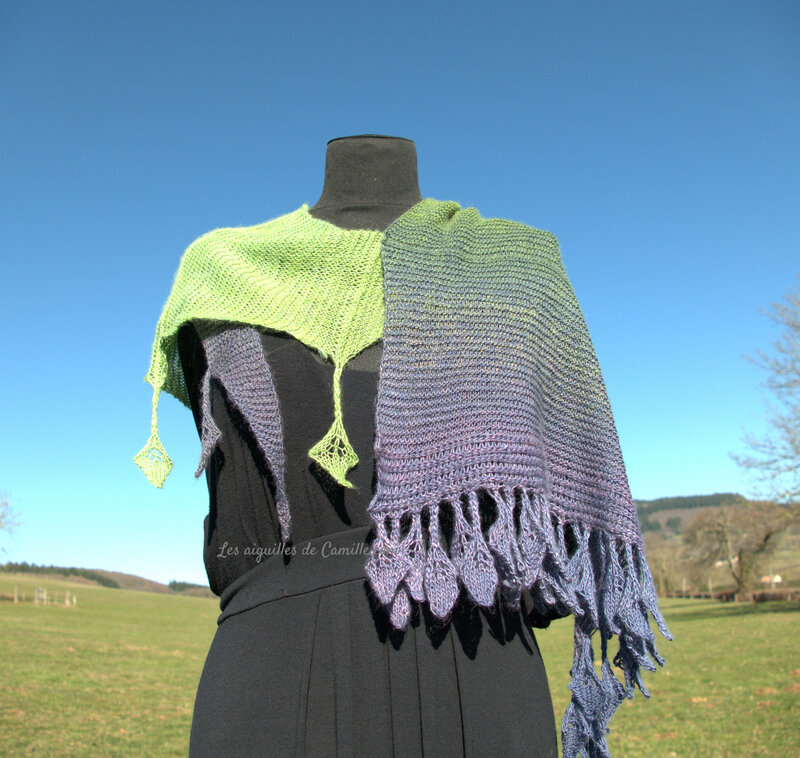 J'ai utiliser la laine magique de Schoppel avec une pelote complète de Zauber Flower , et des aiguilles 3.5mm.
I use Schoppel magic yarn with a full ball of Zauber Flower, and 3.5mm needles.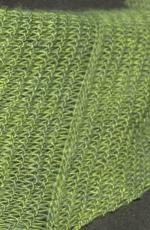 Pour les inconditionnelles des châles immenses, vous pourrez prolonger le motif autant que vous le souhaitez tant il est simple!
For fans of huge shawls, you can extend the pattern as much as you want as it is simple!
Alors très bon tricot et à bientôt!
I hope you will enjoy knitting this new shawl !
Le modèle à télécharger en français:Sky_is_the_Limit_chale_VF
Pattern to download in English: Sky_is_the_Limit_Shawl_English_Version
dimanche 16 décembre 2018
Je suis tombée raide dingue.... de cette laine Shetland!
I fell madly in love with.... this Shetland yarn!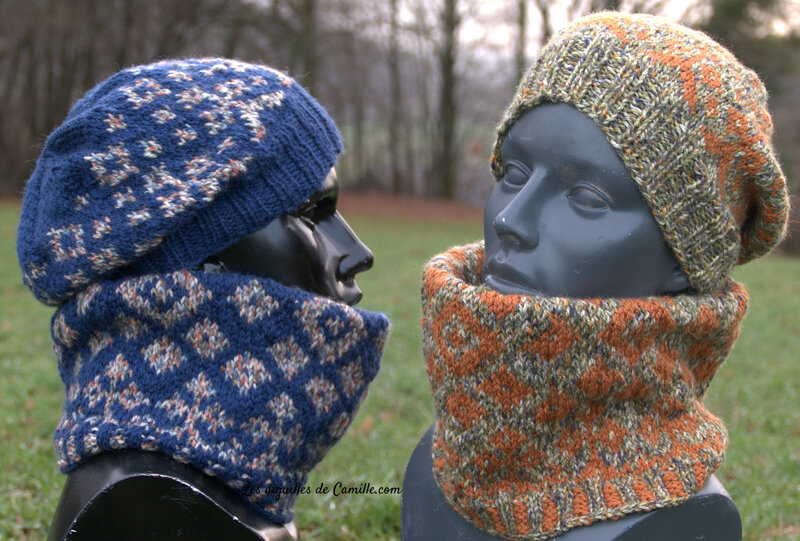 J'ai un gros faible pour le tweed qui là s'est gentiment transformé en super fixette!! C'est douillet , gonflant , moelleux et plein de touches de couleurs farfellues: la grande éclate!
I have a big weakness for the tweed which has nicely turned into big obsession !! It's cozy, swelling, mellow and full of touches of crazy colors: the big bursts!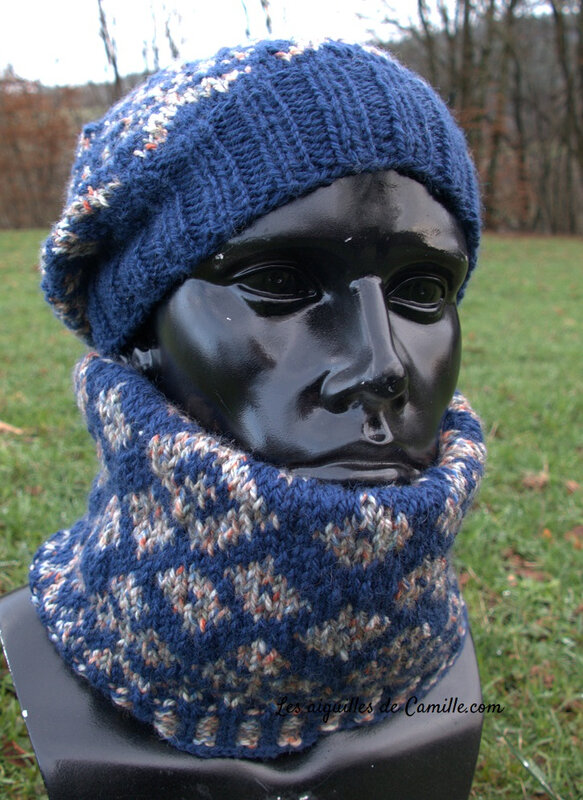 Et pour faire du jacquard , c'est le petit plus qui casse le côté classique de l'exercice .
And to make the jacquard it's "the touch" that breaks the classic side of the exercise.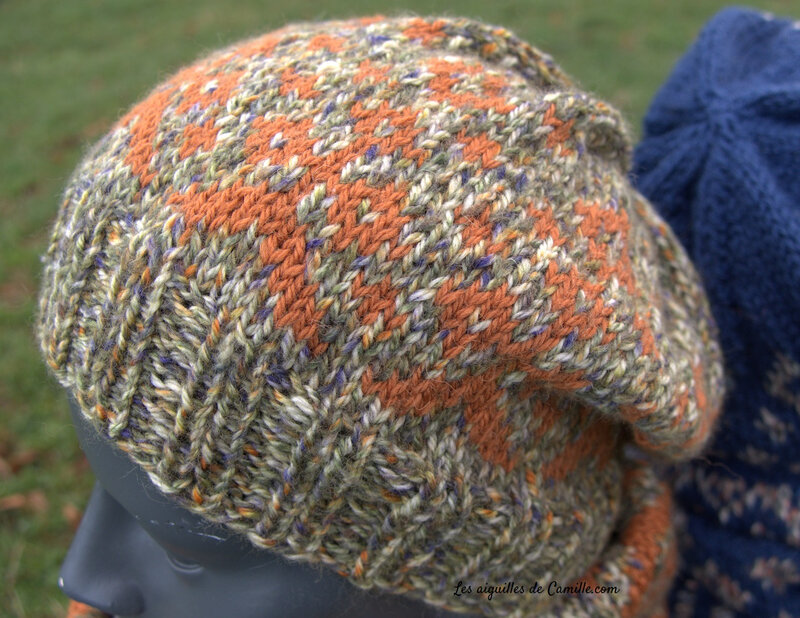 Je vous propose cet ensemble qui permettra d'être paré pour les températures hivernales dans deux versions: une majoritairement unie et l'autre très très tweed! A vous de voir ce qui vous séduit!
I propose this set in two versions: one with mainly solid color and the other with a lot of tweed! It's up to you to see what seduces you!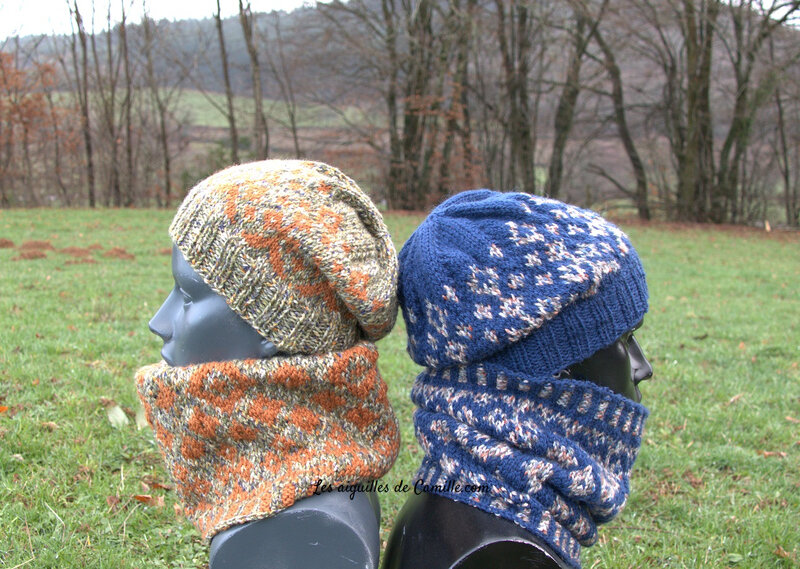 Pour les côtes du col, ce sera en bicolore . Celles du bonnet permettent d'être bien élastiques et de tenir à merveille sur la tête.
For the ribs of the collar, it will be in two-tone. Those of the cap allow to be well elastic and to hold perfectly on the head.
Le motif est assez facile, et vous le retrouverez en diagramme , pour le col et le bonnet, dans le PDF du modèle .
The pattern is quite easy, and you will find it in diagram, for the cowl and the hat, in the PDF of the model.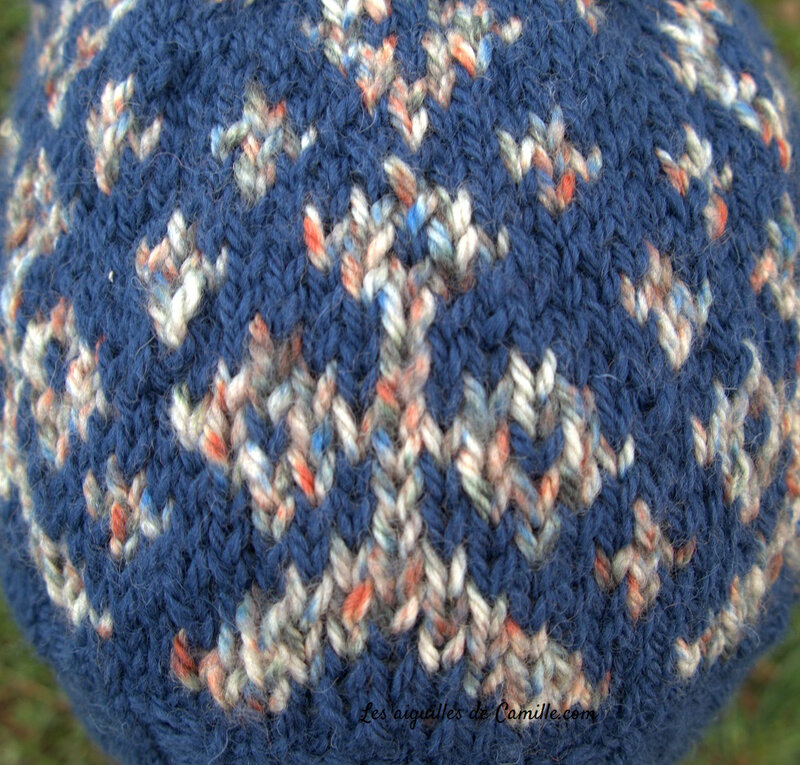 Les bonnets sont disponibles en deux tailles: M et L. Si vous avez envie de faire un taille S, prenez des aiguilles 4mm pour les côtes et 5mm pour le reste, ça réduira suffisament le tout pour une petite taille adulte ou un bonnet ado.
The hats are available in two sizes: M and L. If you want to make a size S, take 4mm needles for ribs and 5mm for the rest, it will reduce enough for a small adult size or a teenager hat.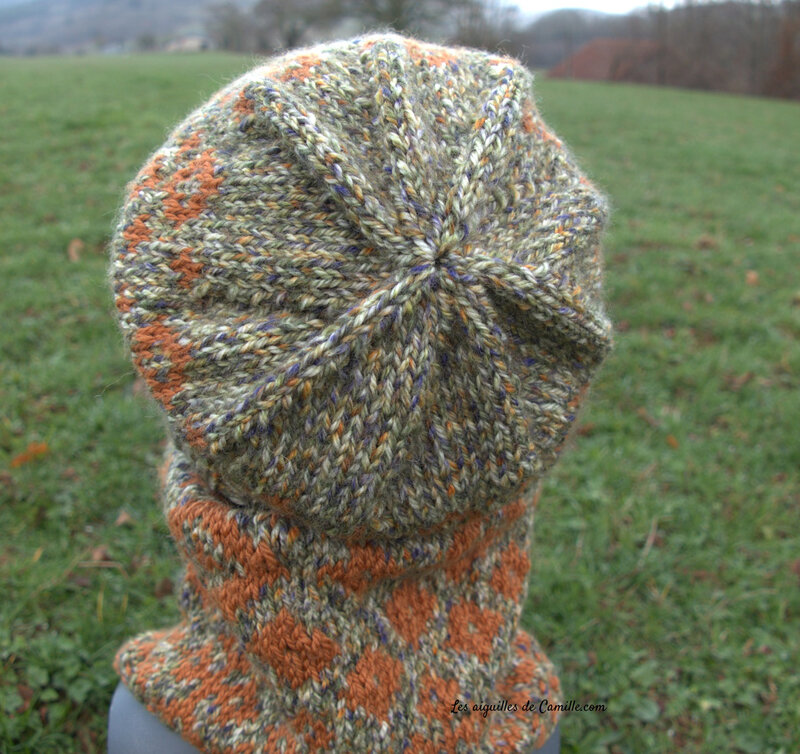 Vous pourrez trouver tous les coloris disponibles dans le kit tricot sur cette page ( clic!)... ces laines britanniques des West Yorkshire Spinners sont à tomber!
You can find all the colors available in the knitting kit on this page (click!) ... these British yarns of West Yorkshire Spinners are amazing!
Et pour le modèle, vous pouvez le télécharger ci dessous:
And for the full pattern, you can download it below:
Amusez vous bien !!
Enjoy!!!
En français:Ensemble_Shetland_Colours_VF
In English: Set_Shetland_Colours_English_version_
mercredi 7 novembre 2018
Parce que cet automne "été indien" a été bien bien chouette , mais il faut que ça cesse!! Pas que j'ai une passion pour la pluie, le vent , la neige , la boue ( ben oui, y'en a aussi!!), mais là trop c'est trop! On va pouvoir enfin se remettre des bonnets sur la tête , des châles sur les épaules, des chaussettes extra douces et chaudes ... le pied quoi!!
Because this autumn "Indian summer" was very nice, but enough is enough! Not that I have a passion for rain, wind, snow, mud (yes, there is too !!), but now it's too much! We will finally be able to recover from hats on the head, shawls on the shoulders, socks extra soft and warm ... let's ave fun with bad weather!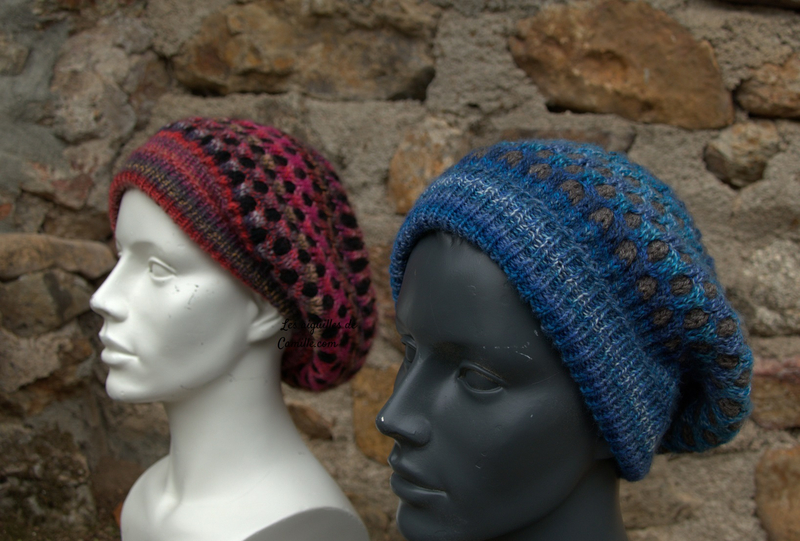 Et pour commencer , le frère du bonnet Lune de Miel, dans une version speciale pour ceux et celles qui: ont beaucoup de cheveux, ont des dread et ne savent jamais dans quoi les mettre sous peine d'avoir un "cache pot" sur la tête avec des tas de choses qui dépassent , ou qui aiment avoir bien de la place !
And to begin with, the brother of the Honeymoon Hat, in a special version for those who: have a lot of hair, have dread and never know in what to put under penalty of having a "cache pot" on the head with heaps of things that exceed, or who like to feel raelly comfortable!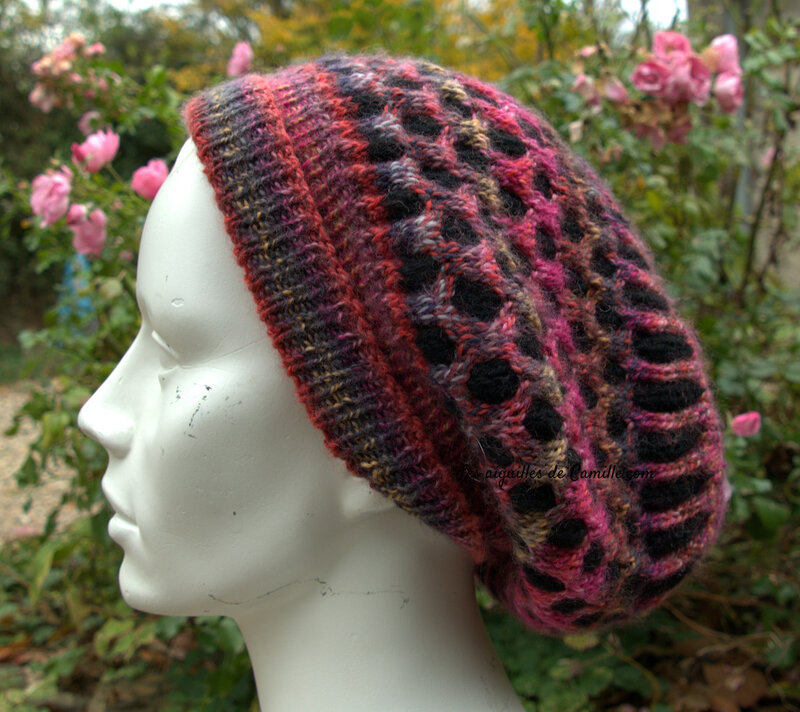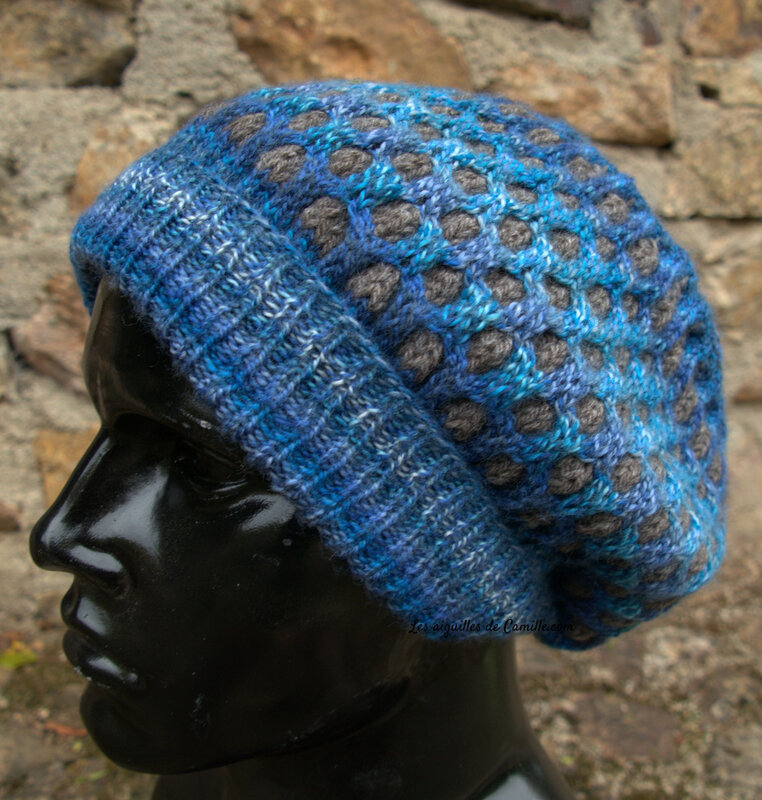 Un slouch... coloré , rigolo, à faire dans toutes les couleurs pour filles et garçons !
A slouch ... colorful, funny, to do in all colors for girls and boys!
J'aimais déjà le modèle de bonnet classique ( pour le tuto cli clic sur cette page ), mais je dois bien avoué que celui là a "de la gueule" et qu'il ne passera pas inaperçu!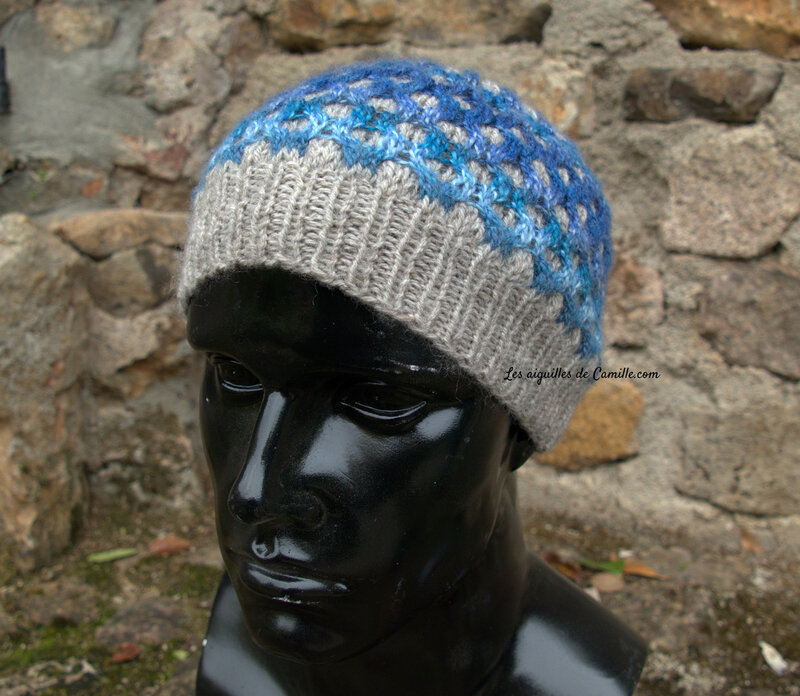 I already liked the classic hat model (for the tutorial click on this page), but I must admit that this one has pace and it will not go unnoticed!
Pour le revers, j'ai utilisé des aiguillles 3.5mm, mais si vous aimez une version bien sérrée, n'hésitez pas à prendre du 3, (voire du 2.5 si vous en avez le courage !).
For the reverse, I used 3.5mm darts, but if you like a version well sealed, do not hesitate to take the 3, (or 2.5 if you have the courage!).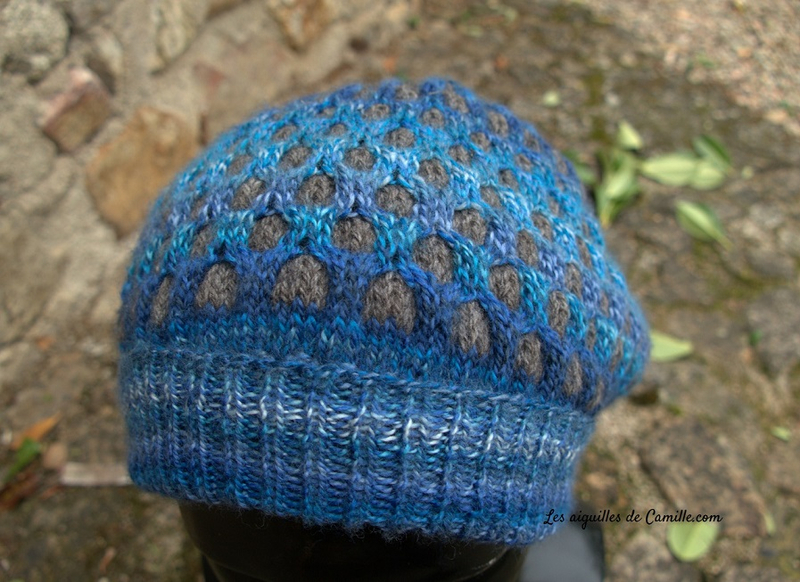 Je vous le propose dans 2 coloris avec des nuances de fond uni différentes dans des kits laine + modèle. Si vous avez envie d'une autre formule, de changer la couleur et/ou le coloris uni, contactez moi, et je vous ferai un kit perso sur mesure !
I propose it to you in 2 colors with different shades of plain background in kits yarn + pattern. If you want another formula, to change the color and / or the solid color, contact me, and I'll make you a custom kit!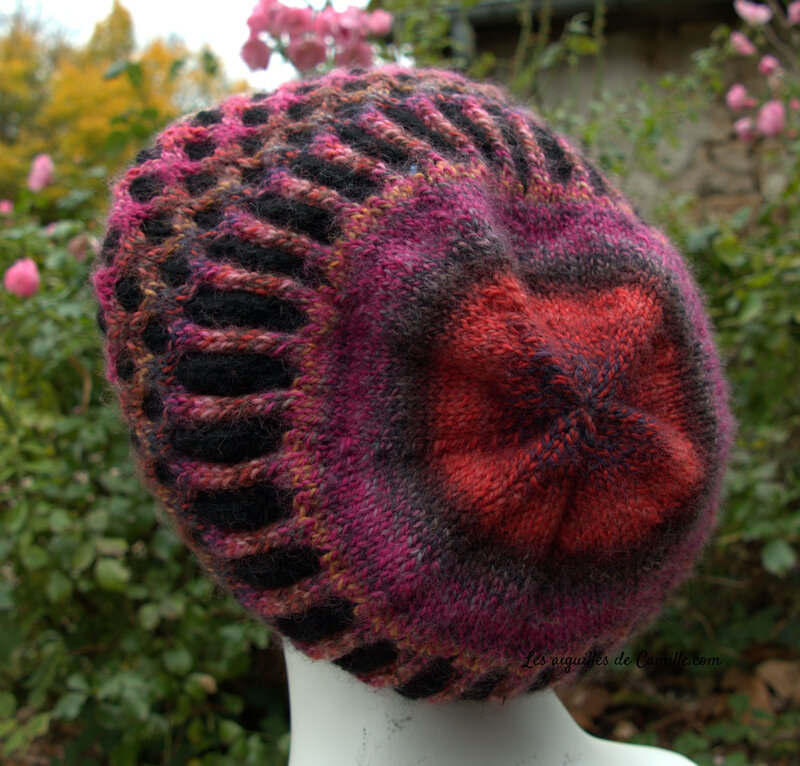 Pour le tuto, je vous laisse le soin de télécharger le PDF ci dessous.... et vous souhaite de passer un bon moment de tricot avec ce Lune de Miel!
For the tutorial, please download the PDF below .... and I wish you a good time knitting with this Honeymoon!
Modèle en Français: Slouch_Lune_de_Miel_vf
English pattern: Honeymoon_Slouch_English_Pattern