mercredi 7 novembre 2018
Parce que cet automne "été indien" a été bien bien chouette , mais il faut que ça cesse!! Pas que j'ai une passion pour la pluie, le vent , la neige , la boue ( ben oui, y'en a aussi!!), mais là trop c'est trop! On va pouvoir enfin se remettre des bonnets sur la tête , des châles sur les épaules, des chaussettes extra douces et chaudes ... le pied quoi!!
Because this autumn "Indian summer" was very nice, but enough is enough! Not that I have a passion for rain, wind, snow, mud (yes, there is too !!), but now it's too much! We will finally be able to recover from hats on the head, shawls on the shoulders, socks extra soft and warm ... let's ave fun with bad weather!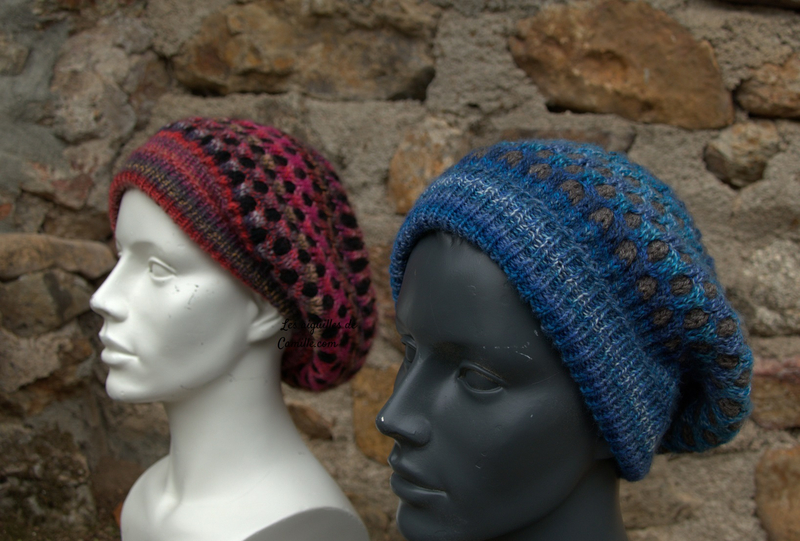 Et pour commencer , le frère du bonnet Lune de Miel, dans une version speciale pour ceux et celles qui: ont beaucoup de cheveux, ont des dread et ne savent jamais dans quoi les mettre sous peine d'avoir un "cache pot" sur la tête avec des tas de choses qui dépassent , ou qui aiment avoir bien de la place !
And to begin with, the brother of the Honeymoon Hat, in a special version for those who: have a lot of hair, have dread and never know in what to put under penalty of having a "cache pot" on the head with heaps of things that exceed, or who like to feel raelly comfortable!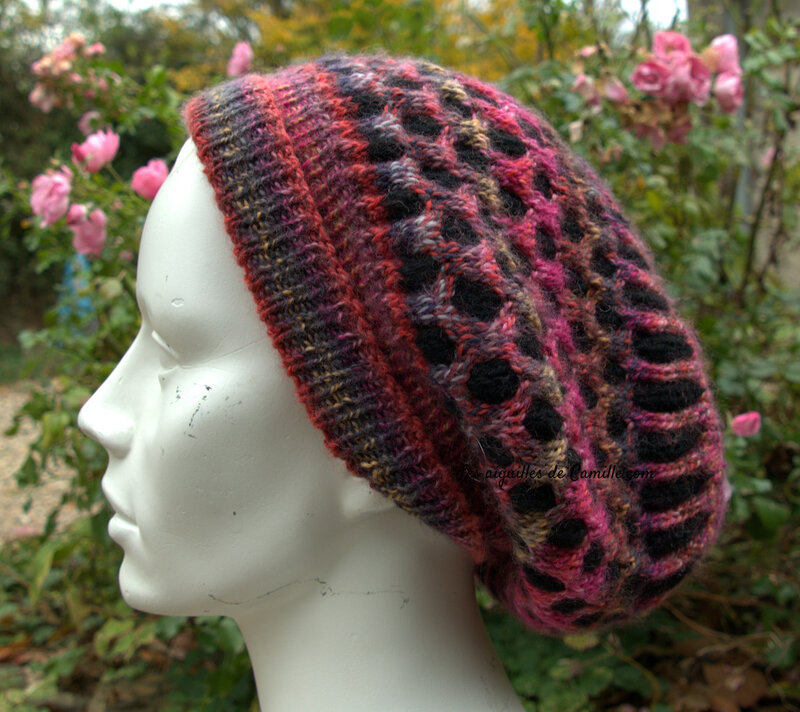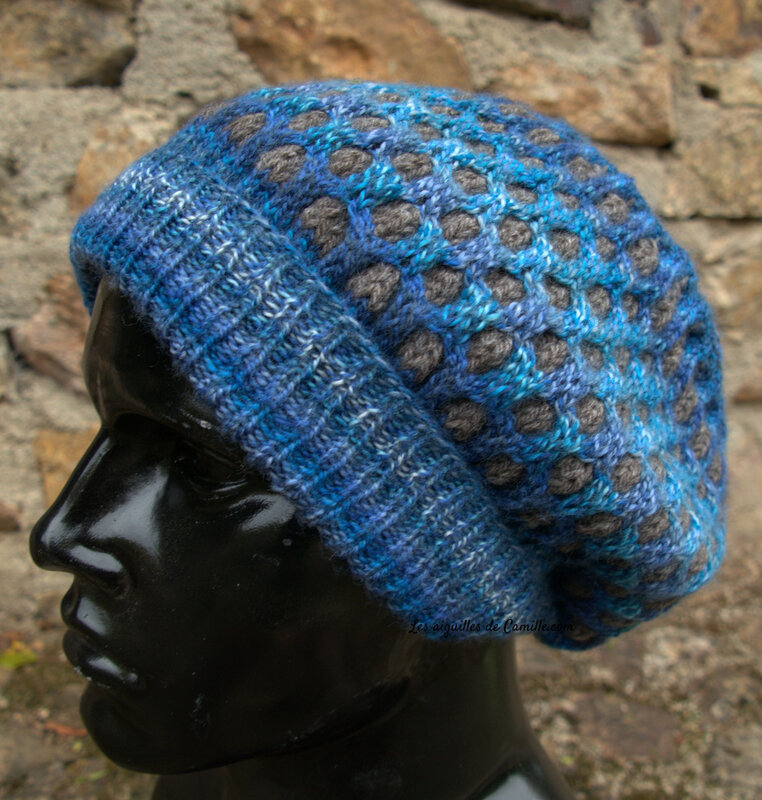 Un slouch... coloré , rigolo, à faire dans toutes les couleurs pour filles et garçons !
A slouch ... colorful, funny, to do in all colors for girls and boys!
J'aimais déjà le modèle de bonnet classique ( pour le tuto cli clic sur cette page ), mais je dois bien avoué que celui là a "de la gueule" et qu'il ne passera pas inaperçu!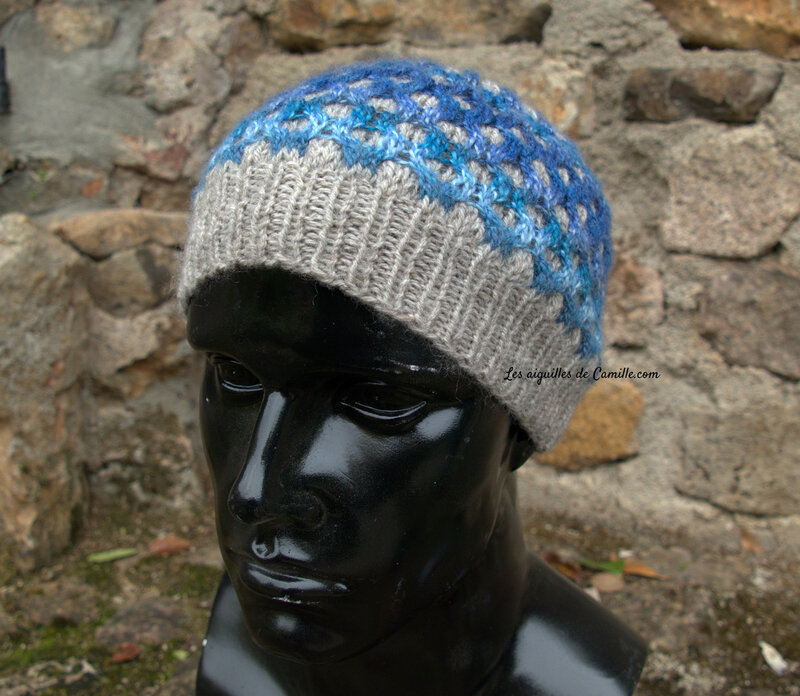 I already liked the classic hat model (for the tutorial click on this page), but I must admit that this one has pace and it will not go unnoticed!
Pour le revers, j'ai utilisé des aiguillles 3.5mm, mais si vous aimez une version bien sérrée, n'hésitez pas à prendre du 3, (voire du 2.5 si vous en avez le courage !).
For the reverse, I used 3.5mm darts, but if you like a version well sealed, do not hesitate to take the 3, (or 2.5 if you have the courage!).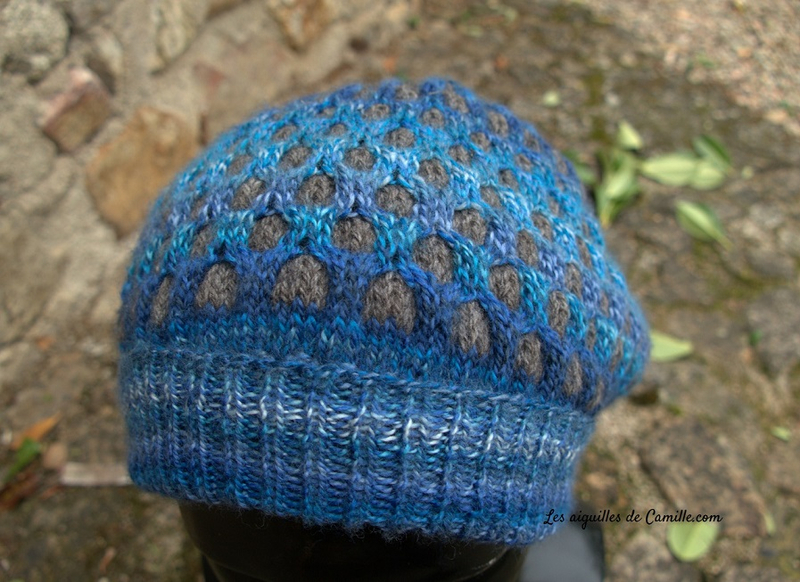 Je vous le propose dans 2 coloris avec des nuances de fond uni différentes dans des kits laine + modèle. Si vous avez envie d'une autre formule, de changer la couleur et/ou le coloris uni, contactez moi, et je vous ferai un kit perso sur mesure !
I propose it to you in 2 colors with different shades of plain background in kits yarn + pattern. If you want another formula, to change the color and / or the solid color, contact me, and I'll make you a custom kit!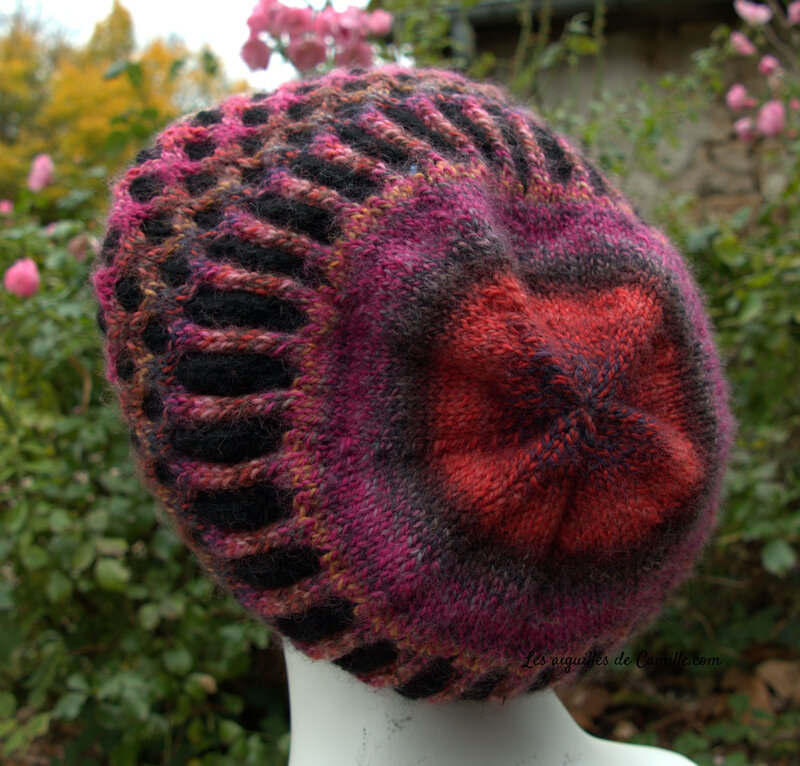 Pour le tuto, je vous laisse le soin de télécharger le PDF ci dessous.... et vous souhaite de passer un bon moment de tricot avec ce Lune de Miel!
For the tutorial, please download the PDF below .... and I wish you a good time knitting with this Honeymoon!
Modèle en Français: Slouch_Lune_de_Miel_vf
English pattern: Honeymoon_Slouch_English_Pattern
mercredi 3 octobre 2018
Deux dates à retenir pour les fans de laine et de belles réalisations artisanales en général!
Je serai dimanche 7 octobre à La Pesse ( Jura) , au Marché d'à côté , qui clôture le Festival Azimut, où vous trouverez artisans et producteurs dans une ambiance musicale très conviviale!
Pour ma première participation au Salon "De fil en Aiguille" , dont c'est la quatrième année, nous pourrons faire connaissance ou nous revoir les samedi et dimache 20 et 21 octobre à Saint Jean de Losne (Côte d'Or).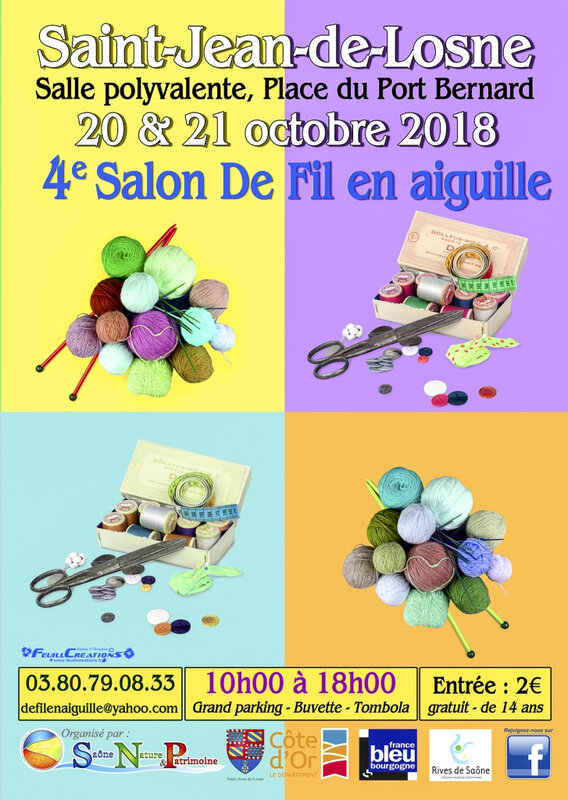 Alors je vous dis à très très vite!
Camille
PS: si certaines laines et certains modèles vous attirent particulièrement, n'hésitez pas à me faire part de vos demandes et de votre curiosité par mail: contact@lesaiguillesdecamille.com
dimanche 30 septembre 2018
Le Morvan est un lieu magique, inspirant.
The Morvan is a magical, inspiring place.
Entre le ciel étoilé, libre des lumières des villes, les forêts et leurs couleurs changeantes , et ses trésors archéologiques , l'imagination court et crée.
Between the starry sky, free of city lights, forests and their changing colors, and its archaeological treasures, imagination runs and creates.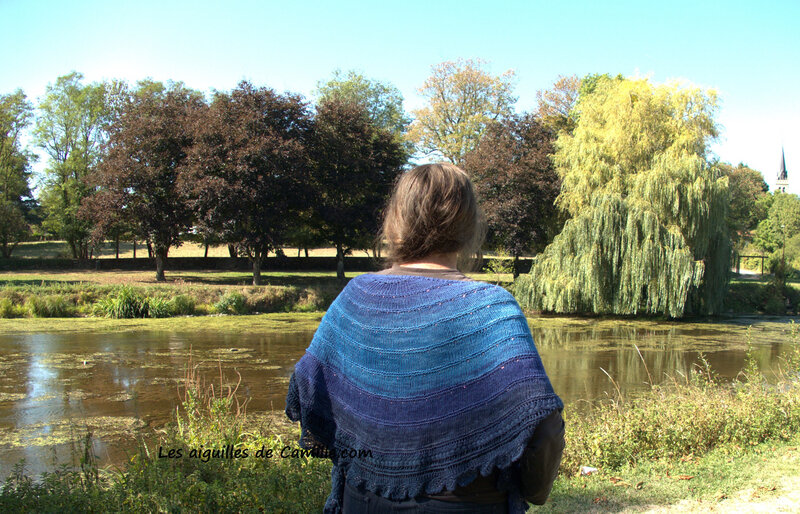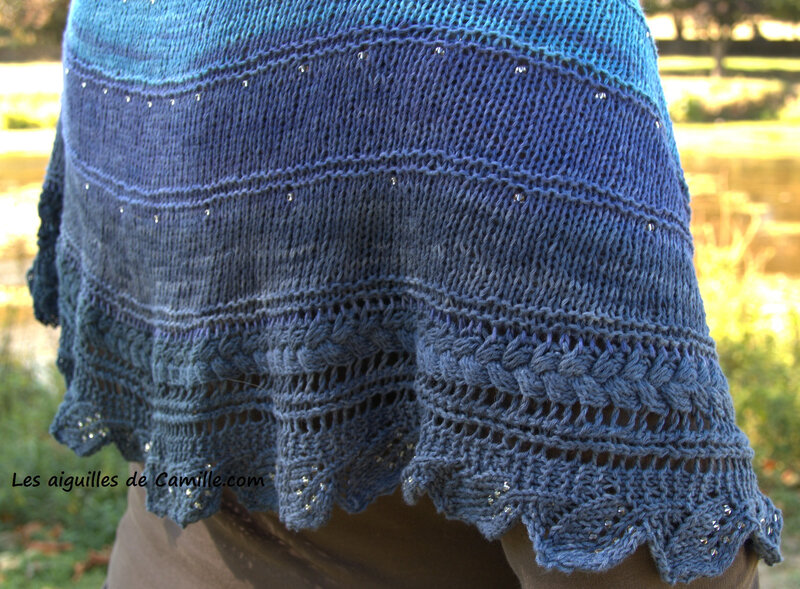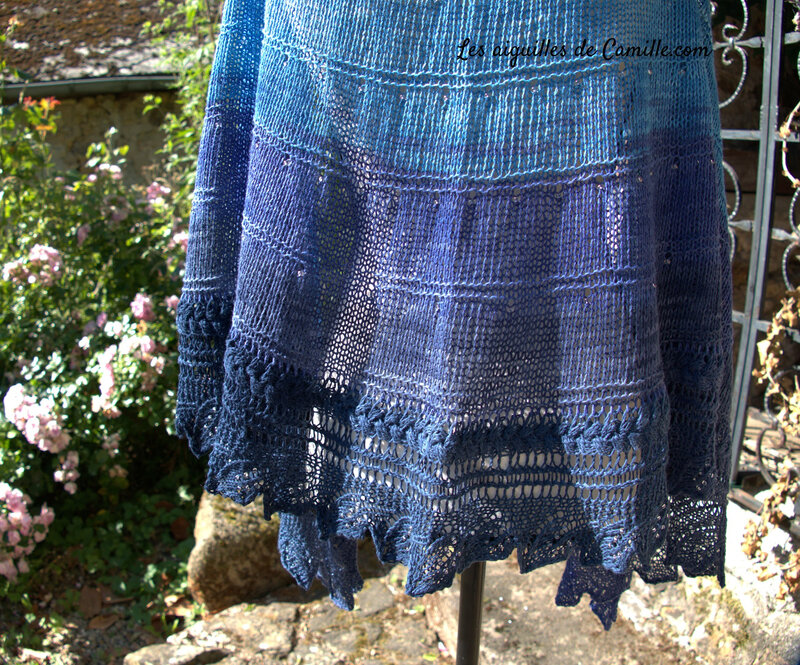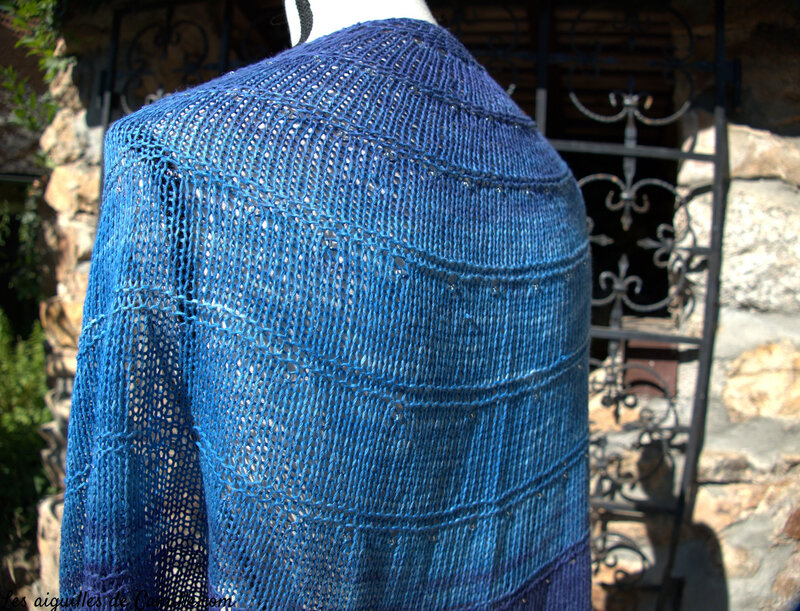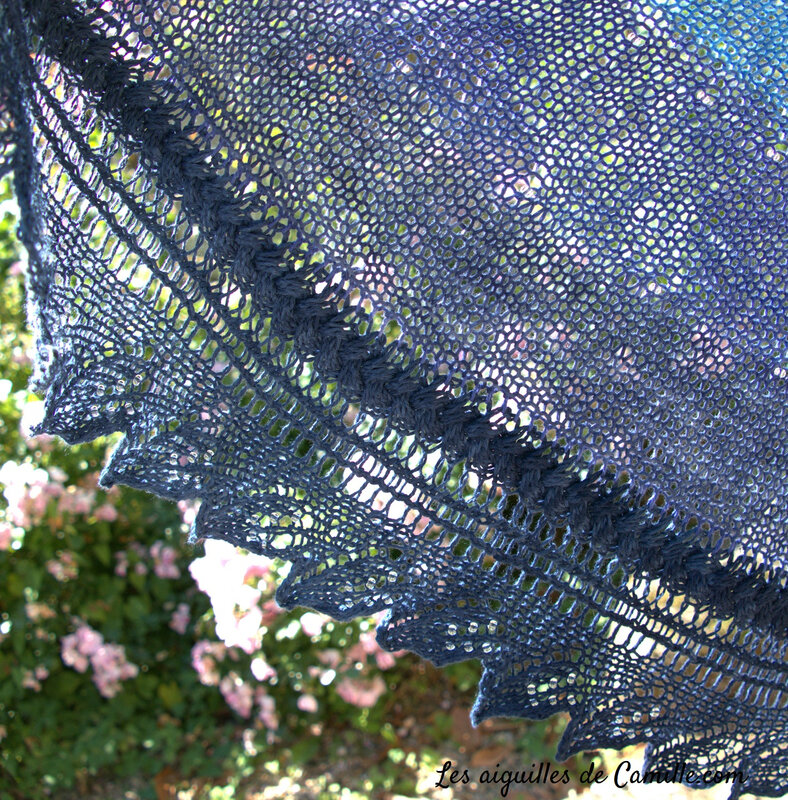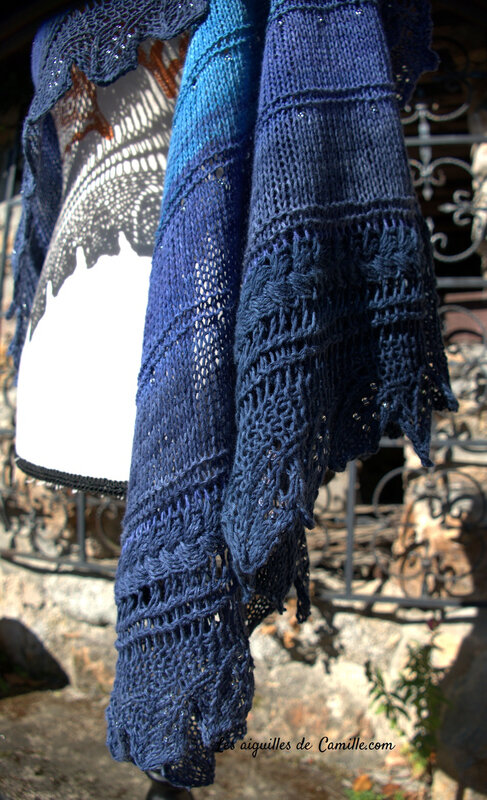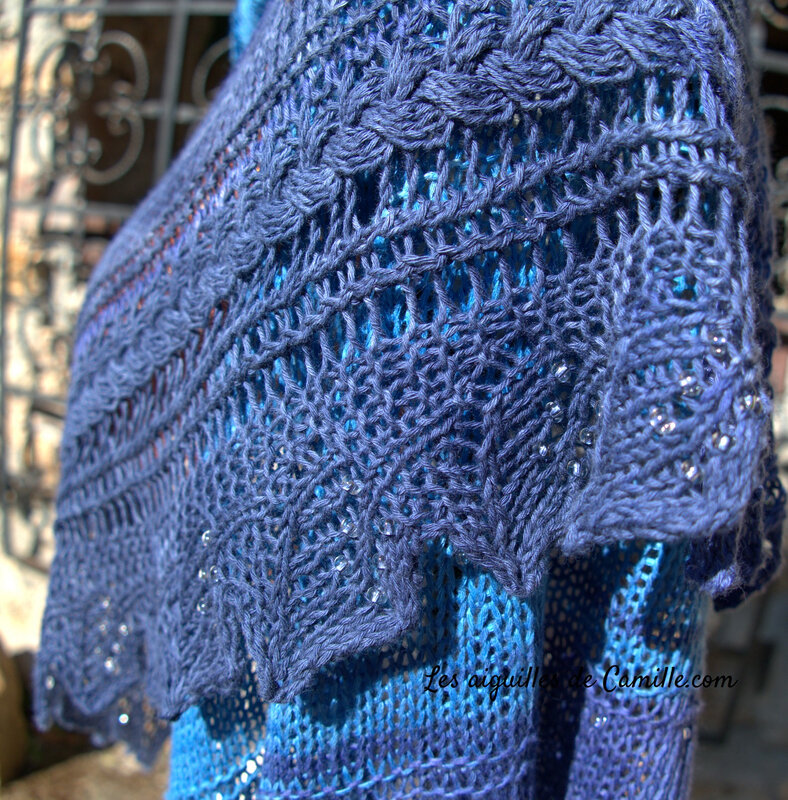 Ajouter à cela de belles personnes, et vous obtenez la recette idéale pour un châle!
Add to that beautiful people, and you get the perfect recipe for a shawl!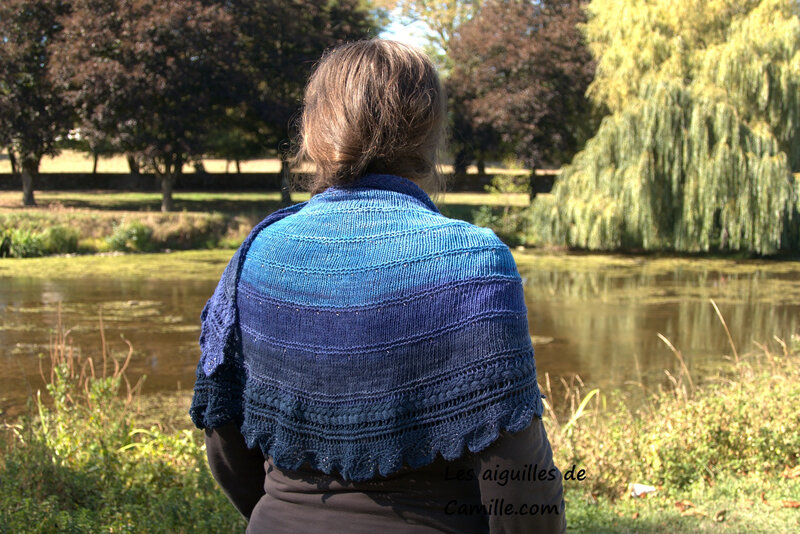 Pour la petite histoire, j'ai pensé ce modèle pour une très bonne amie, à l'occasion de son mariage, en coton, pour l'été. Très honnêtement, vu les températures caniculaires de l'été que nous venons de vivre, elle ne l'a pas porté plus d'un quart d'heure le jour J!! Mais je ne doute pas qu'elle le mette en des temps plus propices...
For the story, I thought this model for a very good friend, on the occasion of her wedding, cotton, for the summer. Very honestly, given the scorching temperatures of the summer that we have just experienced, she did not wear it more than a quarter of an hour on the D day! But I do not doubt that she puts it in more favorable times ...
Puis j'ai fait ce modèle dans une laine vaporeuse, riche et légère pour lui donner une envergure différente .
Then I made this model in a vaporous yarn, rich and light to give it a different wingspan.
Depuis 4 mois que nous nous cotoyons lui et moi, je lui ai enfin trouvé un nom: Amour.
For the last 4 months we've been getting along with him and I, I've finally found a name for him: Love.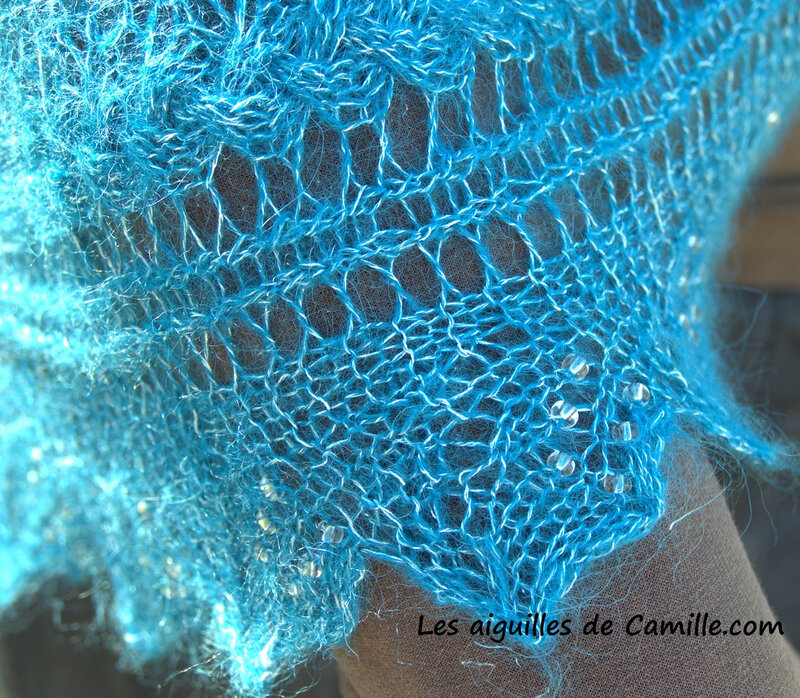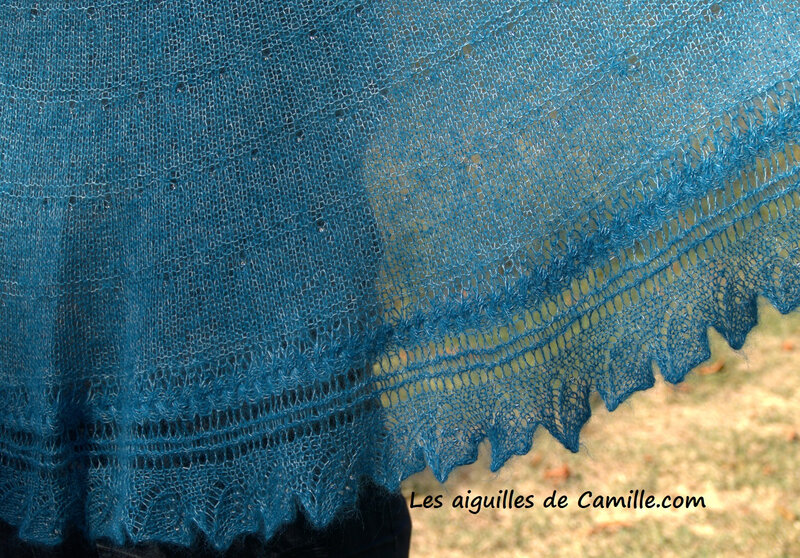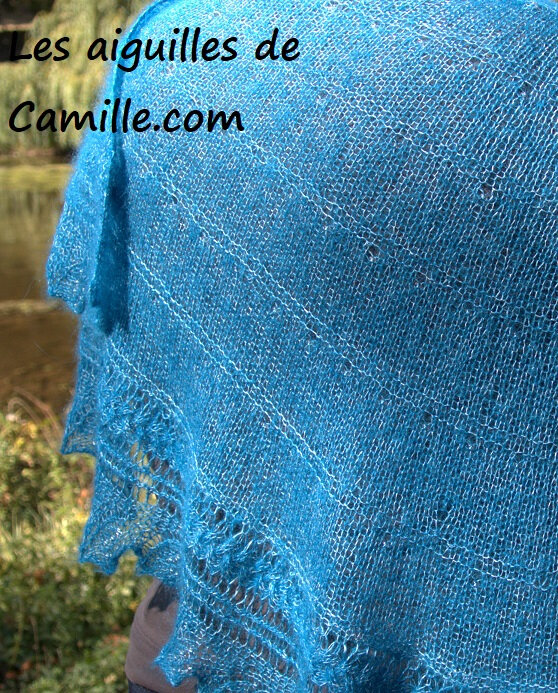 L'amour des paysages, des bois magnifiques , des animaux qui fréquentent ces lieux, de ce ciel sublime , tant sous le soleil que sous la lune... et des humains avec lesquels j'ai la chance et le bonheur de vivre!
Love landscapes, beautiful woods, animals that frequent these places, this sublime sky, both under the sun and under the moon ... and humans with whom I have the luck and happiness to live!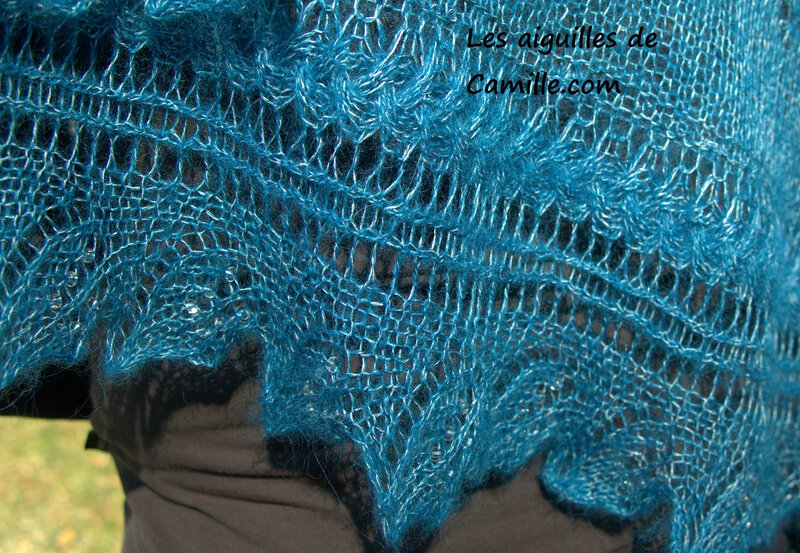 Je suis très heureuse de vous proposer ce modèle, en souhaitant que vous y mettrez beaucoup d'amour à votre tour.
I am very happy to offer you this model, wishing that you will put a lot of love in your turn.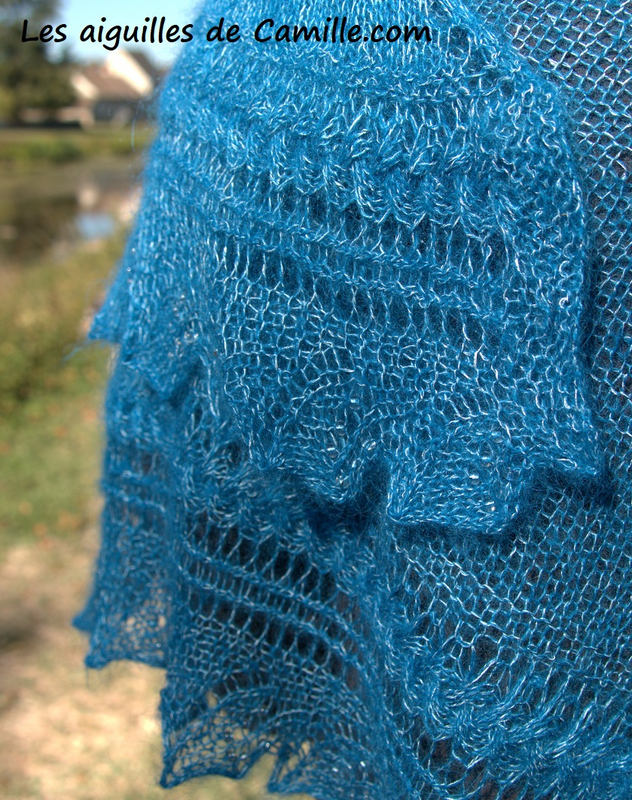 Côté technique et fournitures : vous trouverez des kits diponibles sur cette page, vous pouvez y ajouter des perles comme autant d'étoiles scintillantes ( prposées ici). Le modèle coton est en Zauberball Cotton Bio et l'ultra léger est en Algasoie Unie.
Technical side and supplies: you will find kits available on this page, you can add pearls like so many glittering stars (available here). The cotton model is in Zauberball Cotton Bio and the ultra light is in Algasoie Unie.
Pour télécharger le patron ( indications écrites et diagramme):
To download the pattern( written instructions and diagram):
En français:Châle_Amour_Version_Française
In English: Shawl_Amour_English_Version
samedi 15 septembre 2018
Non Glux n'est pas un petit mot bizarre, trouvé au hasard des périgrinations de mon cerveau, c'est le nom d'un petit village que j'aime bien, et allez savoir pourquoi ... c'est devenu un slouch !
No Glux is not a weird word, randomly found in the perigrinations of my brain, it's the name of a little village that I like, and you'll know why ... it's become a slouch!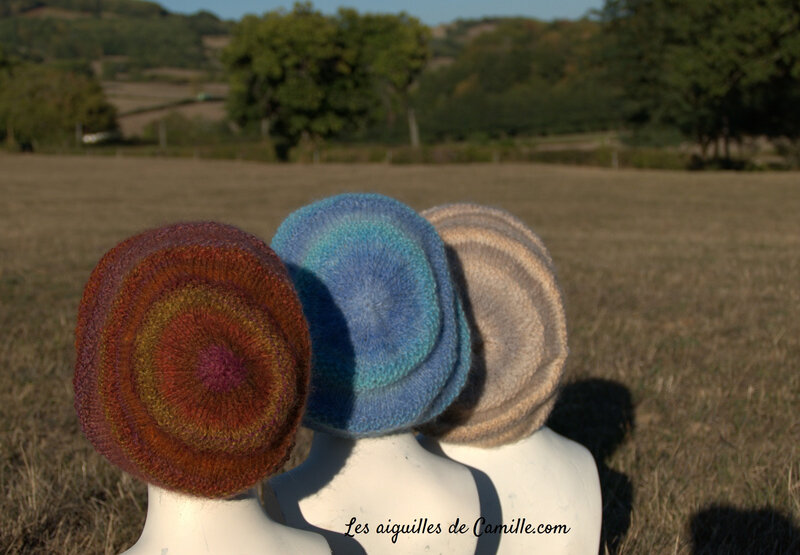 Et puisque cet été , chaud , long , et qui collait les doigts à la laine a enfin décidé de se finir ( ou presque!!), me revoilà!
And since this summer, hot, long, and sticking fingers to the wool has finally decided to end (or almost!), Here I am again!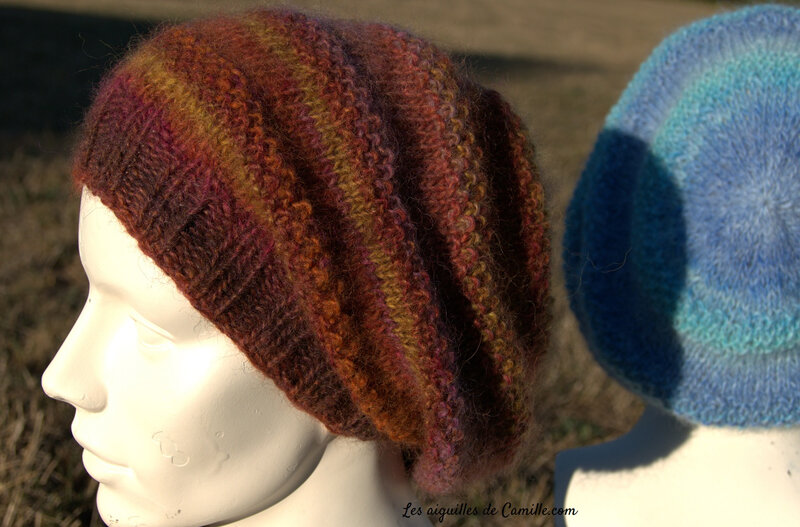 Avec un modèle tout simple pour s'y remettre en douceur !
With a simple model to recover gently!
Un bonnet retombant mixte, dans 3 tailles pour les têtes à cheveux fous, à dread, à chignons sages , à cheveux courts qui aiment avoir de la place, bref, un modèle pour toutes les têtes et toutes les aiguilles, des débutantes aux expertes.
A mixed slouchy hat, in 3 sizes for heads with crazy hair, dread, wits, short hair who like to have some space, in short, a model for all heads and needles, beginners to experts.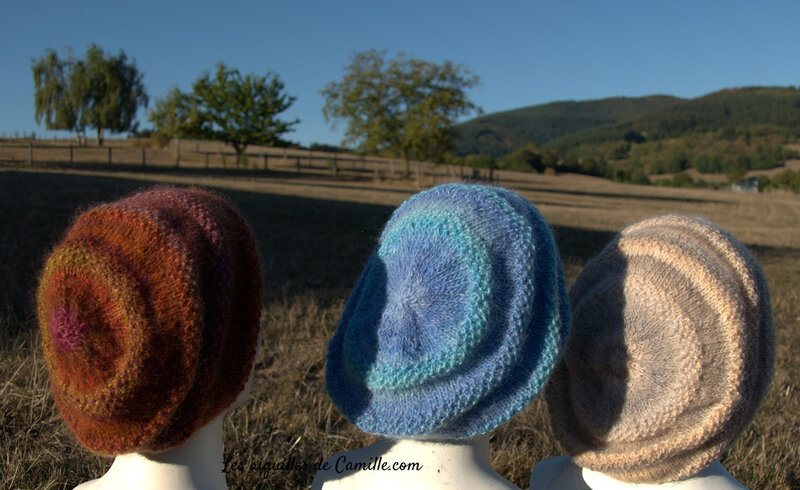 Pour la laine, une nouveauté de la rentrée toutes naturelle: laine et alpaga , à tricoter en 5mm , et qui existe pour l'instant en 6 coloris: l'Alpalaine de Plassard. ... 2 pelotes et le bonnet est sur la tête!!
For yarn, a novelty of the comeback all natural: wool and alpaca, knitting in 5mm, and which exists for the moment in 6 colors: the Alpalaine of Plassard. ... 2 balls and the cap is on the head !!
Pour le tuto, on ne change pas le mode d'emploi: téléchargez le PDF en dessous!!
En français:Slouch_Glux_VF
Bonne rentrée tricotesque et à très vite!!
For the tutorial, we do not change the instructions: download the PDF below!
In English: Slouch_Glux_English_Pattern
Enjoy it, and see you soon!!

jeudi 31 mai 2018
Un petit air de printemps a fini par souffler .... il était grand temps !
It's a real spring , at last!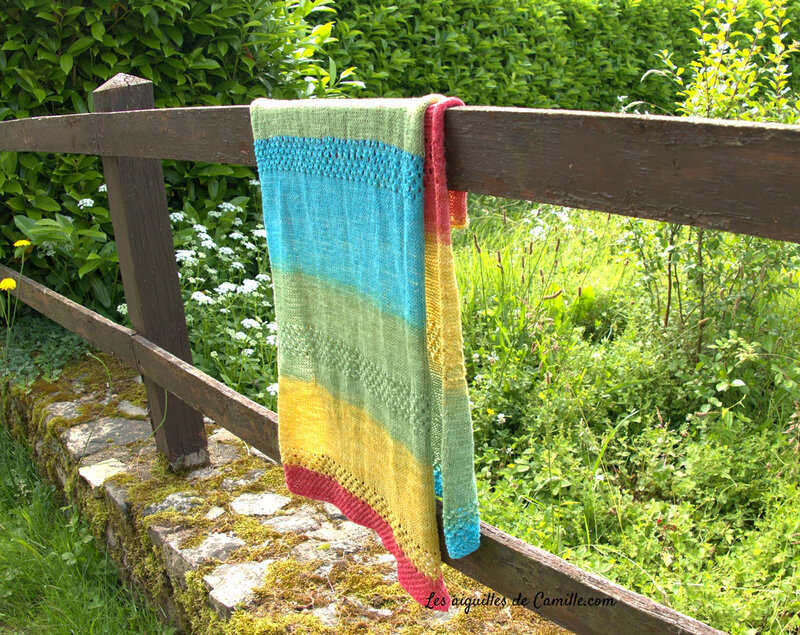 Le temps venu pour moi de vous suggérer un Foulard, léger , coloré, pour les gentils courants d'airs ou parfaire une tenue de saison.
The time has come for me to suggest a Foulard, light, colorful, for the nice currents of air or perfect for your spring outfit.
Pour le côté coloré , j'ai choisi Schoppel et ses Zauberball ( et bio!) un peu follettes , toujours surprenantes dans les associations de nuances!
For the colorful side, I chose Schoppel and its Zauberball (and bio!): a little crazy, always surprising in the associations of nuances!
Ici c'est un modèle arc-en-ciel:
Here is a rainbow model: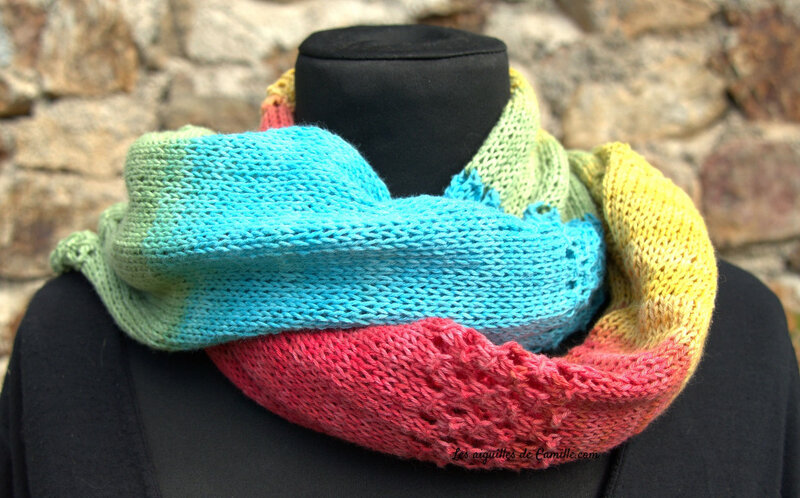 Pour la construction de cet ouvrage , le patron vous donne quartier libre et permet de laisser votre inspiration s'exprimer: vous mettrez le point fantaisie , point de diable , où vous voulez: en début et en fin, par bandes alternées avec du jersey comme je l'ai tricotée, mais vous pouvez aussi ne faire que ça tout au long du foulard, ce qui donnera un joli résultat très ajouré.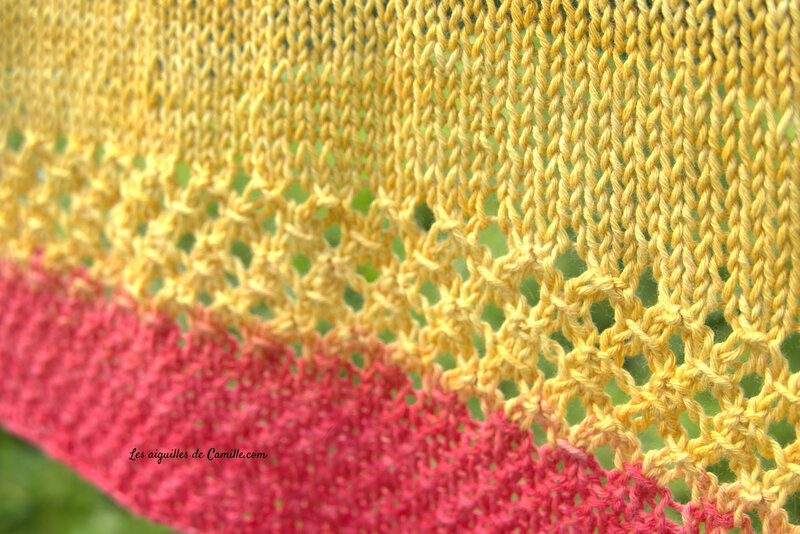 For the construction of this work, the pattern let you free and allows your inspiration express itself: you will put the fantasy stitch, point de diable, where you want: at the beginning and end, in alternating strips with stocking stitch like I knitted it, but you can also do that all along the scarf, which will give a nice result very lacy.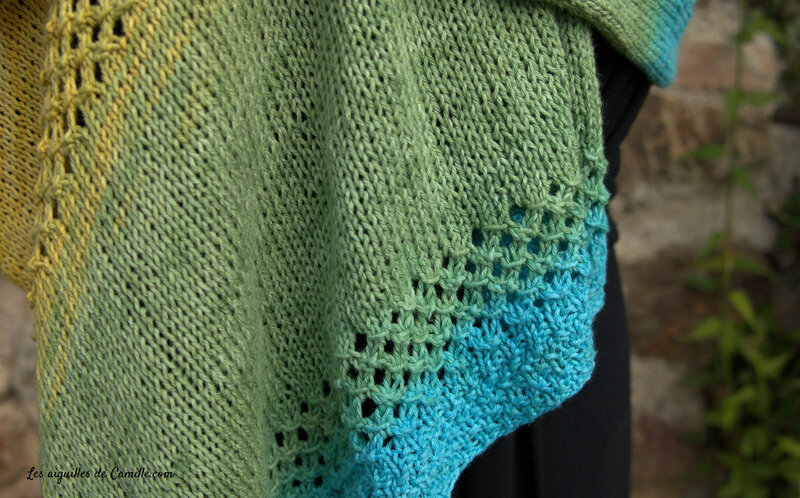 De quoi mettre de la gaieté dans ce printemps, alors bon tricot!
What acheerfulness in this spring! Enjoy knitting!
Le patron à télécharger en Français: Foulard_VF
The pattern you can download in English: Foulard_English_Pattern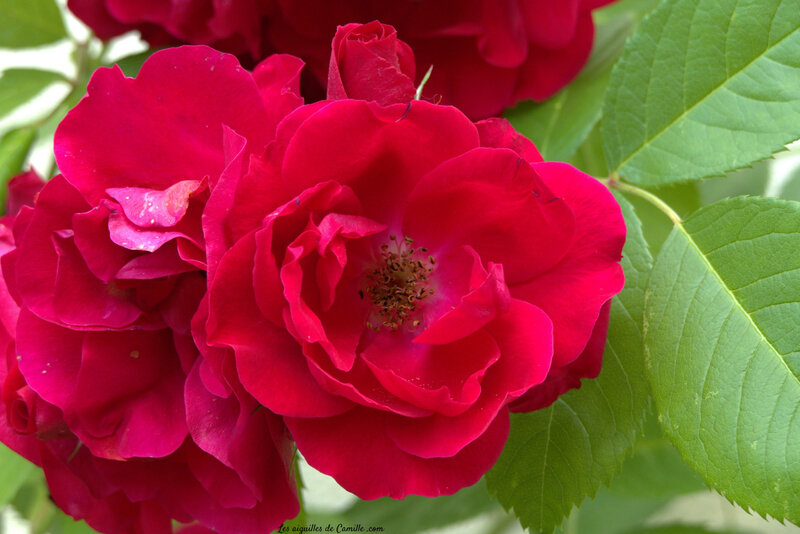 mercredi 21 mars 2018
Comme vous le savez probablement les modèles à télécharger sur le blog sont tous accessibles gratuitement.
Ils nécessitent du temps et du travail, mais je tiens absolument à ce qu'ils le restent , car je suis intimement persuadée que la transmission des savoirs doit être gratuite et inconditionnelle.
Le bouton "Faire un don" ( via paypal), sur la gauche du blog, vous permet de soutenir cette manière de créer et transmettre le savoir , à la mesure de votre envie et de vos moyens ! Merci et à bientôt pour de nouveaux modèles!


As you probably know the patterns to download on the blog are all accessible for free.

They require time and work, but I really want them to stay free, because I firmly believe that the transmission of knowledge must be free and unconditional.
The button "Faire un don" (via paypal), on the left of the blog, allows you to support this mode of creating and transmitting knowledge, as you want and within your means! Thank you and see you sonn for new patterns!!