dimanche 3 décembre 2017
Quand j'ai fait ce modèle, que j'aime vraiment beaucoup, j'ai eu pas mal de commentaires me suggérant qu'il est bien compliqué!
Alors il a bien fallu que je trouve une solution pour montrer que non, en fait il est beaucoup plus simple qu'il n'y parait!
Je me suis donc attelée à la réalisation d'une vidéo complète de sa fabrication !
When I made this model, which I really like, I had a lot of comments suggesting that it is very complicated!
So I had to find a solution to show that no, in fact it is much simpler than it seems!
So I started to make a complete video of its manufacture!
Tricotez votre bonnet Lune de Miel Knit your honeymoon beanie
Je vous laisse la découvrir, la partager et me donner votre avis, c'est pour moi une première pour quelque chose d'un peu long, alors ne vous privez pas de commenter!!
J'ai aussi ajouter des tailles enfants au patron , à télécharger dessous:
Bonnet_Lune_de_Miel_Multi_tailles_vf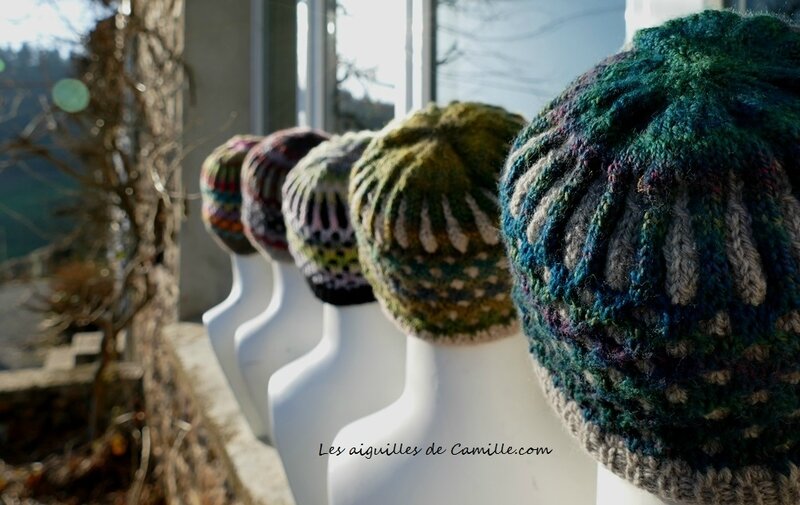 I let you discover it and share it. This is my first video of this size, so feel free to comment!
I also reviewed the model to make children's sizes, to download below:
Honeymoon_Beanie_English_Pattern_adult_and_child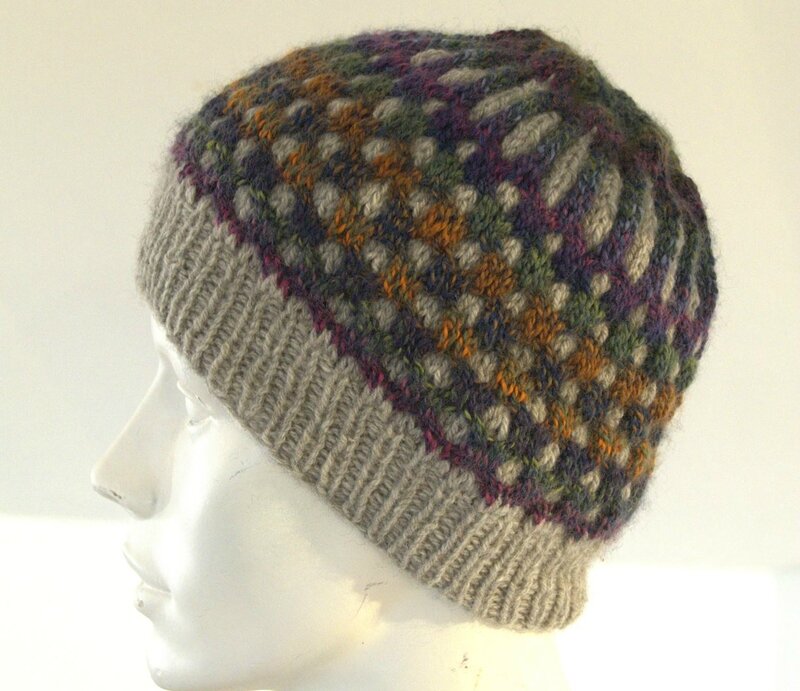 Le kit est toujours disponible en boutique ( ici!)
Bon tricot et à bientôt!!
Enjoy it!!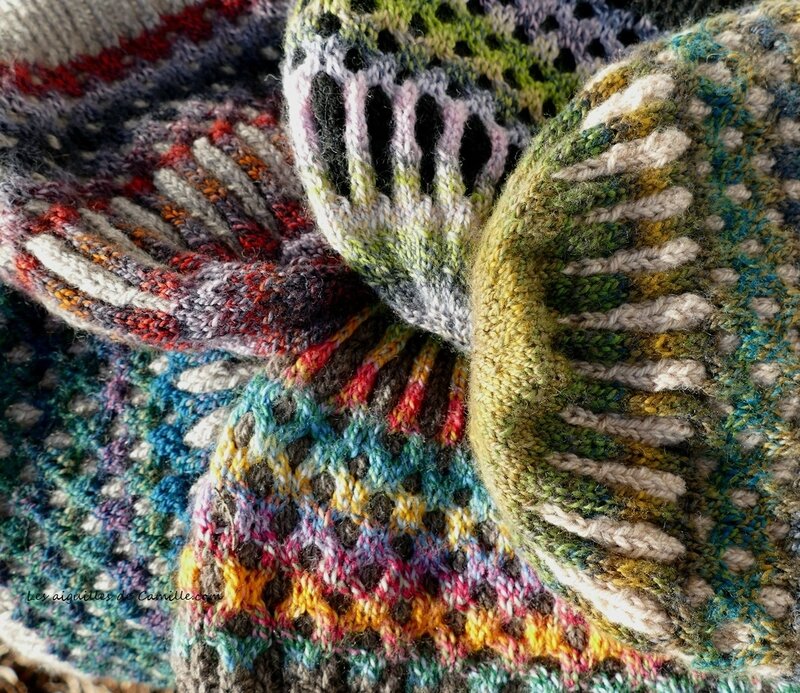 lundi 6 novembre 2017
Ultra... Chaud,
Ultra ... Hot,
Ultra...Coloré,
Ultra ... Colorful,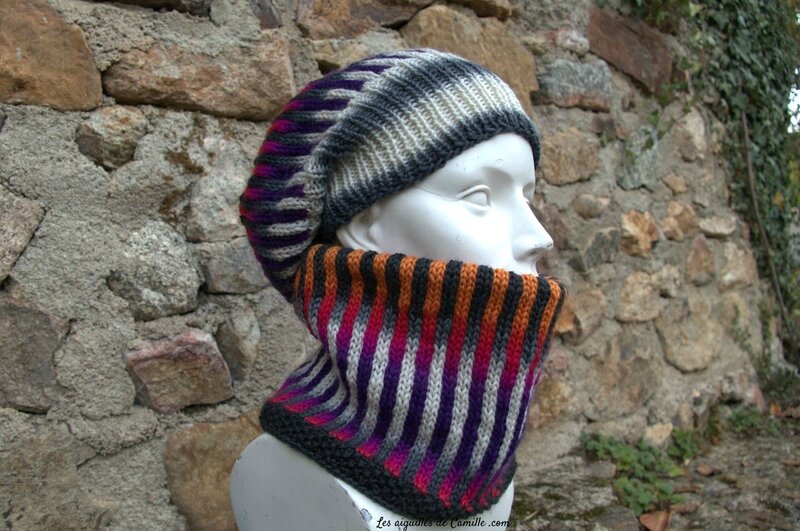 Ultra... Fastoche, limite les yeux fermés!
Ultra ... Easy, try to knit it with your eyes closed!
Tout ça pour dire que si vous avez besoin d'être au top du confort tout en portant toutes les couleurs qui filent la pêche, même au mois de novembre, et bien voilà nous y sommes!!
All that to say that if you need to be at the top of the comfort while wearing all the colors that give maximum energy, even in November, well here we are!
Pour la partie technique :
des aiguilles 5 et 6mm, 5 pelotes de la très belle Reggae Schoppel Wolle et ses couleurs qui réveillent ( non l'hibernation , c'est pas pour tout de suite!), et un peu de patience en jersey et point de riz, avec un soupçon de côtes sur le bonnet .Pour de vrai : c'est pas bien compliqué!
For the technical part:
needles 5 and 6mm, 5 balls of the beautiful Reggae Schoppel Wolle and its colors that wake up (not hibernation is not right now!), and a little patience in stocking stitch and seed stitch, with a hint of rib on the cap, so, for real: it's not complicated!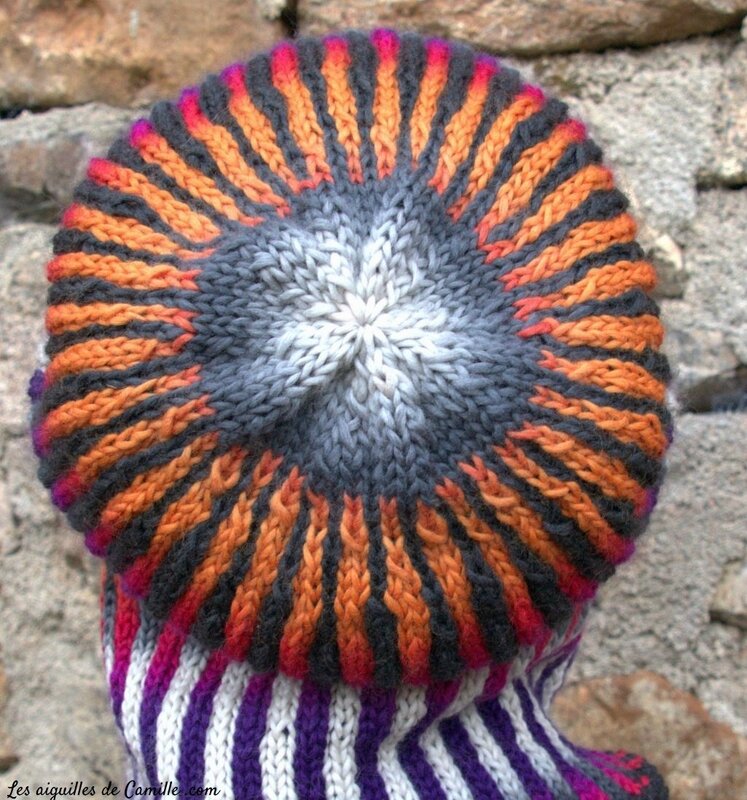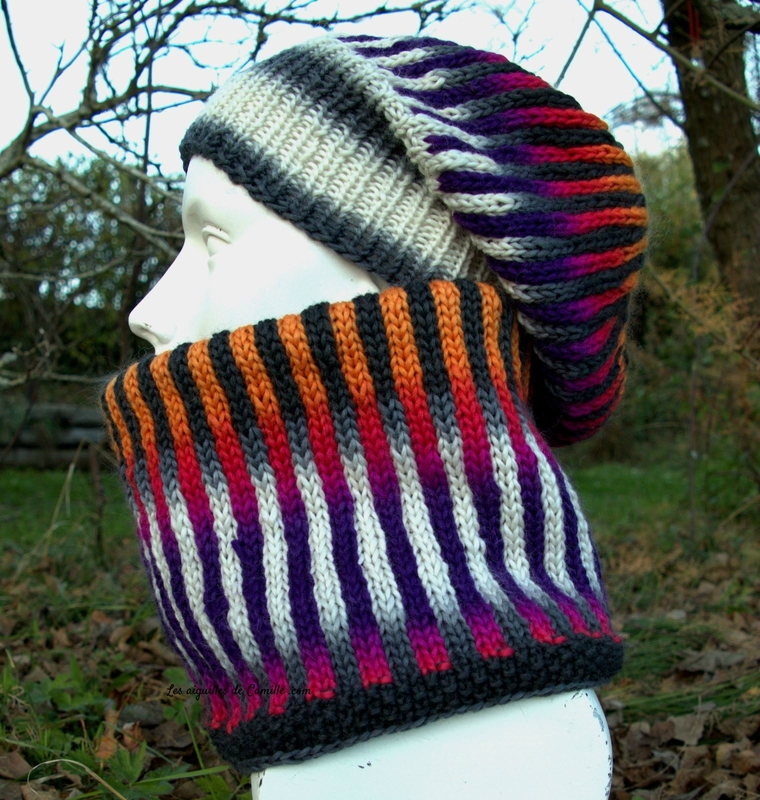 Alors amies ( et amis) fans de tricot: à vos aiguilles et à bientôt!
So friends knitting fans: hang on to your needles and see you soon!
Modèle à télécharger en Français:Col_et_Bonnet_Ultra_VF
English pattern to download: Ultra_Cowl_and_hat_English_pattern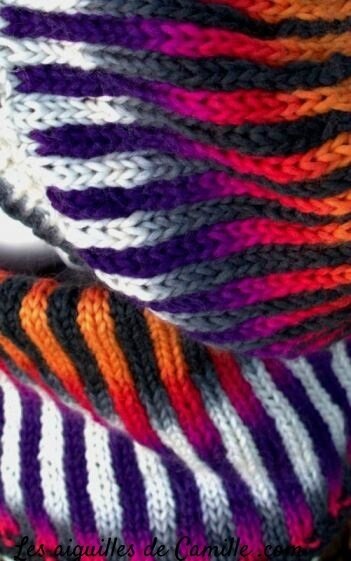 mardi 3 octobre 2017
Et oui , c'est bientôt l'heure d'aller à La Pesse!
Le weekend prochain c'est le festival Azimut, et à la fin c'est "Le Marché d'à Côté", le 8 octobre toute la journée, où j'aurai, je l'espère, le grand plaisir de retrouver certaines et certains d'entre vous!
( Si vous voulez que j'emmène certaines choses spécialment pour vous , c'est le moment de m'en parler clic!)
Alors à Dimanche !!

And yes, it's soon time to go to La Pesse!
The next weekend is the Azimut festival, and in the end it's "Le Marché d 'Côté", on October 8th all day, where I hope to have the great pleasure of finding some and Some of you!
(If you want me to take some things specially for you, now is the time to talk about it! Contact me !!)
See you on Sunday !!
dimanche 1 octobre 2017
Gouter la chaleur , la douceur de l'automne est un vrai délice . Une tasse de thé, un moment près du feu et... de la laine sur les aiguilles, voilà mon idée d'un bonheur simple et apaisant.
To taste the heat, the sweetness of the autumn is a true delight. A cup of tea, a moment near the fire and ... wool on the needles, is my idea of ​​a simple and soothing happiness.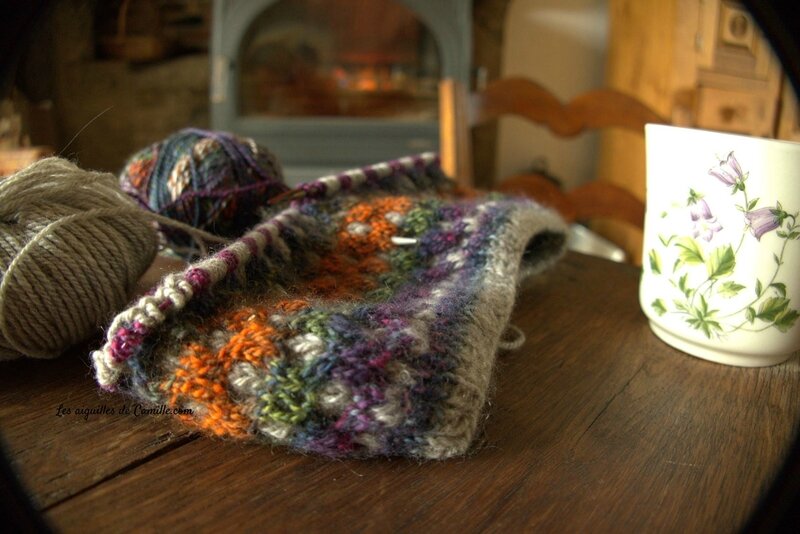 Pour reprendre les aiguilles en douceur, je vous propose du sobre, du facile , du plaisir avec un petit duo qui se tricote quasiment tout seul, dans une laine sur laquelle j'ai totalement craqué! Douce , naturelle, avec des teintes riches , elle fait son entrée dans la boutique ( toute neuve!!), et je crains que vous n'ayez pas fini de la voir sur ces pages!
To take the needles smoothly, I propose you a sober, easy, fun with a little set that knits almost on its own, in a yarn on which I totally cracked! Sweet, natural, with rich tints, she enters the shop (brand new !!), and I'm afraid you have not finished seeing her on these pages!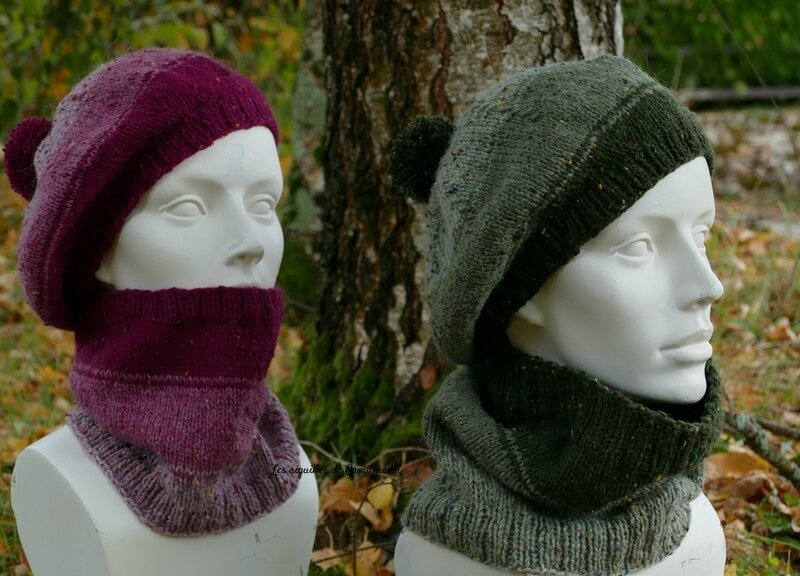 Du jersey, des côtes ,
stockinette, ribs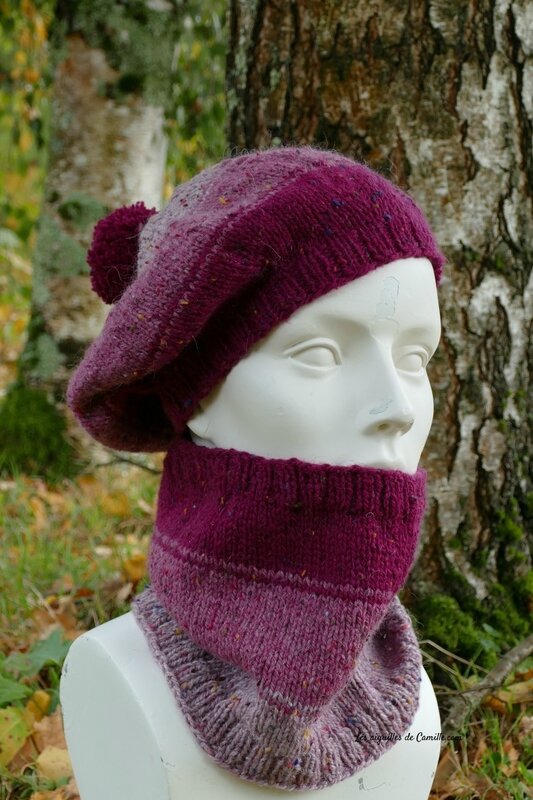 une toute petite fantaisie de changement de couleur, ce qui peut mettre le pied à l'étrier des novices ayant envie de travailler différentes couleurs dans leurs ouvrages,
a little fantasy of change of color, which can put the foot in the stirrup of novices wanting to knit different colors in their works,
voilà la recette de ce modèle.
this is the recipe for this model.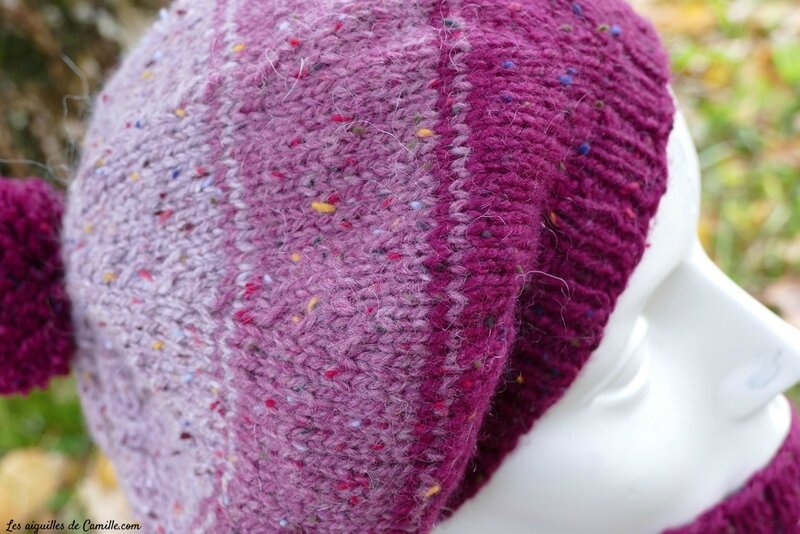 Pour la partie matériel: cette belle laine, c'est la Super Tweed de Fonty , et le kit est disponible en boutique dans 9 nuances toutes plus jolies les unes que les autres! Pour vos aiguilles, du 4 et du 5mm.
For the material part: this beautiful wool is the Super Tweed de Fonty, and the kit is available in shop in 9 shades all prettier than the others! For your needles, 4 and 5mm.
Le modèle existe en trois tailles: enfant 3/4 ans, Ado et adulte petite taille, et adulte taille moyenne, le tout est disponible dans un unique tuto.
The model exists in three sizes: child 3/4 years old, teenager and small adult, and medium size adult, the whole is available in a single tutorial.
En français: Ensemble_Laroche_VF
In English: Béret_and_cowl_Laroche_English_pattern
Je m'en retourne à mes aiguilles , et vous souhaite une belle journée!
A bientôt et bon tricot!
I go back to my needles, and wish you a beautiful day!
See you soon and good knitting!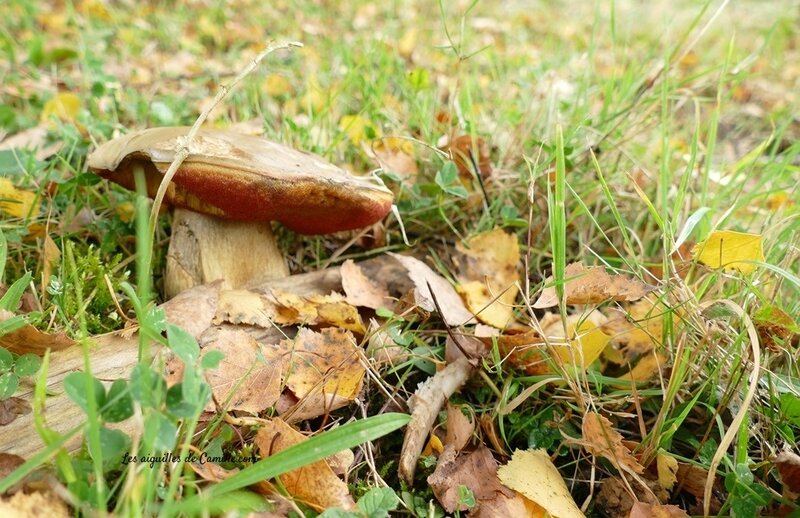 samedi 24 juin 2017
Bonjour !!! Non je n'ai pas disparu... mais cette fin d'année est fort bien remplie et je me fais plus rare sur la toile ( mais ça ne va pas durer!!)
Pour celles qui veulent , peuvent , je suis ce weekend au marché organisé durant le festival de Jazz de Larochemillay, dans le village, place de l'Eglise .
Pour les abonné(e)s du blog , une petite surprise à venir via la newsletter de mercredi prochain!
Alors peut-être à très vite et quoi qu'il en soit, passez un bon weekend de tricotesque!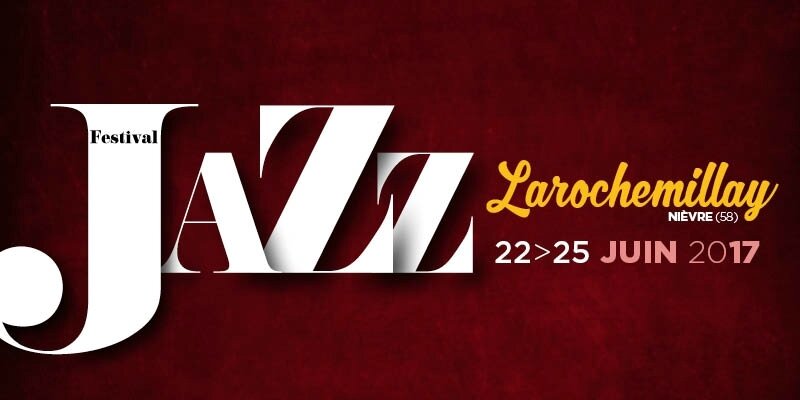 samedi 13 mai 2017
Il vous rappellera peut-être quelque chose...
je vous le propose dans une version agrandie,
I propose to you in an enlarged version,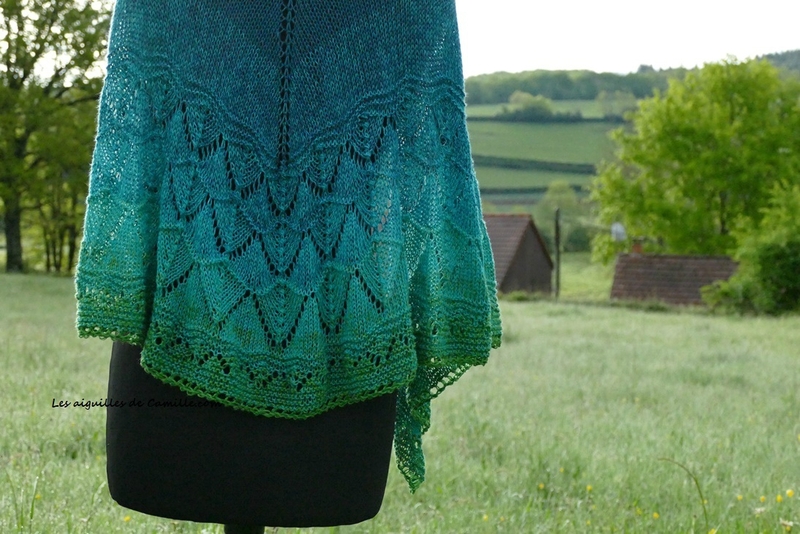 la bordure dentelle est bien plus conséquente.
the lace edge is much wider.
Dans une version modifiée, la bordure de fin est aussi ornée du motif ,
In a modified version, the end edge is also decorated with the same motive,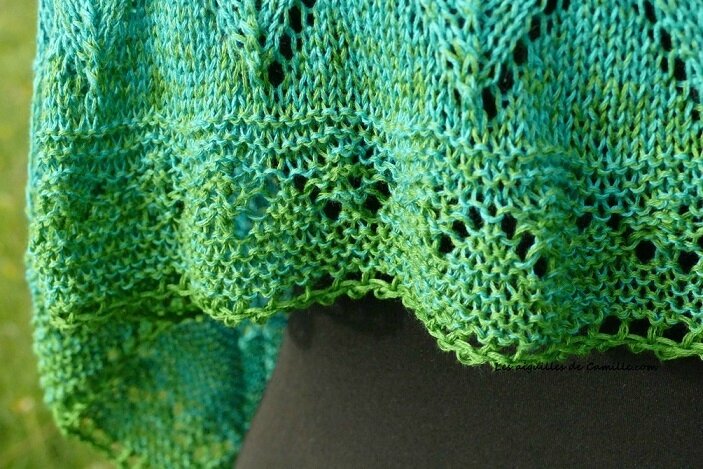 mais sur du point mousse.
but in garter stitch.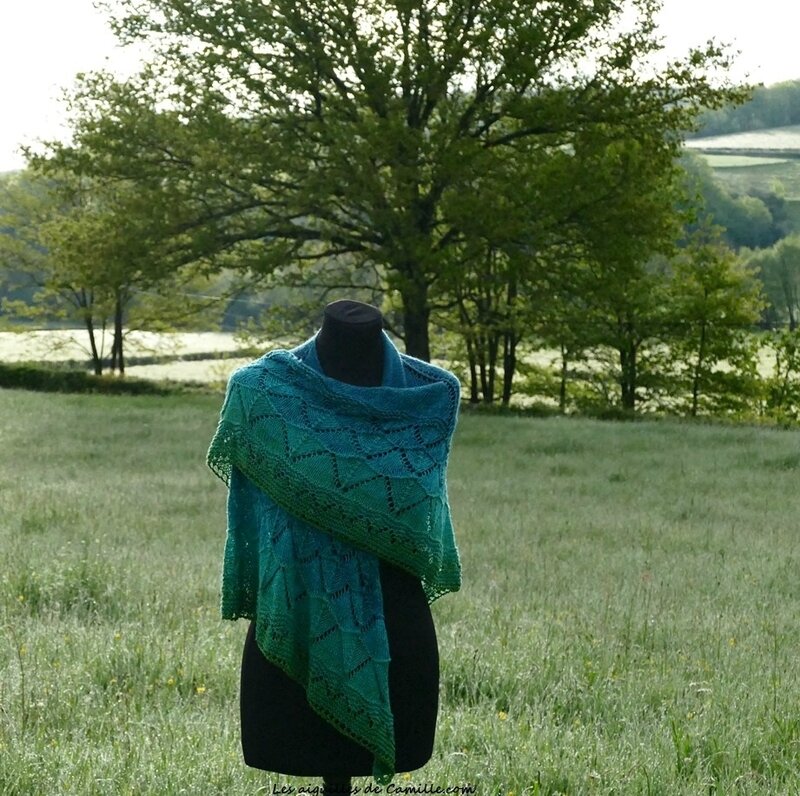 J'ai conservé sa forme, bien couvrante sur les épaules,
I retained its shape, well covered over the shoulders,
et une laine en dégradé...
and a gradient yarn...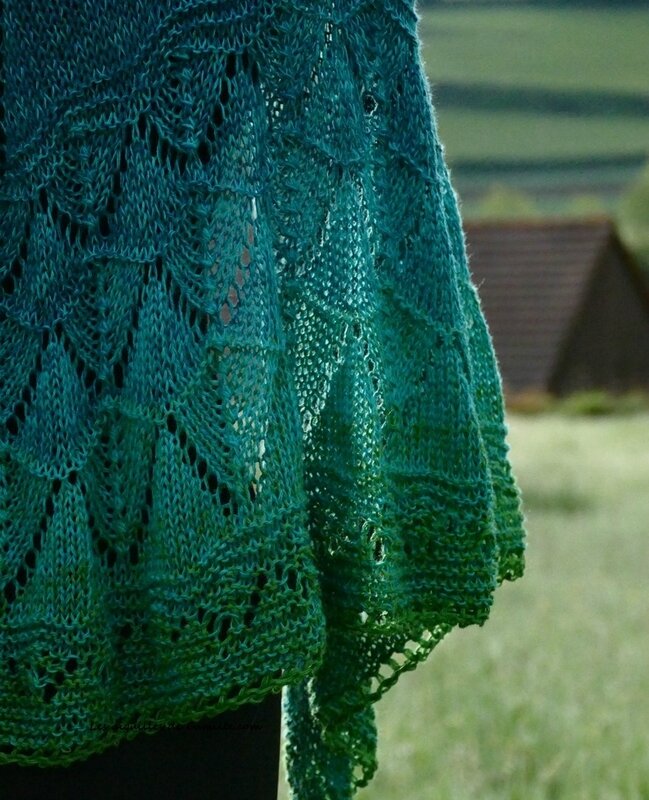 que dis-je une laine ...
what do I say a yarn ...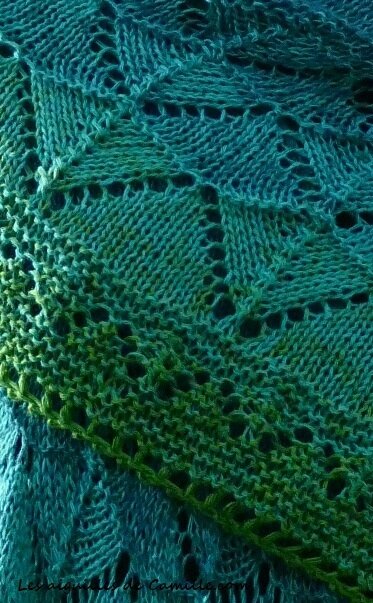 un coton mélangé...
a cotton blend ...
sinon adieu la "Summer Edition" , dans un coloris tout frais, aussi dopé à la chlorophyle que la nature !

Ce châle Sweety est tricoté en aiguilles 5mm
This Sweet shawl is knitted in 5mm needles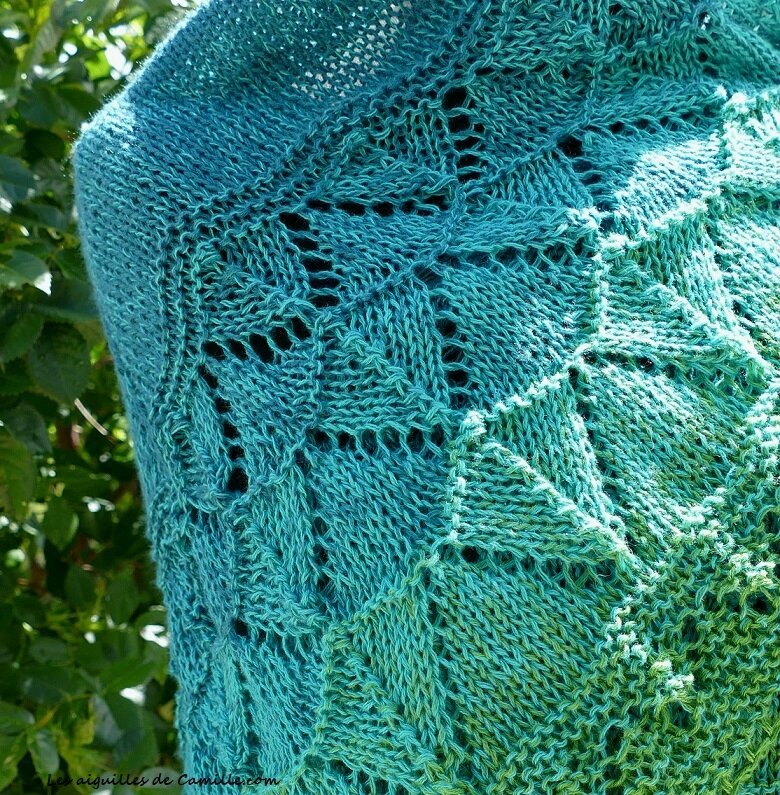 avec 1 seule pelote de Ravinala ( oui , elle est sans fin !!) de Plassard qui fait son entrée en boutique cet été.
with only 1 cake of Ravinala (yes, it is endless !!) of Plassard which makes its entry in shop this summer.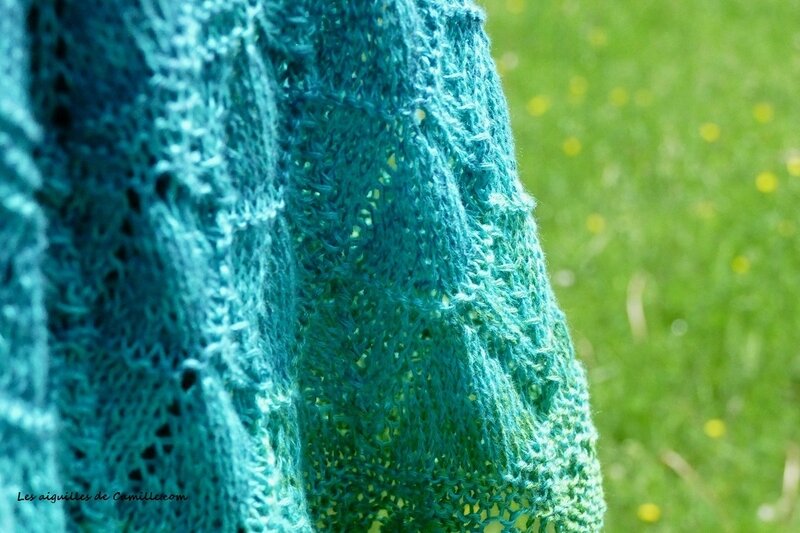 Et si vous ne l'avez pas reconnu , je vous invite à aller à la rencontre du modèle "Hiver" sur cette page!
And if you did not recognize it, I invite you to go to meet the model "Winter" on this page!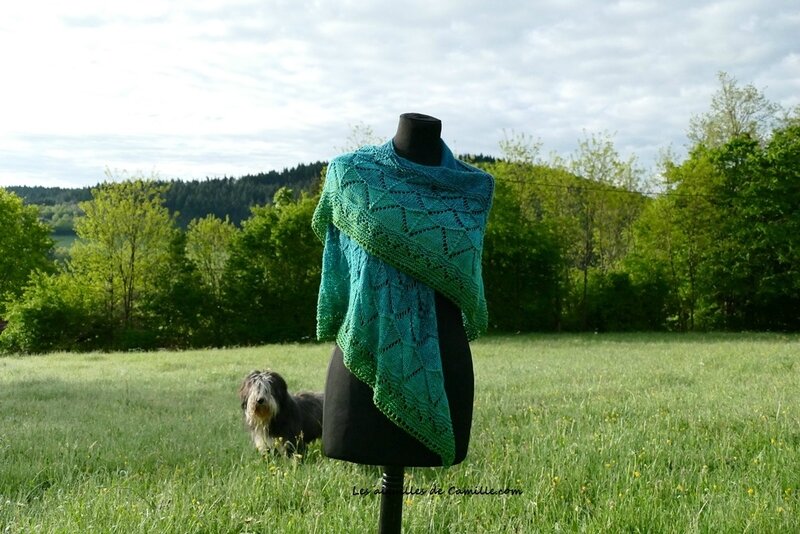 Et pour tricoter ce modèle, téléchargez le PDF ci dessous!
And to knit this model, download the PDF below!
En Français:Châle_Sweety_Summer_Edition_VF
In English: Sweet_Shawl_Summer_Edition_English_pattern
Bon tricot!!