vendredi 20 novembre 2020
Dernière journée pour ce KAL, le PDF est à télécharger en bas de post ...
Last day for this KAL, the PDF can be downloaded at the bottom of the post ...
Merci beaucoup à toutes celles qui m'ont envoyé des messages tout au long de ce petit ouvrage de confinement ;)
Thank you very much to all those who sent me messages throughout this little lock down work;)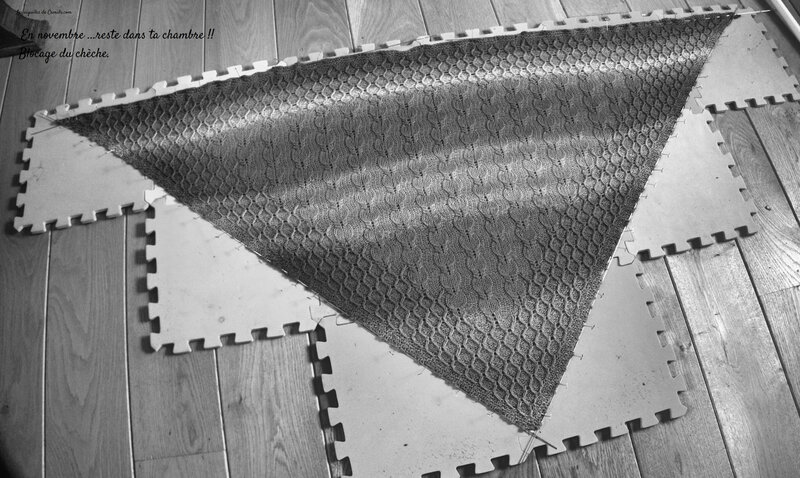 Voici les images du jour 20 ... dont le blocage du chèche .
Here are the images of day 20 ... including the blocking of the chèche.
SVP prenez le temps de lire ce qui suit ....
Please take the time to read the following ....
Pour rappel mes dimensions avant : 110/89cm et après : 170/85... donc j'ai gagné un peu !!!
As a reminder my dimensions before: 110 / 89cm and after: 170/85 ... so I won a little !!!
Pour votre blocage , ne cherchez pas à allonger l'ouvrage du tout , par contre insistez sur la largeur et n'oubliez pas que votre matière est "sculptable" ( même les synthétiques, les cotons etc...!!!).
For your blocking, do not try to lengthen the work at all, on the other hand insist on the width and do not forget that your material is "sculptable" (even synthetics, cottons etc ... !!!).
Laissez bien bien sécher , plus ça sèche longtemps , plus le chèche se fait à l'idée qu'il est un chèche et pas une écharpe !!
Let dry well, the longer it dries, the more the chèche gets used to the idea that it is a chèche and not a scarf !!
Prenez le temps de faire un joli triangle , vu le temps passer à tricoter ... un blocage minutieux servira vos efforts !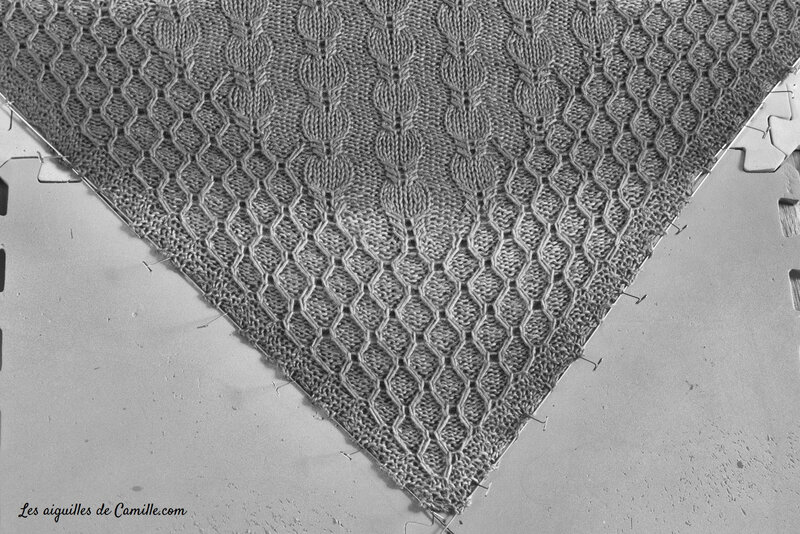 Take the time to make a nice triangle, given the time spent knitting ... a meticulous blocking will serve your efforts!
Mais c'est selon votre gout et votre fantaisie ... pompons, perles, breloques ... faites vous plaisir !
Si vous avez des questions ... c'est ouvert !
But it's according to your taste and your fancy ... pompoms, pearls, charms ... Do what you want!
There you go, if you have any questions ... it's open!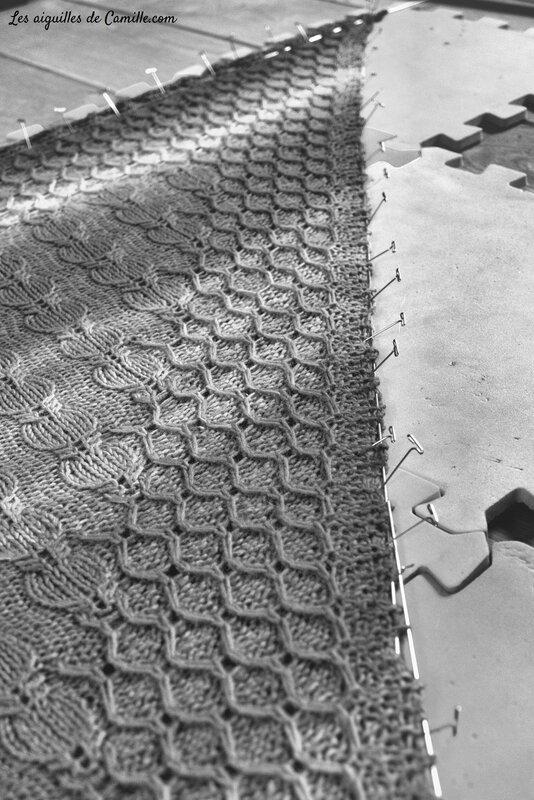 PDF en Français:En_novembre_reste_dans_ta_chambre_VF_jour_20_
PDF in English : En_novembre_reste_dans_ta_chambre_English_version_day_20
jeudi 19 novembre 2020
Demain , fin du KAL!!
Tomorrow, end of KAL !!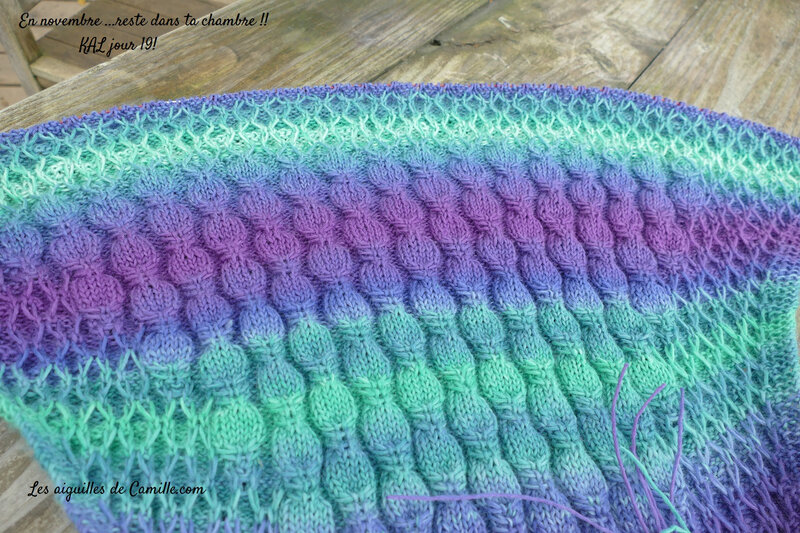 Le mien est terminé , il faisait 110cm de large et 89 cm de hauteur avant son blocage , et après ... 170 cm de large et 85 de haut !! bref , tant que rien n'est bloqué : il ne faut pas présumer du résultat ! Je vous mettrai des images du blocage demain pour vous donner une idée de la forme à rechercher durant cette opération !
Mine is finished, it was 110cm wide and 89cm high before it was blocked, and after ... 170cm wide and 85 high !! in short, as long as nothing is blocked: do not assume the result! I will put you pictures of the blockage tomorrow to give you an idea of the shape to look for during this operation!
D'ici là , voici les 10 rangs du jour !
Until then, here are the 10 rows of the day!
Amusez vous bien et à demain !
Have fun and see you tomorrow!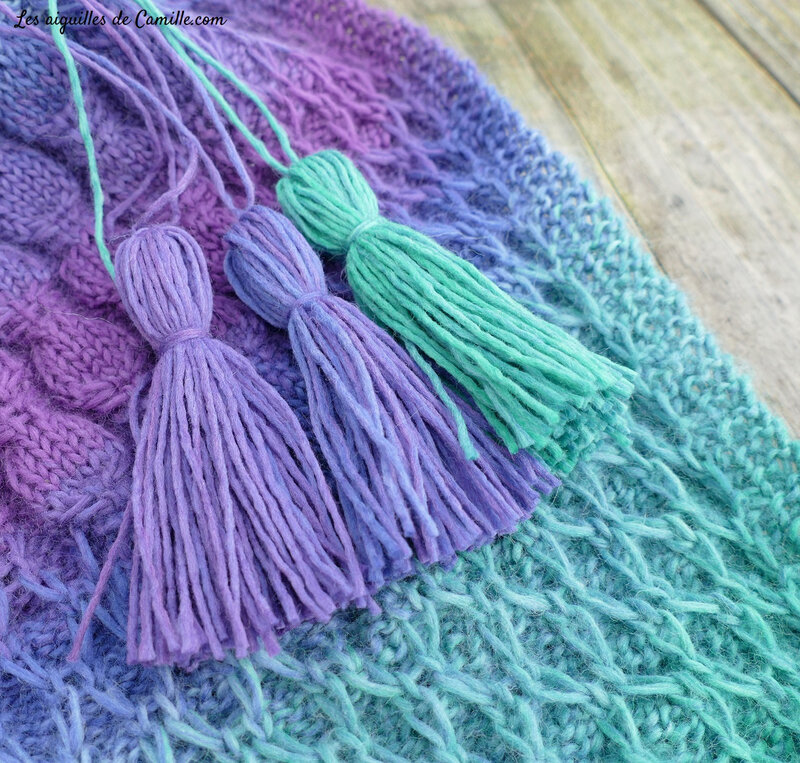 PDF en français :En_novembre_reste_dans_ta_chambre_VF_jour_19_
PDF in English : En_novembre_reste_dans_ta_chambre_English_version_day_19_
mardi 17 novembre 2020
Bonjour!!
Hi!!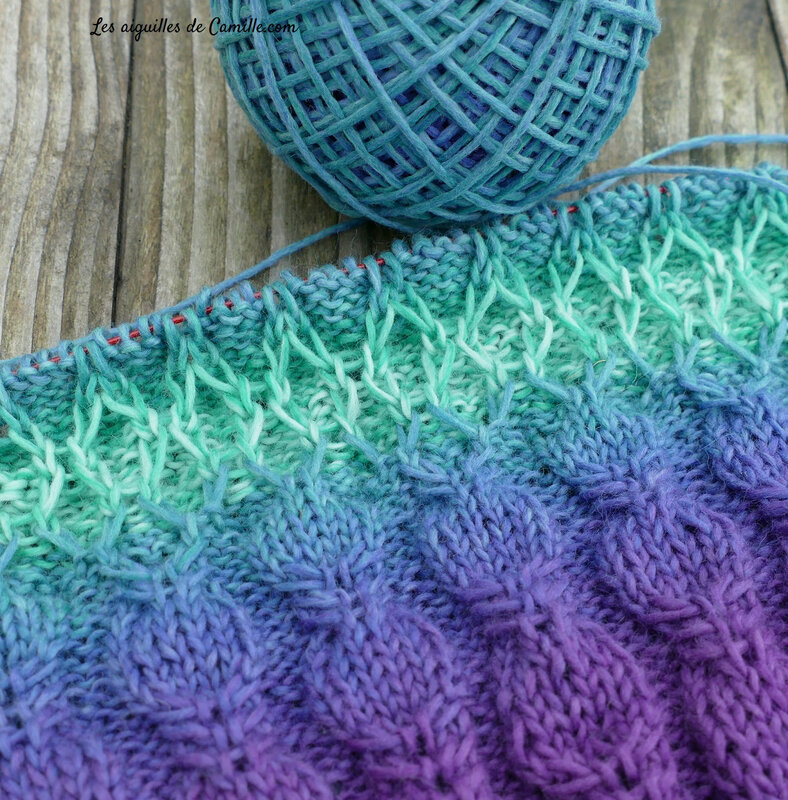 Voici le patron du jour 18 .. et une bonne nouvelle : dans deux jours nous serons au bout !!
Here is the PDF for day 18 and a good news : we will have juste 2 more days left !!
Mais avant ça demain une petite pause , je vous retrouverai donc jeudi pour le jour 19 .
Before that , tomorrow we have a break and I find you back on thursday !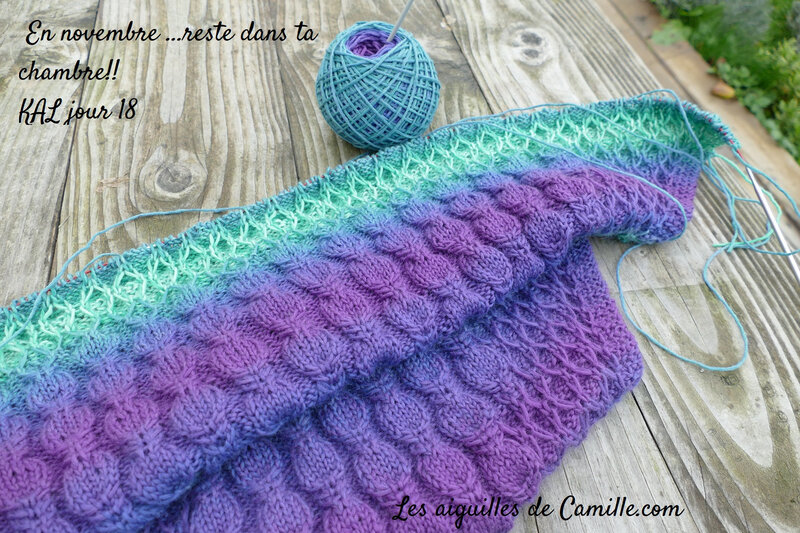 Bon tricot !!
Happy knitting !
PDF en Français :En_novembre_reste_dans_ta_chambre_VF_jour_18_
PDF in English : En_novembre_reste_dans_ta_chambre_English_version_day_18
lundi 16 novembre 2020
Bonjour,
Hi!!
Tout d'abord, quelques détails techniques :
First, some technical details:
Pour celles et ceux qui s'interrogent au jour 16, mon chèche fait 87 cm de large et 69cm de haut ( sans rien étirer!!) , et il va grandir grâce à un bon blocage final.
For those who are wondering on day 16, my chèche is 87 cm wide and 69cm high (without stretching anything !!), and it will grow thanks to a good final blocking.
Petite précision : si vous voulez l'agrandir , reprendre les rangs 203 à 220 ( et pas 202 comme dit dans le post d'hier !! ) , respectez le déroulé des rangs pour les parties extérieures ( avant et après les marqueurs de mailles, et pour la partie entre les marqueurs , les multiplicateurs des motifs entre parenthèses ne seront plus exacts.
Small precision: if you want to enlarge it, take rows 203 to 220 (and not 202 as said in yesterday's post !!), respect the course of the rows for the outer parts (before and after the stitch markers, and for the part between the markers, the multipliers of the patterns in parentheses will no longer be exact.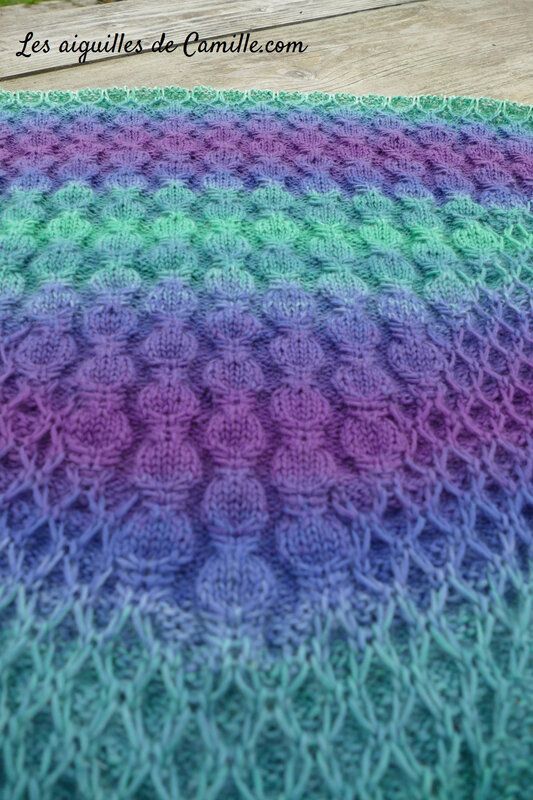 Nous voilà à la bordure !! Envoyez donc valser les marqueurs et on s'attaque au final . Si vous souhaitez fixer des glands aux 3 éxtrêmités du chèche , pensez à ponctionner de la laine sur vos pelotes et à les faires avant la fin , ça sera plus pratique pour estimer ce qu'il vous restera de laine à tricoter .
Here we are at the edge !! So put away the markers and let's knit the final. If you want to attach tassels to the 3 ends of the scarf, remember to puncture enough on your balls and do them before the end, it will be more practical to estimate how much yarn you will have left to knit.
Amusez vous bien et à demain !!
Have fun and see you tomorrow !!
PDF jour 17 en français : En_novembre_reste_dans_ta_chambre_VF_jour_17_
PDF day 17 in English: En_novembre_reste_dans_ta_chambre_English_version_day_17
dimanche 15 novembre 2020
Bonjour !
Jour 16 et dernier jour pour le corps du chèche , demain nous commencerons la bordure finale ...
Day 16 and last day for the body of the chèche, tomorrow we will start the final edge ...
Pour celles et ceux qui le souhaitent , il est possible d'agrandir ce chèche en reprenant à partir du rang 202 jusqu'au 220 inclus plusieurs fois , dans ce cas , vous penserez à bien décaler vos marqueurs et à ne pas tenir compte des multiplicateurs qui suivent les parenthèses car ilsne seront plus justes.
For those who wish, it is possible to enlarge this chèche by resuming from row 202 up to and including 220 several times, in this case, you will remember to shift your markers well and ignore the multipliers that follow the parentheses because they will no longer be correct.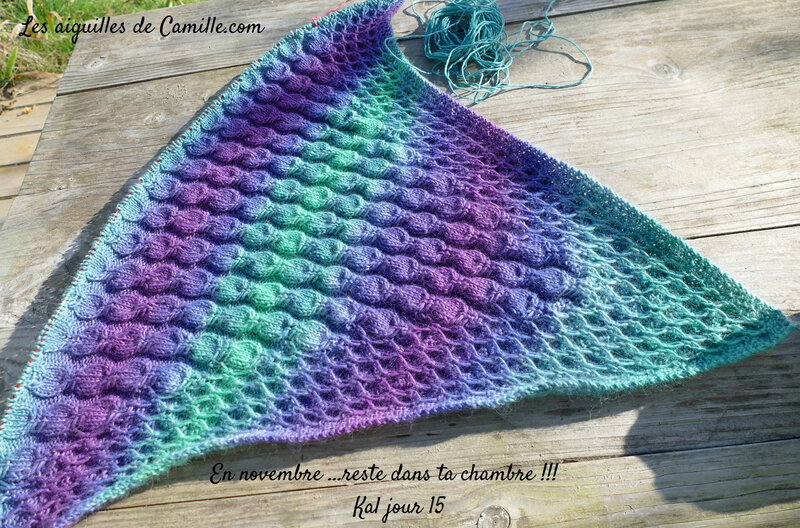 Si vous avez une laine dégradée comme la mienne et si vous souhaitez ajouter des glands sur les pointes, pensez à prélever suffisament de laine de la bonne nuance pour que les glands soient assortis à votre ouvrage .
If you have a gradient yarn like mine and if you want to add tassels on the tips, remember to take enough yarn of the right shade so that the tassels match your work.
Bon tricot et à demain !!
Enjoy knitting and see you tomorrow!!
PDF jour 16 en français:En_novembre_reste_dans_ta_chambre_VF_jour_16
PDF day 16 in English :En_novembre_reste_dans_ta_chambre_English_version_day_16_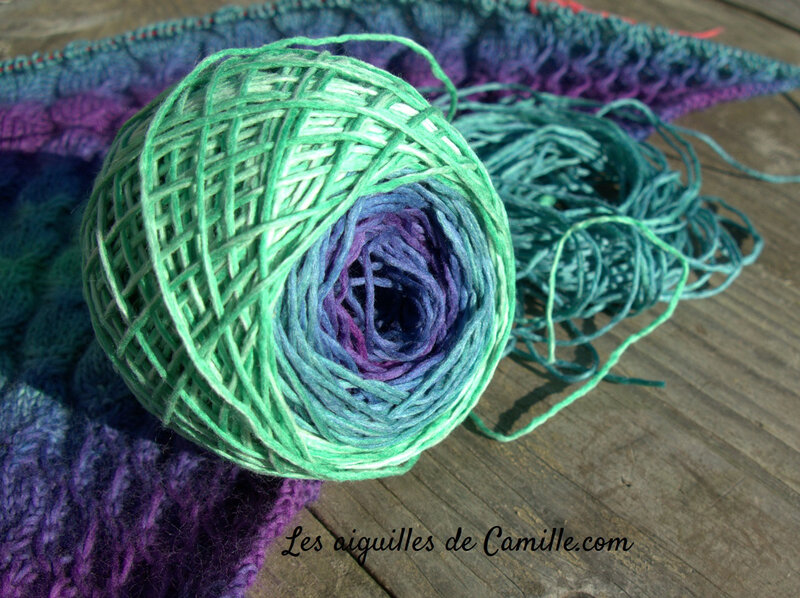 samedi 14 novembre 2020
Bonsoir !!
Le KAL progresse , je vais bientôt arriver à la fin de ma seconde pelote ( au fait c'est cette laine clic!!) et je me penche sérieusement sur la bordure finale...
Good evening !!
The KAL is progressing, I will soon arrive at the end of my second ball (by the way it's this click yarn !!) and I am seriously looking at the final edge ...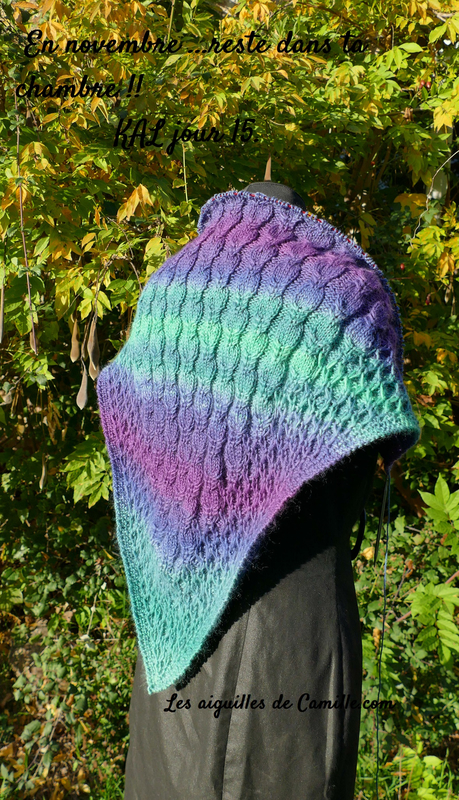 Je vous livre le jour 15 , et je vous souhaite un bon weekend avec du tricot !!
I give you day 15, and I wish you a good weekend with knitting !!
A demain !
See you tomorrow!!
PDF jour 15 en Français: En_novembre_reste_dans_ta_chambre_VF_jour_15
PDF day 15 in English: En_novembre_reste_dans_ta_chambre_English_version_day_15