lundi 16 janvier 2017
Toute politesse bien ordonnée commençant par soi même... voilà ce que j'ai mis sur mes aiguilles pour commencer cette nouvelle année:
All well-ordered politeness starting with oneself ... that's what I put on my needles to start this new year:
Tricoté en demi cercle ( modèle dans ma tête ... ), en gros un montage classique de 3 mailles et six rangs de mousse , puis on tourne pour obtenir 9 mailles ... puis des rangs où je n'ai fait des augmentations qu'en début et fin de rang et d'autres où j'ai fait une augmentation toutes les 2 ou 3 mailles pour obtenir la forme d'un demi cercle.
Knitted in half circle (model in my head ...), basically a classic cast on of 3 stitches and six rows of garter stitch, then we turn to have 9 stitches ... then rows where I have made increases only at the beginning and end of row and others where I made an increase every 2 or 3 stitches to get the shape of a half circle.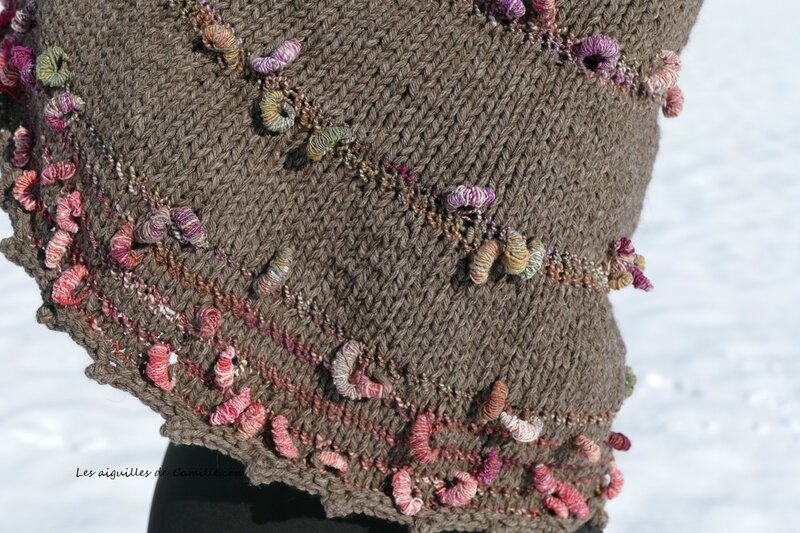 Pour les alternances de laine, j'ai tricoté la majeure partie de l'ouvrage en jersey endroit avec la laine brune , et mis 2 rang de fil distinct de temps en temps, et finition avec un point de picot.
For yarn alternations, I knit most of the work in stockinette j with brown yarn , and put 2 rows of thread separately from time to time, and finish with a pin stitch.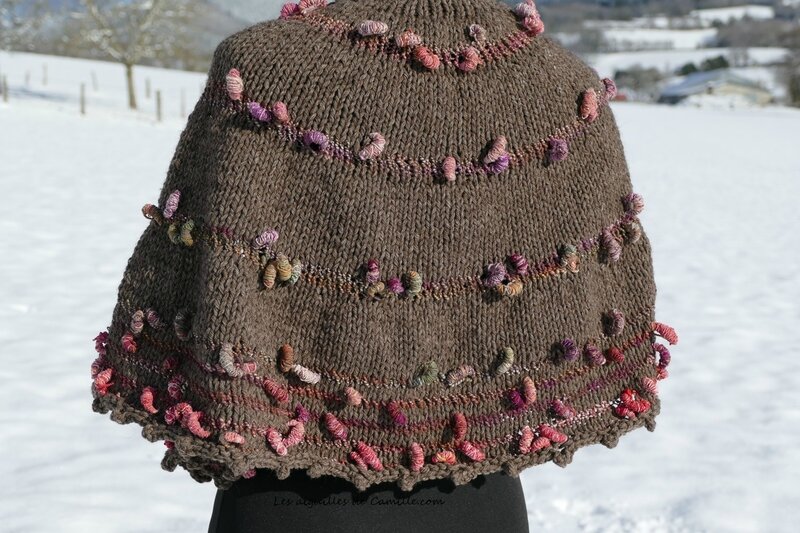 Venons en au choix de laine: la laine unie ( enfin légèrement chinée en fait!), c'est un mélange mérinos et yack assez dodu ( tricoté en 7mm!) que j'ai trouvé sur un marché de Noël ( oui j'achète encore de laine ... incurable!!), et pour la laine avec les tortillons, c'est un cadeau de Séverine ( pour qui j'ai tricoté ça) et Fred ( à qui j'avais fait ça). C'est un mélange mérinos et yack filé main par Christine Devost, un morceau de paradis .... Je les remercie encore de ce merveilleux cadeau!
Let's come to the choice of yarn: the plain one (finally slightly chiné in fact!), It is a mixture merino and yack fairly plump (knitted in 7mm!) That I found on a Christmas market (I still buy yarns ... incurable !!), and for the wool with the twists, it is a gift from Séverine (for whom I knitted that) and Fred (to whom I had done that). It is a merino blend and yack spun hand by Christine Devost, a piece of paradise .... I thank them one more time, for this wonderfull gift!
Me voilà bien au chaud!
I am delighted to be warm now!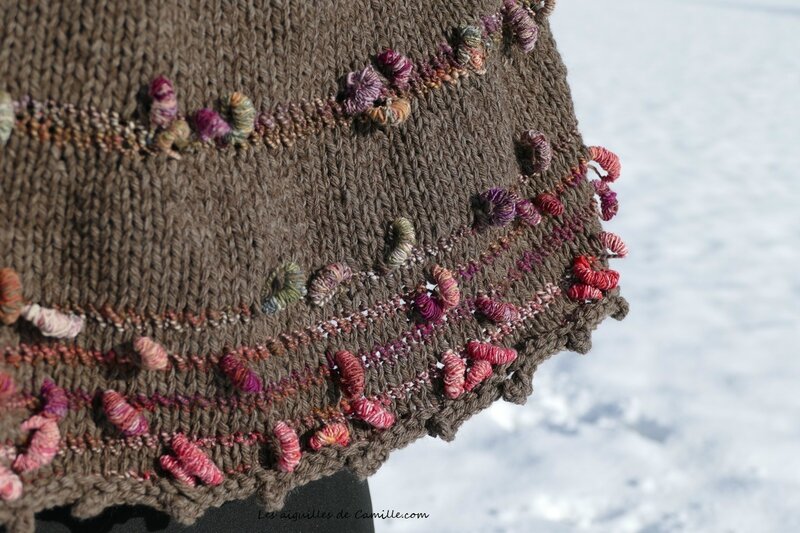 Parce que tout a une fin ... il fallait bien que j'arrive au bout de celui là, histoire de clore 2016 et de partir sur du neuf, mais j'aurai trouvé dommage de ne pas vous le montrer!
Because everything has an end ... it was necessary that I arrive at the end of that there, closing 2016 and start on new, but I found it shame not to show it to you!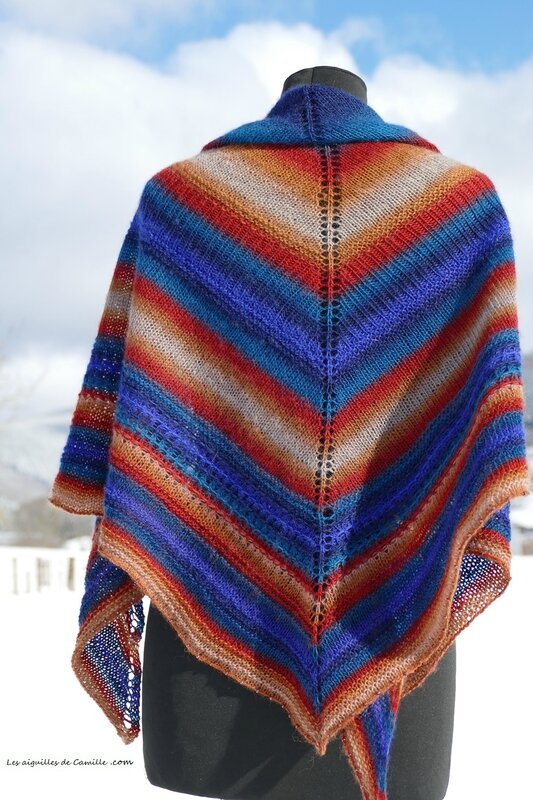 Pour ce petit dernier, aiguilles 4mm, 2 pelotes de Kunstgarn coloris 28 ( un des dernier né chez les Danois)...
For this last shawl "Facile", needles 4mm and 2 balls of Kunstgarn , color 28 ( on of the 4 last colors from this danish house)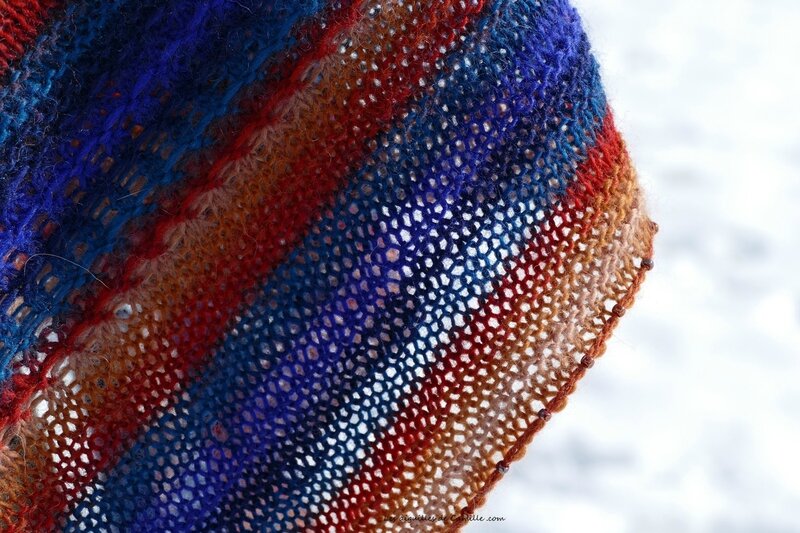 Bon, vu que je ne suis pas une inconditionnelle des séries, chaque châle facile a sa petite touche de finition perso.... celui ci a des perles cuivre sur une bordure de rabattage tout à fait classique.
So, I am not an unconditional of the series, each shawl has its small touch of finishing personal .... this one has copper beads on a border of very classical bind off.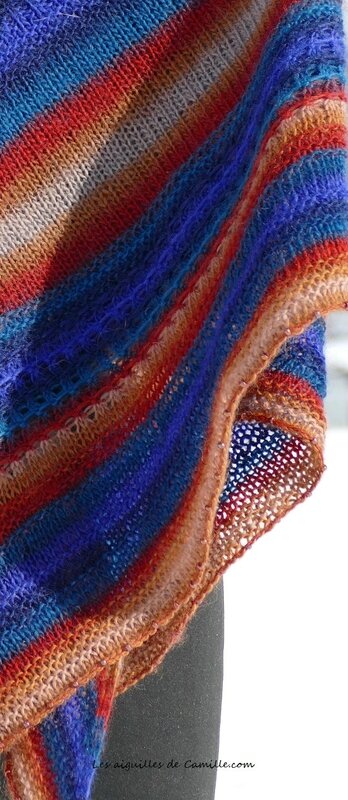 Mais à la place de la partie 4 en jersey endroit, un petit point de Gondron pour changer un peu.
But instead of the stocking stitch of the fourth part , I made a "Gondron " stitch ( sorry , I don't know how to translate that , maybe someone could help me: it's few rows of stocking stitch and few rows of garter stitch, and you change the stitch as long as you need).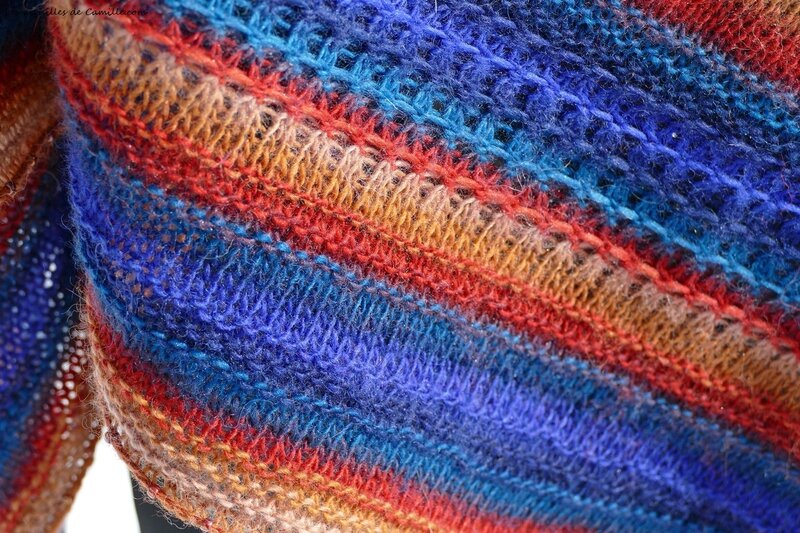 Il faut dire que j'ai agrandi toutes les sections , ne me demandez pas de combien, je n'en ai aucune idée, alors les derniers rangs étaient un peu longuets!!
I must say that I have enlarged all the sections, do not ask me how many, I have no idea, so the last rows were a little long !!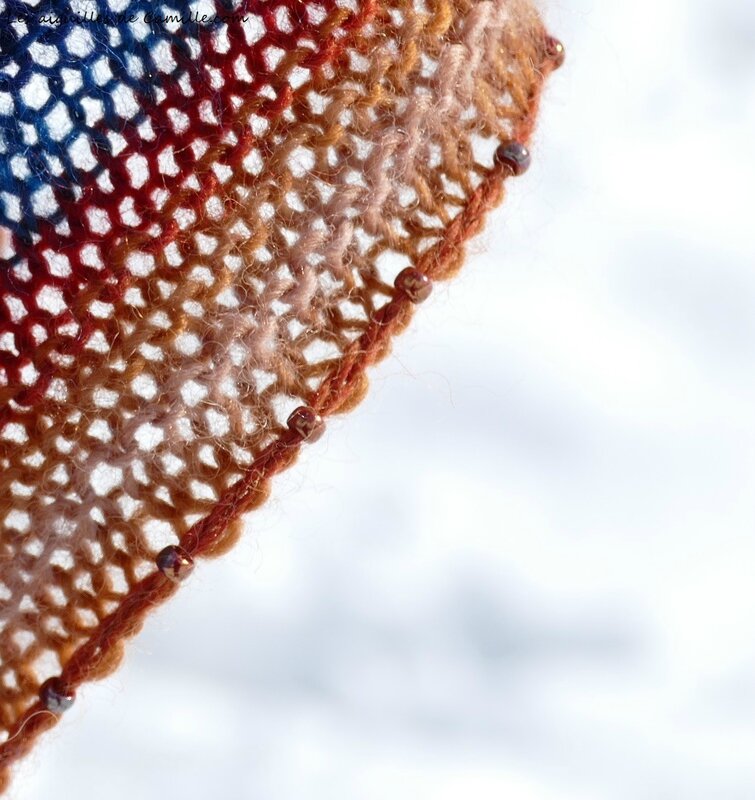 J'aime bien cette version, même si je trouve que la laine se suffit tellement à elle même qu'un point unique sur tout un tricot lui suffit... ce que j'avais fait sur ce modèle ( clic ici!)
I like this version, although I find that the yarn is so sufficient to itself that a single point on a whole knit is enough for it ... what I had done on this model (click here!)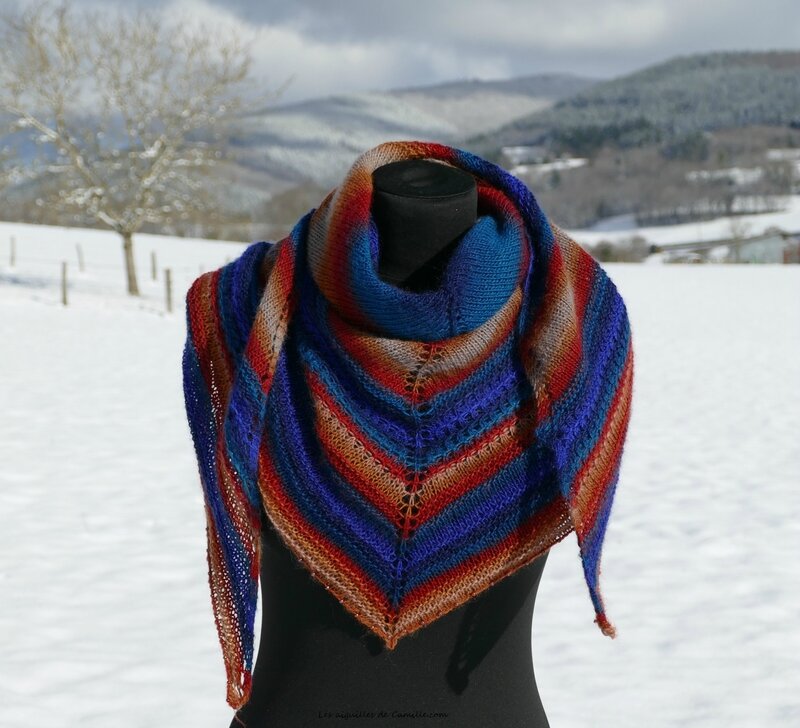 Si vous souhaitez retrouver le modèle "Châle Facile", suivez ce lien.
If you want to knit this shawl "Facile", follow this link to download the PDF pattern.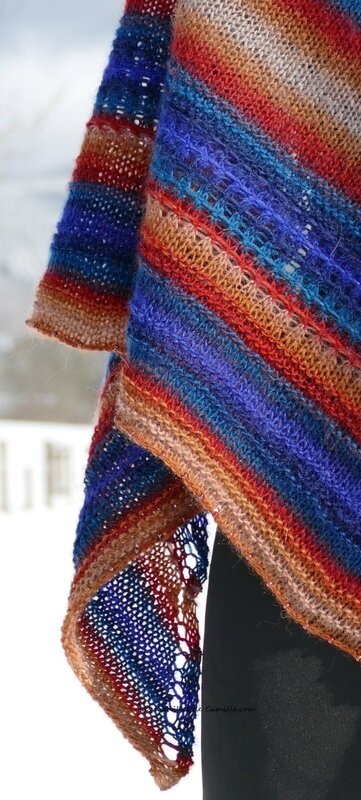 mercredi 21 décembre 2016
Un irruption de point riz ... oui ça me reprend et c'est le top , au moins à faire ( à regarder , je vous laisser savoir quoi en penser!!) !!
A burst of moss stitch... Yes I did it again and it's the top, at least to do (to watch, I let you know what to think!)!
Un col Swallowfield pour aller avec ça:
A Swallowfield collar to go with that: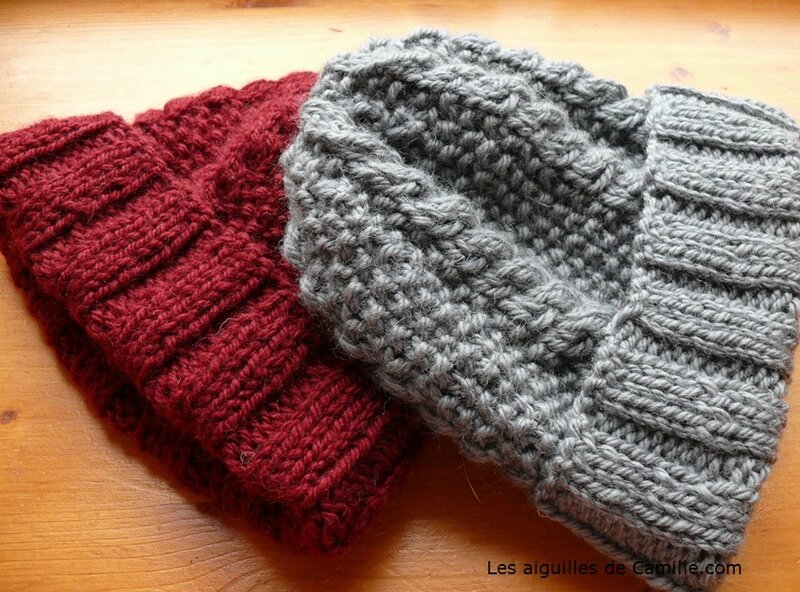 ou ça:
or that: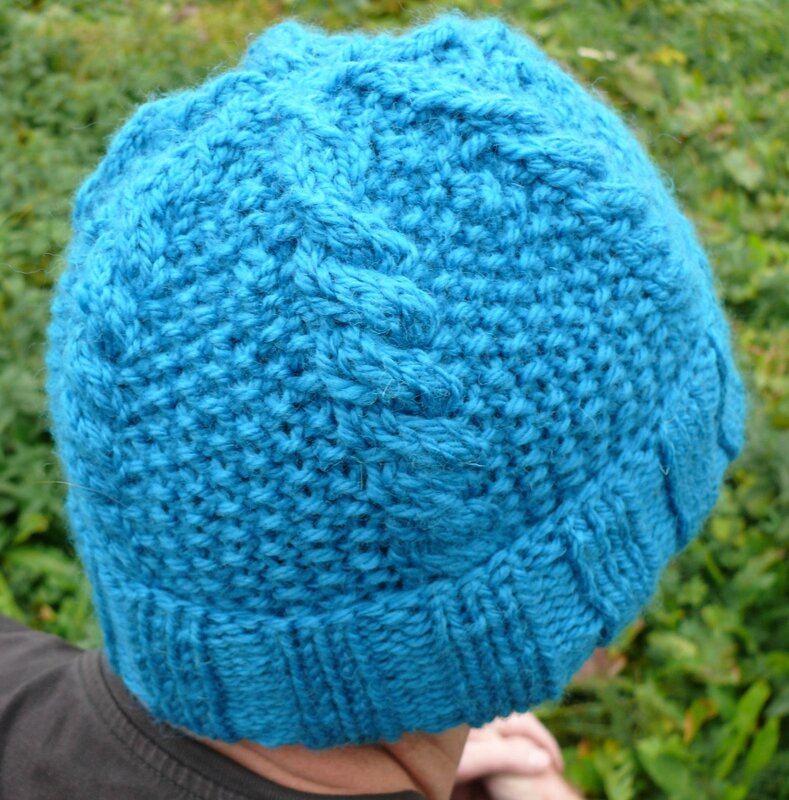 et là c'est ça:
it's this: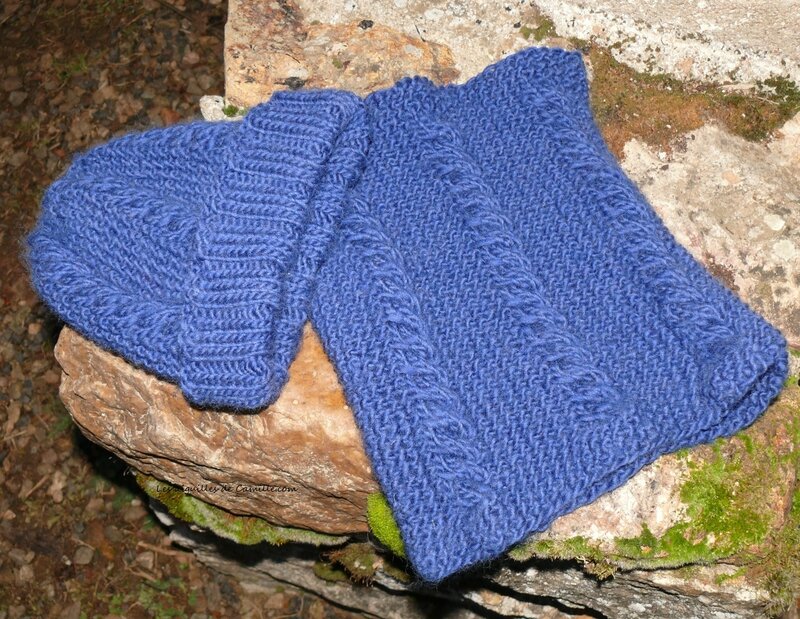 Un col style "col roulé" , qui se porte plutôt plié en deux, bien chaud et bien douillet en point de riz avec une torsade cordée sur 6 mailles , rien de très compliqué , mais j'aime bien l'éffet!
A collar style "turtle neck", which is rather folded in two, warm and snug in moss stitch with a cable over 6 sts, nothing very complicated, but I like the effect! "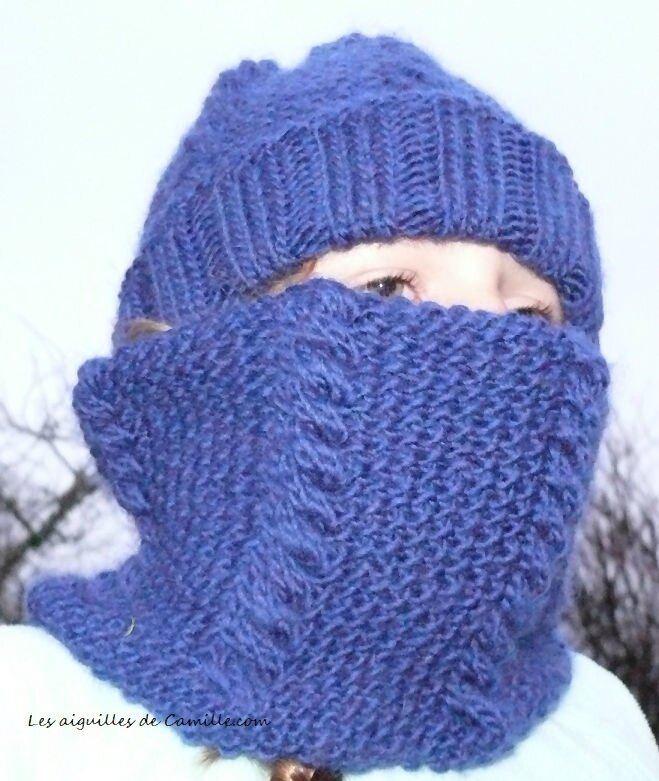 La taille du col est modifiable autant en hauteur qu'en largeur , selon vos gouts, et selon le destinataire du col unisexe.
The size of the collar is editable as much in height as in width, depending on your tastes. It is a unisex model.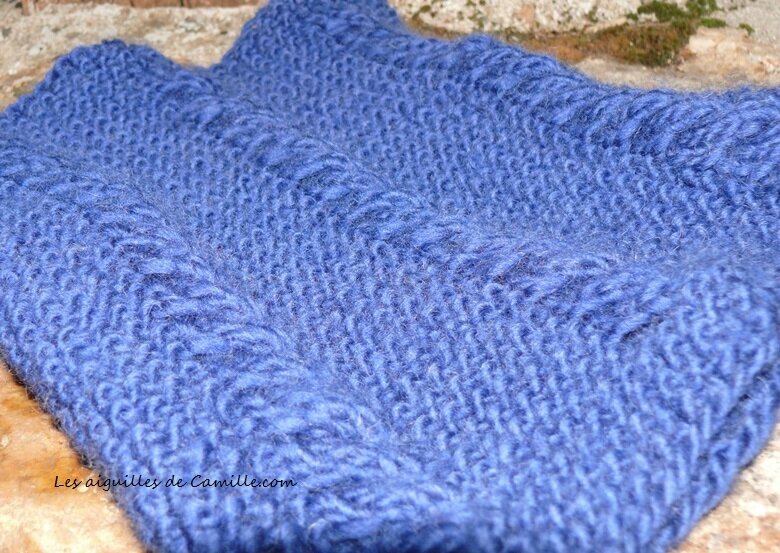 Tricoté avec 2 pelotes de laine Odin Viking of Norway.
Knit with 2 balls of Odin, Viking of Norway.
Le tuto est à télécharger ici en français:col_swallowfield_vf
The English pattern is to download there:cowl_swallowfield_English_Pattern
Pour le bonnet coordonné, voir cette page, et pour l'écharpe qui correspond à l'ensemble , suivez ce lien.
For the coordinated beanie, see this page, and for the scarf that matches the whole, follow this link.
lundi 5 décembre 2016
Vous vous souvenez peut-être de ceci ( pour l'article cliquez là)....
You may remember this (for article click here) ....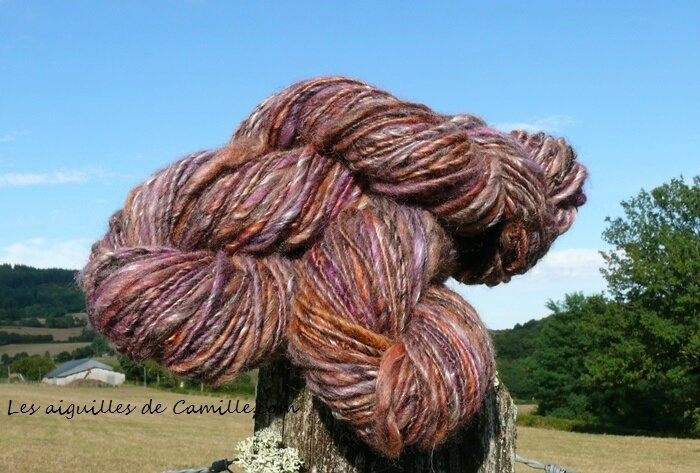 Et bien je suis passée au tricotage ...
Well I switched to knitting...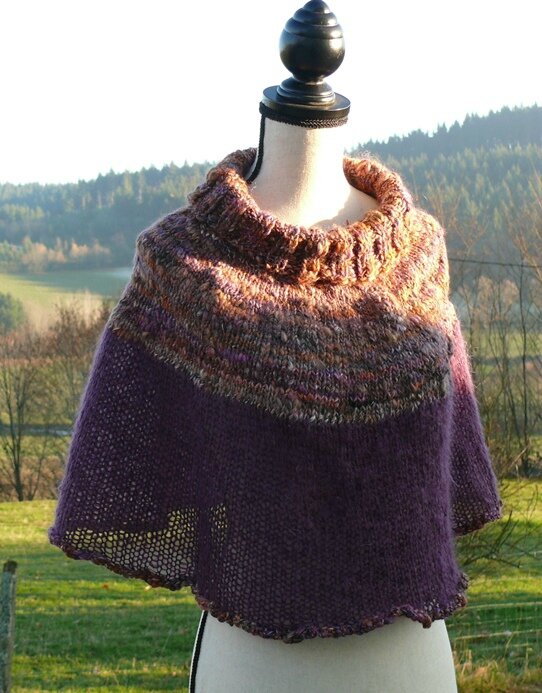 Pour un chauffe épaule en deux textures , tout simple pour mettre en valeur ma laine filéee.
For a shoulder heater in two textures, very simple to emphasize my handspun yarn.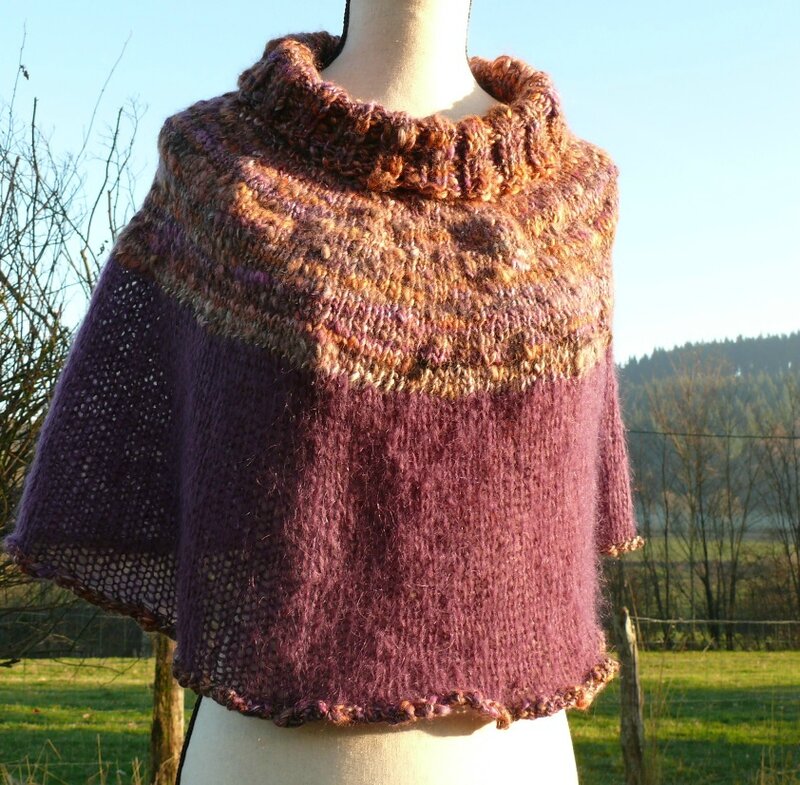 Pour la recette, des aiguilles circulaires 8mm, un col en côtes 2/2, puis beaucoup d'augmentations dans une partie en jersey. J'ai poursuivi de même avec une pelote de Soprane prune tricotée en double pour finir par un rabattage bidouillé avec la laine du début pour faire un rappel.
For the recipe, circular needles 8mm, a collar in 2/2 ribs, then many increases in stocking stitch. I continued the same with a ball of Soprane Prune knitted in double to finish with a fancy bind off with the yarn of the beginning to make a reminder.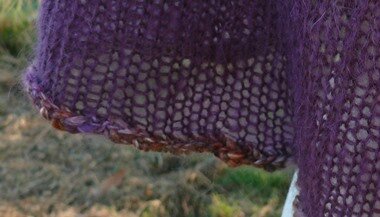 La texture irrégulière me plait bien , et elle est contrebalancée par la légèreté du fil uni.
The irregular texture pleases me well, and it is counterbalanced by the lightness of the solid color thread.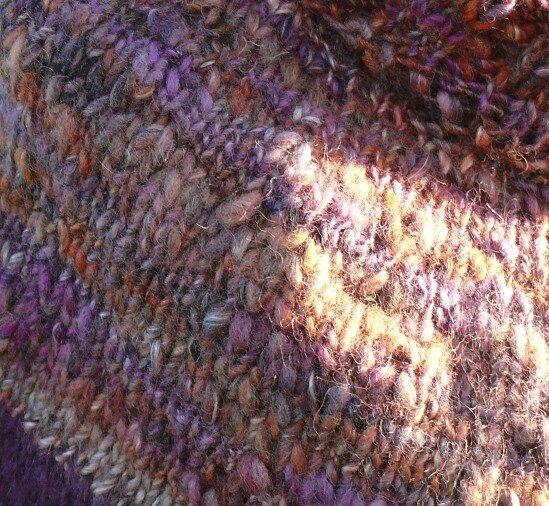 Une idée pour les tricoteuses de fils maison ou très fantaisie... bon tricot!
An idea for knitters of homemade yarn or very fancy ... good knitting!
dimanche 27 novembre 2016
C'est un très beau projet qui m'a été confié il y a quelques temps, faire un poncho suivant un modèle existant, issu du commerce et tellement porté qu'il est vraiment très fatigué.... défi relevé, et je vous propose le résultat:
It is a very beautiful project that was entrusted to me some time ago, to make a poncho according to an existing model, coming from the trade and so worn that it is really very tired ... challenge raised, and I propose the result to you now:
Avec une photo au soleil et une photo à l'ombre ...
With a photo in the sun and a photo in the shade ...
Ce poncho a des manches, mais elles restent en partie ouverte le long du corp, donc on peut mettre des vêtements chauds dessous sans être engoncé.
This poncho has sleeves, but they remain partly open along the body, so we can put warm clothes underneath without being engulfed.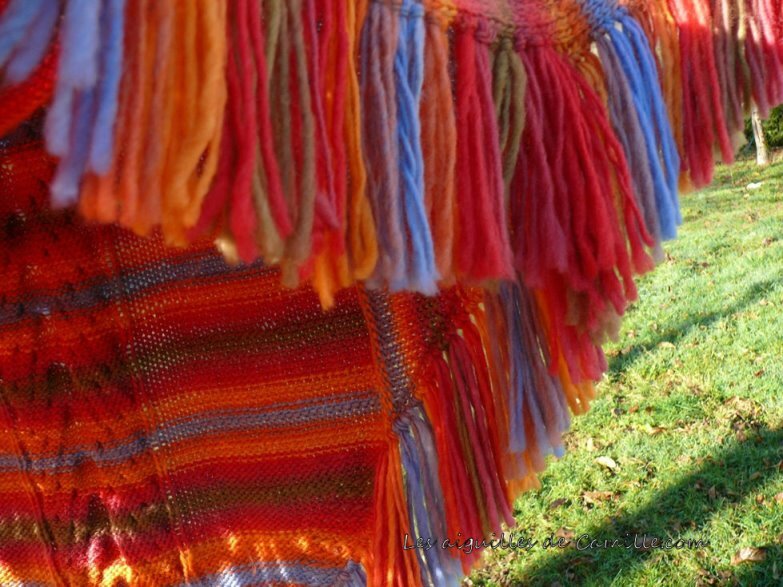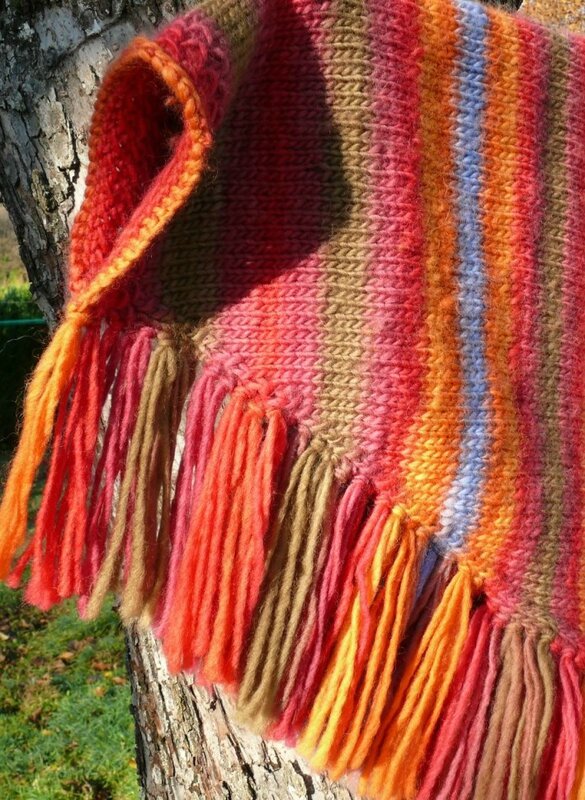 Egalement un col roulé très haut et confortable
Also a very high and comfortable turtleneck
Avec des côtes 3/3 ( que vous pouvez modifier si vous en avez envie), pour qu'il soit assez élastique mais pas trop.
With ribs 3/3 (which you can modify if you want), so that it is elastic enough but not too much.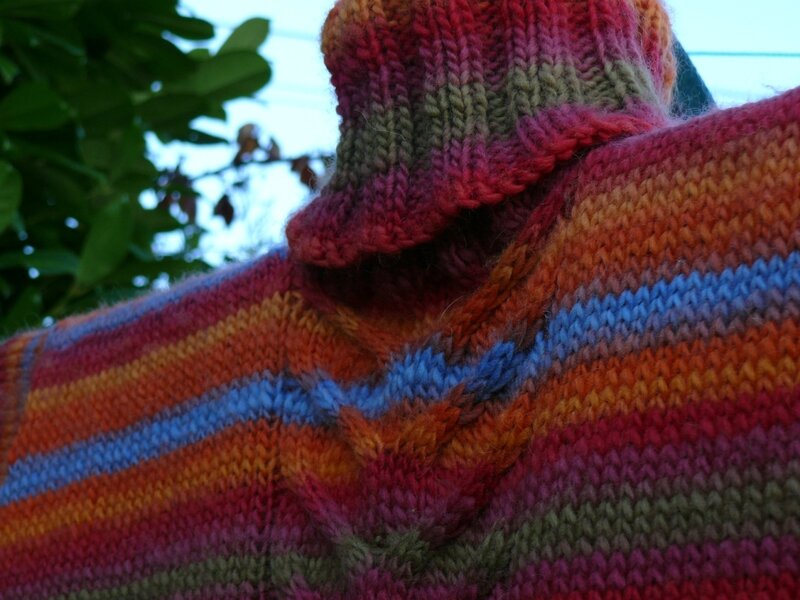 Pour la torsade centrale, rien de très compliqué, elle se fait avec des mailles endroit sur 6 mailles ( tuto pour faire une torsade en image ici).
For the central torsade, nothing very complicated, it is done with knit stitches over 6 st. (tuto to make a twist in picture here).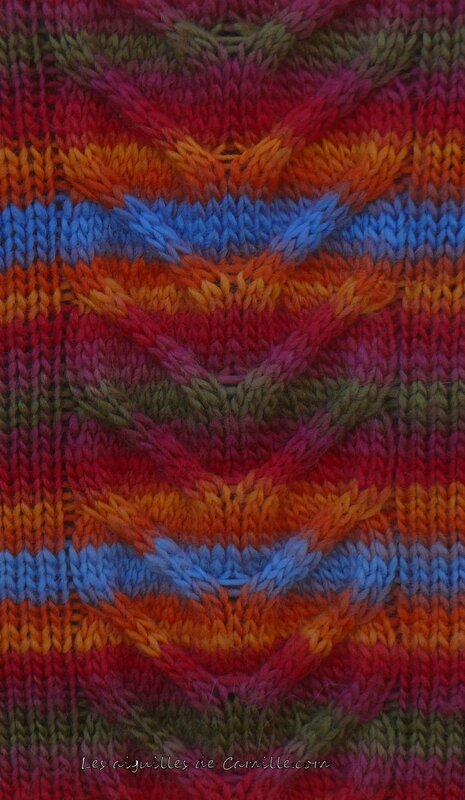 Pour ce modèle, pas de couture , les épaules sont rabattues à 3 aiguilles ( tuto là)
For this pattern, no need to sew, the shoulders are binded off with 3 needles ( have a look there)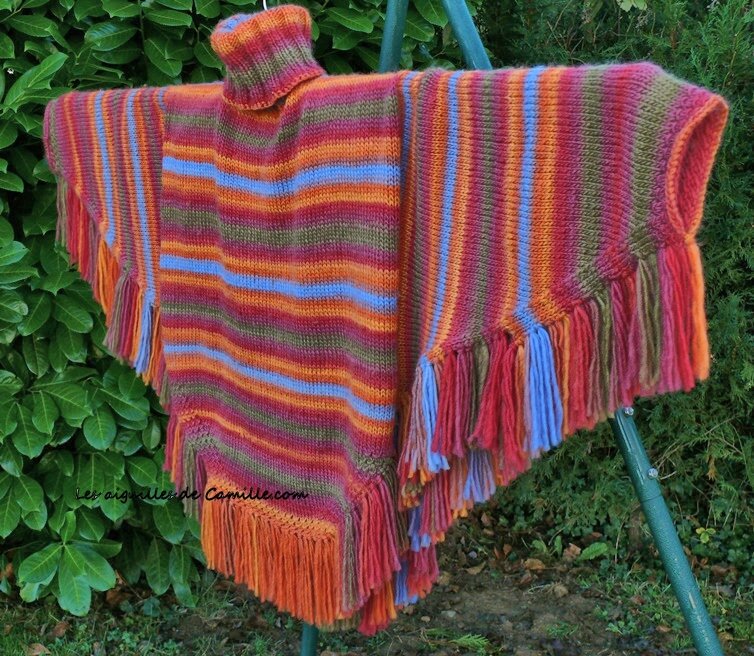 Le dos est tricoté majoritairement en jersey endroit, et pour celle qui n'ont pas envie de se lancer dans une torsade, elles peuvent faire le devant de la même façon.
The back is knitted mostly in stocking stitch, and for those who do not want to embark on a twist, they can make the front in the same way.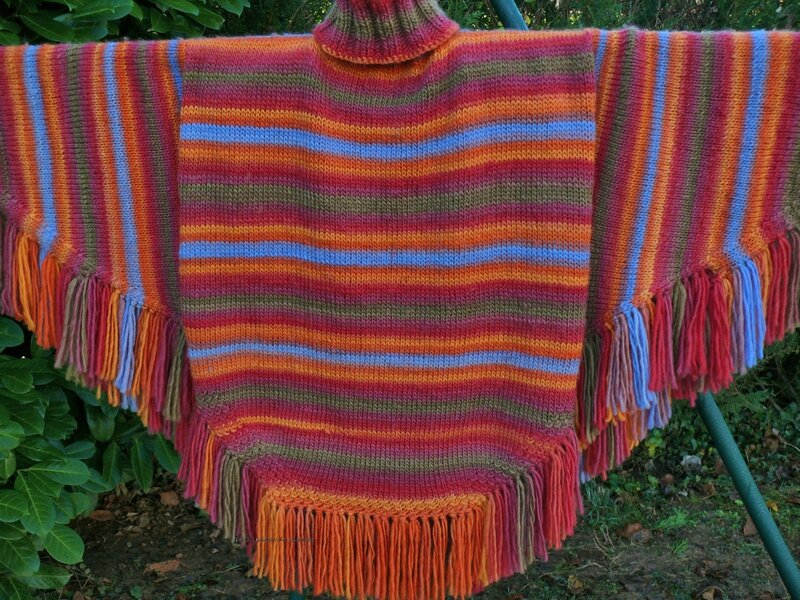 Pour les franges, une petite plaque de carton et bonne paire de ciseaux suffisent , pour les insérer, prendre un crochet taille 5 ou 6 selon ce que vous avez sous la main. Le modèle sans les franges, donne ça:
For the fringes, a small sheet of cardboard and a good pair of scissors are enough, to insert them, take a hook size 5 or 6 according to what you have at hand. The model without the fringes, gives that: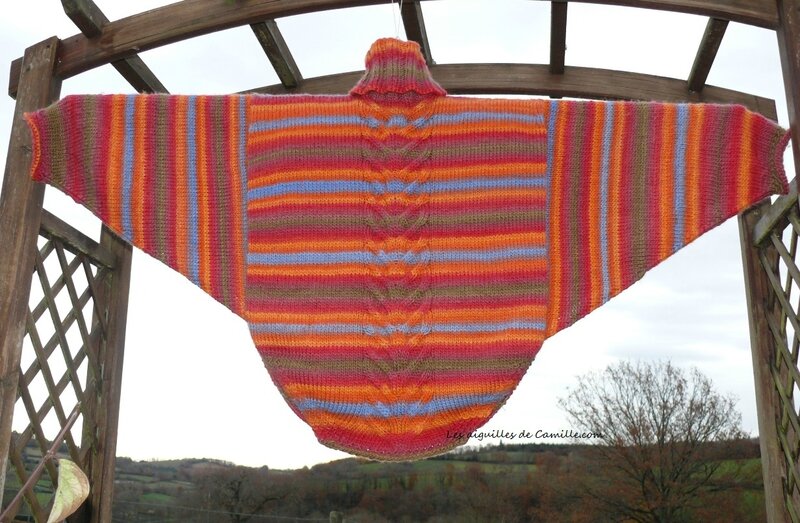 La seule chose à laquelle il faut faire attention avec ce type de laine, ( Odin, 10 pelotes), c'est à aligner les franges avec la couleur du tricot.
The only thing to be careful with this type of wool, (Odin, 10 balls), is to align the fringes with the color of the knitting.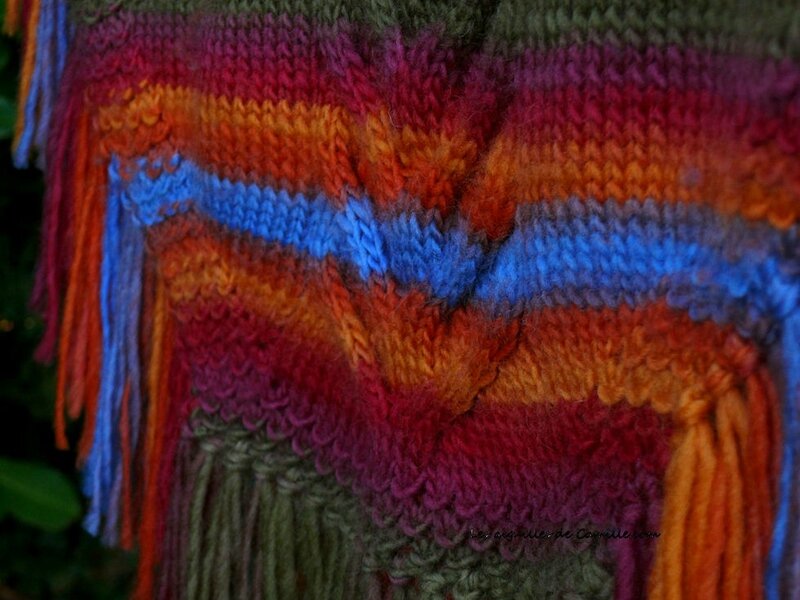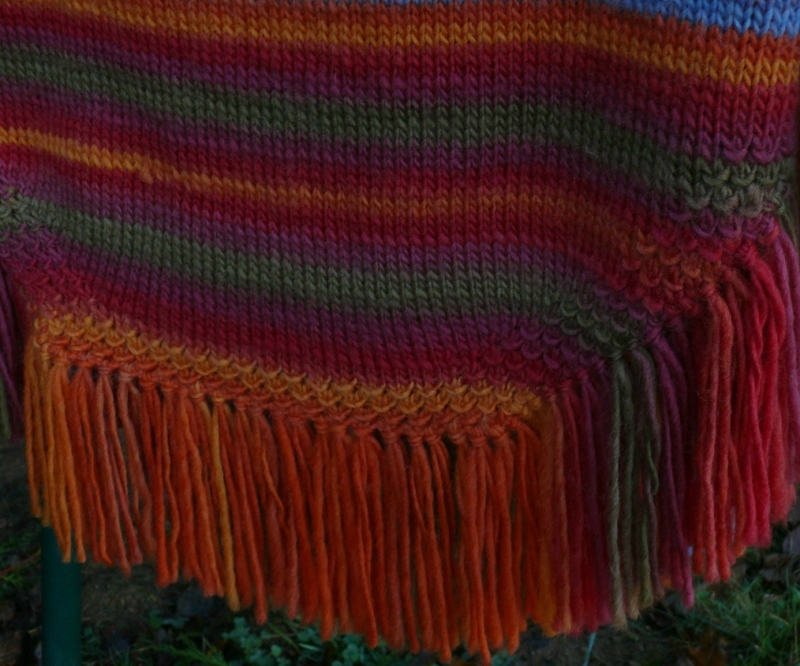 A vos aiguilles!!
Let's go!!
Tuto à télécharger en français: Poncho_Belisama_VF
For the English pattern, download it there: Poncho_Belisama_English_Pattern
dimanche 20 novembre 2016
dLa traduction du jour , merci Marianne, c'est l'ensemble Niord: bonnet , col et mitaines... en danois! Ok vous ne parlez ( peut-être?) pas danois couramment, mais vous pouvez peut-être avoir envie de tricoter cet ensemble.... en français! alors pour le tuto c'est sur cette page !
The translation of the day, thank you Marianne, is the set Niord: hat, collar and mittens ... in Danish! Ok you do not speak (maybe?) Danish fluently, but you may want to want to knit this set .... in English! So for the tutorial it's on this page!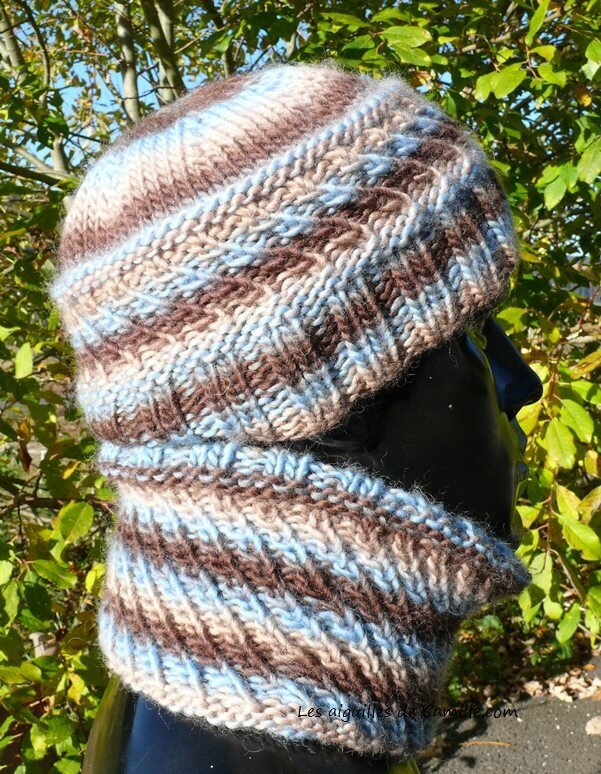 Et vous y trouverez aussi le PDF en danois, bien-sûr!!
And you will also find the PDF in Danish, of course !!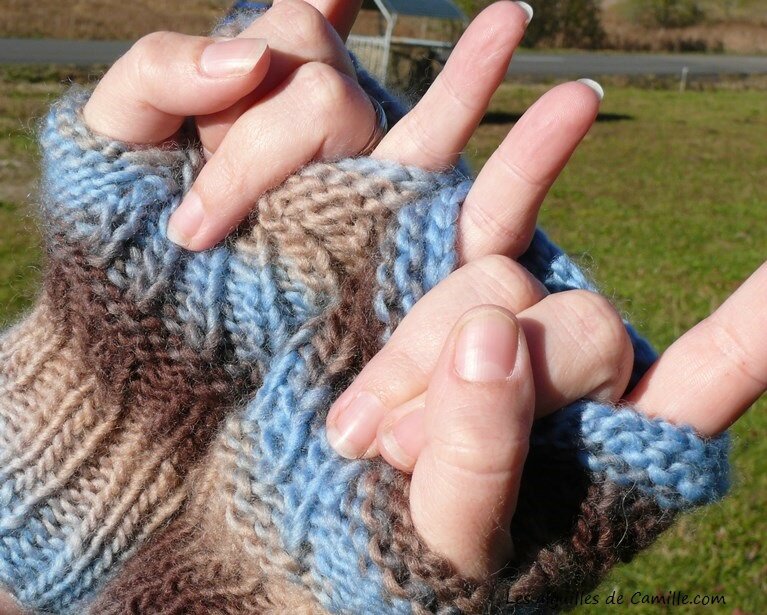 Et ça existe aussi pour enfants, alors bon tricot!!!
And it exists for children, so let's go knit it!!