jeudi 20 février 2020
Ce modèle est enterré au fond de mon stock de modèle depuis bien trop longtemps!!
This model has been buried at the bottom of my pattern stock for far too long !!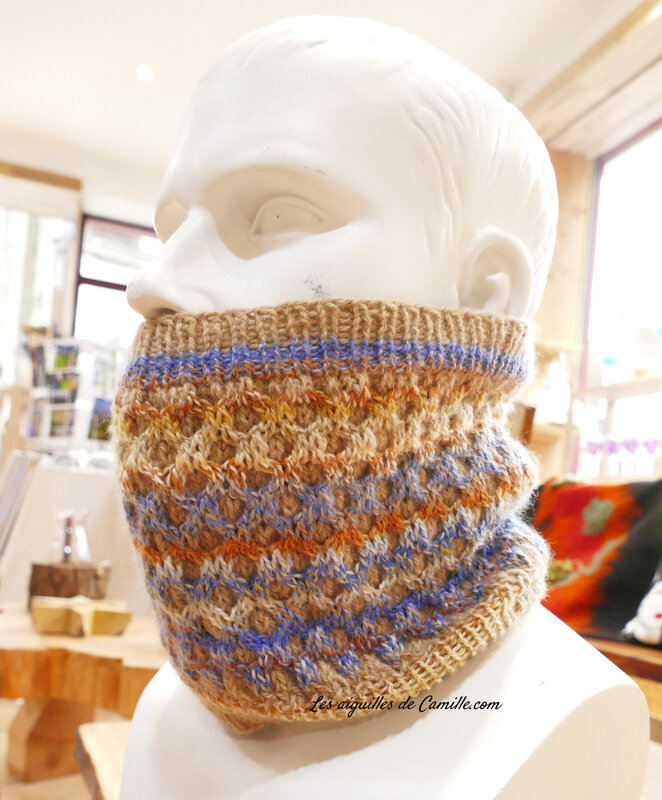 Le voilà donc sorti pour compléter les modèles Lune de Miel bonnet ( lien vers le modèle là)
So here it is, to complete the Honeymoon hat (link to the pattern there)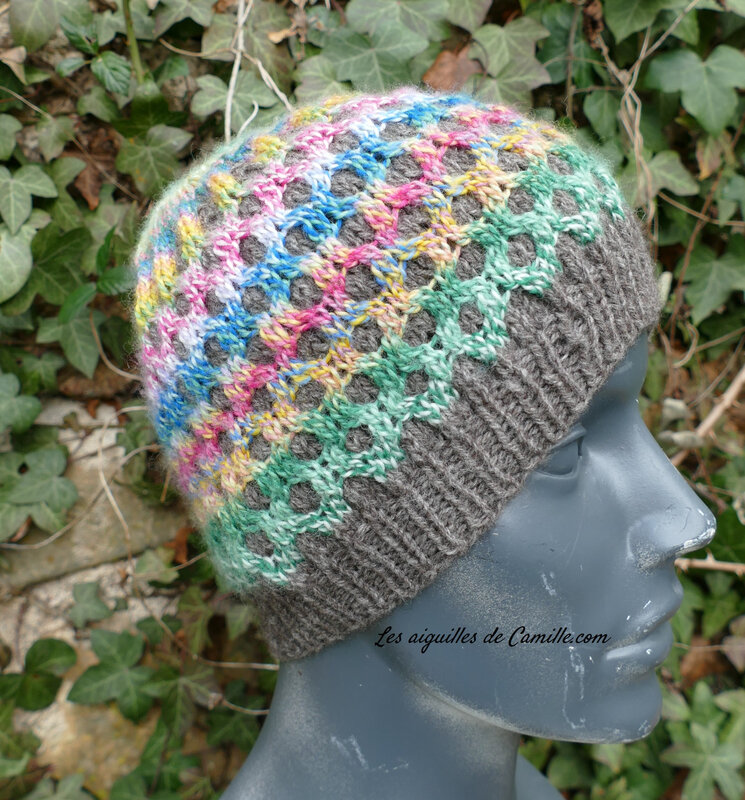 et slouch ( lien vers le post et le modèle ici), ce qui était initialement prévu.
and slouch (link to the post and the pattern here) models, which was originally planned.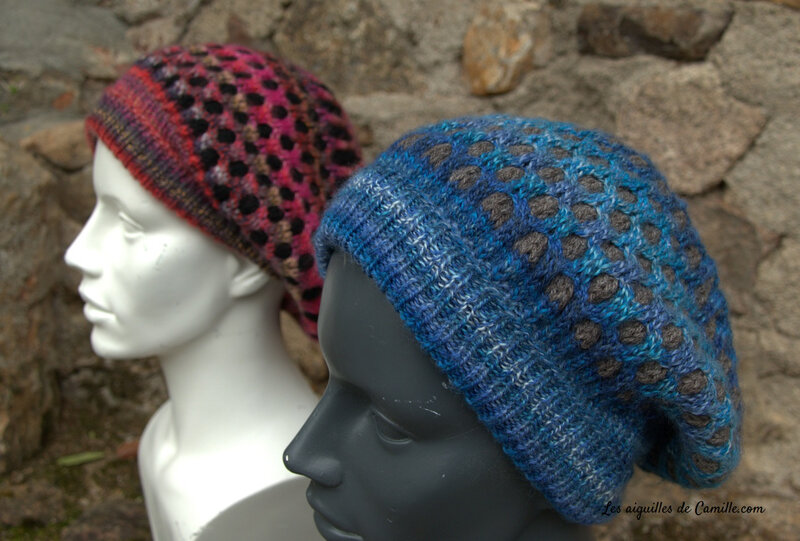 Comme ses parents de la gamme, il est tricoté avec la laine Urga de Fonty et une pelote de Edition 3.0 Schoppel Wolle .
Like its parents in the range, it is knitted with Urga from Fonty and a skein of Edition 3.0 Schoppel Wolle.
Et comme pour les autres , vous pouvez vous aider de la vidéo complète du bonnet , pour le point jacquard torsadé , disponible ici:
Tricotez votre bonnet Lune de Miel Knit your honeymoon beanie
And as for the others, you can help yourself with the full video of the beanie, for the twisted jacquard stitch, available here:
Cette fois pour la gamme Lune de miel , c'est tout ce que j'ai dans les stocks de patrons .... il faudrait peut-être que je pense aux mitaines ???
This time for the honeymoon range, that's all I have in the pattern's stocks .... maybe I should think about the mittens ???
Modèle en français:Col_Lune_de_Miel_VF
Pattern in English: Honeymoon_cowl_English_pattern
mardi 18 février 2020
La météo est joueuse , les tricots aussi!!
The weather is playful, the knits too !!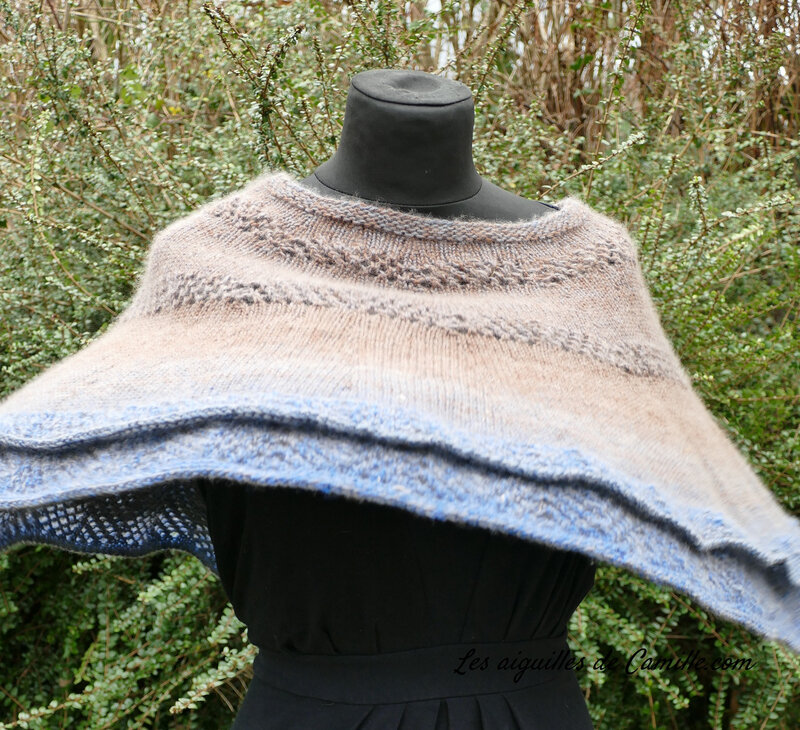 Et mon chauffe épaules s'est mis à voler après ce cliché ....
And my shoulder warmer started flying after this picture....
Je vous présente "Sur mon coeur" , un ouvrage tout doux , tout chaud en laine et cachemire ( de chez Schoppel Wolle bien sûr!), avec un dégradé de couleurs trèèèèèès long!!!!
I present to you "Sur mon coeur", a very soft and warm work in wool and cashmere (from Schoppel Wolle of course!), with a very long gradation of colors !!!!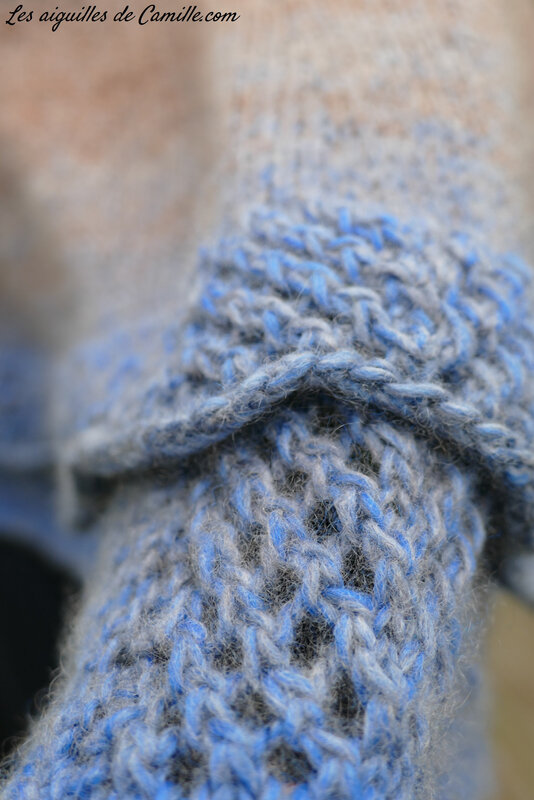 Le but ... faire une double bordure dentelle, encore une petite lubie acquise lors de la création du Froufrou.... et j'aime toujours autant ça .
What's the point ??? ... to make a double lace edge, another little whim acquired during the creation of the Froufrou .... and I still like it that much.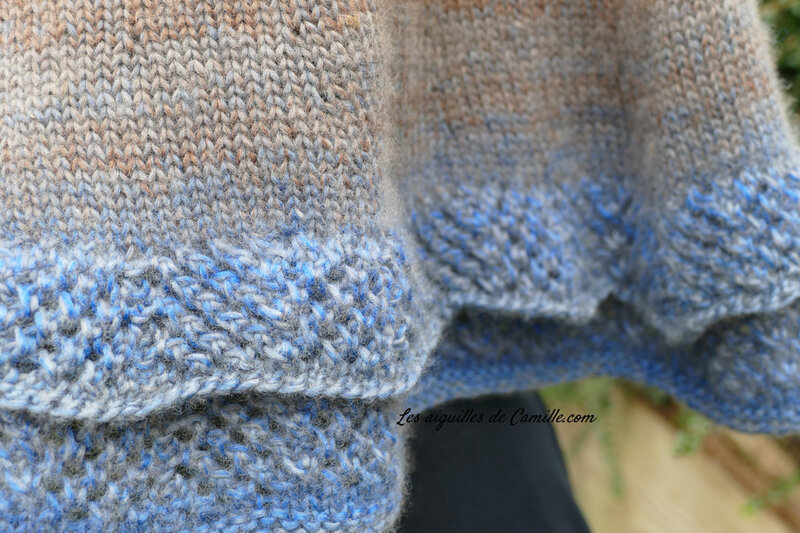 Pour le reste , c'est assez simple , aiguilles 4mm ( circulaires ), 5 pelotes de Cashmere Zauber et quelques joyeuses heures en tête à tête avec votre tricot!!
For the rest, it's quite simple, 4mm needles (circular), 5 balls of Zauber Cashmere and a few happy hours alone with your knitting !!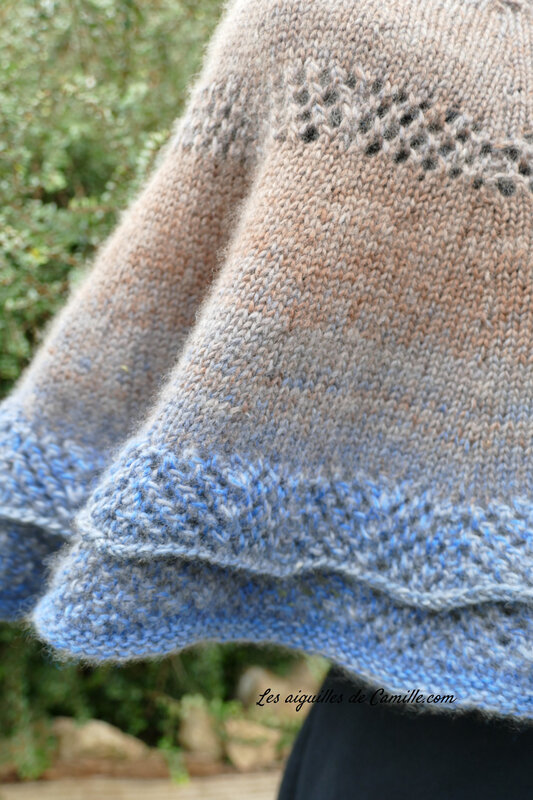 Pour le modèle c'est à télécharger dessous:
Download your pattern below!
En français:Chauffe__épaules_Sur_mon_coeur_VF
In English: Capelet_Sur_mon_coeur_English_Version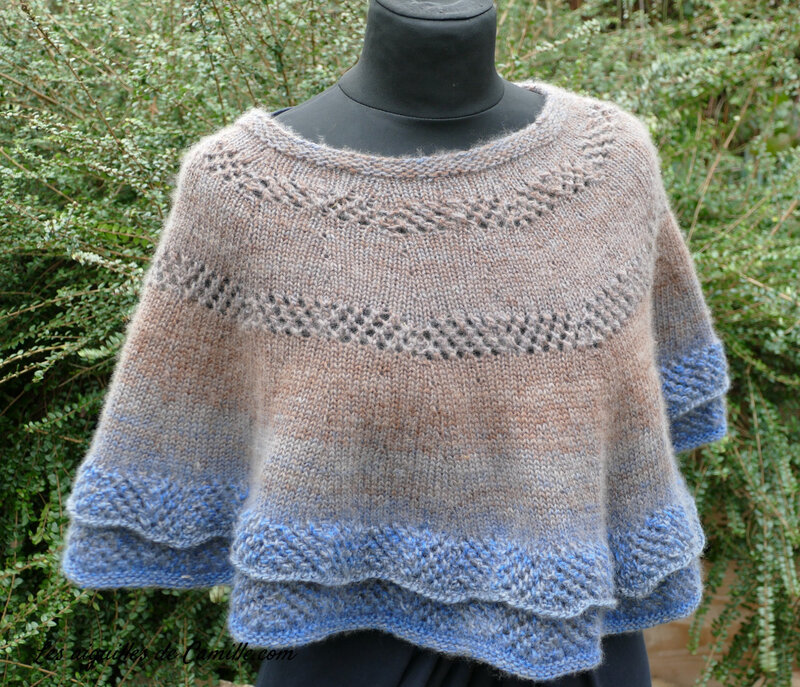 Ce modèle a été présenté lors du défilé de mode du salon de Malakoff le weekend dernier , j'en profite pour remercier toutes les personnes qui sont venues à notre rencontre!!
jeudi 13 février 2020
En allant à Aubigny sur Allier pour une très chouette fête de la laine , je suis revenue cet automne avec une idée : un modèle de liseuse vu chez des tisserands.
La voilà propulsée sur mes aiguilles depuis un petit moment , et j'ai fini par la terminer et rédiger le modèle ... tout arrive à qui sait attendre !!
While going to Aubigny sur Allier for a very nice wool festival, I came back this fall with an idea: a model of liseuse seen in weavers.
Here it is propelled on my needles for a little while, and I ended up finishing it and writing the model ... everything happens to who can wait !!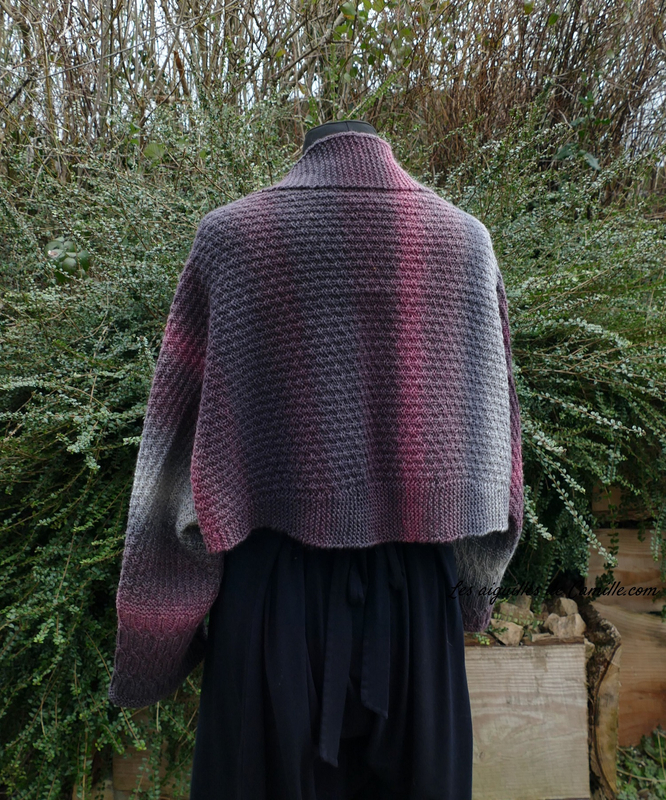 Je vous soumets donc le résultat, perso, je suis assez fan , c'est le style d'accessoire qui va avec à peu près tout , et pas seulement pour lire au fond de son lit !!
So I submit the result to you, I'm quite a fan, it's the accessory style that goes with just about everything, and not just for reading in your bed !!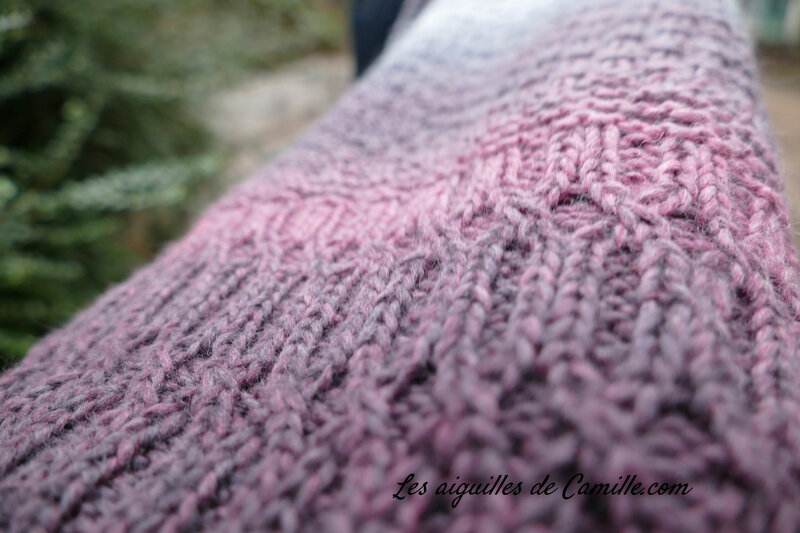 Question technique : un peu de torsade pour les bas de manche et un point granité simple, mais qui donne un joli relief, un col en point mousse ... bref du pas franchement compliqué et qui se tricote sur aiguilles droites.
Technical matters: a little cable for the cuffs and a simple granite stitch, but which gives a nice relief, a collar in garter stitch ... nothing really complicated and which is knitted on straight needles.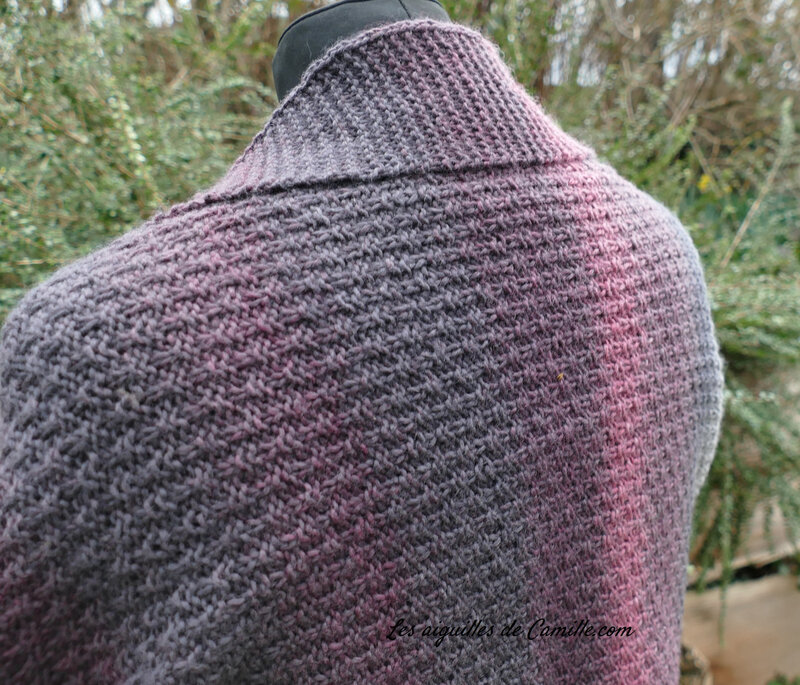 Et pour la laine, 4 pelotes de cette magnifque Gradient de Schoppel Wolle, à trouver ici!!
For the yarn: 4 balls of Gradient Schoppel Wolle , find them here!!
Pour les amatrices et amateurs , le tuto est à télécharger ci-dessous!!
If you like it, the tutorial is to download below !!
Bon tricot!
Enjoy!!
Et des bises à la belle équipe d'Aubigny emmenée par Nadine!!
Ah, au fait , cette liseuse fera partie du défilé de mode de la fête de la laine de Malakoff et c'est ce week-end!!!!!!!
Ah, by the way, this liseuse will be part of the Malakoff yarn festival fashion show and it's this weekend !!!!!!!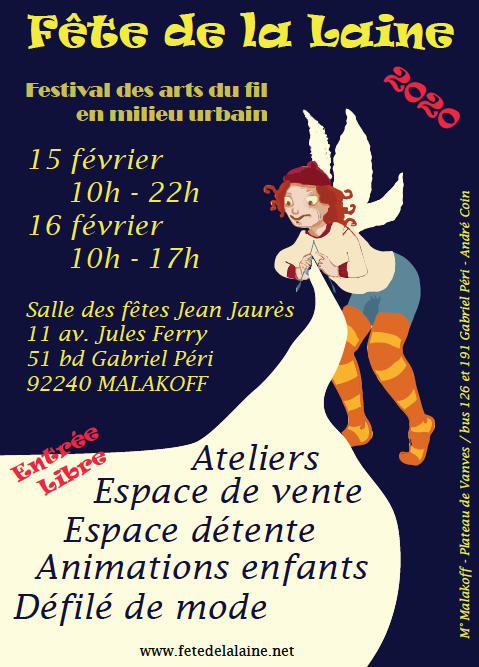 En français:Liseuse_Aubigny_VF
In English:Liseuse_Aubigny_English_version
samedi 21 décembre 2019
Soie belle et .... tricote!( Bien sûr!!!)
C'est un gros craquage pour un gros coup de coeur .... oui je tombe raide amoureuse de pelotes de laine .... je vous laisse en penser très exactement ce que vous voulez!!!
Soie Belle and .... knits! (Of course !!!), The joke works in French, less in English, I'm sorry for that!!
It is a big crack for a big crush ... yes I am in love with balls of yarn .... I let you think very exactly what you want !!!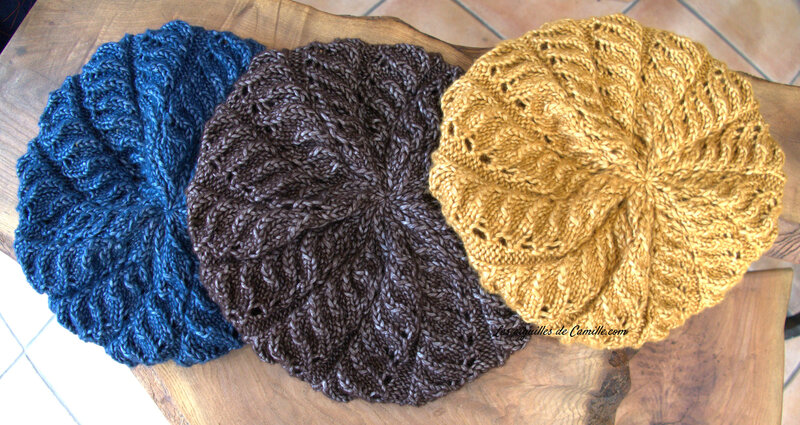 C'est un modèle automne hiver , mais la qualité de cette laine permet de faire de la dentelle, sans que le confort de l'heureuse propriétaire du béret n'a à en pâtir.
It is an autumn winter model, but the quality of this yarn makes it possible to work lace, without the comfort of the happy owner of the beret having to suffer.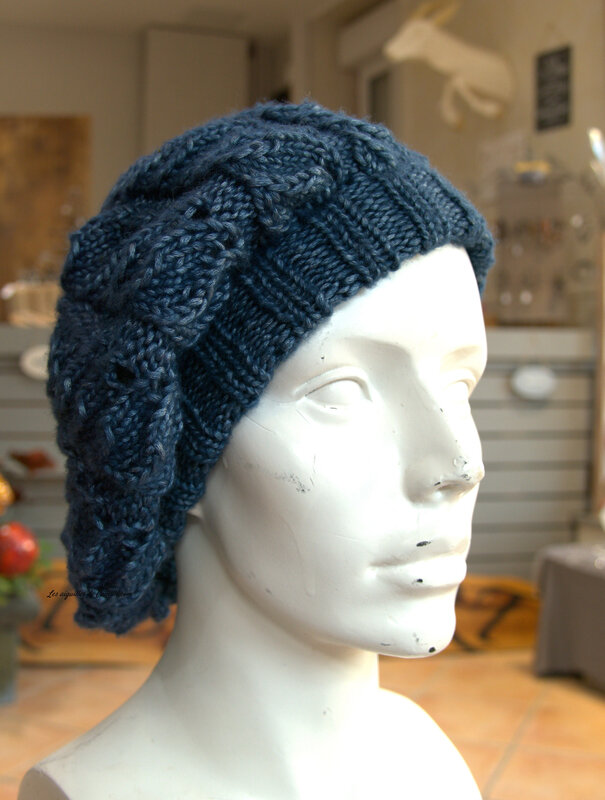 J'ai utilisé un motif qui ne se tricote qu'en rond.
I used a pattern that is worked only in the round.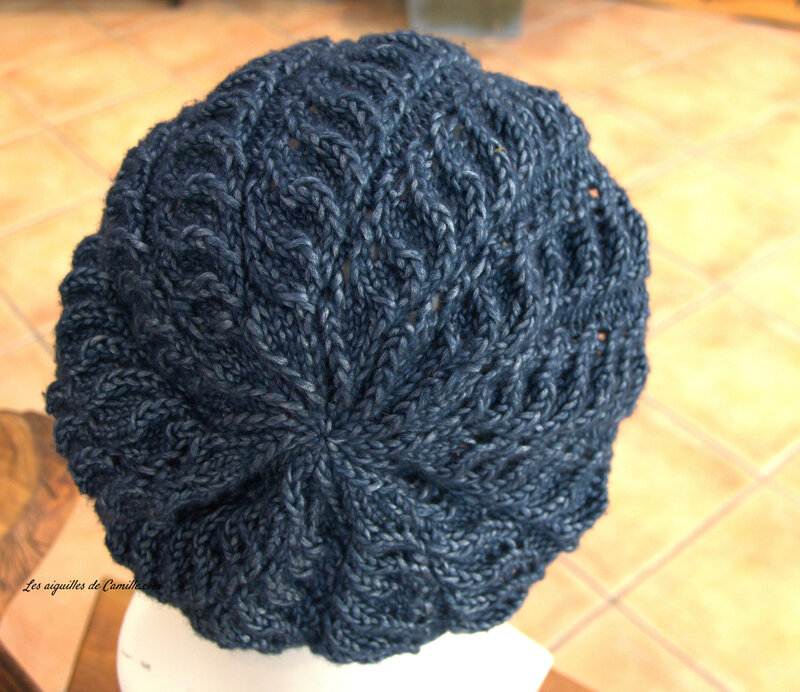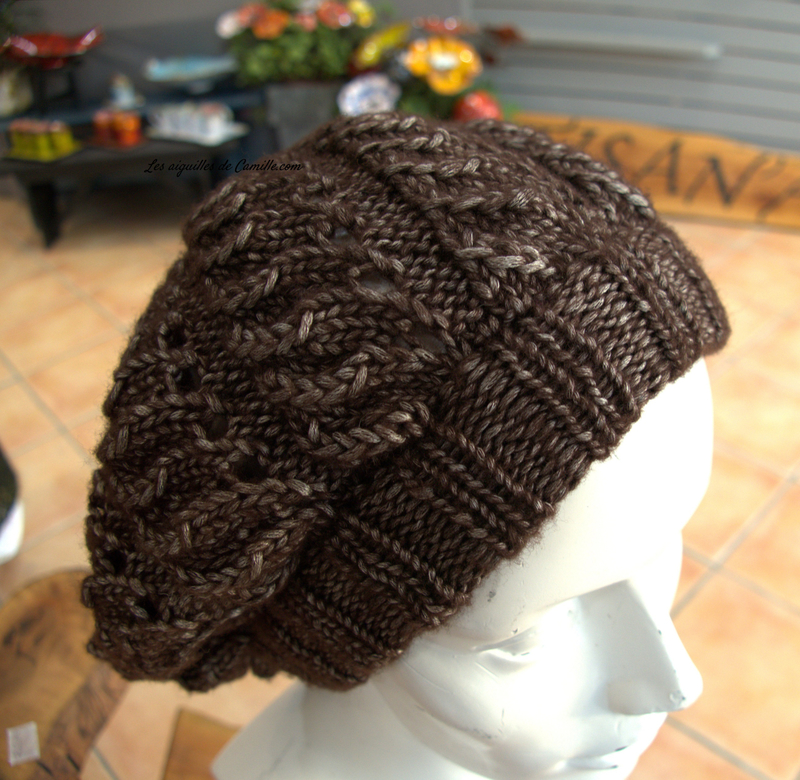 Et qui donne un mouvement de spirale que j'apprécie.
And which gives a spiral movement which I appreciate.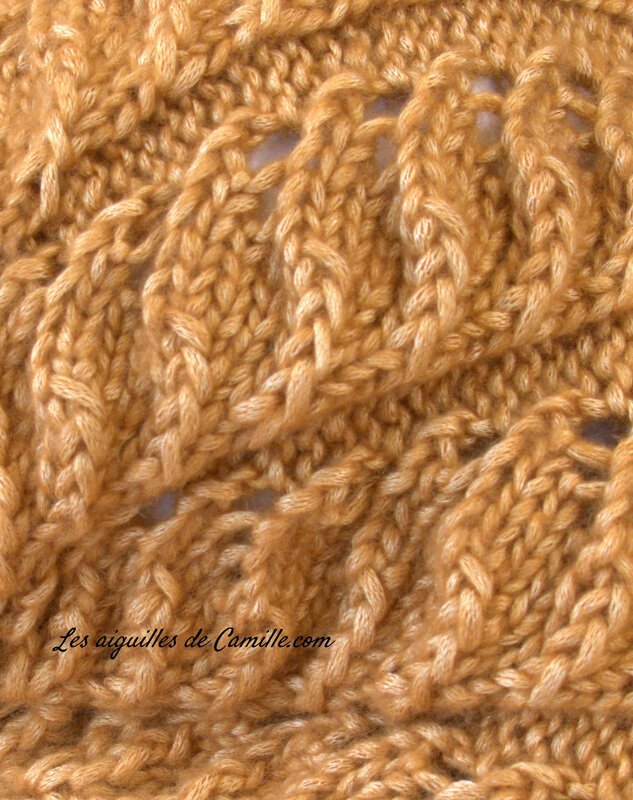 Ce ruban, Breeze de Kremke, est composé de 61% de soie, et toutes les couleurs captent merveilleusement la lumière!
This ribbon, Kremke Breeze, is made of 61% silk, and all the colors capture the light wonderfully!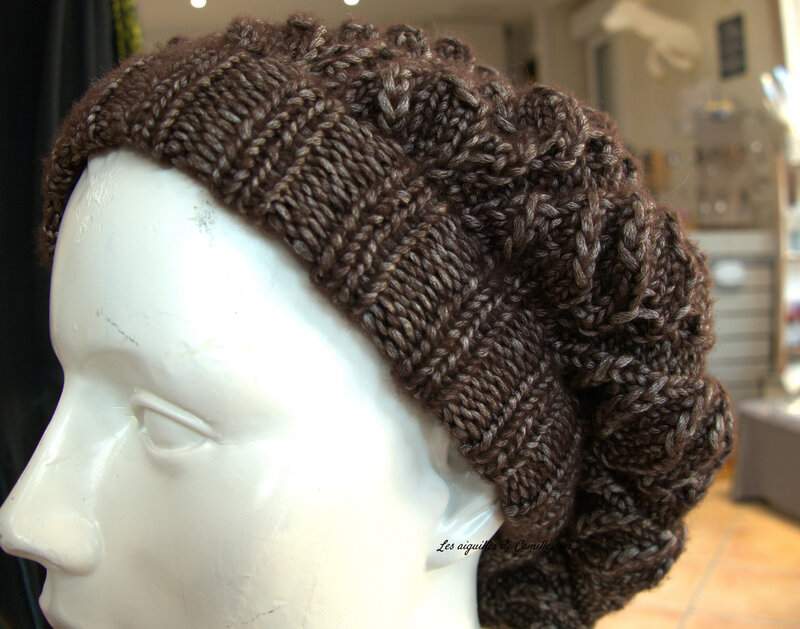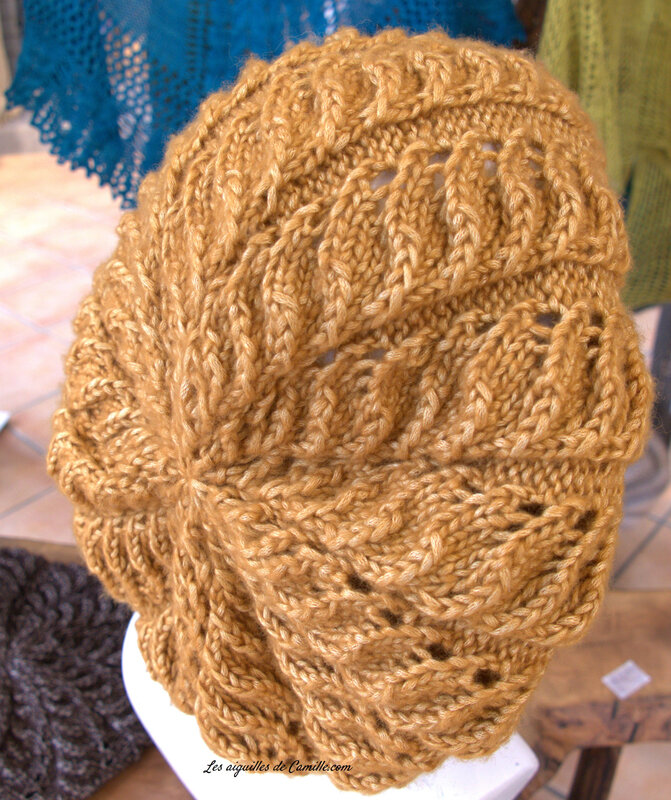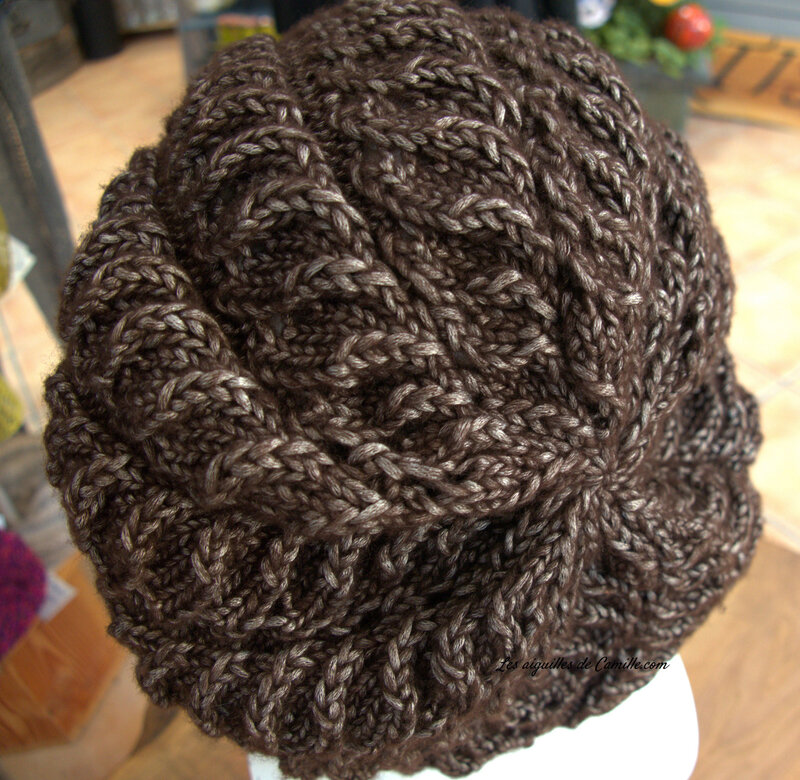 Pour le modèle, il vous suffit, comme toujours de télécharger le PDF dans le lien ci dessous!!
For the model, all you need to do is download the PDF in the link below !!
En français: Béret_Soie_Belle_VF
In English: Béret_Soie_Belle_English_pattern
vendredi 29 novembre 2019
Quand je ferme les yeux , il m'arrive deux ou trois petites choses .
L'odeur des pivoines...
Le chant des tourterelles...
Le gout des cerises Montmorency , acidulé à souhait , leur chair encore tiède , juste cueillies...
Et vient se glisser dans tout ça un bonnet... ne cherchez pas de logique là dedans, y'en a pas ! C'est ce qui est magique avec les souvenirs , parfois ça arrive en vrac , libre à nous de faire le tri ... ou pas!
Proust avait sa madeleine, moi j'ai mon bonnet !!
Ça c'est l'original:
When I close my eyes, two or three little things come to me.
The smell of peonies ...
The song of turtles ...
The taste of Montmorency cherries, acidulated at will, their flesh still warm, just picked ...
And just slip into all that a hat ... do not look for logic in there, there is none! That's what's magical with the memories, sometimes it happens in bulk, free for us to sort ... or not!
Proust had his madeleine, I have my hat !!
That's the original: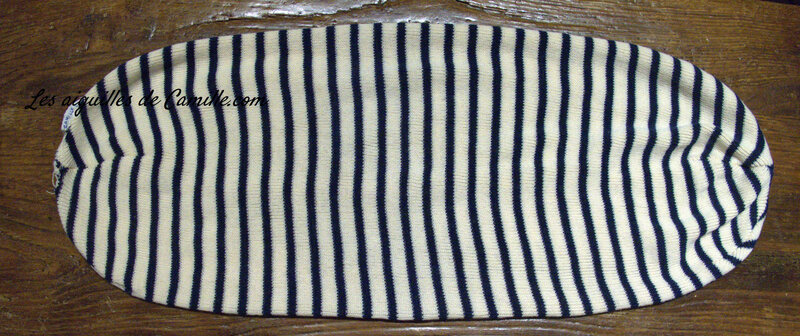 oui... une chaussette sans trou, de prime abord étrange .. quand vous le mettez en forme : hop! un bonnet !
yes ... a sock without a hole, at first sight strange .. when you put it in shape: hop! a beanie!
et le truc totalement marteau, c'est que je l'ai eu petite et qu'il me va toujours .... ( bon j'ai pas beaucoup grandi , mais quand même!!)
Et depuis un grand moment , quand je le croise , je me dis "il faut que tu le fasses , c'est trop top ce truc", ben oui, c'est doux c'est chaud , c'est moelleux ( quand je vous dis qu'il y a un lien avec les madeleines!!!)... et à force d'y penser , j'ai fini par le sortir de mes aiguilles, avec ma touche perso : de la couleur, assez automnale j'en conviens!
and the thing totally crazy is that I had it small and it still suits to me .... (well I have not grown much, but still!)
And for a long time, when I see it, I say to myself "you have to do it, it's too top that thing", well yes it's soft it's hot, it's comfortable (when I tell you that there is a link with madeleines !!!) ... and by dint of thinking about it, I ended up taking it out of my hands, with my personal touch: the color, quite autumnal I agree!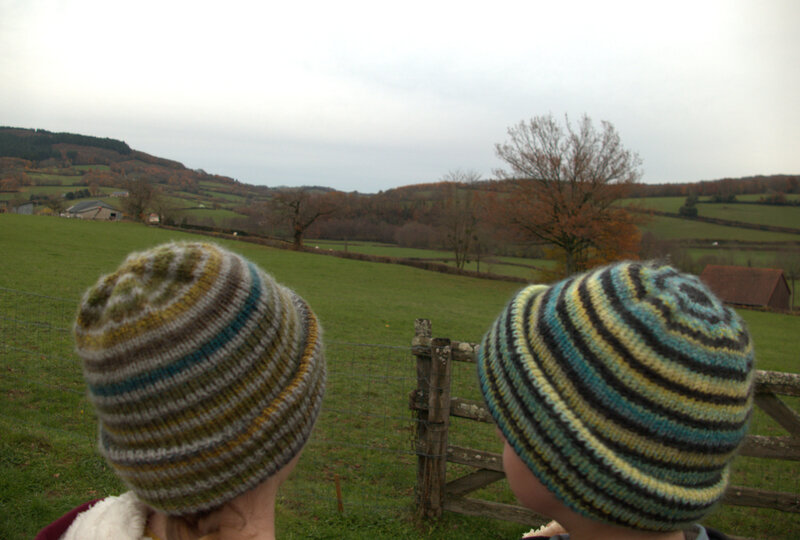 Pas que je n'affectionne pas le côté sobre et bord de mer de l'original, mais il fallait bien que je mette mon grain de sel!!
Not that I do not like the sober and seaside side of the original, but it had to look a little more like me !!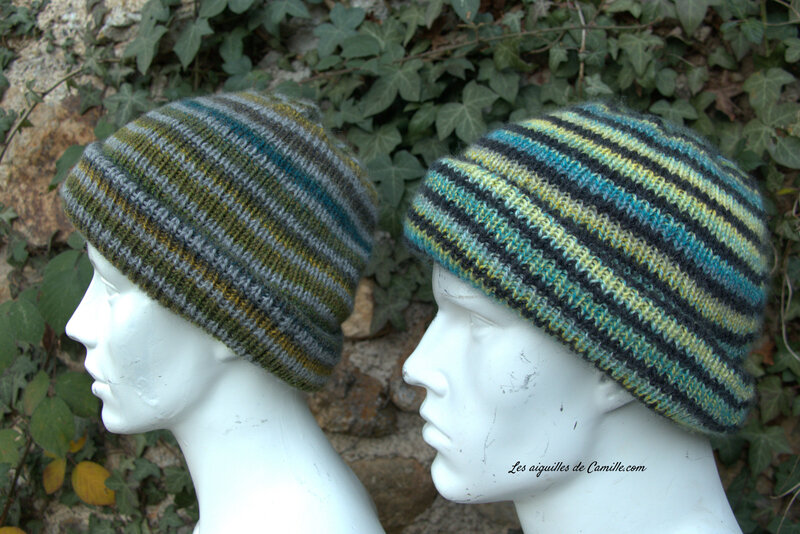 Mais pourquoi Marcel ???
Pour Proust ??? non , on ne se connaissait pas personnellement , j'aime bien bien les madeleines, mais faut pas pousser!
But why Marcel ???
For Proust ??? no, we did not know each other personally, I like madeleines, but not that much!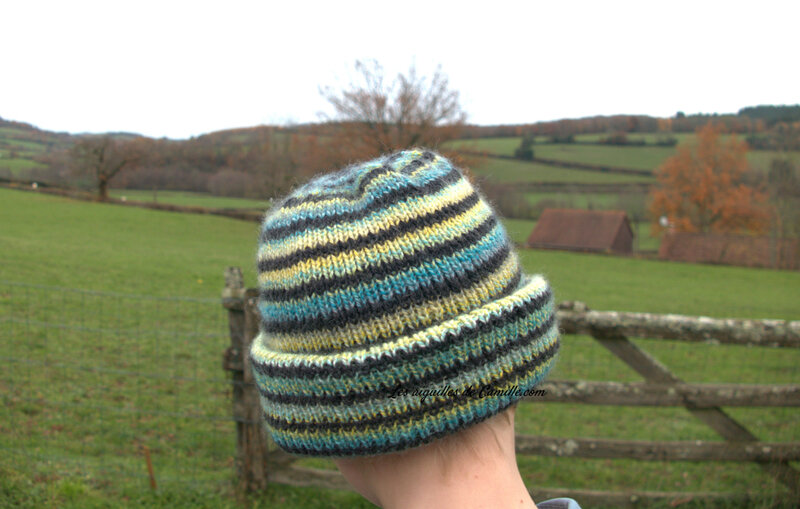 Pour une célèbre marque de machins rayés ??? euh non ... définitivement pas !
For a famous brand of striped stuff ??? uh no ... definitely not!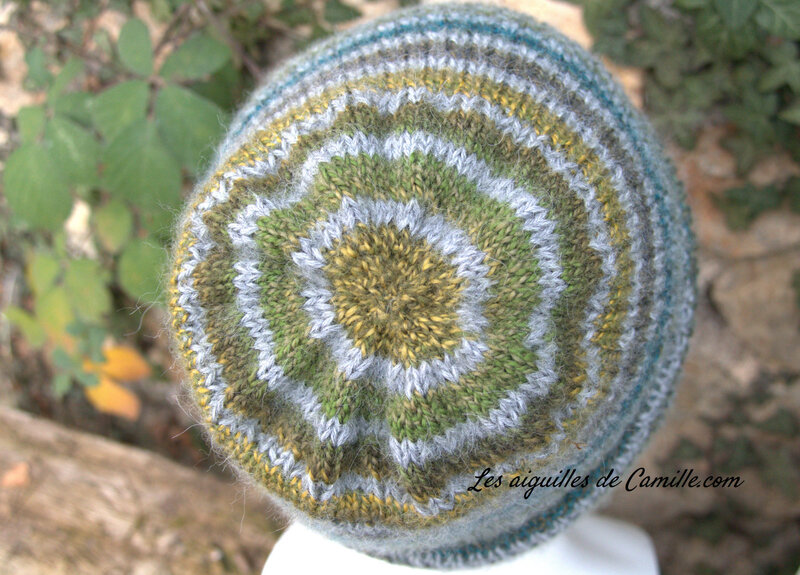 Pour ça (attention clic surprise!!)???? j'aurai pu !! mais non....
For this (take care this is a special surprise perfectly untranslatable!!)???? I could have , but no....
Pour les pivoines, les tourterelles, le gout des cerises , le petit dej préparé avec amour sur la table en formica , et parce que dans ce bonnet , tous mes souvenirs me ramène vers lui: Marcel , mon grand père.
For the peonies, the turtledoves, the taste of the cherries, the breakfast prepared with love on the formica table, and because in this beanie, all my memories bring me back to him: Marcel, my grandfather.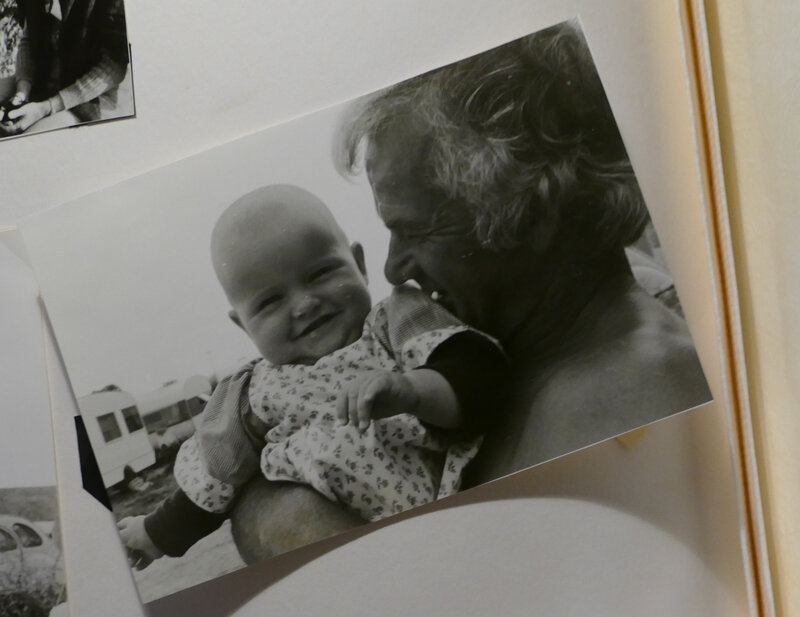 ( et maintenat vous savez pourquoi j'avais besoin d'un bonnet!!)
(Now you know why I needed to wear a beanie!!)
Pour les contingences techniques, ce bonnet double super chaud et bien adapté à l'hiver qui se profile, il se tricote en rond , aiguilles 3.5mm.
For technical contingencies, this double beanie super hot and well adapted to the winter that comes, it knits in the round, needles 3.5mm.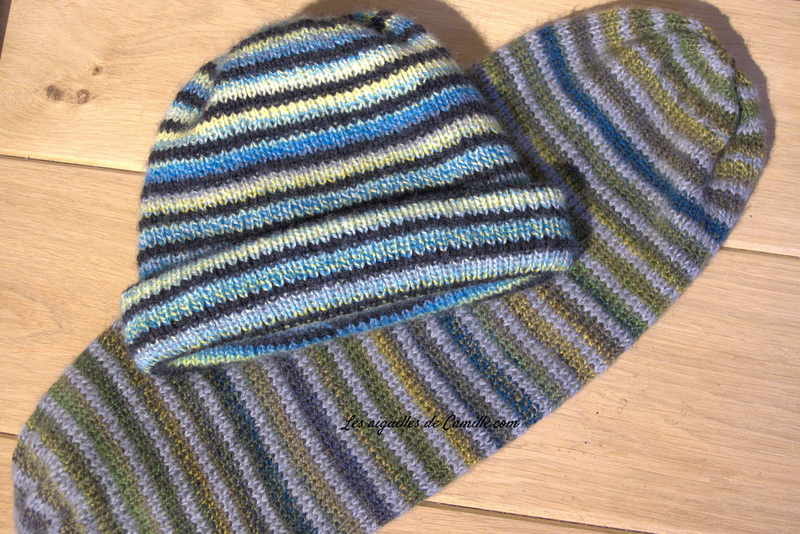 Pour le choix de laine: du mérinos extra fin de chez Schoppel Wolle et le baby alpaga de Kemke, autant dire que c'est douillet!
For the choice yarn: extra fine merino from Schoppel Wolle and baby alpaca from Kemke, so cozy!
Le kit pour le bonnet est sur cette page de la boutique ( clic!)... et si vous voulez un assortiment de couleurs perso, n'hésitez pas à m'envoyer un mail: contact@lesaiguillesdecamille.com, je vous ferai ça aux petits oignons!
The kit for the beanie is on this page of the shop (click!) ... and if you want an assortment of personal colors, do not hesitate to send me an email: contact@lesaiguillesdecamille.com, I will make you a personal kit with pleasure.
Pour le modèle, il est à télécharger ci-dessous:
Please, download the pattern:
En Français:Marcel_VF
In English: Marcel_English_Version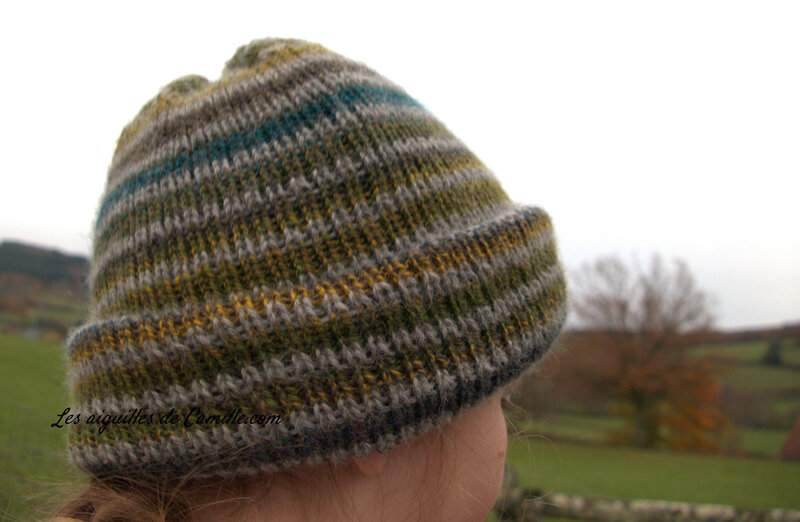 vendredi 18 octobre 2019
Bonjour tout le monde!
Ce weekend, je vais à Saint Jean de Losne , pour 2 jours de salon !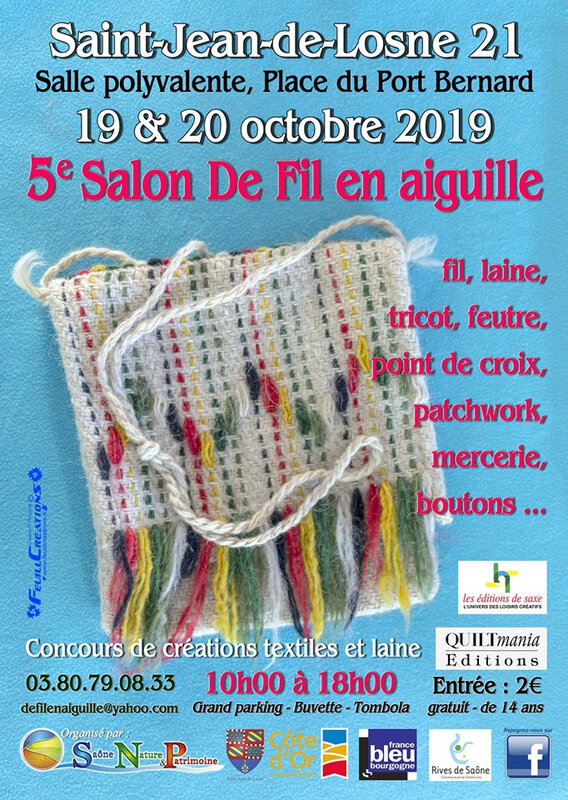 Et je vous y verrai avec plaisir!!!
A demain!!
Camille