samedi 13 juin 2020
Facile, joli , efficace... un parfait modèle pour les débutantes et débutants , ou un tricot repos pour les accros du tricot !!
Easy, pretty, effective ... a perfect model for beginners, or a rest knitting for knitting addicts !!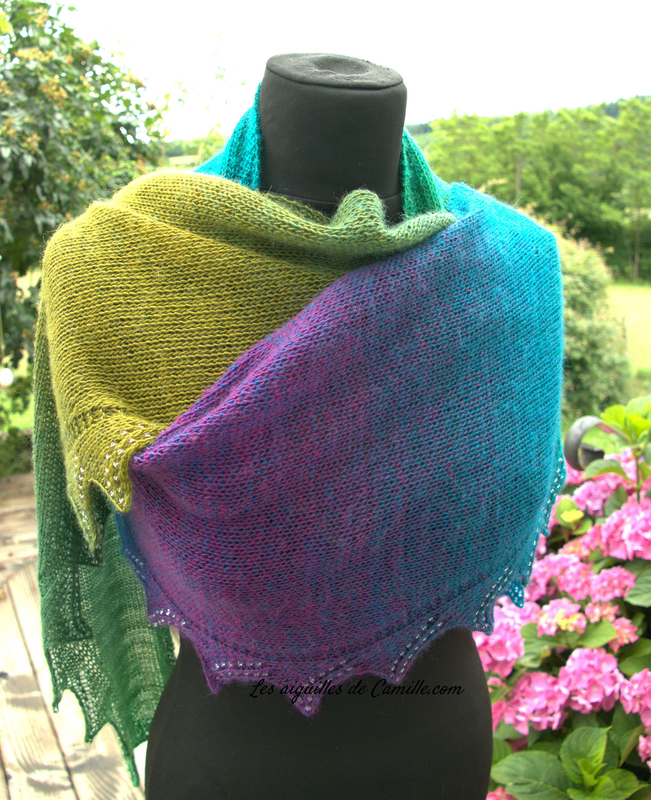 J'ai adpaté le modèle "Soleil d'hiver" , en une version bien colorée , et assez grande puisque le châle une fois bloqué fait un peu plus de 230 cms de long pour 36cm de large.
I adapted the "Winter Sun" model, in a colorful version, and quite large since the shawl once blocked is a little more than 230 cm long by 36 cm wide.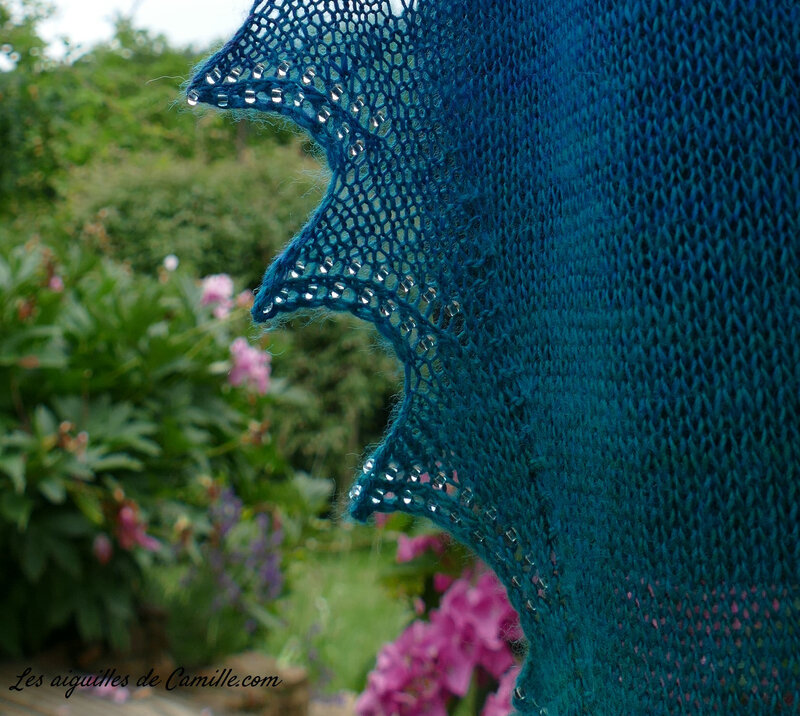 Le tout avec des aiguilles 3.5mm , donc il prends un moment , mais un moment très relax!
All with 3.5mm needles, so it takes a moment, but a very relaxed moment!
Pour ce qui est du modèle, je l'ai vraiment beaucoup détaillé pour que le tricot se fasse le plus sereinement possible , même pour quelqu'un pour qui ce serait un premier ouvrage dentelle. D'ailleurs vous pourrez suivre les explications écrites tout en ayant le diagramme de la bordure sous la main.
As for the pattern, I really detailed it so that knitting is done as serenely as possible, even for someone for whom it would be a first lace work. Besides, you can follow the written explanations while having the edge diagram on hand.
Pour la laine c'est la Zauber Flower de Schoppel Wolle et les perles ( et oui, j'ai recommencé à mettre des perles, je suis décidément incurable!!), je vous propose des kits sur cette page de la boutique : Clic! Dans une dizaine de coloris très différents les uns des autres !
For yarn it is the Zauber Flower by Schoppel Wolle and beads (and yes, I started to put beads again, I am definitely incurable !!), I made kits on this page of the shop: Click ! In ten very different colors from each other!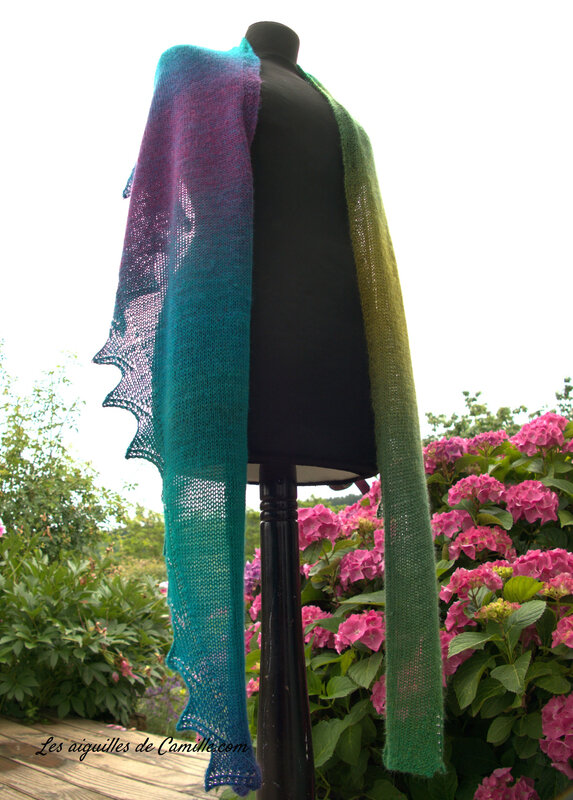 Passez un beau wekend et bon tricot!!!
Have a nice wekend and good knitting !!!
En français:Soleil_d'été__VF
In English: Summer_Sun_English_Pattern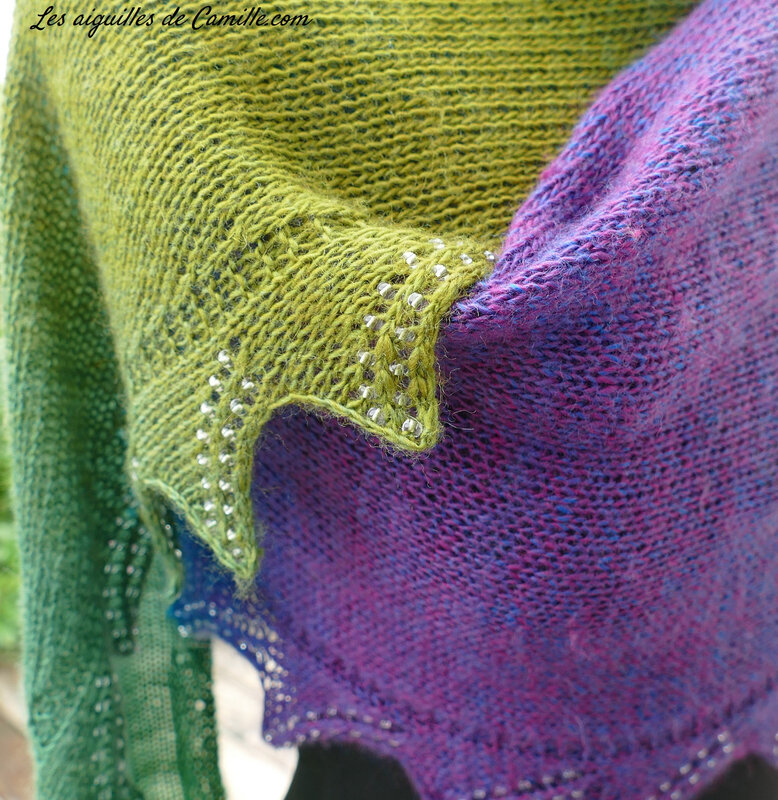 dimanche 31 mai 2020
Voici une manière de faire un montage avec des picots ( il en existe d'autres !!).
Here is a way to make a cast on with picots (there are others !!).
Ce type de montage sera utile pour faire mon prochain modèle , l'étole "La Foline" qui sera présentée très bientôt sur le groupe FB Tricote pas tout et que je mettrai bien entendu sur le blog le plus rapidement possible!!
This type of cast on will be useful to make my next model, the stole "La Foline" which will be presented very soon on the group FB Tricote pas tout! and which I will of course put on the blog as soon as possible !!
Maintenant, rentrons dans le vif du sujet !!
Now let's get to the heart of the matter !!

Monter 1 maille et la mettre sur l'aiguille de gauche.
Cast on 1 stitch and put it on your left needles.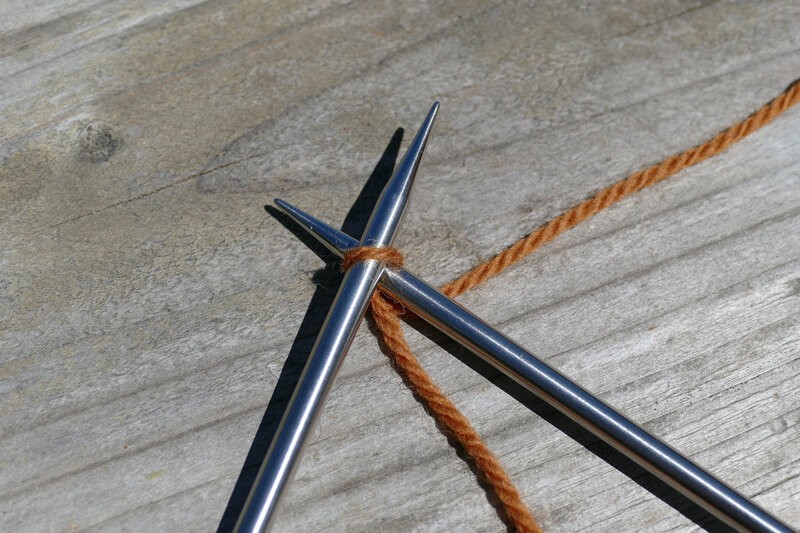 Tricoter à l'endroit le brin avant de la maille
knit the front strand of your stitch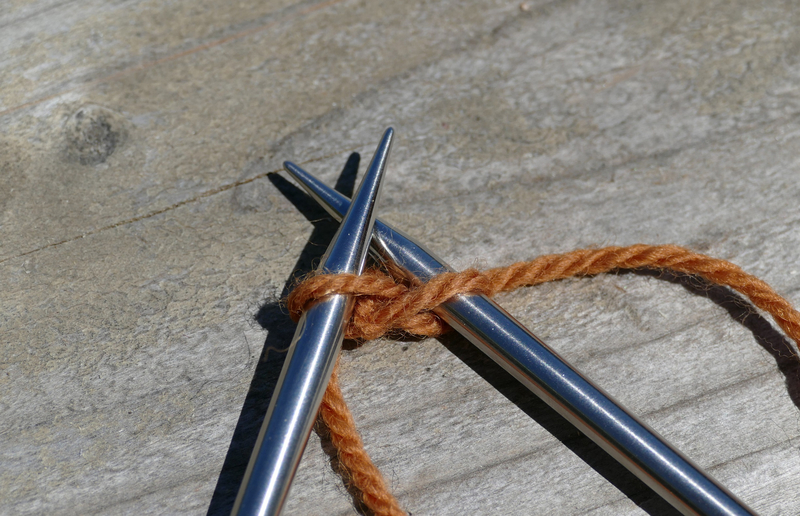 Sans laisser tomber votre maille sur l'aiguille de droite , vous avez maintenant une maille sur chaque aiguille.
Without dropping your stitch on the right needle, you have now one stitch on each needle.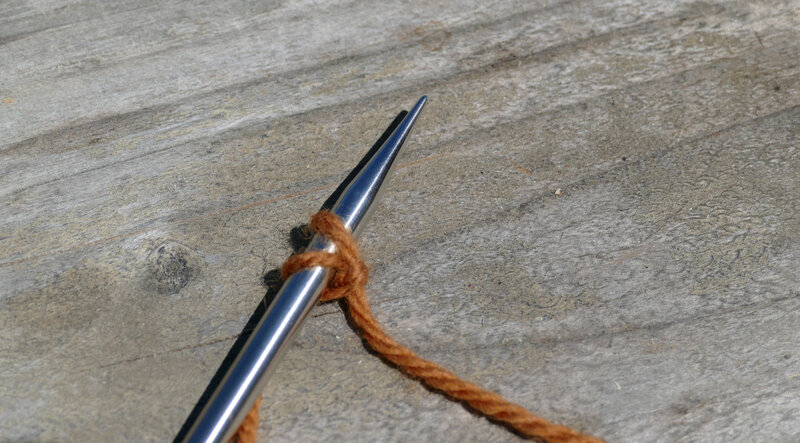 Remettre la maille obtenue sur l'aiguille gauche
Put the stitch obtained on the left needle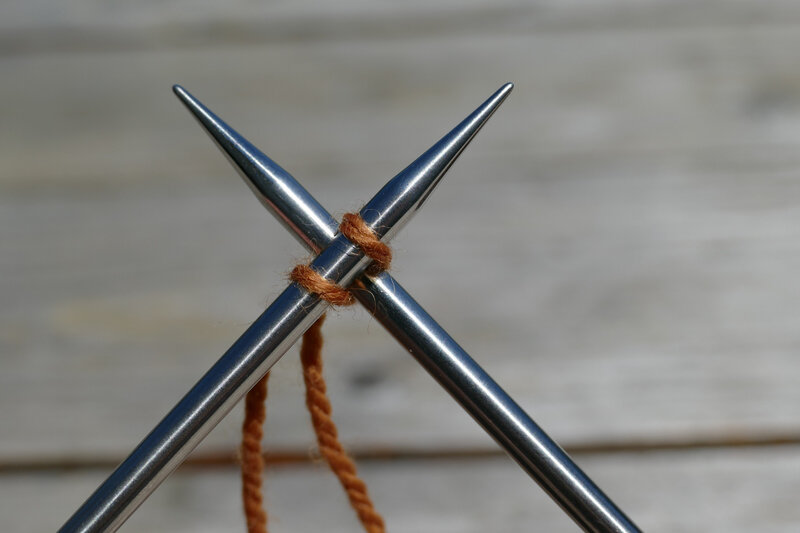 Piquer votre aiguille droite entre les 2 mailles.
Put your right needle between the 2 stitches.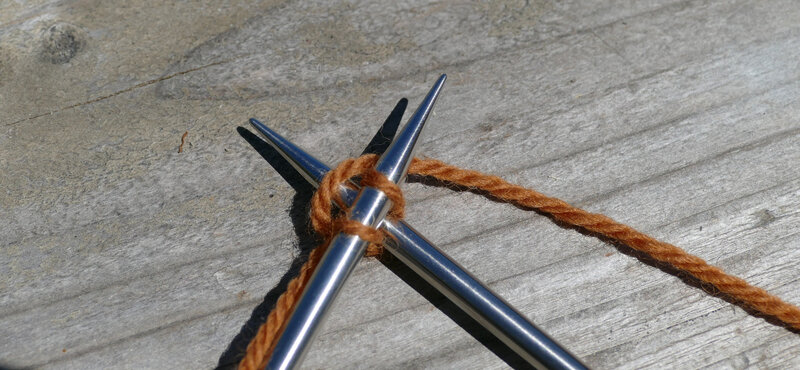 Enrouler le fil autour de l'aiguille droite.
Wind the thread around the right needle.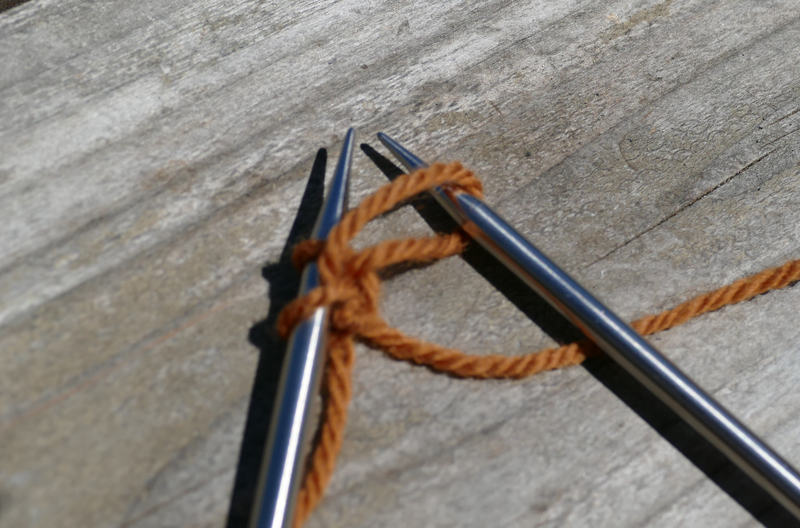 Sortir la boucle formée.
Take out the loop formed.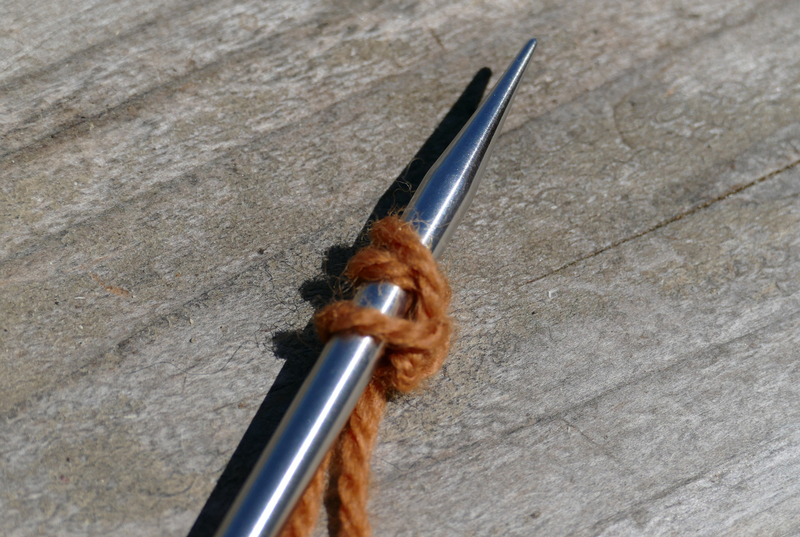 Mettre cette boucle sur l'aiguille de gauche .
Put this loop on the left needle.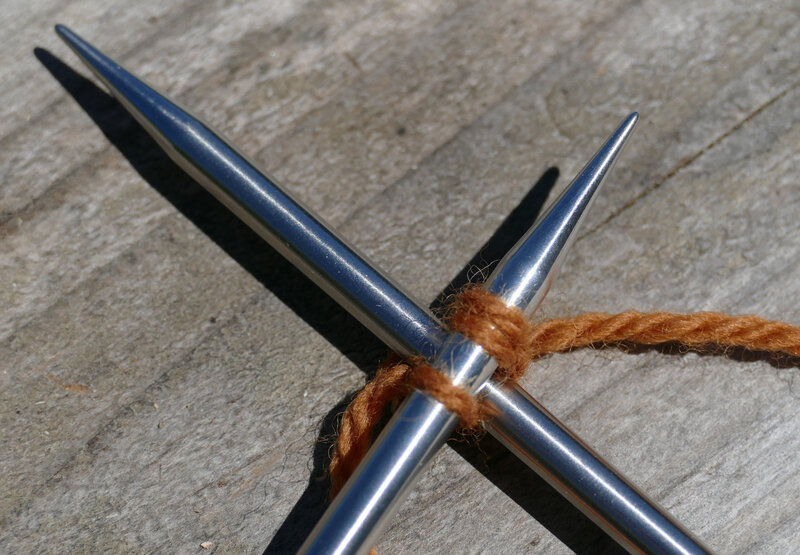 Faire une seconde boucle de la même façon, en positionnant votre aiguille droite au même endroit que la première fois.
Make a second loop in the same way, positioning your right needle in the same place as the first time.
Sortir la boucle.
Take out the loop.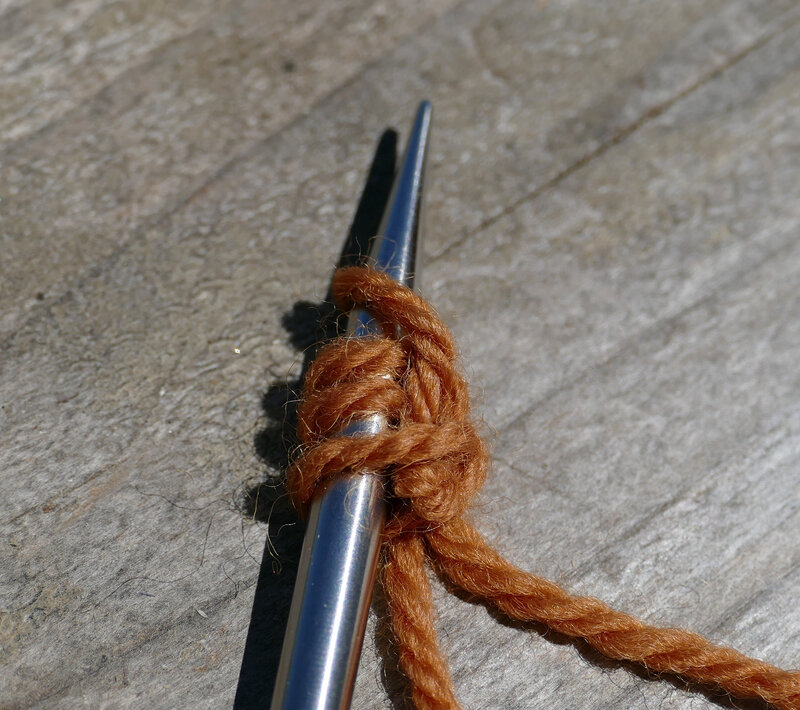 Mettre la boucle sur l'aiguille gauche , il y a maintenant 4 mailles à tricoter.
Put the loop on the left needle, there are now 4 knitting stitches.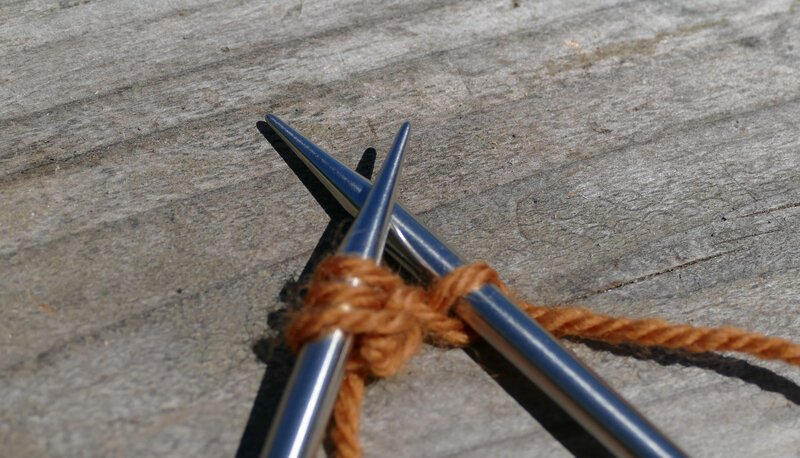 Tricoter la première boucle à l'endroit.
Knit the first loop.
Tricoter la seconde boucle à l'endroit.
Knit the second loop.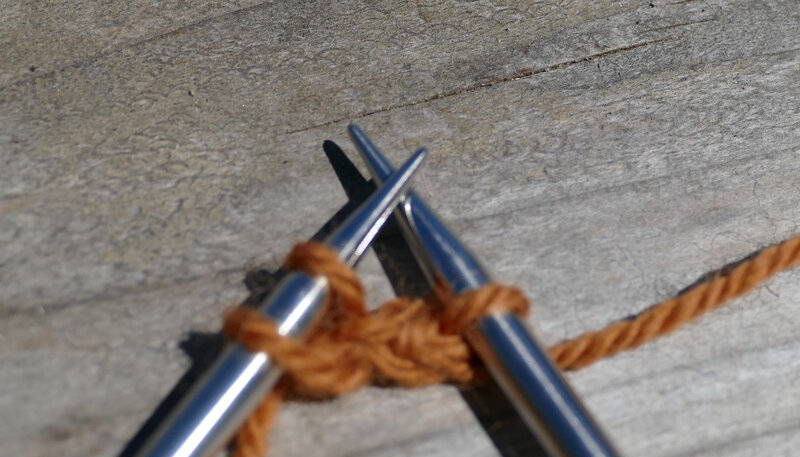 Rabattre la première maille aui a été tricotée sur la seconde.
Bind off the first stitch that has been knitted on the second.
Tricoter les deux mailles suivantes ensemble à l'endroit.
Knit the next 2 stitches together.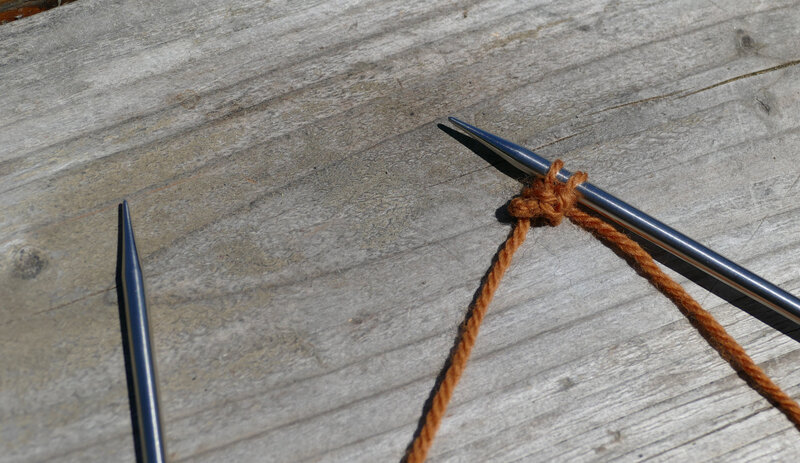 Vous avez maintenant 2 mailles sur l'aiguille droite . Rabattre la première maille sur la seconde.
You have 2 stitches on the right needle. Bind off the first stitch over the second.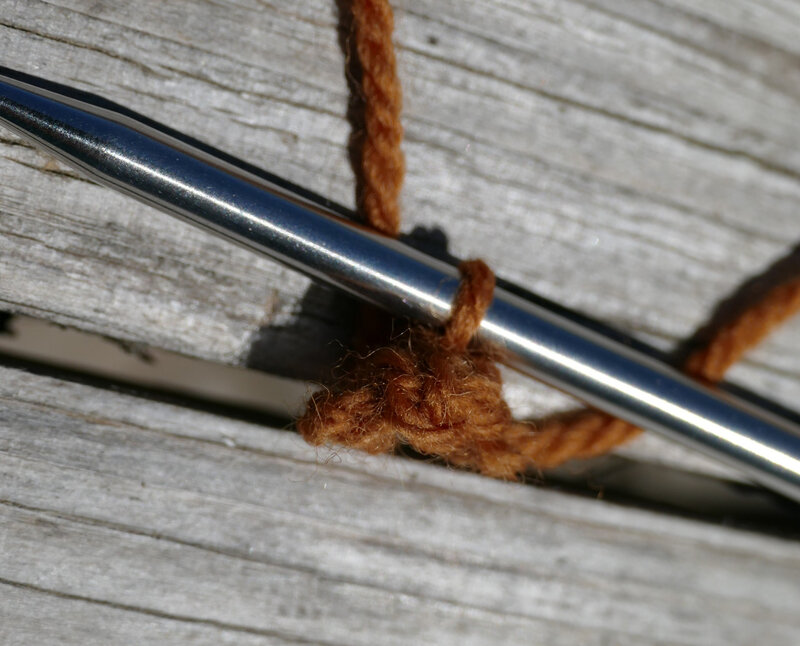 Le picot est formé, continuer à monter les mailles.
The picot is formed, continue cast on the stitches.

vendredi 15 mai 2020
Très largement inspiré par la dentelle du col Les 4 saisons , voici la variante chauffe épaules!
Je pense que cette variation estivale sera suivie par une version automnale , voire hivernale, tant je trouve le rendu de ce point dentelle sympa malgré sa simplicité.
I think this summer variation will be followed by an autumnal version, even winter, as I find the rendering of this lace point nice despite its simplicity.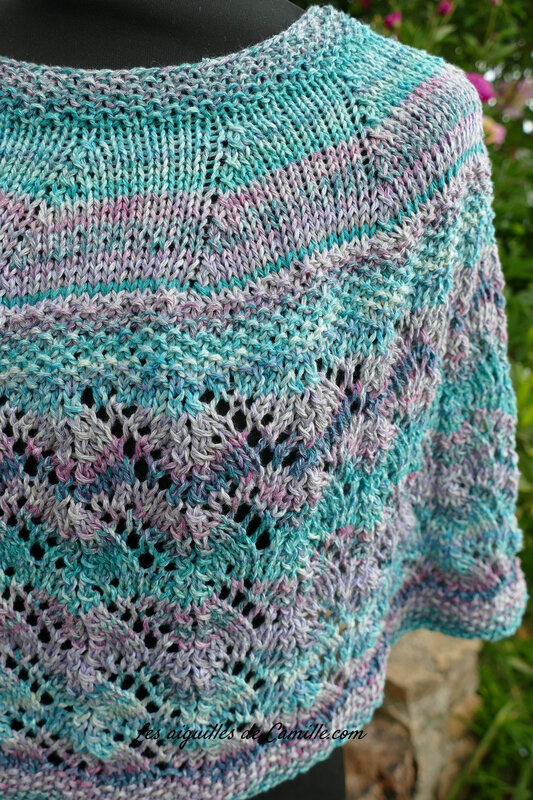 Contrairement au col, je n'ai fait qu'une version pour aiguilles circulaires , tant je trouvais dommage qu'il y ait une couture sur cet accessoire si facile à vivre et à enfiler , sans avoir à se soucier de quelques couture que ce soit quand on le porte !!
Unlike the collar, I only made a version for circular needles, as I found it unfortunate that there is a seam on this accessory so easy to live and put on, without having to worry about any seam whatsoever when we wear it !!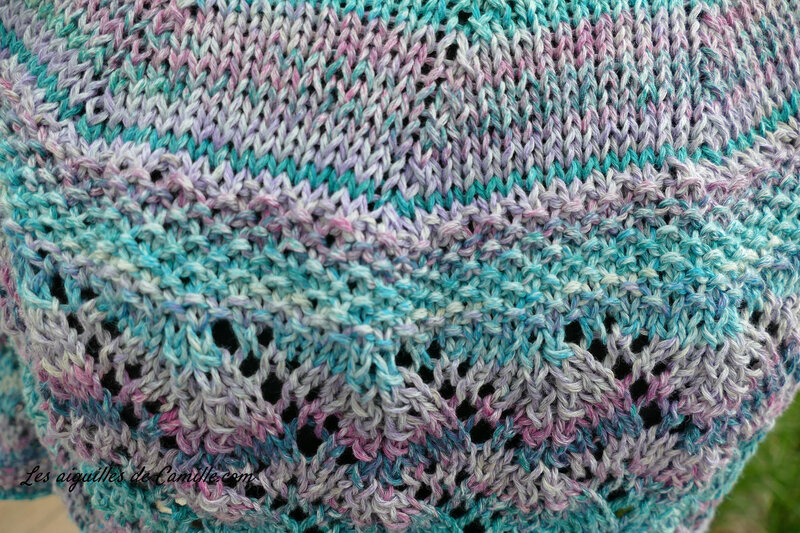 Il est tricoté avec une seule pelote de Latino Plassard , et des aiguilles 4.5mm.
It is knitted with a single ball of Latino Plassard, and 4.5mm needles.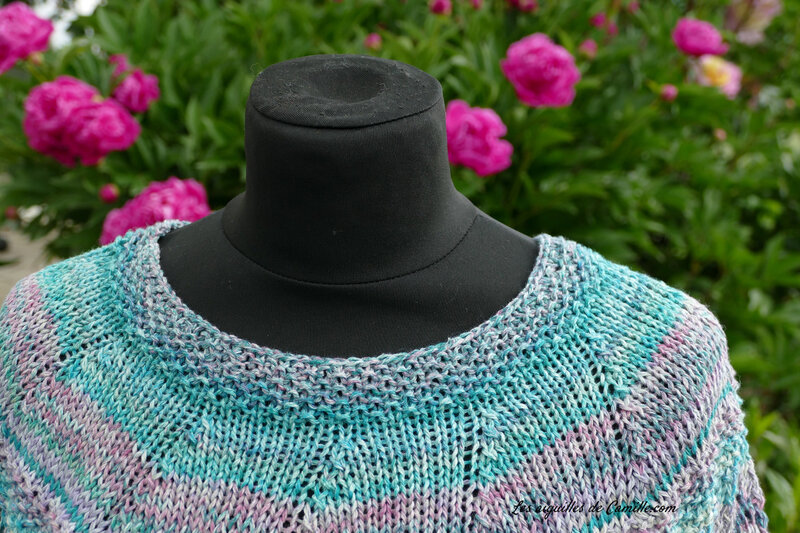 Le modèle est à télécharger ci-dessous:
Chauffe__épaules_4_saisons__été__VF
Amusez vous bien!!
The pattern can be downloaded below:
Shoulder_Warmer_4_Saisons_Summer_English_version
Have fun!!
dimanche 10 mai 2020
J'aime le travail des artisans verriers , et plus particulièrement les vitraux ... et les rosaces , c'est lumineux et apaisant.
I love the work of glass craftsmen, and more particularly the stained glass ... and the rosaces, it is bright and soothing.
Alors pour le second KAL que j'ai proposé au groupe Facebook "Tricote pas tout!", j'ai proposé ce grand châle, construit en même temps que nous l'avons tricoté avec les participantes.
So for the second KAL that I proposed to the Facebook group "Tricote pas tout!", I proposed this large shawl, built at the same time as we knitted it with the participants.
Voilà pourquoi je ne vous le présente que maintenant, dans sa version complète .
This is why I only present it to you now, in its full version.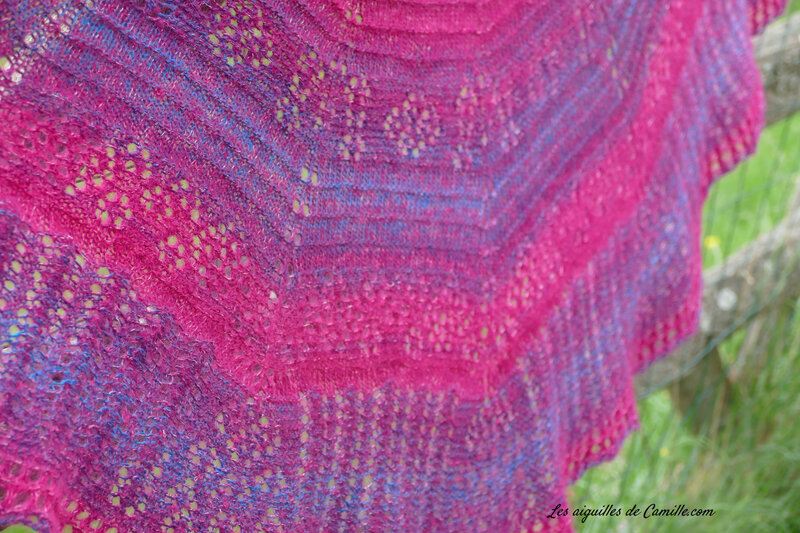 J'en ai tricoté un premier en mélant 2 fils: un uni Algasoie Plassard pour son côté duveteux , et la Zauberball 100 Schoppel Wolle pour son côté changeant.
I knitted a first one by mixing 2 threads: a solid Algasoie Plassard for its fluffy side, and the Zauberball 100 Schoppel Wolle for its changing side.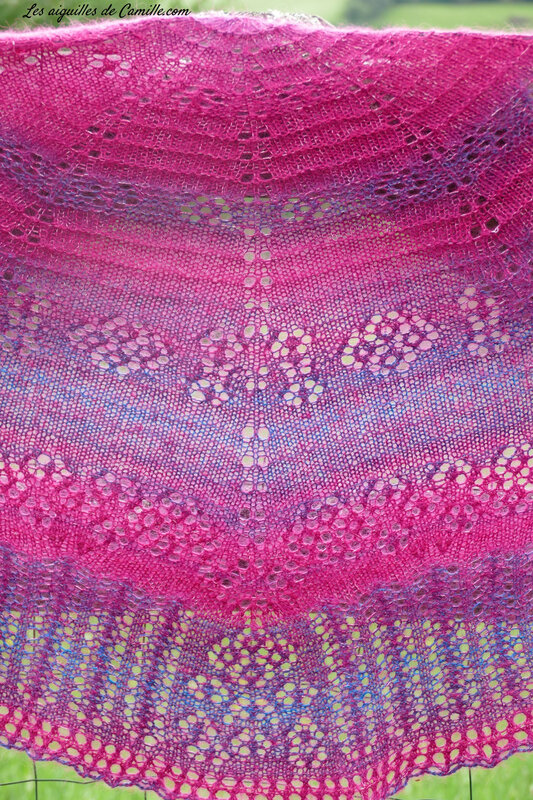 Puis j'en ai fait un second, parce que la Gradient ( toujours Scoppel !) me faisait de l'oeil et que je voulais tester ce coloris ...
Then I made a second one, because the Gradient (still Scoppel!) Made me an eye and I wanted to test this color ...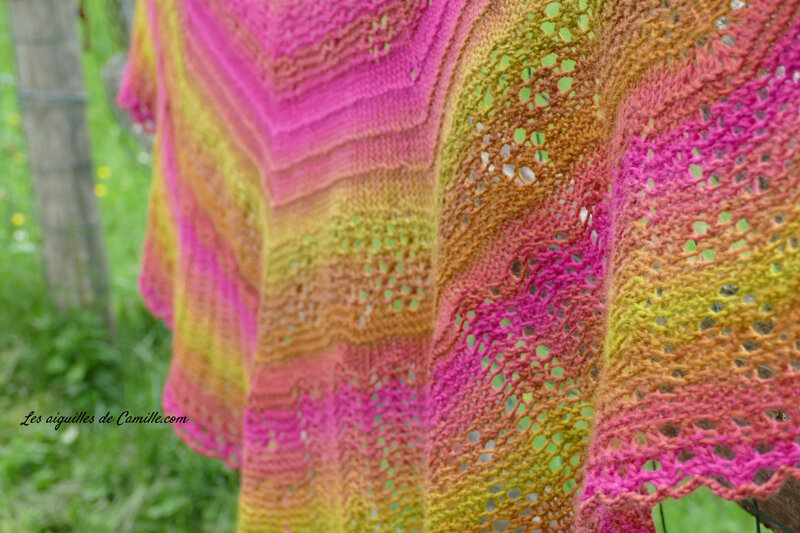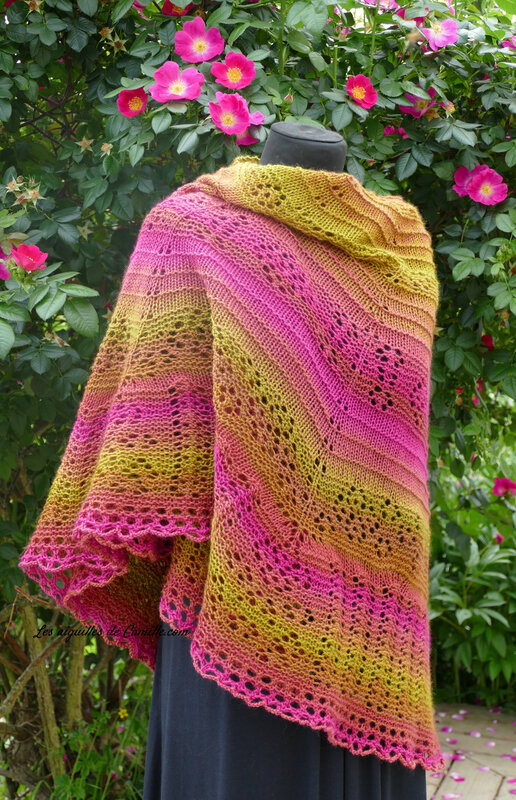 Pour les motifs , j'ai pioché dans les traditions du tricot des Iles Shetland , assez librement ! La finition peut se faire de 3 manières différentes , et je suis convaincue que certaines d'entre vous en trouveront d'autres !!
For the lace, I drew from the knitting traditions of the Shetland Islands, quite freely! The finishing can be done in 3 different ways, and I am convinced that some of you will find others !!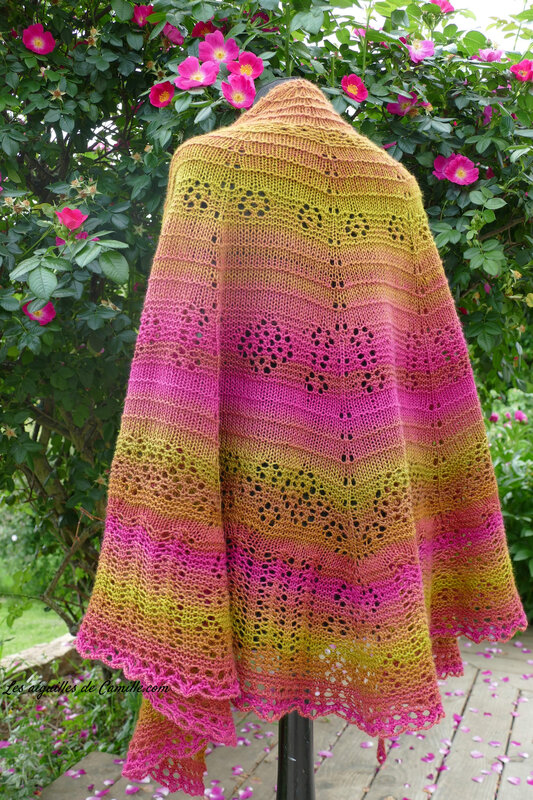 Bon tricot!!
Enjoy Knitting !!
PDF à télécharger en Français:Châle_Rosace_VF
PDF to download for the Englsh pattern : Shawl_Rosace_English_pattern

samedi 9 mai 2020
Faire une col en plein printemps ... oui, en coton, lin et viscose !!!
Make a collar in spring ... yes of course in cotton, linen and viscose !!!
Avec des coloris lumineux de préférence !
With bright colors preferably!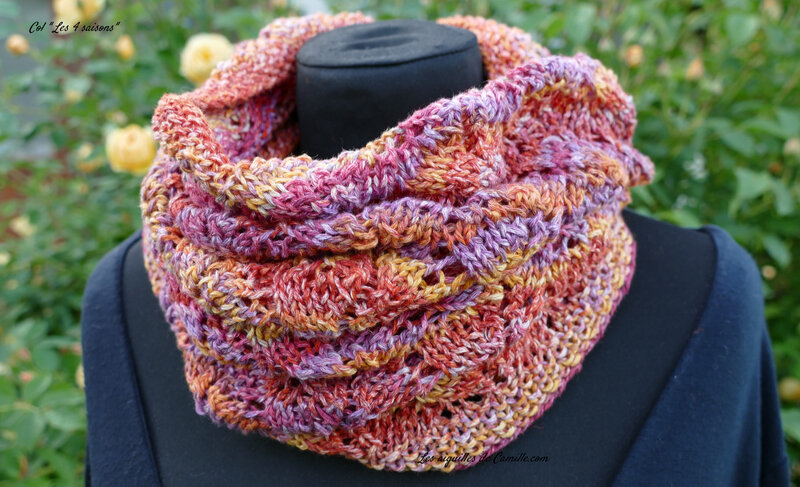 Voici le 3ème opus de KAL que j'ai proposé sur le groupe Facebook Tricote pas tout !
Here is the 3rd KAL I proposed on the Facebook group "Tricote pas tout"!
Cet ouvrage est adaptable en fonction des saisons, changement de couleur , de qualité de fil, insertion de perles, tout est possible pour ce large col qu'on peut doubler.
This work is adaptable according to the seasons, change of color, quality of yarn, insertion of pearls, everything is possible for this wide collar that can be doubled.
A tricoter avec une seule pelote de Latino Plassard ( existe aussi en dégradé de bleu lagon... !), et des aiguilles 4.5mm.
Knit with a single ball of Latino Plassard (also available in lagoon blue shading ...!), And 4.5mm needles.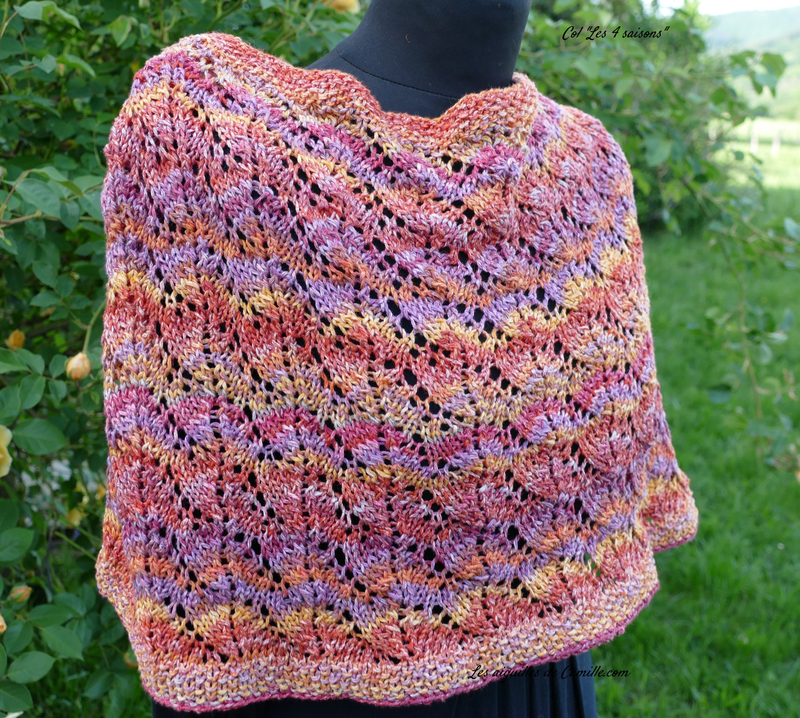 J'ai fait deux patrons: un pour les aiguilles droites et l'autre pour les circulaires , comme ça vous avez le choix!
I made two patterns: one for straight needles and the other for circulars, so you have the choice!
A télécharger ci dessous comme d'hab!
Bon tricot!!!
Download below as usual!
Enjoy knitting !!!
PDF Aiguilles droites :Col_Les_4_saisons_aiguilles_droites_VF
PDF Aiguilles Circulaires: Col_Les_4_saisons_aiguilles_circulaires_VF
PDF Straight needles: Cowl__4_saisons_straight_needles_English_pattern
PDF Circular needles: Cowl_4_saisonscircular_needles_English_Version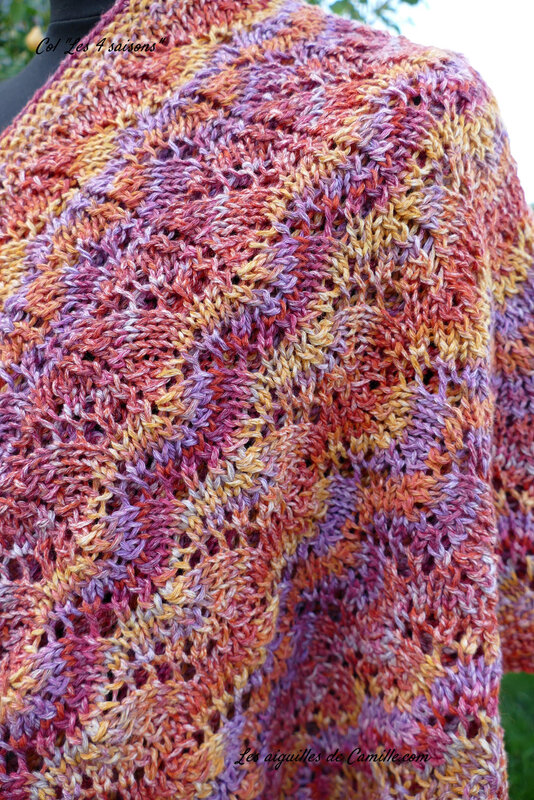 Deux infos : ce col aura son pendant version "chauffe-épaules" sous peu ... et le Châle Rosace que vous pouvez voir sur le groupe Facebook ( le 2ème KAL) , est en cours de traduction, donc très rapidement dispo sur le blog ! alors à très vite !
Two infos: this collar will have its pendant version "shoulder warmer" shortly ... and the Shawl Rosace that you can see on the Facebook group (the 2nd KAL), is being translated, so very quickly available on the blog ! so see you very soon!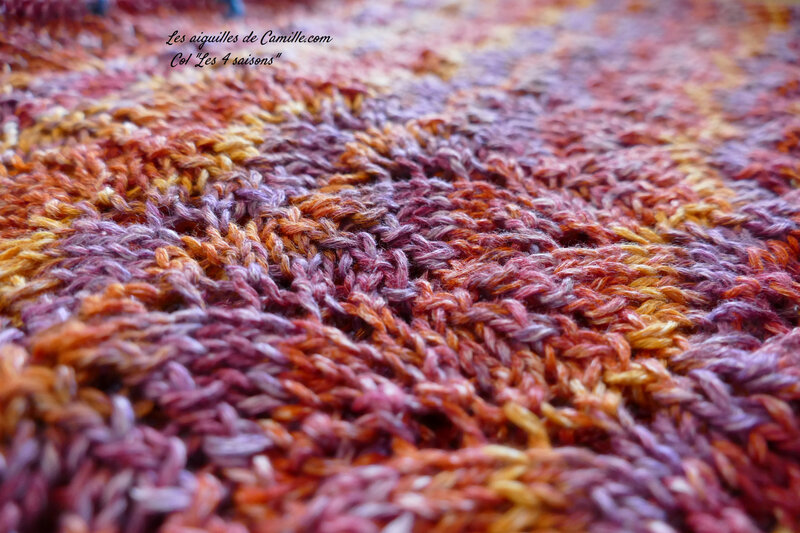 mercredi 8 avril 2020
Ce post a failli s'appeler "la revanche du tricot "! Dans les médias , le tricot est souvent décrit comme un "art ménager", on "tricote "et on"détricote" des lois, on renvoit certains à "aller tricoter"... cette activité d'oisifs bien inutile !
This post almost called "the revenge of knitting"! In the media, knitting is often described as a "household art", we "knit" and we "undo" laws, we refer some to "go knitting" ... this activity of idlers very useless!
Et c'est là qu'arrive le confinement et son "mais qu'est-ce qu'on va bien pouvoir faire de tout ce temps entre 4 murs?? " ... pour les accros du fil en général et du tricot en particulier ... même pas mal!
And this is where the confinement comes in and its "but what are we going to be able to do all this time home ??" ... for addicts of yarn in general and knitting in particular ... we don't care!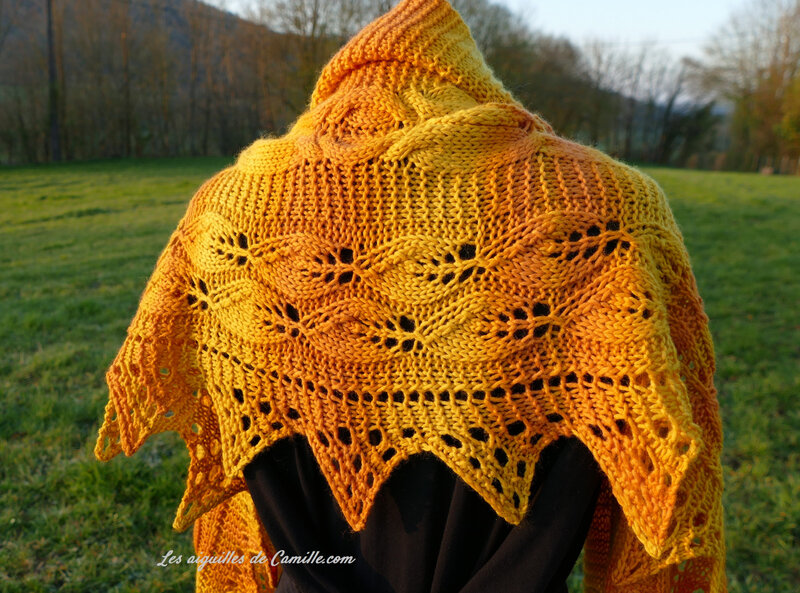 Alors au premier jour de ce moment bien particulier , je me suis dit qu'il fallait faire un truc ... et le "truc" c'est mettre en ligne un "patron quotidien" sur le groupe Facebook "Tricote pas tout". Je l'ai fait au jour le jour , un défi perso bien agréable! Il a été très suivi, alors je vous le livre sur le blog dans sa version complète , vous pourrez le suivre au jour le jour ou le dévorer d'un bloc , comme ça vous chante .
So on the first day of this very special moment, I said to myself that I had to do something ... and the "trick" is to put a "daily pattern" online on the Facebook group "Tricote pas tout". I did it day by day, a very pleasant personal challenge! It has been very well followed, so I'm giving it to you on the blog in its full version, you can follow it day by day or do it all, as you like.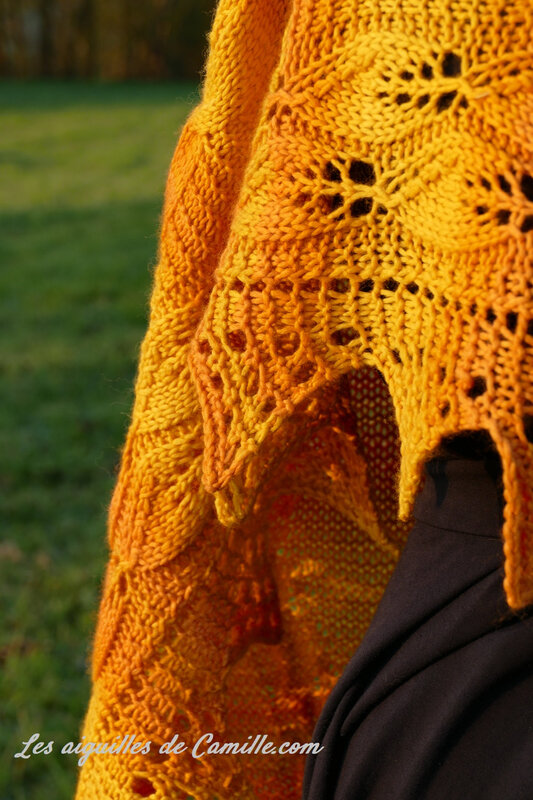 J'avais besoin de soleil, du soleil dans la tête et dans le coeur , alors j'ai sorti le Banana Joe de chez Schoppel , même si je vous avoue que c'est la couleur qui me donne la mine la pire que je puisse imaginer . Mais qu'importe ... le soleil est bien là, et je me suis laisser aller à tout le bien-être qu'il a pu me donner !
I needed sun, sun in my head and in my heart, so I took out the Banana Joe from Schoppel, even if I admit that it is the color that makes me look the worst I can imagine. But whatever ... the sun is there, and I let myself go to all the well-being he could give me!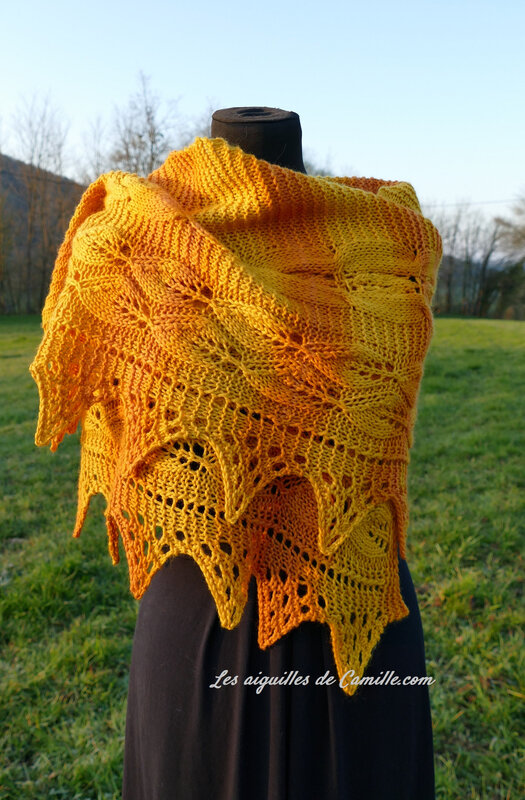 Des débutantes s'y sont atelées... succès général , et c'est une joie immense de donner des clés pour de ouvrages futurs sans cette petite voix qui murmure dans la tête " c'est bien trop dur , tu vas pas y arriver..." : tais toi donc petite voix, t'as rien compris , yes we can!!!!!
Beginners got down to it ... general success, and it is an immense joy to give keys for future works without this little voice which whispers in the head "it is too hard, you will not get there ... ": shut up little voice, you didn't understand anything, yes we can !!!!!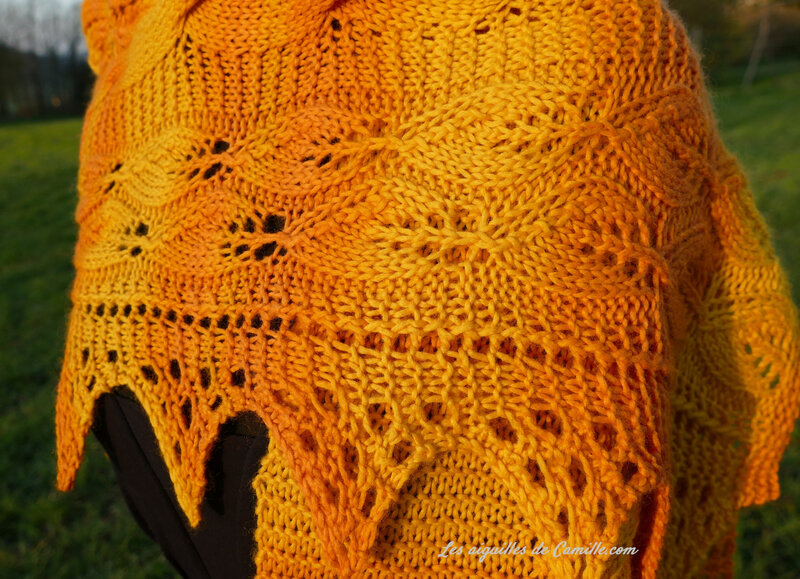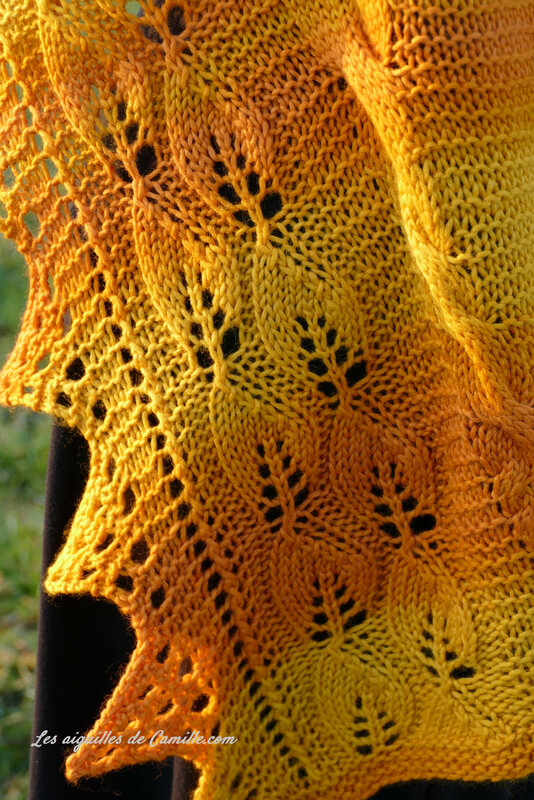 Je vais renouveler l'expérience à partir de vendredi 10 avril, à la fois sur le groupe FB et sur le blog cette fois, je suis un peu mieux préparée je vous l'avoue, et j'ai aussi le temps de traduire le patron au fur et à mesure pour mes lecteurs anglophones.
I will repeat the experience from Friday, April 10, both on the FB group and on the blog this time, I am a little better prepared I admit it, and I also have time to translate the boss gradually for my English-speaking readers.
Alors à très vite ... et restez chez vous , en tricotant bien évidement!
Pour télécharger le patron c'est dessous!
I send you my best wishes ... and stay at home, knitting of course!
To download the pattern, it's below!
En français:Châle_Let_the_sunshine_in_complet
In English:Let_the_sunshine_in_English_version